Now Playing:

Malta and Rome 2018

---
30 March 2018 - Aboard the MS Konigsdam En Route Azores Islands
"I can't find a thing to complain about," complained Dicky, a proud curmudgeon and grouchy urbane, world-traveling friend of circa 50 years, enjoying his ninth decade. Jeanne, Dick, his wife Glo, and I were in the midst of a spectacular meal at the Konigsdam Asian fusion speciality restaurant, Tamarind. It was the first evening of a 14 day relocation—Caribbean to Mediterranean—cruise aboard Holland America's newest, 2016, and largest, 970 feet long, floating palace. At the conclusion of the soup, appetizer, glazed sautéed Maine lobster entree topped off with a fabulously rich chocolate concoction gourmet delight, Dicky gave his benediction to our first meal aboard the Konigsdam: "One of the finest soup-to-nuts meals of my life."
Having lived for a combined eight months aboard the Holland America MS Amsterdam during the 2015 and '16 World Cruises, we find ourselves comparing the Konigsdam against our former "home." The Konigsdam is almost 200 feet longer that the Amsterdam; it has twice the restaurants and cafes, and can accommodate 2650 guests, the Amsterdam 1380. The Konigsdam has more decks and more dedicated entertainment venues. I could go on about the statistical distinctions between the Amsterdam and Konigsdam, but won't. Statistics and numbers have never been my strong suit, the written word has always served me best. What I will attempt to do is share with you, dear reader, our experiences before we are disgorged from the Konigsdam in Civitavecchia, the port for Rome.
Without yet attending a show in the Konigsdam entertainment theatre, from a preview, I know that it is technologically top of the line, with huge, brilliant viewing screens, strobes and every light trick known to man. Yesterday we had breakfast in the casual dining venue, labeled Lido Market on this ship. In the evening the four of us late-dined in the mammoth almost 1100 seat, two-deck dining room; my table mates were delighted with their prime rib dinners. As we proceed toward Italy, I hope to fully share our experiences aboard this bright, new addition to the Holland America fleet.
My travel site, www.cruisin-thru-100.com, began in 2006, When I began an adventure as the sole passenger aboard the cargo ship Republica de Genova, on a round trip north Europe to Angola, West Africa. Since then many thousands of words and hundreds of photos have been uploaded to the site. My laptop fell into disuse at the windup of the 2016 Holland America World Cruise. Exotic travel experiences faded into memory, but life adventures continued apace.
Jeanne and I spent the 2017 winter in a rented condo on Venice Beach. During our four month Venice, Florida sojourn, Jeanne remarked "I'd like to live here." In June of 2017 we bought a lake front home in the Plantation Country Club area of Venice. In the autumn, after 51 years, we sold our Jewell Hollow cabin in Page County Virginia, and in October became residents of the Sunshine State. We didn't expect to be on the high seas again so soon after dramatic life style changes last year but... Change is the only Constant. Forward!
---
2 April 2018 - The Konigsdam is Two days out in the M. Atlantic from first docking at Praia Da Vitoria, Azores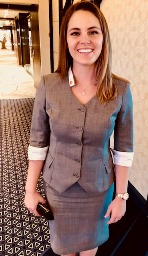 While docked in Ft. Lauderdale, Jeanne and I first entered our Koningsdam balcony cabin; I picked up a flyer "Meet The Officers." After a glance, I said to Jeanne: "We have a female Cruise Director," and handed the flyer to her. "I remember there was an 'Erin' assistant cruise director on the Amsterdam during the '16 world cruise; I wonder if it the same person," she replied. I pondered: "All the years on Holland America and we have never had a female cruise director."
Lorraine, my go-to person in Guest Services, agreed to attempt to set up an interview for me with Erin Duffey. After a couple of days, Erin called. "How about 7:15 Sunday in the Ocean Bar?" Agreed. Jeanne and I attended the first show of the evening in the 1098 seat show theatre. Erin introduced The Alley Cats, a close-harmony guy quartet singing DOO-WAP from the 50s and 60s and spewing out a series of bad jokes built on old age and marriage. I left the show early in order to be on time at the Ocean Bar. Erin closed the DOO-WAP show and rushed to our appointment by 7:30.
After pleasantries regarding our mutual times aboard the world-wandering Amsterdam, we walked upstairs to escape cocktail hour noise in the Ocean Bar. "How did you get your start? You have been at sea and with Holland America only three years and you are already a cruise director." "Both my parents were flight attendants for American, so travel and the enjoyment of meeting people has always been a part of me." "So you were born into the culture," I offered. "Yes, very much, the culture. I Graduated from Cal. Chico," (where she double-majored in Theatre Arts and Communication Sciences and Disorders,) "Holland America held auditions for entertainment department jobs in Vegas; I auditioned and was offered one."
By the time Erin got to the Amsterdam in 2016 she had risen to asst. cruise director. "The cruise director on the Amsterdam was a mentor; he gave me confidence that I could do the job." When he left on medical leave, Erin was summoned from another Holland America ship to be interim Amsterdam cruise director for six weeks while the ship did it's post-world cruise Alaska run. Now, only 26 years of age she is a full-fledged Holland America cruise director, and in reality, the public face of Holland America, opening and closing shows in the mammoth auditorium, doing a morning "Coffee with Erin" talk show, and speaking often on the ship PA announcing events of the day. Erin has a "boyfriend", also in the entertainment department of another Holland America ship.
This is the Koningsdam's fifth day at sea. There have been 1000s of meals consumed, five shows performed, multiple lectures listened to and God only knows how much money gambled in the casino, and at least three Catholic masses prayed. Dining is the favorite at-sea diversion. Jeanne's birthday was the day before Easter. In celebration, the Frink's and Glo and Dick, our traveling companions dined at the premium (extra cash on the barrel head) Sel de Mer, billed as an "intimate seafood brasserie with French classics..." It was a wonderful experience, superb food, unavailable elsewhere on the ship and in Sarasota County Florida, where we all reside. The service—provided by Dutchman Ewout Vermaak was expert—his deboning of a Dover Sole was a feat to behold—and entertaining. Hurrah for Ewlout for adding to Jeanne's birthday celebration.
---
5 April 2018 - In port Ponta Delgado, Azores (a series of North Atlantic volcanic islands,) Portugal
LAND HO! After a week and 2819 nautical miles churning through the uncommonly calm North Atlantic, the Koningsdam docked at the diminutive, quaint Azores town of Praia Da Vitoria. The ship's berth was two miles from the village; ergo, local authorities provided comfortable shuttle buses, in order to better facilitate the passage of passenger's Euros (obtained in an ATM machine at Banco Santander, across the street from the bus stop) into the local economy. Praia Da Vitoria was a late port selection for the Koningsdam, after another Azores island was scratched due to stormy weather unbecoming a large cruise ship.
While waiting in a gale dockside for a bus, I chatted with a young woman from the tourist agency charged (on short notice) with organizing passenger tours and the shuttle buses. "Your ship is so large," she said, her eyes reflecting her awe. "It takes many buses." Praia Da Vitoria is clearly off the well-beaten tourist path, for it didn't have any trinket shops, vending T shirts, caps and other staples of the tourist biz.. Hundreds of Koningsdam passengers wandered aimlessly up and down the town main drag, then quickly sought out a shuttle bus, returning to the ship empty-handed.
Jeanne Glo and Dicky have abandoned ship, to explore the wonders of Ponta Delgada, while I scribble on my laptop, with its new $100 auxiliary keyboard. Earlier from the Lido, I recognized the town's landmark clock tower from one of our Holland America world cruise stops here, before beginning the return voyage to Ft. Lauderdale.
Last evening, we four reunioned pre-dinner in the large Crows Nest cocktail lounge in the bow of the ship. The Koningsdam, like most cruise vessels, provides passengers one-size-fits-all white bathrobes, for use in the spa and various hot tubs and stern and mid ships swimming pools. To our amusement, a portly, middle aged gentleman was entertaining a woman sitting on a couch during the 6pm cocktail hour wearing his Holland America-issued bathrobe, seemingly open in the front ala Harvey Weinstein, of Hollywood sexual harassment fame. My back was to the man and his lady. "Turn around, way around," Dicky said. As Madeline Kahn said in character in "Blazing Saddles," it was "Tru."
In "olden days", as I refer to our past 58 weeks—yes, that is over a year—aboard Holland America ships, music sang out during cocktail hour in the Crows Nest and various ship bars. The Koningsdam is a new ship, the leader of a new class of Holland America ships, and as a result, new policies are in place. All music on this ship is constrained to what has been labeled "The Music Walk" a string of venues on deck two extending to the bow.
The first step on this walk of music is the swingin'ist; it is B.B. King's Blues club, with three shows a night, featuring two vocalists, a horn line of trumpet and sax and a rhythm section, featuring an outstanding electric guitarist. THE PLACE ROCKS. Next is a piano bar, to top all piano bars, with two nose-to-nose grand pianos, played by two guys singing the tunes of Elton John et.al. The piano bar also has a distinctive name: Billboard Onboard. Next, moving foward to the bow, is Lincoln Center Stage, with a string quartet plus piano playing chamber music most evenings and certain afternoons. The final stop on the Koningsdam Music Walk is the monster World Stage, where the ship's compliment of singers and dancers perform, plus the rotating comedian and musical acts. The audio visual effects in the World Stage are technologically colossal; three huge visual panels provide a180 degree visual experience during the resident singers and dancers exertions.
When Captain Bowland orders the engineers to power up the Koningsdam this afternoon, we will be on a two day sail to Malaga, Spain.
---
9 April 2018 - In port Malaga, Spain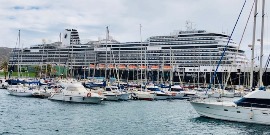 Malaga, one of the oldest cities in the western world, was the Konigsdam's first dockage in Continental Europe. 30 miles to the east, along the contours of the inviting Mediterranean Sea, sits Nerja; it is a lovely Andalusian village, where Jeanne and I have, through the years, spent weeks soaking in its hospitality (I was the advance scout, arriving Easter week 1973). Dick and Glo also harbor good memories of their time in Nerja.
Sunday, the four of us were off the Konigsdam by 8:30, awaiting a 5 Euro shuttle ride to the elegant boulevard slicing through the center of Malaga; there, across the byway, we purchased tickets and boarded the bus for Nerja. After walking the narrow streets down to the Balcon de Europa, cantilevered over the Mediterranean, we paused for beers in an English pub and enjoyed tapas in the Round Bar, one of our old haunts. Back up to the Malaga Road, on a return bus, and we were aboard the Konigsdam by 4 pm.
We were in the deck 10 New York Deli and Pizza, overlooking the midship pool and facing the massive hi-tech screen used for evening movie projections. "So," I said "what do you think?" "What do I think about what?" Jeanne rejoined. "About the Konigsdam." "When I first came aboard, I said to myself I don't think I would go out of my way to sail on this ship again; it was too big, too modern. After taking advantage of some dining and entertainment venues I realized that despite the fact that it was so much larger, it was still Holland America, with the warm, friendly and efficient service we've grown used to over the years," she summed up. "And you couldn't have as many specialty restaurants, the multi-venue Music Walk and the large hi-tech show theater on the smaller class ships," I added.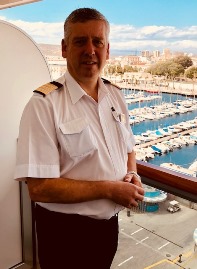 Hotel Director Charles Verwaal stopped by our dining table Sunday evening. Tall, erect, and wearing his dress navy blue officer's uniform he appeared as a Hollywood central-casting cruise ship captain; though he will never be a cruise ship captain because his training and experience is solely in hospitality. Eventual sea captains (masters of ships) train to develop navigational and other maritime skills. Having written about a number of Holland America hotel directors through the years, I told Glo and Dick "This guy is responsible for over 800 staff aboard; the staff he leads accounts for 80% of the total crew. In answer to Dick's question, Charles responded: "I have 14 direct reports," (department heads reporting to him) "though we'd like to organize that down to seven."
Glo, Dick, Jeanne and I have had a running question, almost from our first breakfast in the Lido, where many passengers pass before our eyes, as they go to and fro from the various cafeteria food stations; some of the folks aboard the Konigsdam are grossly overweight—read morbidly obese. One man, who navigates the ship on a scooter, is clearly in the 300 plus sumo class. The vast majority of cruise ship cabin bathrooms are tiny, with basin, shower and toilet in very cramped space. How do these heavy- weight wonders manage on a daily basis? Jeanne and I encountered Hotel Director Charles again, in our cabin passageway. We chatted, and Jeanne reminded me to ask Charles the burning question. "Well, out of the Konigsdam's 1331 passenger cabins, 27 are wheelchair accessible." Obviously with larger bathrooms. "Further, these matters are sort of self-correcting. Remember, on most of our cruises passengers have to fly to or from. They have to fit into an airline seat." Ah Ha! Puzzle solved.
Glo, Jeanne, Dick, and I disembark the Konigsdam tomorrow morning; a train from Civitavechia to Rome, change trains and on to the The Real Venice, the legendary home of Marco Polo, the Grand Canal, Piazza San Marco, Murano, Burano, and San Michele, the cemetery Island.
Before our last Mediterranean sunset fades out, I want to give a special shout-out to our diligent and good natured cabin stewards Aris & Mar. Lovely, young Malou created my morning blueberry crepe in the Lido and asked for me when I was absent. Toto, a dining room host could not be more attentive to us, in the Dining Room or the Lido, the New York Deli, seemingly wherever food was served to us. Again, I couldn't have written much of anything without the help of Lorraine in Guest Services.
This morning I interviewed Staff Captain Frits Carsjens, a delightful young Dutchman of 39 years who already has 18 years with Holland America, following his father and older brother in HAL employment. As far as I can see Frits has a very successful future; his is a story for another post.
---
Recent Entries
---