AROUND THE WORLD 2015

Click here for the 2015 World Cruise Photo Gallery


---
31 December 2014 - Overlooking the Chattahoochee River from the 23th floor, Ft. Myers, Florida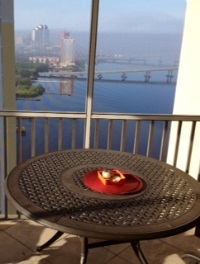 "We'll get the tux shirts when we get to Fort Myers," Jeanne said more than once to my admonishments about the need for new shirts to replace the closet-yellowed pair I had trashed months ago.
Proper formal wear is a topic of significance for us at the moment, because we will embark Monday, January 5 aboard the Holland America Amsterdam for 114 days of global circumnavigation. During the voyage, 14 formal dinners are scheduled in the Amsterdam's main dining room.
We are luxuriating in Cousin David's elegant condo (an elevator with a key-pad code delivers us to our small, private alcove at the apartment entrance) while Cousin Dave visits family in the Midwest.
The day after Christmas (what the rest of the English-speaking world calls "Boxing Day") appeared to us to be a good day to set out in search of tuxedo shirts. What we learned was that stores used the day after Christmas to drastically lower prices on goods which hadn't been sold during the Christmas buying orgy. At the large mall we chose for our search, open parking spaces were scarce to non-existent. The mall was crowded with people, particularly I noticed with rather short Indians from Mexico and Central America.
"We don't carry tux shirts," the harried woman clerk in Macy's men's department strongly asserted. "Jim Cramer (the fast-talking stock guru on MSNBC) is always bragging about Macy's," I said to Jeanne "and no tux shirts in this supposedly upscale joint."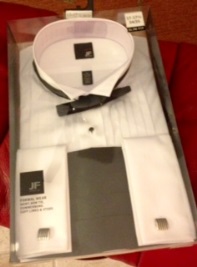 J.C. Penny's was the next stop on our quest. Years ago I bought shiny tux shoes at Penny's, at a time when the company promoted formal wear during this time of year. Inside the store, people pawed over racks of soft goods, many with their left arms draped with purchases while their right hands grasped for more bargains. After following signs to the men's department, a clerk (also harried) pointed us to the formal wear corner. There, neatly displaced on an overhead rack were boxed sets of a tux shirt, cummerbund, cuff links and a rather scrawny pre-tied black bow tie. "One has the right neck size but the sleeves are too short; the other the neck is too large, but the sleeves are just right," I lamented to Jeanne. The price visible to us was $39.95. We chose the too-large-collar-just-right-sleeves.

On Boxing Day At Penny's everyone had to stand in line to pay for their after-Christmas goodies. When our turn came, I stood behind Jeanne as she presented the Penny's Christmas gift card that Son Geoff and daughter-in-law Connie had included in our Christmas card.. I wasn't paying attention when I heard the young lady cashier say: "$5 and tax." I assumed we owed the $5. in addition to the gift card, or $5. remained on the card. Then I heard the clerk tell Jeanne: "You got quite a bargain, didn't you?" As we walked I implored Jeanne: "What's going on?" The shirt cost $5, plus tax, look!" She handed me the receipt, which stated that the list price on the boxed set was $70, then marked down to $40, and put on "clearance" at five bucks.

The Tux Shirt Saga doesn't end with our Penny's Boxing Day triumph. Over the weekend we concluded that, for five bucks, we should probably return and acquire the tux shirt with the too-short sleeves, to have and hold as a spare. Monday morning we returned to the mall, Penny's and men's formal wear corner. The too-short sleeves shirt remained as we found it. We released it from its rack and headed for a cashier kiosk; though Boxing Day had passed for another year, the checkout line continued. When our turn arrived, the clerk waved his magic electronic gadget over the second shirt bar code and said "That will be $40." (and change) Jeanne and I looked at each other. "Do we want to pay 40 bucks for a spare tux shirt? We returned the shirt to the clerk and left Mr. Penny's. As we sat in the car, a more serious discussion ensued. "What if something happens to the first shirt, it gets badly stained or the laundry loses it," Jeanne asked. Using my iphone, she found a phone number for Men's Warehouse. "Do you have tux shirts," I asked. "Yes, we do," came the reply. "How much are they," I asked. "They range from $69.99 to $110." We returned to the store and the cashier kiosk where I left the shirt. It was sitting on a stack of point-of-sale rejects. I picked it from the pile and handed it to another clerk. After going through the wand and bar code ritual and paying the $39.99 (plus tax) with the Penny's gift card, I asked the thin, young female clerk where she was from. "Ukraine," she replied. "I bet you're glad to be here," I said. "Oh yes," she averred and beamed me a wide, sincere smile.
---
6 January 2015 - Aboard MS Amsterdam En Route Santa Marta, Colombia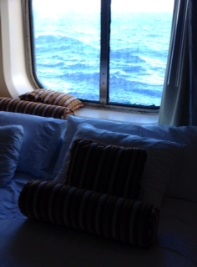 As we sat yesterday in the eight deck Lido Cafe aboard the MS Amsterdam, Holland America's perennial
ship of choice for Grand World Voyages, I shook Jeanne's hand. "I am SO glad to be here.," I said. We were
in
the midst of the inaugural day of a 114 day circumnavigation of the globe."Here we are, a life-long dream coming true. It is hard to believe."
Earlier in the day, we had survived a harrowing Fort Myers-Fort Lauderdale motor trip in an old 12 Ford passenger van, driven by a young man with belt-less, sagging britches, who couldn't produce a commercial driver's license when I requested it; a young man who recklessly drove the old van and the luggage-filled trailer it dragged behind. We had been defrauded by an operation calling itself "Florida Express Bus." There was no bus, only the old van, illegally driven by the young man with sagging pants. I will report Florida Express Bus to the fraud section of the Department of Florida Attorney General, after we return to Fort Lauderdale April 30.
Other preambles to our Holland America dream voyage were stressful, but not life threatening: Would the visa service return our visa-stamped passports in time for our departure? It did. Would our employer approve our health insurance-subsidized purchase of four months of medical prescriptions? It did. Would the 75 pound ladened suitcase we shipped to the port find its way to our cabin? It did. Would we be able to cram enough of our "stuff" needed for four months of shipboard living (including 14 formal wear evenings in the Amsterdam dining room) into our modest-class cabin? We were. Could we arrange for payment of our coming-due bills in our absence? We did.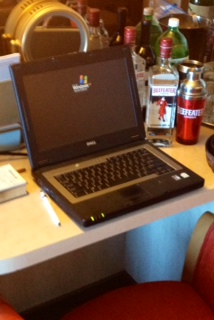 Loyal readers of my travel dispatches over the last nine years are accustomed to being exposed to my antics to assure that I always have on hand the ingredients to shake-up my daily Beefeater Gin martini.
"I went on line, and Holland America doesn't seem to offer Beefeater by the bottle any longer," Jeanne told me. "Damn.", I replied. I have a contact within the Holland America office in Seattle. I explained to her my very long-term devotion to Beefeater 94 proof, London Dry Gin. "I'll see what I can do," came the hopeful reply. Two days later, she called to tell me that Beefeater could be special-ordered from Holland America's liquor merchant. "How many liters do you need", she asked. "Wait a minute while we do the math," I retorted. Jeanne and I conferred. "We need 22 liters," I finally replied. The next day she called and said: "Your gin is ordered. Take down this number and call the Ship Supply Department and pay for it with a credit card. I did as I was told. The tab for my 114 days of Beefeater martinis came to 806 bucks.
Yesterday afternoon there was a knock on our cabin door. Jeanne answered. Into our cabin walked one of the Amsterdam's sommeliers, carrying a case of Beefeater Liters. "Whoa," I said in a mildly alarmed tone. "We can't store 22 liters of gin in this little cabin. The cordial sommelier and I struck an agreement: "I'll leave you two bottles. When you need more, call this number, (and handed me a piece of paper) and we'll bring you more." Last evening, my first vigorous shake-up of my Amsterdam aboard-ship Beefeater, vermouth and ice was a success. A charming, young lady bartender in the Casino Bar cheerfully provided me with a proper martini glass (and three olives-on-a-stick as a bonus) that I gleefully carried away to our Dolphin Deck cabin.
---
10 January 2015 - Aboard MS Amsterdam En Route San Blas Islands, Panama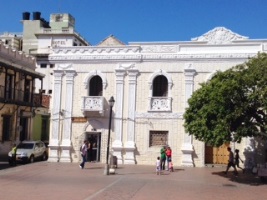 Land Ho! After over three days at sea, early Friday morning (1/9) the Amsterdam (and its 950 passengers) docked in the Colombian port of Santa Marta. A Spanish conquistador arrived in his dingy in 1525, endowing Santa Marta with the distinction of being the second oldest city in South America and the oldest in Colombia.
After our normal breakfasts (Jeanne: yogurt with granola, mine: smoked salmon and onion omelet, sausage patty on the side) the family Frink walked smartly down the Amsterdam gangplank, into a shuttle bus and thus onto the Santa Marta Malecon (walkway) fronting the Caribbean Sea. Some passengers boarded buses for the short journey to the Tayrona National Park.
The principal point of tourist interest in center-city Santa Marta is the cathedral, which once contained the remains of Simon Bolivar, the liberator-from Spain of Northern South America. After a brief walk along the Malecon, we plunged into the city streets in search of the "Basilica", as locals refer to the cathedral, the construction of which was concluded in 1766.
The first man I queried (in my long-ago Mexico City College Spanish) about the whereabouts of the Catholic Shrine, sent us straight ahead to the perpendicular-from-the-Caribbean street on which we were walking. "There it is," Jeanne said as we approached a church in the distance. When we reached a small plaza and the church entrance, I said: "This can't be it; it's too small." To the immediate side of the church front, a street vendor was doing a brisk business selling a soup-like substance from a very large cauldron. From a customer, I inquired about the location of the basilica. We then walked a few more blocks and into the very large cathedral square.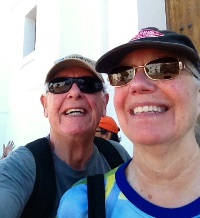 Compared to cathedrals we have entered in Europe and the U.S. (we once lived on Wisconsin Ave. in Washington D.C., three blocks below the National Cathedral) the white-washed Santa Marta Cathedral is spare, spartan, unadorned and very approachable. After spending a few moments inside the structure, we posed on the steps of the church for our first-ever-selfie. Just staying with the times.
We attempted to retrace our walk to the cathedral in order to find the internet cafe we had passed. We found it, and for $1 bought a hour of time to connect Jeanne's iPad and my iPhone to the internet in order to answer a few emails and to clear out dozens of unwanted ones, which follow us like the plague. Once back at the waterfront, we sought an al fresco cafe.
As regular readers know, Jeanne and I strive to have at least one beverage each in a local cafe in each of our ports-of-call; the Colombia Cafe fit the bill. A (free-lance, we assume) manicurist worked on the nails of a male customer at the next table as we relaxed with our drinks. I had read in the NY Times weekly travel newsletter that the U.S. Dollar/Colombian Peso exchange rate was very favorable to dollar holders. Even with that tip off, I didn't expect to pay so little as $2 total for my beer and Jeanne's bottle of water (Diet Coke was unavailable.) When it came time to pay the efficient and pleasant young man who ran the small joint I handed him two dollar bills and walked off, as Jeanne waited for me. Then it hit me: "You didn't tip him," which isn't expected in most countries outside the U.S. A buck is nothing to me, but something of value to the young man. I walked back and handed him a dollar bill. His face lit up and he uttered an amazed and drawn out "Gracias."

---
11 January 2015 - Aboard MS Amsterdam during full east-west passage of the Panama Canal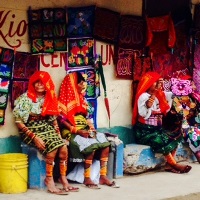 I have been curious about the San Blas Islands since 1959, when I first arrived in Panama. I lived in Puerto Rico then, covering the Caribbean and northern South America for book publisher Prentice-Hall. It was during that long-ago time that I first bought a mola, the unique, richly colored, multilayered, cutout fabric art of the San Blas Indians (more correctly referred to as Kuna indigenous people). Molas are perhaps the most recognizable and best known Panamanian artifact. The 378 San Blas Islands are located within Panamanian waters.
I was delighted when I learned that the 2015 Grand World Voyage would make a short sojourn in mola-land, on one of the islands where the iconic fabric art is created.
The Amsterdam passengers' visit to a San Blas Island was accomplished by tender (motorized life boats). The Amsterdam anchored about a 20 minute tender ride away from El Porvenir Island, the most developed of the 47 inhabited San Blas Islands.
Jeanne and I were tardy in getting our tender tickets, expecting "open tendering" to be announced much earlier in the process; therefore we were in tender group 20. It was mid-afternoon before we boarded the pitching life boat in a choppy sea.
I was impressed with the attire of the man in front of me, sitting as we were in rows on hard plastic benches. It appeared to me he was ready for a safari: an Australian-esque bush hat, with the left brim snapped-up smartly, sun-proof long sleeved shirt and trousers, probably purchased at an explorer's outfitting shop. It occurred to me that I might ask him if he had been on the Teddy Roosevelt's Amazon River expedition; I restrained myself. Jeanne and I wore shorts and T-shirts.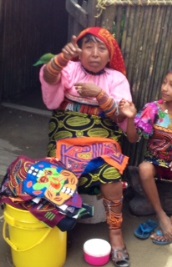 The first San Blas image I recorded, as we exited the tender, was a derelict small boat, surrounded by trash. The Kuna people live in open buildings and thatched huts; the earth is their carpeting. I suspect sanitation is rudimentary in the extreme. Women and children sat in front of mola handiwork displayed on makeshift fences, constructed in front of the dwellings.
Electricity exists on El Porvenir Island, because after noticing a sign announcing "se vende bebidas" I ventured into a set-back building and purchased a cool bottle of "Aloha Spring" water from Medley FL and a can of Balboa (cerveza premium) from Panama City; they were removed from the refrigerator and sold to me by an ordinary-looking Latino.
The appearance of the San Blas people sets them apart from the European model: They are very short, under five feet; their skin appears to me to have a coffee tint (dark roast, with cream.
San Blas supper usually consists of fish and coconut milk. The Kunas live in a matriarchal society. The women might well control things, but my guess is that they don't have much time to devote to municipal affairs: They labor almost ceaselessly creating the famous fabric art for which the tribe is known.
Jeanne and I were not long on El Porvenir Island. It is tiny. There was no need to linger, once we had ambled around town. As for purchasing molas: previous Panamanian adventures have provided us with a framed wall hanging and an oven mitt; more than enough Panama memories for our small mountain cabin.
I thought that the tender ride home to the Amsterdam might be interesting, when I spotted a mechanic aboard. The lifeboat's engine did quit a couple of times, and one time the mechanic did scream out to the wheel-man: "STOP ENGINE!," but we made it back to the comfort of the Amsterdam without a tow.
Thanks to Holland America and the Amsterdam, the San Blas Islands have been irrevocably scratched from our bucket-lists.
---
14 January 2015 - En Route Nuka Hiva, Marquesas Islands, French Polynesia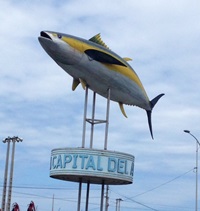 The Amsterdam has begun an eight day non-stop voyage to our first port of call in French Polynesia.
Tuna is king in Manta, Ecuador.
Jeanne and I walked to the stern pool area of the Amsterdam yesterday after breakfast in the Lido to gaze down at three large tuna fishing ships parked side by side. The Amsterdam was docked in Manta, a pre-Colombian port city; it is the hub of the Pacific Ocean tuna fishery.
During our short shuttle-bus ride to city center, our young hostess told us in her school-girl English: "We have many tuna fish processing plants in Manta, Bumble Bee, Starkist and others." As our bus made its way around a round about along the water front, a gargantuan, multi-hued replica of a tuna fish floated high above us, secured on three long poles. The circular sign beneath it proclaimed Manta the capital of the tuna fish sandwich (or something akin to that.)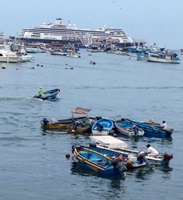 The bus dropped us at a city plaza, well fitted out with stalls featuring white Panama hats and other handicrafts, designed to assist the 'round the world travelers in our desire to acquire local trinkets and enrich the Ecuadorian economy. There was no need to calculate local currency prices into dollars because—Now-Hear-This: The U.S. Dollar is the local currency.
I must drop another hard fact on you, dear reader: Panama Hats are made in Ecuador. Truth be told, they are made in the suburban villages of Manta. In celebration of our arrival in Manta, the Amsterdam dining room staff presented all passengers with pristinely white, faux Panama hats as we arrived for dinner January 12. I wore mine ashore in Manta.
As we wandered about the sale stalls in the plaza, a vendor asked me: "How about a Panama Hat?" "I have one," I countered. With venom in his voice he spat back: "That's no Panama Hat."
Before the Panama Canal opened in 1914, 30,000 men died building it; 25,000 during the aborted French attempt and 5,000 after President Teddy Roosevelt grabbed it and the U.S. completed it. Over a million ships have passed through the three-lock engineering marvel; it provides a shortcut for ships seeking to switch oceans, Atlantic to Pacific and the reverse. Sunday, January 11, The Amsterdam, for 14 hours, slowly made its way from the Caribbean Sea (Atlantic) to the Pacific. Passengers were allowed out onto the bow of the ship to better experience the event, as the Amsterdam slid through the tight tolerances of the narrow locks. One of the last land sights, as the Amsterdam made her way into the Pacific Ocean, were the high-rise office buildings of Panama City gleaming in the setting sun.
---
17 January 2015 - En Route Nuka Hiva, Marquesas Islands, French Polynesia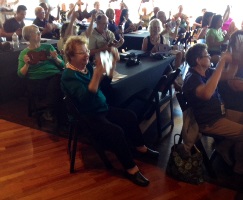 The Amsterdam is at midpoint in an eight day "sail" from Manta, Ecuador to Nuka Hiva, French Polynesia. The ship is churning along at 17 knots in a straight line. I have asked a young woman in the customer relations office for the mileage. She said: "I will have to call the bridge for that." I'll bring you, dear reader, up to date when the correct number of miles is presented to me, but I know this: it is one very long line, longer than a crow-fly between Portland Maine and Portland Oregon.
"I'd get bored spending so much time on a ship," a passel of acquaintances have muttered upon hearing of our voyages that have contained more than two sea-days strung together. My mental reply is always: "Then you'd have to be either comatose or your IQ doesn't register on the scale."
Yesterday I walked in on 40 passengers (my guess) taking Ukulele lessons. The students have borrowed ukuleles for the duration of their eight days of lessons. I watched and listened as the novice musicians strummed a couple of simple chords as they down-stroked the strings, while singing a Tahitian song. One of the Polynesian instructors promised his charges they would learn the up-stroke technique during lesson four.
Few of the daily offered activities rise to the exotica level of ukulele lessons. The lecture I attended today, however, on John Williams, sent into the South Seas by the London Missionary Society to convert the Polynesians to Christianity was fascinating. The lecturer, a retired airline pilot, threw in as a bonus: the tale of the international ramifications of the French military blowing up, in Auckland harbor, a Green Peace vessel that had been harassing French efforts to test nuclear weapons on a south seas atoll. "Next time, I'll let you in on what happens behind the cockpit door during trans-oceanic flights," is how today's lecture came to a close.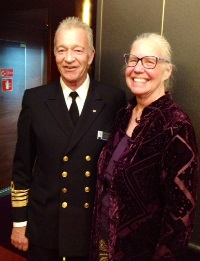 Last evening Jeanne and I were invitees at a splendid small pre-dinner party. It was sponsored by the Amsterdam officers and featured an open bar and extravagant hors d'ouevres. I took a photo of Jeanne with Captain Jonathan Mercer, the first British mariner to captain a Holland America ship. The top dogs on HAL vessels had invariably been Dutchmen.
Our evening dining arrangements during this marathon voyage are, for us, unique. We dine at a table for eight at the 8 pm seating. In the past we have exerted strenuous efforts to lay claim to a table for two; this, because we didn't wish to take the chance of being subjected to boorish, and/or drunken passengers as regular dinner companions
Jeanne and I met Jan and Dick during the 2010 Holland America Grand World Voyage, when we were aboard the Amsterdam for the Singapore-Seattle segment. Jan and Dick are on their 8th global circumnavigation aboard the Amsterdam. We were invited to their table one evening and enjoyed it.
Jan maintains what I referred to as a "salon" in one of the 2010 pieces I wrote. She keeps two seats at their table open, so there will be room for the rotating entertainers that come aboard for a few days to perform and others she might invite. When Jan learned that Jeanne and I were going to be on board for the '15 World Voyage, she asked us to dine at their table for two of the three segments.
A compatible Aussie couple are the other "permanent" seat-fillers during the Fort Lauderdale-Sydney segment. A young, English "clean" comic, a female singer and Motown singer legend Jackie Wilson's son (who has taken up the family business) are the rotating guests to this point. Jan is a voluble, organized, outgoing woman, so we expect more lively evenings, as the rotation of dinner guests continues.
Alas, I didn't hear back from the woman in the customer relations office, so we'll not know the mileage covered during our eight days at sea (at least for now).
---
20 January 2015 - En Route Nuka Hiva, Marquesas Islands, French Polynesia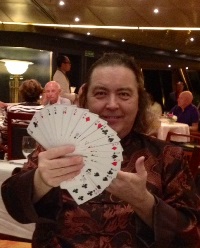 "I practice every day, all day. I love it," is how "master" (my adjective) magician Jeff McBride answered my question: "How do you maintain your dexterity with the cards?"
The promo for his act written in the Amsterdam's daily program describes McBride's performance as a "blend of illusion, masks and Kabuki Theater." All true, but the squib doesn't mention his astonishing ability to bend playing cards to his will. He fans them, arches them, amazing numbers of them come cascading out of his mouth. For sweet icing to top off his very satisfying act, one by one he shoots cards into the audience by bouncing them off the stage floor; the folks in the balcony received their share of McBride souvenirs, as well as the first floor patrons closer to the stage.
Jan arranged for McBride to join our table at dinner last evening. He was a warm and friendly dinner companion. After the desert plates were cleared, Dick did one of his card tricks which, so he averred, delighted our guest. Then unbidden, McBride performed a few tricks of his own. The first was an empty bag trick that kept producing an egg. The dining room staff in our area gathered around to watch McBride perform his magic on a deck of cards. When the cards were put away, our dining room steward did a trick with three coffee cups. It was a delightful evening. If you, dear reader, wish to check out the magic of Jeff McBride for yourself, his website is: McBridge Magic.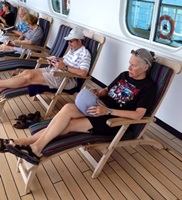 "I feel like we're on a movie set," I said to Jeanne as we each sat in a padded wooden deck chair on the promenade (3<sup>rd</sup>) deck; she reading a book on her iPad, I reading one of the unread New Yorkers I scooped up from the stack at my chair in Jewell Hollow. I have memories of movie characters sitting on identical deck chairs, legs wrapped in blankets to insulate against the chill Atlantic breezes. Those old-movie ocean liners were crossing the Atlantic; we, far luckier, are enjoying Equator-warmth, as we—on the 7<sup>th</sup> day of our eight day non-stop—churn through the Pacific on a 4,000 plus mile beeline for Nuka Hiva.
Our shipboard routine is largely dictated by the rhythm of the luxurious meals at our disposal. Jeanne claims I have fallen into the old-folks hole of needing remarkably less slumber time.
When I awake before she is bright-eyed, I dress and gather our two thermal coffee jugs ; out our cabin I go. We owe thanks to whomever on the HAL staff selected our cabin. We are ten steps from the bank of four aft elevators. One of them regularly transports us to 4th deck La Fontaine formal dining room or the Lido Cafeteria on the 8th level. I fill our containers at a Lido coffee machine and BINGO, Jeanne has hot java when she awakes.
Breakfast for us has invariably, for the first two weeks aboard, been at the informal Lido. Today my morning nourishment consisted of two eggs over-easy and and a crepe, made as I watched, filled with cherries. In days past I have enjoyed custom-filled omelets and poached eggs Scottish (smoked salmon), with or without sausage or bacon. A small container of fruit yogurt usually is the last breakfast taste treat. Every imaginable breakfast offering is available at the Lido. At 7-8 am during sea days, a sit-down, ordered-breakfast in the La Fontaine dining room offers everything as overwhelming as a full English breakfast or as simple as a boiled egg will be served upon command.
Our 1:30 lunch is usually at the Lido; it has an Asian station, with a variety of noodles, stir fry, fish and chicken and sometimes Indian curry. Next to it is the Japanese station, with sushi. Jeanne and usually find our luncheon in Asia. The main section of the lunch-time Lido has a variety of salads, meats and fish, with accompanying vegetables. With a clean lunch plate before her, Jeanne often excuses herself from our table with the mantra: "I believe I will check out the sweets now."
Dinner (8 o'clock seating) in the dining room is elegant: starched white table cloths, silky napkins, white jacketed waiters and more than enough delicious variety for each of the four courses.
I assure you, dear reader, that despite my abiding emphasis on the well prepared and presented food, there is more to sea days than the consumption of delectables: a fore-highlighted lectures and demonstrations and instructions are available until late afternoon; the Amsterdam has a full lending library, in case passengers have not sufficiently downloaded to their Kindles; deck eight has two swimming pools and a jacuzzi; the spa and gym draw folks to the bow area during the entire day
Captain Jonathan Mercer and staff officers have presented (from the invitation) "their compliments and request the pleasure of your company at the CAPTAIN'S DINNER preceded by cocktails...formal dress." As far as I'm concerned, The Captain's Dinner is the opening salvo of my 82nd birthday, to be formally celebrated upon reaching the island of Nuku Hiva, Thursday the 22nd.
---
23 January 2015 - En Route to Papeete, Tahiti, French Polynesia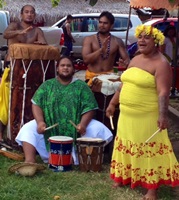 "Oh, Dr. Fine (French pronunciation: Feen) is gone," the lady at the Talohae Wharf Information Center told me. "You mean he has returned to France," I asked. I couldn't understand her retort. Moments ago Jeanne and I had arrived by tender from the Amsterdam. For the second time in our lives we were standing on the Marquesan Island of Nuka Hiva.
In the spring of 2007, Jeanne and I had been aboard the Aranui for two weeks as it plied its way among the Marquesas Islands, delivering cargo to some of the most remote specks of hardened lava on the planet. Dr. Xavier Fine, and his Polynesian wife, were also on board the Aranui. Dr. Fine's permanent gig was as a French public health physician, assigned to the only hospital in the Marquesas; Dr. Fine's hospital—as I remembered—and the French administrative operation for the islands are in the town of Talohae, Nuka Hiva.
Wednesday we were anticipating landfall, after eight days of 17 knot churning the Pacific in a straight line from Manta, Ecuador to Nuka Hiva. "I wonder if that French doctor, who was on the Aranui, is still at the hospital on Nuka Hiva," I pondered out loud. "I remember the photo I took of him and his wife." Jeanne, ever the researcher, sat down at our laptop and opened the photo gallery from that glorious flick of time almost eight years ago. POOF! There was the remembered photo labeled "Dr. Fine and wife." "OK", said I, "We're going to look him up. He and his wife are the only people we could know on Nuka Hiva."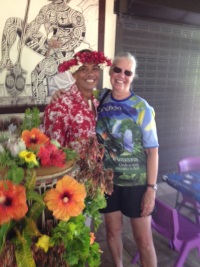 Not only was there no Dr. Fine and wife to find, we were disoriented: The wharf area was not as we remembered it. A small shop that serviced incoming sail boats with communications, some supplies and tourist items, was nowhere to be found. Bereft as we were, we turned to our time-honored routine in a foreign environment: We sought out a vendor of beer and Diet Coke's. A passing passenger had told us of a modest open-air cafe on the wharf where the use of its WI-FI could be negotiated for the purchase of a cold drink. The bubbly girl at the counter told me "No, we don't sell beer, but you can get that at the market," as she pointed away from the wharf. As I bought Jeanne's Coke Zero and the girl wrote out the WI-FI, she told me: "I can speak five languages," and holding out her left hand, named them clicking them off with the index finger of her right hand. I delivered Jeanne the canned Coke and WI-FI code and set off in search of a cold beer.
I had seen the open-air market as we left the information center. I marched up a small hill, passing a grounded cabin boat being carefully repainted by a local workman, and into the market. Vegetables, set out on tables, were being sold in the front. As my eyes acclimated to the reduced light, I saw refrigerated glass cabinets in the back. "Beer for sure, I thought to myself. I approached the counter and the young fellow manning it. We recognized each other in a flash. "Oh my God, the Aranui," I gushed out. "Yes, yes, he said," a broad smile on his face. There stood Joel, for two weeks our restaurant manager and server aboard ship. "Wait 'til my wife sees you," I said. "How long will you work today," I asked, not wanting Joel to run off before I shepherded Jeanne to him. "Two years," he replied, thinking I asked him how long he had been in his current job. We established that he would be behind the counter for the afternoon.
When Jeanne arrived, hugs and tears abounded. I took photos and listened as Jeanne and Joel carried on. We then returned to the no-beer cafe to take advantage of the internet access. When we returned to the market to extend our farewells, the three of us chatted for a moment. Strange but true: As we were about to leave, I could see the hairs rise on the arms of Joel and the two wayfarers.
As we walked down the hill, Jeanne said wistfully, "For some reason he took a strong liking to me." "That is because you are kind to people," I replied.
---
25 January 2015 - At Dock, Finger Pier-downtown Papeete, Tahiti-Sunday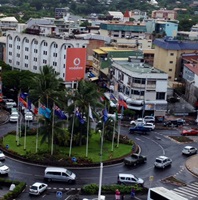 It is a rainy day in Papeete.
Papeete is the Washington D.C. of French Polynesia. It is the seat of French Polynesian government, commerce and development; with that comes traffic-filled streets and general first-world hustle and bustle. "After being in the Marquesas Islands, Papeete is like being in Hawaii," Jeanne said this morning at breakfast.
"I don't like making announcements like this, because people think I'm kidding, but this is very, very serious: WE ARE IN SHARK INFESTED WATERS. Do not, I repeat, do not go into the water today," so PA-announced Cruise Director Gene, as the Amsterdam dropped anchor, a 10 minute tender ride from the Nuku Hiva pier. I have heard warnings of "shark sightings" during our years of travel, but never been warned away from a beach because the sea water lapping it was "shark infested." To my knowledge, the 2015 Holland America Grand World Voyage lost nary a passenger to the killers of the deep.
Amsterdam Captain Jonathan Mercer is in both the blog and photog niches; he is very good at both. Those of you, dear readers, who would wish to see these 114 days of ocean-going through the eyes of the ship's master would be well advised to tune into his blog: Captain Jonathan's Blog or the HAL blog at Holland American Blog and scroll until you find his renderings. His description of our passage through the Panama Canal was particularly well done.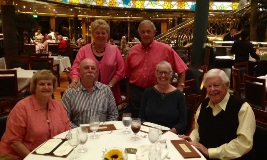 Our formal dining room 8 pm dinners at Jan and Dick's table for eight have been delightful: The conversation flows so fluidly and timelessly, the staff often must ask us to leave, as they begin preparations for the next morning breakfast service. Filling out the regulars at our table, at least until the Amsterdam slips into the Sydney horseshoe harbor, the sun rises over the bow and glistens on the Sydney Opera House, are Aussies Vince and Cheryl. I have found that I possess the ability at will to draw a deep laugh out of Cheryl; I shall miss her. Vince's waters run deeply and wryly.
During dinner conversation recently, Jan make a cogent observation: "People who take a two week cruise are on vacation. For Dick and me the Amsterdam is a life style. For four months, we live here." Chicagoans, eager to escape the Lake Michigan wind-blown, brutally low winter temperatures of the second-city, they decline to own or lease a home in Palm Beach or Palm Springs, or wherever. Their alternative is a deck 7 cabin, the constantly changing scenery, and opulent luxury annually offered by the MS Amsterdam, as it circumnavigates the globe. Harmonica player extraordinaire Bernie Fields was a recent performer-guest at our table. I sat to his left. At one time he leaned over to me and quietly asked: Are you a lawyer? I admitted that I was (still licensed in the District of Columbia). Then I explained to all how my "look" got me discovered to play a Congressman in the 2000 movie, The Contender, and led to my membership in the Screen Actors Guild.
Yesterday, Jeanne said: "Only 94 days to go. I guess I had better start packing." We have written to family and friends that it is still difficult for us to definitively and deeply understand that we are a part of this Grand World Voyage. After the first eight days of this voyage we became Holland America Four Star Mariners. So what, a reader might ask. Here is the so what! We receive free laundry service as a "Four Star." My tux shirts would not have that bleached sparkle, if they were to be tidied-up in the coin laundry machines aboard. Holland America Four Star Mariner status represents our having spent 200 nights aboard HAL ships.
President's Club is the highest Holland America award level. During a private dinner aboard a few days ago, seven persons were inducted into the Prez Club. Get ready for an astounding (if not incredible, inconceivable) tidbit: Prez Club membership requires having spent—are you ready—1400 sailing days aboard HAL ships. Jennifer, of guest relations, just provided me with THE big finish, in re folks addicted to the sea life aboard HAL ships: A woman aboard this voyage has spent 3808 day sailing with Holland America. I just did the math. Miss or Mrs. 3808 Sailing Days has spent almost ten and a half YEARS aboard HAL ships. Hale to her, I say.
---
27 January 2015 - Aboard the Amsterdam En Route Bora Bora to Raratonga-Cook Islands, French Polynesia.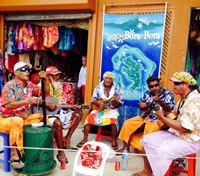 While sipping a late-morning beer and Diet Coke in a small, open air, faux French cafe on the main drag of Vaitape, Bora Bora, French Polynesia, dinner companions Jan and Dick rode by on their bicycles; I shouted out to Jan, peddling behind her husband. At least three couples, including Hotel Manager Henk Mensink and his wife, Christel, guest relations manager, have their bikes aboard the Amsterdam.
After a short overnight sail from Papeete, Tahiti, the Amsterdam anchored in Vaitape Bay, outside the calm lagoon surrounding Bora Bora. Monday morning, when Jeanne and I walked down the Amsterdam gangway and into the bobbing tender boat, we walked to the bow and sat down. "Oh No," I said aloud. Seated next to the Indonesian mariner captaining the tender from a high platform was Robert, the young Dutch mechanic; he was aboard when we twice experienced tender engine trouble. "Third time is the charm," he assured us.
The first Bora Boraian we met was Oklahoma born and raised Robin. "I married a local and have been here 28 years," she said in answer to my obvious question. Robin was corralling as many ship passengers as possible into small tour boats, for three and a half hour lagoon explorations. "If you are going to buy black pearls, do it in the market behind me. The cost will be 100th of prices in the shops." "100th?" I asked. "Yes."
Some Bora Bora merchants have an exchange rate scam going. The official dollar to French Polynesian Franc rate is 1 to 100. When I paid for our beer and Coke in the cafe, my tab came to 750 Francs; the proprietress, however, insisted I owed her $9, a 20% ripoff. I paid the $9, of course. Jeanne and I roamed up and down the street after our drinks; I took a couple of photos of the evangelical church. During our stroll we noticed a bank ATM .
Jeanne was considering the purchase of a blue and purple island blouse she had spotted in the market Robin had touted. We returned to the stall containing the blouse which had caught Jeanne's eye. The elderly lady merchant used a long pole to retrieve the blouse from the top of her stall; it fit, in taste and size. Two pieces of local jewelry were also to our liking. I asked the total cost of our cache. "four thousand in francs or $50," "Put everything aside, we'll be right back," I said. We withdrew the francs from the ATM, returned to the lady's stall and closed the deal. As the Polynesian merchant gathered our purchases into a plastic bag, Jeanne watched her drop a third necklace into it. Sometimes, apparently, it pays to not haggle.
Our (probably only-ever) Bora Bora day was still young. We didn't wish to be 3 ½ hours on one of Robin's small boats, but I wanted to see more of Bora Bora. We settled on a shuttle "bus" (an old Mercedes Benz truck pulling what appeared to be a one-of-a-kind wooden carriage, with padded seats on the sides and a wooden bench in the middle.) The homes we passed as the shuttle wound along the coastal road were tidy and middle-class, according to my interpretation. The first stop was the "famous" Bloody Mary's, a thatched-roof restaurant and saloon. We disembarked the shuttle. Jan had warned me that the namesake drink was very expensive, and I could see for myself that they were poured into tiny plastic glasses; I demurred. One extravagance we could not resist was a $25 T shirt proclaiming front and back: "Bloody Mary's, Bora Bora." As we rode the tender back to the Amsterdam, Jeanne said: "I'll be the only girl in my neighborhood to have a Bloody Mary's, Bora Bora T shirt.
---
27 January 2015 - Aboard the Amsterdam En Route Nuku Alofa, Tonga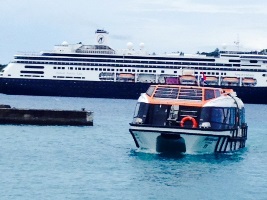 The Cook Islands and Alofi, Niue have disappeared; at least for the passengers and crew of the MS Amsterdam.
Early yesterday morning (Wednesday) Captain Jonathan (as he refers to himself) awoke me as his voice boomed over the public ship public address system. He explained that because of rough seas the crew was unable to get the tenders (motorized lifeboats) in the water "after an hour and a half of trying." The fact is that even if the tenders were to operate in such seas, the danger to passengers would be immense. The passenger's safety would have been up-for-grabs if they would have attempted to enter the small boats, crashing against the hull of the Amsterdam as they rose and plunged, controlled by the pulsating rhythm of the South Pacific white-caps. So, it was a wave and goodby to the opportunity to set foot on one of the specks of lava or coral named after Captain James Cook, the world's greatest explorer under sail who didn't speak a romance language.
---
2 February 2015 - Aboard the MS Amsterdam En Route to Auckland, New Zealand.
The Amsterdam has crossed the international dateline (we watched the Superbowl on Monday).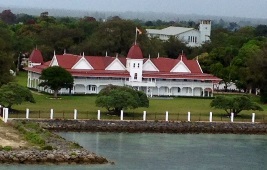 Tonga - Part I
In 1971,when Walt Disney's company included the Magic Kingdom in its Orlando Disney World theme park, it was almost a millennium behind the times. Tonga has had a succession of autocratic chieftains, leading up to the present royal family, since the 12th century. The Kingdom of Tonga is a real-life, real-time 176 island Magic Kingdom, rising out of the vast, royal-blue South Pacific Ocean. Tonga has never been colonized. For reasons unknown to me, it was never overrun by Europeans or Americans and forced to give up its Polynesian monarchy, unlike Tahiti and Hawaii. This happy circumstance, though the first London missionaries arrived on Tongan coral and hardened lava in 1797.
"I have really enjoyed our time in Tonga," Jeanne said, as we executed our final Nuku'alofa walk to the Amsterdam, secured to a pier constructed by Chinese laborers and gifted to the Kingdom by the Peoples Republic of China. We entered our first deck cabin in time to watch the improbable completion (or rather interception) of the '15 Super Bowl.
Tonga is 90% Christian; seriously Christian. It is the law of the land that most business cannot be conducted on Sunday. With the exception of an occasional two-man police patrol SUV, streets were largely deserted as Jeanne and I began our meanderings after breakfast Sunday.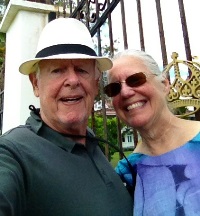 The Royal Palace of Tonga sits facing the ocean, directly in front of the Vuna Wharf, two day home of the Amsterdam; it was an obvious introduction to our first-day Nuku'alofa walk-about. In use now only for ceremonial occasions, the Victorian frame mansion—staggering as it seems, given the logistics—was created in New Zealand, made its way to Tonga and in 1867 patched together on the Nuku'alofa waterfront.
Jeanne and I created a selfie standing in front of one of the Palace's unyielding side gates. Before leaving the environs of the King's nominal home, through the fence we induced a smile from a solitary, unarmed soldier in a guard house; across the street we photographed a Royal Palace servant, wearing a taovala, the ubiquitous grass mat, worn to honor the land, provider of all.
As we walked uphill, on a ridge to our right, the simple, unadorned white Methodist Church caught our attention. When we reached the church portico, an usher met us: "Oh, you just missed the choir," he said. (Tongan church choirs are renowned.) "but the King is here. Would like to see him?" "Yes, of course," I answered. "Follow me," and we proceeded at an athlete's pace up concrete back stairs that ended in a very high balcony, sloping toward the front of the large sanctuary; there communion was being served to Tongan and visiting worshipers alike. The King and Queen of Tonga sat alone in a theater-like box to the left side of the alter. I took photos with my iphone which, because of the height and distance, produced poorly-focused and ephemeral images; nonetheless, I possess self-taken snapshots of the King and Queen of Tonga. Later, Jeanne and I watched as the Royal "limousine" (a small Toyota SUV) passed by, followed by a security detail in a nondescript, green military vehicle; a royal flag fluttered from each front fender.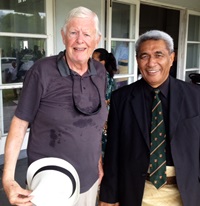 When Jeanne and I returned to the church portico, I met Bill who, in answer to my question, explained the meaning of the Tongan Taovala, worn by men and women over normal garments. "I'm a surgeon," he told me. I asked where he obtained his medical training. "First in Fiji, then in New Zealand and Australia for my specialty," he explained. It was clear that Bill was leaving church early. "I have a patient in the hospital. I have to look in on her," he said as we walked toward his car. Jeanne and I enjoyed Tonga so much, I joked about moving there, "and I already have my doctor," I added.
After church, Jeanne and I continued to wander the deserted streets of Nuku'alofa. I took photos as we went. After making a few inquiries of folks standing about, we stumbled upon an open cafe, a short distance from the Amsterdam. The joint advertised WI-FI, but it was being over-used by passengers from two docked cruise ships. We settled for a local beer and a small bottle of water. "Nine dollars," I asked the pleasant young man behind the counter, not certain I had heard correctly. "Yes," came the reply. We rested a spell, drained our beverages and walked back to the ship. We then enjoyed a late light lunch in the Lido, the Amsterdam informal restaurant.
---
3 February 2015 - Aboard the MS Amsterdam En Route to Auckland, New Zealand.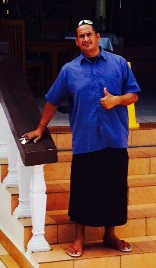 Tonga - Part 2
"A sniper killed two in our unit—not Tongans—British guys. Then a fighter-jet zoomed in and took out the entire building where he had been shooting," explained LeRoy, our Tongan driver/guide hired for a few hours during our second full day on the island of Tongatapu; it contains Nuku'alofa, the capital city, and 70% of the 103,000 people living on the 52 populated Tongan islands.
LeRoy's war stories, of his two years as a tank driver in Iraq, were an interesting addition to the usual guide blather we visitors pay to endure island after island, nation after nation. "When I got home safe and sound, I said that was enough. I left the army."
Jan, Dick, Jeanne and I were at our first out-island stop, a small, not-quite-seedy, but far below Ritz-Carlton standards, resort. The ocean front area was narrow and rocky. There would be no beach-walking here for the presumed, but unseen, guests. At our next Tongan resort respite, the beach was long, wide—perfect for Jeanne, an accomplished beach-comber. "When we retire to Tonga, I'll cut a deal and we'll live here. You can walk this beach each and every day," I told Jeanne.
Pacific Ocean "blow-holes" are a dot on the map in the middle of the four-color, slick "magazine" handed out by the tourist bureau ladies, a few yards from the Amsterdam gang plank; map dots signify mandatory Tongatapu must-sees.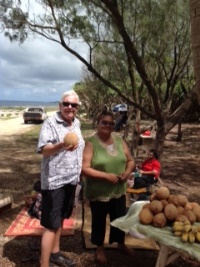 LeRoy pulled his battered, sunburned van into the blow-hole parking lot. Whereupon, we four were greeted by a Tongan family of enthusiastic singers, sitting in the shade of a palm tree. We waited patiently, but alas, the blow-holes were not blowing. I bought a small coconut, gave the mother of the singing family double what she asked for it, drank the pleasantly sweet milk within, and LeRoy's ancient van and visitors drove off in search of a Tongan burial ground. We were soon upon one. We left the van to inspect the colorfully decorated mounds covering the remains of Tongans past.
Deviating from the path of our return to the Amsterdam, LeRoy drove us to a squatter's encampment. "The government wants them to leave; it won't provide them water or electricity," he explained. "One time, when I was in the army, they sent us down here to clear them out. The people told me 'we're not leaving until you find us somewhere else to go.' I thought about it, and said, OK, you win; and we left." Perhaps LeRoy's squatter story illustrates the civic responsibility of the Tongan people, including the army; or perhaps it's apocryphal. Regardless, we enjoyed our time with the young, former Iraq combat soldier, father of three. Jan asked him: "If we return, how to we find you?" "Just ask for LeRoy." "There must be more than one LeRoy," Jan retorted. "Just ask for LeRoy the soldier."
Later during the afternoon of our second and final day on Tongatapu Island, Jeanne and I went browsing in a large vendor tent at the end of Vuna Wharf. Jeanne spotted a black, nut necklace, with a substantial wooden turtle (in Polynesian lore, a turtle carries a person into life and out) dangling at the bottom. I haggled with the delightful necklace merchant. We settled on the price of $16. I handed him a $20 bill. He rolled it in his fist. "I'll show you some other items." "No, we have all of the Polynesian wooden items we'll ever need," I retorted. He smiled knowingly and dug out four dollars from his wallet.
---
8 February 2015 - Aboard the Amsterdam En Route Bay of Islands (cluster of North Island villages, including the first European settlement in the country) New Zealand to Sydney, Australia (the Amsterdam is a day ahead of the U.S.)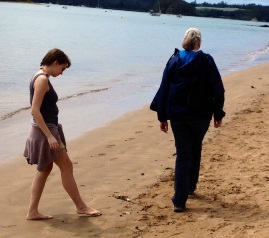 Saturday, the last tender from the resort village of Paihia to the ship shoved-off at 3:30 pm. The town was worthy of not a minute more time from the Amsterdam's passengers and crew.
While some of our dinner companions took a ferry boat to another bay village, Jeanne and I remained marooned in Paihia, the tourist trap. The tiny ocean-front strip of habitation was jam-packed (or filled to the gunwales, if you prefer) with its normal summertime New Zealand vacationers, plus passengers and crew from the much larger Celebrity Solstice and those Amsterdam folks the tenders deposited on the beach.
Jeanne beach-combed (a few small shells sit in a container behind my laptop.) I interviewed Angela, who was seeking a stone or two in the sand before we arrived; she is a 22 year old, German backpacker, who will remain on another North Island village working for a month, during her six month quest to see some of the world beyond Europe. "I have taken time off from university. First, I thought I wanted to be a teacher. Now I know it's not for me," she explained in near faultless English.
I photographed the Anglican church and bought Jeanne a $5 half-dip of Hokey-Pokey, the national ice cream; it didn't live up to the hype.
AUCKLAND, N.Z.-AUTHOR'S NOTE: This was our second sojourn in Auckland; the first was at the end of March, 2013. On that first go-about, we did the obligatory elevator ride to the top of the Sky Tower; we bused our way to the War Memorial Museum, which contains a fascinating collection of Maori (N.Z. indigenous people) artifacts, including an amazing warrior canoe carved out of one log, which, as a tree, must have reached higher for heaven than all its contemporaries. We even took a leg of the ubiquitous Hop-On, Hop-Off bus. During the Amsterdam's just-completed two day tie-up at the Auckland wharf, Jeanne and I performed none of the mandatory tourist feats. To follow the extraordinary Auckland experiences we DID enjoy at the end of March, 2013, go to South Pacific Adventure, March 29 and 31 at our website: Enjoyable Auckland!.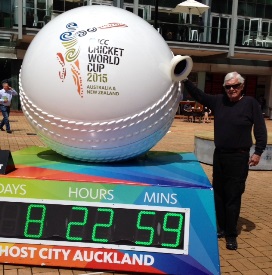 Over the years, my need to know and control my body weight has become a fetish; I acknowledge my fate, welcome it and have no plans to change it. For three decades, I have owned the type of manual scales once found in doctor's offices, until digital took over. I weigh myself daily; I record the date and number in lines on index cards. I keep the cards in a thick envelope. If ever it would be important to another human being, I could provide that person my body weight on any given day, most probably beginning in the 1970s.
In 2013, when Jeanne and I were first in Auckland, I bought an analog bathroom scale; when we completed the South Pacific voyage, I simply discarded it in our cabin. We carried from Jewell Hollow for this voyage an electric digital scale that I used for years, when Jeanne and I would move to Richmond each winter for our work with the Virginia House of Delegates. I used that scale in Florida, over Christmas, while waiting to board the Amsterdam. When I removed my scale from our luggage aboard ship, it was door-knob dead, not a flash of digital image. With hope, I took my scale to the Amsterdam customer service desk for assistance; I even signed a release of liability, drafted by the Holland America legal department in Seattle and printed on board. Days passed. Finally, the dreaded news was delivered to me over the phone by the attractive young Dutch woman who had accepted my bathroom scale. "Mr. Frink, I'm afraid that the mechanics cannot repair your scale; they don't have the parts." At that moment, Auckland, New Zealand meant one thing to me, and one thing only: It was a source of bathroom scales.
On day 31 of our 114 day voyage, the Amsterdam made its way into Stanley Bay and docked at 8 am, facing center-city Auckland. After breakfast, and being cleared by New Zealand immigration authorities, Jeanne and I began the long walk through the ship (we live in the stern, gangway is in the bow), through the warehouse-like cruise-line dock area and ahead into the throng of urban Auckland. We learned that free WI-FI existed in the large, concrete park which fronts the multilevel shopping center, just across an active thoroughfare from the cruise dock area.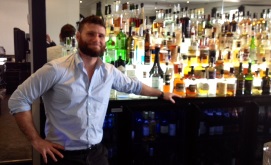 We spent 45 minutes connected to the internet clearing out email. Then it was into the shopping center, laser-focused on digging out a bathroom scale to be purchased and lugged back to the ship. The third-floor Warehouse was the place. A miniature Costco, but in urban Auckland, it had everything from scales to nuts, both of which we purchased. With the scale bagged and in hand, focus slipped a notch to where to partake of our first Auckland beer and Diet Coke. On our way to the shopping center I had noticed a sign for Harbormaster Ocean-bar-grill.
After we had climbed all but a few steps of the two flights to the joint, we paused. The Harbormaster is an elegant, upscale establishment, unlike our usual saloon-on-the-road-to-somewhere. "It has stools at the bar," I told Jeanne. We ventured forth. Christian, the bearded young barkeep quickly had our beverages in front of us. "Where are you from," I asked, believing I was about to chit-chat with a New Zealander. "Las Vegas, is where I was last, where my folks live, but I was born in Chicago." Surprised, I explained Jeanne and I were also from the Midwest and inquired about his legal working status in New Zealand. "It wasn't too difficult, with an American passport," he said. Christian explained that he and his Filipino girl friend had spent a couple of months in the Philippines, visiting her family. He and she had also lived and worked in Vietnam for a few months, as well as Thailand. "In Vietnam, corruption was everywhere. You have to bribe officials, teachers, everyone. It's the system." Then he pondered which system of corruption is preferable, the open Vietnam model or the much more subtle system we operate under in the U. S. Perhaps he was thinking of Wall Street, or the funding of American political campaigns. I didn't ask.
We gathered our shopping bags of peanuts and a coveted digital bathroom scale and were soon in cabin 1938, MS Amsterdam, ready for a late lunch in the Lido.
---
12 February 2015 - Aboard the MS Amsterdam En Route Sydney to Melbourne, Australia.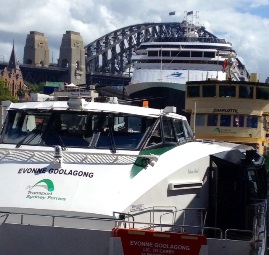 Our cabin telephone rang, a rare occurrence. "Mr. Frink, this is security. A Mr. and Mrs. Morris are here at the terminal front entrance. They wish to see you. Can you come down here?" "Yes, yes, absolutely," I answered. It was late in our two-day sojourn in Sydney, Australia. Final "all aboard" for the castoff to Melbourne was less than two hours away. Jeanne, awakened from a nap, and I scurried to the bow of the Amsterdam, out on to the elaborate gangway, into the cruise terminal and headed down the escalator to street level. Jeanne caught first sight of Heidi and Peter as we descended. Hugs and kisses ensued.
Eight years ago, the Frinks and Morrises became friends during a two week voyage on the Aranui, a combination cargo-passenger ship serving the supply needs of the Marquesas Islands. The Marquesas' are some of the tiniest and most remote inhabited islands on the face of the earth. For a fee, adventurous passengers can tag along on the Spartan ship as it makes its Tahiti round-trip. While remaining in email contact, Jeanne and I had laid our eyes on the former London Bobby and his spirited wife, now owner-operators of a bed and breakfast an hour distant from the English mega-city.
Before Jeanne and I vacated our Jewell Hollow cabin and set off for Florida and the Amsterdam, I emailed friends and family our abbreviated itinerary. Heidi replied with the news that she and Peter were going to be spending a month in Australia and that our Sydney itineraries might overlap. We are now on day 38 of our 114 around the world adventure and knowledge of a possible hookup with our Aranui friends didn't remain in the left side of my brain. Yesterday morning we received an email from Heidi: "We are in Sydney. Where are you berthed?" We replied that we were about to do a ferry round-trip to Manly, but would be back aboard ship mid-afternoon; the email didn't arrive. Regardless, they arrived at the Amsterdam in search of us, and waited at the gate for us for an hour as passengers re-boarded. Then Peter convinced the security man to telephone us. "I'm a former London Bobby..." he began.
"Remember when we stole the table from the French," Peter asked. Of course I did. The passengers on the Aranui were split almost evenly between French and English speakers. The French were passive-aggressive (imagine that) and would each evening send a scout ahead to the dining room to claim the largest table. One evening a coup was organized by, I believe, an interesting Polish passenger (he and his wife English-speakers.) When the French scout arrived to claim "their" table, it was already crowded with the dreaded Anglos. What fun!
We caught up on each others lives over the intervening eight years and recalled other Aranui (English-speaking) passengers. We also found a very good spot to take a reunion photograph, facing the bow of the ship, with the iconic Sydney Opera House in the view. Before our goodbyes, Jeanne and I promised to catch a bird to Heathrow or Bristol to spend some time on Heidi and Peter's turf. To our surprise, 37 days into our epic voyage we have enjoyed two reunions from our engaging, long-remembered voyage among the Marquesas Islands aboard the Aranui.
Jeanne and I didn't walk the Sydney Harbour Bridge, nor tour the Sydney Opera House during this Sydney sojourn as we did in 2013. We did, as aforementioned, take a 20 minute ferry ride to Manly, a lovely beach town. Jeanne briefly walked the swimming beach that begins at the ferry wharf, in a vain search for a shell of radiant luster. As we left the beech, we met a young woman with a handsome year and a half old son (her fifth child).
Nowhere is it written that we must leave not our footprint, but some of our money, each and everywhere we a lite in our travels; but it is usually the case. The Guzman and Gomez taco joint provided us the opportunity to drop some cash (19.5 Australian bucks, worth about 20% less than Uncle Sammy's cash) for three spicy chicken, soft tacos, a Pepsi Max and a Corona Beer.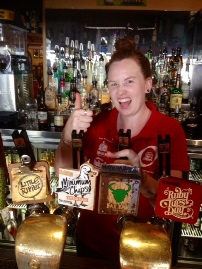 On the return ferry ride, I spoke with Dave. He is a well-to-do (I sensed) Londoner, whose adult children live in Manly. "The boy is in Japan now snowboarding." He is "in finance," and lives nearby. His daughter commutes (by ferry) to Sydney, Dave explained. He spends a month each year in Manly during the English winter. "I have a great life," he offered. Who would disagree?
On our first day in Sydney we roamed the Rocks area, steps up from the dock where the first English convicts were dumped from a sailing vessel to begin the colonization of Australia. We satisfied Jeanne's need for cough-suppressant lozenges and mine for something akin to Band-aids at a quaint, narrow Victorian-Esq apothecary, stuffed to the gills with merchandize. Pellegrino water, for Jeanne's cocktail hour cranberry juice and fizzy water concoction, was a acquired in a convenience store from a young Jordanian, who didn't fathom my sense of humor.
Lily, the barmaid at the old-timey Observer Hotel, provided our drinks (a pint and a half of ale and two Diet Cokes.) The Observer has a 20 dollar (Australian) minimum before a credit card will be accepted. The minimum accounted for our excess imbibing.
As with all ports of call on this fanciful odyssey, the primary Terra firma search is for a free (or low cost) wi-fi hookup. At the Sydney docks, this irreplaceable gift was provided by the Sydney Tourist Information Office. Thank you, Sydney Chamber of Commerce, Sydney taxpayers, or whomever pays the tab.
---
14 February 2015 - Aboard the MS Amsterdam En Route Melbourne to Adelaide, Australia.
When the celebrations of this evening pass into night and the date flips over, Jeanne and I will have completed 40 days of the 2015 Holland America Grand World Voyage. We are now on the second segment of our adventure, Auckland to Dubai.
Some facts about our inaugural 8548 nautical mile segment aboard MS Amsterdam:
During the eight day non-stop sail from Manta, Ecuador to Taiohae, in the Marquesas Islands, we powered through 3583 NM at an average speed of 17.4 knots. Top speed for the Amsterdam is 25.5 knots.
We are aboard a 781foot long vessel, which is pushed ahead by the juice from five diesel generators; in a day, the generators suck-in 39,500 gallons of fuel, at 21 knots, a speed we have yet to reach. The generators can turn out a total of 65,600 horsepower.
According to the first segment cruise log, we paying guests were a contented—my word—bunch of 1010 Americans, Canadians, Germans and other Europeans, a dollop of Latinos with a dash of Chinese, for good measure; the supporting cast of 637, is primarily made up of Indonesians and Filipinos.
The Amsterdam manufactures its potable water from the salty sea; the leisure and working classes aboard drink, flush and shower 160,000 gallons a day of drinking-quality water.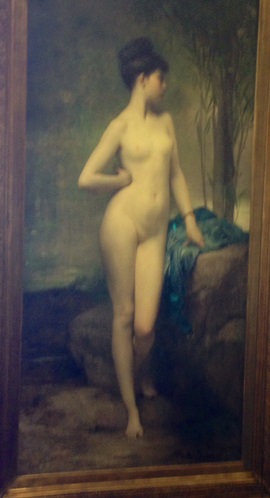 Yesterday was Melbourne. It had changed not at all to our notice in the 22 months since we last roamed about its center environs.
The #109 line tram ends and begins at the Melbourne Cruise Terminal; we boarded it after a $14 AU daily public transport system pass purchase and a long walk from the second deck Amsterdam gangway.
Flinders and Swanston streets pinpoint the Times Square of Melbourne; on the four corners sit St. Paul's Cathedral, Federation Square, Flinders Street Station and Young & Jackson, saloon and restaurant. Young and Jackson first saw the light of day in 1875; it is where Chloe is hung, the large portrait of a naked young girl, which once scandalized clergy and others of a certain class of Melbourneites. After seeking and doing business in a camera shop to replace the strap to our Nikon, which I had foolishly trashed, we hightailed it to Chloe's Bar, in the second-story of Young and Jackson.
Phillip, was the young man on duty behind Chloe's Bar; he poured me a pint of the house-brand ale and a Diet Coke for Jeanne. I discussed our previous sojourn at the shrine of Chloe—sufficiently recorded in my April 2013 essay. Jeanne and I renewed our acquaintance the notorious beauty, who has been hung on the same wall since 1909, by photographing her once again. Art and three others from the Amsterdam walked into Chloe's bar. "Man, this was a hard place to find," Art said. "Really," I thought to myself, "on Federation Square?" I introduced Art to Phillip and urged Phillip to give the new arrival a copy of the four-color Chloe brochure. I paid my tab, and we were back on the corner of Flinders and Swanston.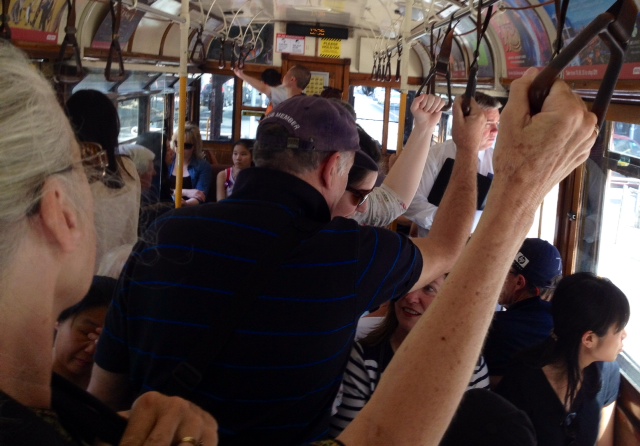 "We should take the 'Talking Tram' this time," I told Jeanne; it is a circa 1920s trolley that circumnavigates the Melbourne city center, while a recording recites the high-points of each stop. When I returned from checking the TT schedule, Jeanne told me: "I was chatting with one of the tourist-helper ladies on the corner, and she told me that Australia is so large that folks in Adelaide go to Bali and Singapore on vacation 'cause the airfare is cheaper than to Melbourne. For Melbourneites it's cheaper to fly to Figi than Adelaide."
During the Talking Tram ride, Jeanne and I pickup a couple of Melbourne tidbits: It is the largest Italian city in the world beyond Italian shores. Melbourne contains the oldest continually operating Chinatown in the western hemisphere. Finally, Etihad Stadium (soccer, other sports and musical events) has a 50,000 capacity, has a sliding roof, which takes eight minutes to close. The Talking Tram was filled with tourists and locals, sitting and standing, during our loop around the guts of Melbourne. "You would believe that Australia was settled by Asians, by the passengers on this trolley," I told Jeanne.
Wow! Captain Jonathan (Mercer), on his daily 1pm PA report to his flock, just announced that the temp in Adelaide tomorrow will be 102 degrees. "Caps and water," I told Jeanne.
---
16 February 2015 - At dock Outer Harbor (45 minute train ride from Adelaide, South Australia, Australia)
The temperature was 84 degrees at 8am yesterday, 66 today; sun shining brightly each day.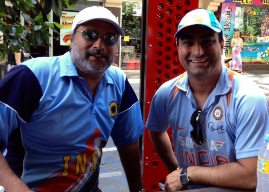 "Forty thousand tickets sold, and you picked this guy," said Bob, referring to his friend Kumar.
Before we emerged from the depths of the Adelaide Train Station late yesterday morning, we were greeted by a small pack of Pakistanis, shouting and waving their national green, crescent flag. Startled, I took iphone photos.
At ground level, it was minor mayhem: First came groups of five to fifteen Indians wearing blue faux jerseys, shouting, blowing long plastic horns, and waving red, white and green flags of the world's most populated democracy, as they cantered along the main drag in front of the train station. Then came more Pakistanis, shouting strange chants and furiously waving their national colors; on it went, wave after wave, Indians and Pakistanis.
Jeanne and I retired to an outdoor table of a large cafe directly in front of the train station. Inside, where I went to order our beer and Diet Coke, it was as packed as an Indian passenger train, with a jumble of blue jerseys and green. In the disorientation of the moment, I forgot how I learned the cause of the flood of subcontinent exuberant-in-extreme tourists clogging central Adelaide, the modest southern Australia city, during the Amsterdam's layover nearby, but the answer was: The national teams of India and Pakistan at 2:30 pm were to play each other in an early round of the ICC Cricket World Cup '15.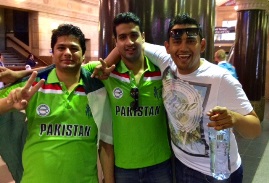 A more intense international rivalry is beyond imagination. In 1947, the year of independence from Great Britain, India was split. Muslims were forced into Pakistan. A million plus people died in the incredible geographic shift, as Muslims slaughtered Hindus and the reverse. The two nations resulting from the defacto Indian civil war have been obsessed enemies for almost 70 years; both are armed with nukes. Now, on the field of sport, the Indian subcontinent national hatreds will be played out before an international television audience predicted to be the largest ever—beyond the Superbowl, whatever.
Jeanne and I wanted out of Central Adelaide. I wanted to learn more about the blood-feud sporting event that was about to unfold. As we walked toward the Adelaide public transportation info center to check out a bus ride to a "quaint" nearby village of German heritage, I thought of imploring various passing subcontinent cricket revelers for information on the upcoming match. They, however, evidenced no interest in slowing down to chit-chat with a cricket-ignorant American.
Then we stopped as Indians Kumar and Bob were about to eat lunch at a standup table at the edge of the sidewalk. Blind luck held its hand out to me, as it has so many times over scores of travel years. What Bob meant about me finding Kumar became clear soon into our chat.
"I lived 24 years in the U.S. My address when I worked at the World Bank was 1800 Pennsylvania Ave. Later, I worked for Pimco" (a So. CA bond fund colossus), he said. Now Kumar and Bob manage money in Melbourne. Later in the conversation, Kumar said: "I have dual citizenship; born in India and now am an American as well. I was in Hawaii three days ago visiting my kids."
It was Bob who said: " This match will be the most watched event in human history. There are over a billion Indians and 300,000 Pakistanis There won't be anyone on the streets in India." During our chat I claimed that cricket is played exclusively within the old British Empire, excluding the U.S. "Oh, you play cricket in the U.S. too." "Oh, I said, professional cricket, like MLB, NFL and NBA?" Kumar conceded the cricketers in the U.S. were largely amateurs.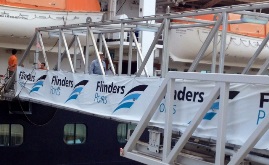 With central Adelaide awash with subcontinent Indian and Pakistanis, I stumble onto an interesting Indian-American cricket fan willing to spend a few minutes chatting before claiming his stadium seat to watch an ultra-significant sporting event. India won the 8 hour match.
Jeanne and made our way to the public transport info office, but decided against spending an additional three hours getting to and from and meandering a bit in Hahndorf, the quaint German village. Down into the bowels of the Adelaide Train Station; 45 minutes later we were at the Flinders Ports.
Flinders here, Flinders there, Flinders street and train station in Melbourne, Flinders Ports in the sea gateway to Adelaide. Who is this guy? My laptop imbedded Encyclopedia Britania reveals that Captain Matthew Flinders was the first to chart the coastline of Australia during expeditions from England in 1795-99 and 1801-03. He died in London, 1814, the year his book recalling his exploits was published. So there, now we both know the genesis of the Australian interest in an Englishman named Flinders.
---
18 February 2015 - Aboard the Amsterdam En Route Albany, Australia
The MS Amsterdam, passengers and crew, have passed through but half of the two week strangle-hold that Australia currently has over the Holland America 2015 Grand World Voyage. We have yet to spend a day in Albany, two days in Fremantle and what is essentially a sail-by (8am to 2pm, with tendering eating gobs of that brief time) at Geraldton, a little known dot on the vast swath of earth that is the State of Western Australia.
Jeanne returned from a lecture on the proximate ports of calls and told me: "If the State of Western Australia were a nation it would be the world's tenth largest." Now that is a chunk of land. The Australians have conjured their own brand of English, but their culture and customs mirror those of New Zealand, Canada, the U.S. and other largely Caucasian former British colonies. There is little in the realm of the exotic to be found Down Under.
Hallelujah! An awakening of our see-the-world nerve-endings will occur after a few more luxurious days at sea: The Amsterdam is scheduled to dock in Bali at 4pm, Thursday, February 26. Bali: a calm Hindu enclave in hectic Indonesia, which possesses more Muslims than any other nation on earth. Land Ho Bali! Exotica, here we come!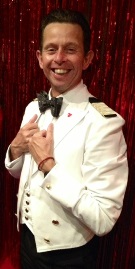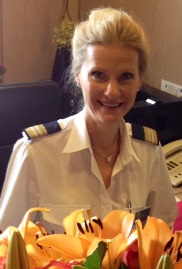 The Amsterdam's crew created a Valentines Day Ball after dinner in the show theater. As we approached the gala there, in his white dress officer's uniform greeting passengers, stood Hotel Manager Henk Minsink. (three quarters of the Amsterdam's 637 crew members work under his direction). I shot a photo of him, which I believe reflects his upbeat and indomitable spirit. The photo, and the fact that it was Valentine's Day evening, reminded me that Henk and his wife, Christel (guest relations manager) live an endearing love story of their own.
The Mensink love story began in the Dutch town of Apeldoorn. Sixteen year old Henk, about to enter the world of full-time work, needed a blazer jacket. Christel worked in her parent's clothing store. "I sold him the blazer; then he came back for slacks. For two years we were friends. Then later we together bought a tandem bicycle, and I said: 'I guess we had better stick together.'" They married in 1988. They applied to Holland America together and began their HAL careers. They have prospered in their mutual work at sea. Christel has risen to Guest Relations Manager, reporting to her husband (such an arrangement has not always been allowed by the Holland America Human Resources Department.) The 2015 Grand World Voyage is their 10th together.
Jeanne and I met Henk and Christel during the 2010 HAL world voyage, when we were aboard for the final segment, which began in Singapore and ended for us in Seattle; it included ports of call in Vietnam, China, Japan and Siberia. When I walked into Christel's office yesterday for a short interview, I said: "I shall always remember when I interviewed you in 2010, you told me one of your principal duties was assisting grieving passengers, who have lost spouses, or other loved ones, on the ship or ashore while a passenger." Christel agreed that such sensitive activity continues to be a portion of her work afloat. "Has anyone died on this voyage," I asked. Her answer would have startled me, if I didn't have some knowledge of the rather unique situation she referred to: "There has been one death, and one is in the process of dying." Christel later said of the lady: "It is her wish to die on the ship and it has been granted."
A sprightly 95 year old lady, a very frequent HAL world voyager, early in this voyage was to her friends looking alarmingly frail. After a consultation with the physician aboard the Amsterdam, she was taken ashore in Auckland for tests. The tests revealed advanced pancreatic cancer. When she talked to a few of us in the Lido dining room after receiving the test results, she was still in denial but she had one strong, overriding wish: She did not want to leave the ship alive. Holland America has mercifully granted her that wish.
Last evening, after dinner, Jeanne and I enjoyed a Mardi Gras party in the large, 9th deck bow bar, the Crow's Nest. We danced for a few moments, despite the active sea below us. The Amsterdam Orchestra (electric bass, electric guitar, keyboards, drums, tenor sax player-also plays alto sax, clarinet and flute) and a tall girl band singer kept party-goers jumpin'.
---
20 February 2015 - Aboard the Amsterdam En Route Fremantle (port for Perth) Australia

The Amsterdam continues its 13 day indomitable nautical slog through a series of ports in cities and towns of eastern, southern and now the vastness of western Australia. Yesterday MS Amsterdam spent a few hours in Albany, a quaintly seedy little port town.
In 1826, Albany became the first settlement in Western Australia when a Major Lockyer, and his ship the Amity, dumped some livestock and Sydney convicts ashore. For the next 70 years it was the only deep-water port in what is now the state of Western Australia.
Albany became a whaling station during the crest of the 19th Century global exploitation of those great sea mammals. The whales are long gone. Today the raison d'etre for Albany, and its 30,000 citizens, as far as I could determine, is the commerce involved in exporting vast quantities of Western Australia wheat to China, aboard ships loaded from the grain silos across the road from where the Amsterdam docked. During the day, Jeanne and I watched as the grain silos were regularly fed by the winter wheat in the heavy truck-pulled triple-trailer "Road Trains" as they were labeled. Another nearby dock loads wood chips into ships bound for Japan and its paper industry.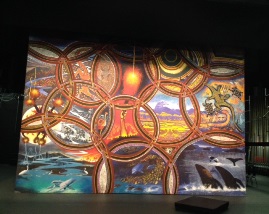 As Jeanne and I began our walk to the town, we stopped a couple of passengers returning from the town. "You want to see the native painting there ahead in the Albany Entertainment Center," the woman of the couple said. It loomed large ahead of us, and would have taken creative effort to avoid. Once inside the impressive five year old structure, we came under the direction of a volunteer named Lucy, who to me immediately became "Volunteer Lucy." As we admired the stage-curtain-sized painting in the AEC auditorium, I learned a bit about how projects are funded in top-down Western Australia: "Where did the money come from," I asked Volunteer Lucy. "It was built with federal and state money," she said. "They wanted the town to take it over when it was finished, but our authorities refused. They knew the town couldn't afford the upkeep on the place." Apparently, the feds and state bureaucrats decided that Albany needed the AEC, built it and tried to pawn it off on the town; the town refused to be conned into being responsible for something they didn't order and knew would become an expensive white elephant.
After leaving Volunteer Lucy, we walked over the pedestrian overpass into "center-city" Albany and its old (for Australia) 19th Century hotels and office buildings. We were in search of a barbershop, for my white locks have not been clipped since before we left Jewell Hollow December 20. We paused as we passed a barbershop on York Street. Two women hair cutters were performing fancy shaved-sides-spiked-tops surgery on two young men. I withdrew in terror.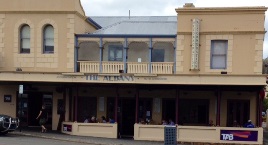 The Albany Hotel was for my taste the personification of Albany; it has not been remodeled since the 1920s, if then. Its signage proclaimed that it still had "accommodations." I doubt it, but what the old-timey, western frontier-like "hotel"did have on the first floor was a saloon, with seven unknown-to-me-beer-brands on tap. Tabitha, a young barmaid with a sweet face, suggested the local-beer tap on the left and I acquiesced. Jeanne was in very good luck: Tabitha told me that she had Pepsi Max on tap, Jeanne's favorite cola. We sat at a table outdoors, in front of the Albany Hotel. Just as in Bora Bora as we sipped our beverages, our evening dinner table-mates Jan and Dick rode by on their bicycles.
The "free wifi" at the library across the street from the Albany Hotel was a disappointment. When tens upon tens of Amsterdam passengers and crew inundate a wifi site, it either shuts down or becomes as slow as the old analogy "Molasses in January." The courtesy shuttle back and forth to the ship, provided by the town fathers and citizens of Albany, stopped at the Albany Library. After a half hour of futile fight with the wifi, Jeanne and I boarded the very old Mercedes Benz municipal bus and were soon in Amsterdam cabin #1938, and at rest.
---
23 February 2015 - Aboard the Amsterdam En Route Fremantle, Australia to Benoa, Bali, Indonesia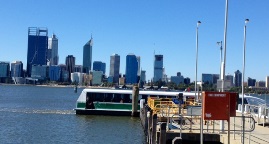 At 7am this morning Captain Jonathan woke us up with his announcement that the Amsterdam had blown by Geraldton, Western Australia, without so much as a how-do-you-do. According to the master of the vessel, the winds were so strong it was impossible to safely pass between the buoys marking the narrow channel into Geraldton's small bay; accordingly, "I have aborted", said Cappy Jonathan, the six hour call at the very last outpost on the Amsterdam's 18 day—we docked at Auckland February 5— slow grind through the British Commonwealth, Department of Down Under.
Fremantle is a 19th Century dock-town throwback to the days when its harbor—the largest, deepest in Western Australia—opened in 1897; Perth, a short train ride away, is a modern 20-21st Century city with a skyscraper skyline, teeming with the commerce created by some of the world's largest steam-coal and iron ore mining operations(most of the coal and ore exported to China). The name of one of the world's largest mining corporations is emblazoned atop a Perth skyscraper.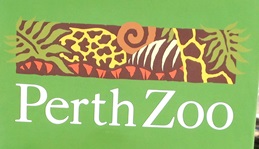 Jeanne is a zoo aficionado. We have toured zoos in Detroit (Royal Oak, MI) Berlin, San Diego and the National Zoo, Washington D.C. Wherever we alight far from home, if a zoo is nearby it is firmly placed on our must-visit target list; more often than not our zoo-reach is stronger than our zoo-grasp. In Perth, zoo-grasp won the day. A day, as it unfolded, of maximum exertion.
Our first day docked in Fremantle began as we cleared the Amsterdam. A motorized faux-trolley awaited to quickly deposit us in the center of the old-timey town. Then it was it was time to chisel into stone a day-plan. The wind was blowing briskly. I wore a thin Hawaiian shirt. I was chilly. Without a plan, we returned to the ship. I changed into long trousers and a substantial, long-sleeve, black t-shirt. Given the time, it was logical to partake of a light lunch in the Amsterdam's casual restaurant.
"OK, now, what are we going to do," I asked to myself as much as Jeanne. With no definitive reply from my spouse, I replied to myself. "We are going to the Perth Zoo. It will be our only chance to see a live kangaroo" "It is getting late to get to Perth and have enough time at the zoo," she replied. "This is our only full day here. We are going to take a stab at it," I said and we walked the length of the ship to the 3 deck gangway, checked out of our nautical home—the bar code on our cabin key records when we are on/off the Amsterdam. We walked to the train station, 200-300 yards away, mas o menos.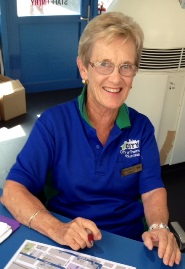 Twice during the Grand World ports of call we have been sitting in outdoor cafes when our evening dining-mates Jan and Dick ride by on their bicycles; this time we sat in train seats, moving toward Perth as we saw them ride out of the confines of the Fremantle dock.
We made our way out of the very large, modern Perth train station into broad streets teeming with Saturday shoppers and cafe goers. We found our way to Barrack Street, a Perth main-drag. Robyn, a volunteer tourist-helper at the info kiosk, let us know we were to follow Barrack down a very long hill to the ferry terminal, where a boat would take us across the Swan River near the zoo. "I sure hope we don't have to walk up this hill on the way back," I shouted to Jeanne as I followed her down the hill.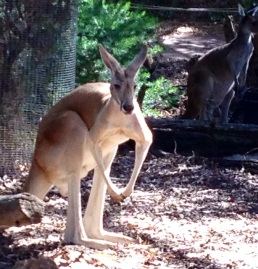 When we were on the zoo-side of the river, the issue of time came into play. "You know, the zoo closes at 5," Jeanne said. "We are this far. We are going to run out the clock," I replied. We began the 500 meter ( approx 550 yards) walk to the Perth Zoo gate. At 3:45 we contributed $42 (Aussie) to the Perth Zoo and shortly began our way through "The Australian Bush Walk."
When a young kangaroo darted out in front of Jeanne it startled us both. The kangaroos and other Australian animals in that area of the zoo were not caged. The ABW zoo section was secure and within it the animals moved where their free will took them. We took photos as we slowly walked the bush walk. Of course, the gift shop is at the exit. Jeanne bought a small kangaroo stuffed animal (to replace two animal friends she neglected to pack. After showing me her new treasure, she said: "Five bucks, Aussie. What a bargain."
It was 5pm, at the gate of the Perth Zoo and we were far from our sea-going home. I approached a man playing with his infant child in a stroller. "Looks like you're a local," I said with perception, pointing to the child. Good choice! The young man knew that a bus to take us to the Perth Train Station would eventually appear at the bus stop across the street from the zoo. The promised bus did take us to the train station. fter 10 stops—I noticed that Perthites roof their homes with half-circle-shaped tiles or metal, no shingles—we were at the Fremantle wharf, walking toward the Amsterdam, then over a high pedestrian overpass, and soon into the bowls of our home, Our last walk of the day was from the ship's bow to stern. Thankfully, a key allowed us into cabin 1938. We were exhausted.
Sunday, before the Amsterdam's 3pm pulling in of lines, we again did a round-trip on the overpass to Coles, a large supermarket; we emerged with four liters of Pepsi Max, four bottles of sparkling water and nuts to replenish those stashed in a cabin desk drawer.
Our last event in Australia (perhaps ever) was to observe the Welcome To Fremantle gangway being crained up and deposited on the cruise terminal deck.
---
26 February 2015 - Aboard the Amsterdam En Route Benoa, Bali, Indonesia
The very positive flip-side of our weather-caused snub of Geraldton, Australia, the Amsterdam's last scheduled port of call in Anglo New Zealand/Australia, is that the Amsterdam is scheduled to dock in Bali at 7am tomorrow (Captain Mercer emailed ahead to determine that our berth would be empty) instead of 3pm. You can do the math: The much earlier arrival time gives passengers and crew two full days of adventure exploring the legendary Hindu enclave, in overwhelmingly Muslim Indonesia. Folks aboard had to give up a little time—and a rough tender ride—in a largely unknown Western Australia coastal hamlet for eight more hours on Bali. Lord, thank you for the blessing.
As the Amsterdam's lines are put out on the dock tomorrow morning, we will have completed three sea days during our journey from Fremantle. Jeanne and I flourish aboard ship during sea days. Last evening was number six in a series of fourteen formal evenings. After an inordinate amount of effort preparing my formal costume, I dined upon six snails floating in hot butter, each placed in its own little hole in a ceramic pot; chilled leak and potato soup; lobster tails (the surf of surf and turf—Jeanne surfed and turfed it, enjoying a filet mignon with her fleshy tail of an unknown lobster). Bananas Foster and coffee topped off my gourmet experience in the Amsterdam's elegant, two-story formal dining expanse. I consider the slightly more elaborate food choices on formal evenings a payoff for my putting forth all the pain and effort to look so snappy (placing studs and cuff links in my new tux shirt, wearing a cumberbun or shiny gray vest; tying a bow tie—most men wear clip-ons—and finally, the agony of wearing my uncomfortable patent-leather tux shoes).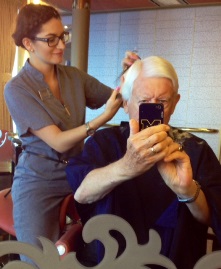 Yesterday was the day. More than two months after Jeanne, owner, operator of Shear Art, Stanley Virginia, performed my going-away hair trim, I submitted myself to another hair-cutter, "hair stylist," said Zuzana Chromeckova. I reached the decision to entrust my white-locks to a "hair stylist" in the eight deck Amsterdam Spa, or as my receipt proclaims "Health Club/Beauty." This was done of the advice of Adrian, a bright, young Romanian, who manages the gym and serves as personal trainer for those willing to pay his fee (the amount unknown to me). Though Adrian, as an employee of Steiner-Leisure (the spa-gym contractor), had a conflict of interest, I trusted him in regard to this important matter—my shaggy head.
Zuzana is 26 years old and a citizen of the Czech Republic. She is the first Czech citizen to ever cut—"style" my hair. She began by explaining how this procedure would unfold. She grasped my side "wings", which had grown over and beyond my ears, with each of here hands. "We will start here and reshape the sides," and she lifted up the wings so I could see. "After the sides, I will take a little off the top," and she plucked the top of my head. "I have a boyfriend—a Dutch officer—but he is on another Holland America ship. He will come visit me when we are in the Mediterranean, she said in answer to my question. Zuzana "styled" my hair very carefully, using tiny snips from a small pair of shears. She didn't disturb my left-hand part, didn't moisten or ruffly my hair, simply added her labors to Jeanne's long-ago efforts. Adrian came into the spa to inspect as Zuzana was completing her task, my head of hair. Adrian agreed it was a splendid job. This morning in the Lido, when Jocelyn handed me my plate of fried eggs, bacon and a crepe, she said "You got a nice haircut yesterday." Cut it, and the world shall notice.
I have written about the 95 year old lady, a very, very frequent HAL world voyager, who upon learning that she was inflicted with late-stage pancreatic cancer, passionately implored Holland American officialdom to allow her to remain aboard the Amsterdam during her last days. Holland America graciously granted Julia Furston her wish. Mrs. Furston died at approximately 3pm, February 20, while the ship was in route to Fremantle. Julia's husband and daughter, who had recently boarded the ship, were with her. The Amsterdam's staff made the arrangement for cremation, her ashes to be shipped to one of our forward ports. Her shipboard friends are planning a tribute, probably during 3pm tea time in the Crow's Nest; a tradition Mrs. Furston much enjoyed.
---
28 February 2015 - Aboard the Amsterdam En Route aboard the Amsterdam Bali to Semarang (Java), Indonesia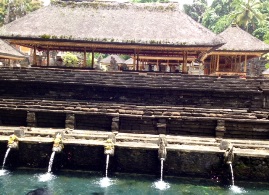 As we weaved our way upland from the Amsterdam's dock in Benoa—first through city streets in jammed rush-hour-like conditions—then over a narrow, roughly-paved two-lane road crowded with small trucks, vans stuffed with tourists and small motorcycles and scooters—always small motorcycles and scooters—our small van lumbered through villages renowned for the crafts practiced therein: We caught a glimpse of the bone-carving village, the silver and gold-smithing village, mask-making and wood-working villages. We four of the Amsterdam, were tightly spun into a minivan, and it didn't stop until Wayan, our driver, asked if we wanted to see a temple. We were delighted at the temple prospect, more so at the thought of a brief respite from our unrelenting attack on Mt. Batur.
The men's toilet lady charged me 2,000 Rupiahs and wouldn't allow me to take her photo. We had paused at the Bali Gunung Kawi Temple.
As in Tonga, Jeanne and I had joined up with our evening dining mates, Dick and Jan, eight-time Amsterdam world-voyagers, for our one day exploration of the island of Bali. Jan keeps in email contact with favorite passengers and crew encountered over 30 months aboard the Amsterdam, (additional time on other Holland America ships) as it annually circumnavigates the globe. Driver Wayan, once a Holland America waiter, came to us from Jan's contacts.
Gunung Kawi Temple is a holy water temple. The Hindu faithful, and a few going-native Australians, didn't attempt to swim in the ceremonial holy-water basin; it was more akin to a Southern Baptist Church river full-dunking baptism. We watched and photographed the holy water goings-on and walked around the vast grounds. As we strolled toward the exit we entered a labyrinth of vendor stalls.
Let the bargaining begin! With such an enormous selection of wares, from tens upon tens of vendors, it is curious as to what draws me to one. In this case, it was a woman holding out a large purple, gold and black tunic. Jeanne looks stunning in purple. I paused and the vendor knew she had me. Jeanne had gone ahead; I called her back. Indeed, Jeanne and the tunic mated. Next, was a long batik shirt for me. The tariff was $35.
"You paid too much, way too much," said Wayan. At another stall when I became interested in a small wood-carved mask, the saleswoman told me 1$. When I became interested in a larger mask, the price rose to $5. "Wayan, can you come here," I called out, believing I was in need of expert local assistance. Speaking to the woman in the local idiom, Wayan bargained wearing a serious game-face. Finally, he reported to me in English: "It's $5." Later I chided him: "When I started bargaining for the mask the price was $5. I got you involved, and lo and behold, the price remained $5." He smiled.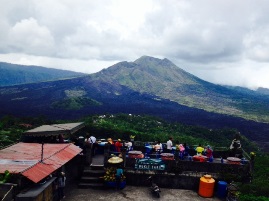 We reinserted ourselves into the van and continued the drive up through the foothills in search of Mt Batur. The volcano has erupted 24 times in the last 200 years, according to Dick ( I can't vouch for his data) and it is due to burp fire and brimstone again soon. When we reached the mountain, the path of the most recent lava flow was clearly delineated in black, against the remaining emerald-colored ground cover. "It would be fun if it went off right now," Dick said. We ate a buffet lunch on the restaurant porch looking out at the mountain. After ponying-up the tab (food $10 each, large beer and Coke Zero totaled 70,000 Rupiahs) Wayan, and his four Amsterdam-ers, began the slow descent to sea level.
Kathy, our Jewell Hollow neighbor has spent a few winters in Ubud, Bali; it is a chichi, tony town, reputed to be an artist's colony. The town is popular with vacationing Australians (memory reminds that Islamic terrorists once blew up a nightclub full of them), other developed world merry-makers, expats, backpackers and those following the siren-song of Hindu mysticism. The first North American analogy that came to mind is San Miguel Allende, Mexico. Jeanne and I had neither the interest nor resources to shop in Ubud. Our goal in Ubud was to spend some time in the Sacred Monkey Forest Sanctuary.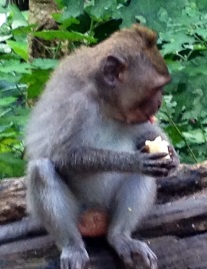 We paid the entrance fee, walked in and were immediately importuned to buy banana monkey treats. "Oh, Dick has bananas in the van he bought at the temple," Jan said. "I'll go get them," Wayan retorted. When he returned, small plastic bag in hand, a resident monkey tore it out of his hand and scampered up a tree, plucked a banana out of the bag, dropped the bag to the ground; a smaller forest sanctuary resident retrieved it and fished out the remaining banana for his snack. We didn't have to venture far from the Sacred Monkey Forest Sanctuary entrance to satiate our desire to watch cavorting moneys in the wild. We were not knee-deep in monkeys, but there were scads of them; and they were not bashful.
During our Mt. Batur van travels, Wayan once drove over a rise in the road and faced a police checkpoint. We were motioned over to the edge of the road by one officer; instead of following that command, we drove slowly to where another officer was standing toward the middle of the road. Wayan fished a note out of his pocket. He rolled down the window and with is right hand (right-drive vehicle) palmed the note into the officers out-stretched hand. He rolled up is window and said: "50 cents." "You mean you only gave him a 5,000 note?" "Yep." "Cheap," I replied.
From Ubud, it wasn't long before Wayan had us deposited at the Benoa port terminal. Each couple gave him a 25% tip, and the Frinks were the first enter the terminal. Last evening at dinner, Dick said: "He didn't want to take the extra money. When I insisted, tears welled in his eyes."
The following day, when Jeanne and I were enjoying excellent wifi service in the port terminal, she reflected on our short introduction to Bali: "I enjoyed the Bali exotica and the other iconic islands we've visited, but I know I'd be just as happy in Hawaii, and a lot closer to home."
We are off to the island of Java, where Jakarta is the the capital of this 13,670 island nation. Over half of the approximately 225,000,000 Indonesian people live on Java, most in densely peopled Jakarta and environs. While Bali is principally Hindu, Indonesia is 80% Muslim. More Muslims live in Indonesia than any other nation on earth.
---
2 March 2015 - At Dock, Tanjung Priok, Large Cargo Ship Port for Jakarta, Indonesia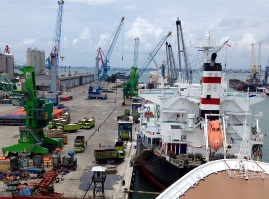 "Did you go see Obama's school," asked the Amsterdam cabin steward. "No," I answered, expressing no emotion. One of the Amsterdam Jakarta excursions offered the opportunity to visit the school of Barry — as he was known during his Indonesian Muslim upbringing.
We four were in an elevator. The steward wore his work uniform; his wife wore a loose frock and a head scarf I described to Jeanne as a "rug." I had watched her from our cabin window as she walked up the stern gangway; it had been put in place to allow crew family members access to the ship. The Amsterdam has celebrated three Crew Family Days during our Indonesian ports of call, Bali and two stops on Java. It has been enjoyable to encounter crew members and families merrily touring the public areas of the Amsterdam.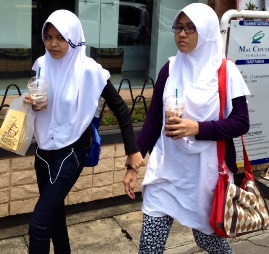 The nine hour bus or train ($440 vs. $520 per couple) 56 mile trip to the Buddhist temple of Borobudur drew gobs of Amsterdam passengers. We remained in Semarang on the dock and settled for the shuttle ride through the poverty-stricken, broken-pavement, vehicle-overstuffed streets out of the dock area to the equally vehicle-crammed midtown avenues, to be dropped off at a multilevel mall; it was teeming with Jakarta-ites, young and old, enjoying a Sunday of shopping and food-court-dining.
Our choice to turn thumbs-down on the opportunity to see Borobudur which "has arguably the finest examples of Buddhist reliefs in the world" (quote from the 15-Grand World Voyage excursions pitch book) to settle for cheap exposure to charm-less, over-populated Semarang could well have been a serious error in our judgment. Our dining last evening didn't progress beyond cheese and peanuts during the cocktail hour in our cabin; ergo, we have yet to receive a Borobudur Temple report from our dining table-mates Jan and Dick; Dee and Wells; Roz and Gary (when all are aboard, two Gary Richards sit at leader-Jan's late seating, eight-place table).
Jeanne and I have reserved (and paid for) three excursions that we believe provide us "must-see", damn the cost: The first is an five hour audit of Yangon (Rangoon) the capital of Myanmar (Burma), certainly a new city and country for us. The port is so far away from the city that the $130 tour cost is not much more than cost of a shuttle in and out of town. From Alexandria, Egypt, we'll take a bus to Cairo, go to the pyramids and take a short Nile River cruise, 500 bucks. We have been in Alexandria a couple of times, but never to Cairo and the pyramids; should be interesting. Finally, out of Aqaba, Jordan, we will overland to the "lost" stone city of Petra; I have experienced the rose-red glory of Petra, Jeanne has not—so here-we-go! A couple of beers less than $500, will handle Petra.

When I first visited Jakarta in the late 1970s it was as a member of U.S. Secretary of Agriculture Bob Bergland's official traveling party, as we flew around Asia on one of the Andrews Air Force fleet of Boeing 707s (pre-747s that Barry—remember we are in Indonesia—and gang now use). I remember our party drove back and forth to an uplands tea plantation, with a phalanx of police motorcycles, sirens screaming, forcing our bus through the molasses-thick traffic on the two-lane road. We learned that Jakarta traffic has gotten worse, more immobile. In fact, the Amsterdam Location Guide strongly cautioned passengers to sign-on for an excursion (Barry's school or others), spend two hours round-trip on a shuttle to another mall, or remain stationary on the ship (walking about is prohibited because this is a cargo port, with moving vehicles and heavy machinery). Tanjung Priok has no cruise terminal. Given the stern ship-side advice and the fact that there would not be a phalanx of screaming motorcycles spearing our way through traffic, Jeanne and I remained aboard, aside from a toe-dipping short walk down the passenger gangway and an itzy-bitzy walk within a small cordoned-off dock area.
---
5 March 2015 - About to Cast-off from our Singapore Mooring for an Overnight Move to Port Keland (for Kuala Lumpur, Malaysia)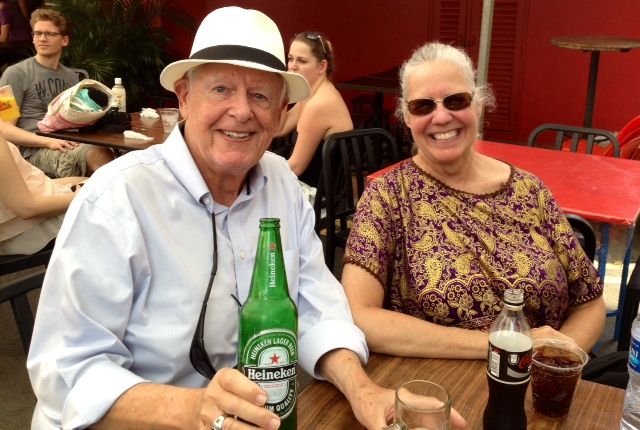 "Singapore has kept its reputation as the most expensive city in the world; in fact, prices are up 30% since we were here last year," said a passenger I perceive by accent to be of the English upper-crust. Interestingly, he invariably dresses as if he were about to cast-off with Teddy Roosevelt into the unknown dangers surrounding Teddy's madcap search for the Brazilian River of Doubt: dullish, tan, long trousers and long sleeve shirt, both sun-proof, with an overlaying photographer vest (tan or navy), topped off by a tan, brimmed explorer hat. Jeanne and I were searching the store listings in the large mall attached to the Singapore Cruise Terminal, during the last moments of the Amsterdam's 33 hour Singapore sojourn, when Mr. Explorer happened along and we spoke our first words of the voyage.
In the late morning of the Amsterdam's first day attached to the Singapore cruise dock, we exited the ship and immediately found seats and excellent wifi service. After exhausting our need to communicate with the world we have left behind, we walked deep into the bowels of the cruise terminal to filch 50 Singapore Dollars out of an ATM; it was around a corner from a tourist information desk.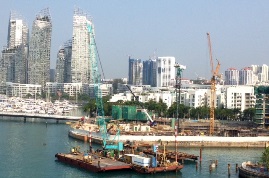 "I believe we should take the hop-on-hop-off bus the first day, that will orient us to the city" I had opined to Jeanne. The information desk woman steered us to a tourist bus female employee, who flat-out lied to us: "There is only one hop-on-hop-off bus service and it's public; the city doesn't allow others." We ponied-up 78 Singapore bucks ($.80 buys 1 Singapore dollar) for a two day pass. In the city, we saw at least two other tourist double-decker HOHO buses (actually got on one and was told I had the wrong ticket) for much less drainage on the plastic. Travel and you'll get ripped. "Get over it," is always Jeanne's correct response to my getting riled and ranting over little things.
Below the cruise terminal, a young Eurasian woman helped us buy our subway tickets out of a machine. Zip, zip in the underground train, up an escalator and we were on Eu Tong Sen Street; there we began our search and search and search of the correct bus stop. We walked up and down the street checking the small numbers at each bus stop. "I believe you should cross the street," was the advice of a Indian woman I importuned. We crossed the street. Bingo! We were soon upon bus stop number 05022.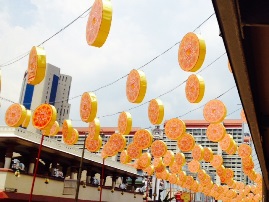 Now the wait began. Dozens of buses passed through 05022, two or three of them HOHO of different tour companies. When finally aboard the "Duck and Hippo" HOHO it was if the driver were in a race. Singapore passed in a blur; a blur of high-rise office buildings and public housing blocks. The iconic Raffles Hotel (Sir Stamford Raffles founded Singapore) was the only the only landmark I recognized from my solo foray into a much simpler Singapore in the 1990s; now the city is a booming, growing Asian financial center, squeezing out funky old neighborhoods. Jeanne and I disembarked from the top of the double-decker HOHO in Chinatown; there, drinks awaited in Chinatown Food Street. The day was hot and humid, so we took our leisure over a large Heineken beer and Coke Zero, sitting at a table in the food street. A young man from Perth took our photo upon my request: "You man, would you..." An excursion group from the Amsterdam came by, each member wearing a yellow sticker proclaiming tour group 17; we were not noticed. I thought to myself: "I wonder if I could con our way onto their bus for a quick ride home," I thought better of it.
It was late in the afternoon, and the thought of remounting the HOHO bus for six more stops and changing buses for a ride to the ship was high-degree unappealing. After our active bus stop research, Jeanne had picked up basic literacy in a Singapore public transportation system map. A subway stop was nearby. With directions from a young Singapore entrepreneur overseeing the remodeling of a nearby building, we quickly subway-trained our way to the mall adjoining the cruise terminal, We again handed our passports to an agent, as we passed through immigration, and after a long walk were aboard ship and ready for a 4:30pm snack in the Lido.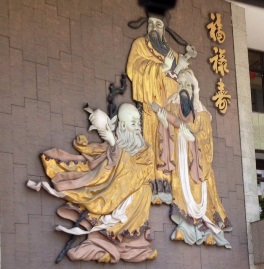 Our last, short day in Singapore—all aboard was 3pm—was spent on free wifi and in the mall in search of an auxiliary power source for my iphone. I had been run out of power when taking photos in Tonga and Bali. "Let's go spend the rest of our Singapore dollars," I told Jeanne. It was while searching the mall directory that we had the short conversation with Mr. Explorer, our fellow Amsterdam passenger.
The store we picked from the directory perfectly fit our bill: It was a mobile phone store. The Chinese girl waiting on us was both intelligent and clever. She first showed us a heavy, chunk of oblong plastic; the price was over 40 S dollars. The clerk saw that I was disinterested in her first offering. "Wait, I have another," she said, as she did double-duty, selling phone cards to young men, as she waited on us. Next came a power-pack that attached to my phone and was charged by the same cord I use to charge the phone. "How much is it," I asked. "Twenty eight dollars," She said. I reached into my pocket and brought out my Singapore bank notes. I counted out and said: "I only have 27 dollars," and handed them to her. "Do you have a card," she asked. "Yes, but that would mean I'll end up with the dollars and I don't need them. I'm getting on a ship in a few minutes." She understood. "Wait a minute," she said and walked away. She returned and said "OK," and handed me my phone with the charger attached. Thus ended our Singapore adventures for this voyage.
We are passing through day 70 of our nautical odyssey, well past the half-way point.
---
7 March 2015 - Amsterdam En Route Penang Island, Malaysia to Phuket Island, Thailand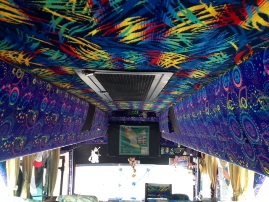 Two verbose distaff Amsterdam passengers sat behind us on the ornate shuttle bus returning to Port Klang and the ship from a seeming-out-of-place, elegant shopping mall in the modest town of Klang, Malaysia. They spoke of Ashdod, Israel and the prospect of getting to Jerusalem. "They must be going to take an overnight from the ship," I told Jeanne. During the Grand World Voyage, Holland American offers a series of excursions wherein passengers will take leave of the ship and its schedule of ports; spend a few days elsewhere, then fly to re-board the Amsterdam. Such capers come at a dear cost. Jeanne and I thought no more of our overheard bus babble.
That night, after enjoying the 10 pm entertainment in the two-story show threatre, I noticed an announcement posted on the excursion department counter as we walked past. The notice informed passengers that tours were in the process of being created for Ashdad, Haifa Israel and Messina, Sicily. "What the hell is going on," I bellowed to Jeanne. The 24-hour-at-the-ready Customer Service Office is next to the excursion desk.
My response to the young woman on duty, upon learning that for the last 14 hours Jeanne and I had been the only passengers or crew aboard the Amsterdam who did not know that Holland America had aborted Egypt, was: "What, we're not paying our bills? How could this happen?" "Oh no, Mr. Frink," came her reply after punching a key or two on her computer, "we have two good credit cards on file for you." She printed out a copy of Captain Mercer's letter which early in the morning had been delivered to each cabin—apparently—save one. I will quote:
(The first paragraph was whipped cream). Now to the meat and potatoes of the captain's missive: "Many of you have asked about our scheduled calls in Egypt next month, given the uncertainties in the area. As you likely know, Holland America Line works with many different organizations to evaluate the safety and security of our port visits. Given the increasing security concerns in Egypt, the company has decided that out of an abundance of caution we will cancel our remaining port calls to Egypt this spring."
"Goodbye Cairo, pyramids and Nile River," was Jeanne's response.
The good news at the end of Cappy's Goodbye Egypt letter is that the CEO of Holland America Group and entourage will board in Haifa (previously planned for Cairo.) In honor of having the biggies with us, the Amsterdam is going to throw an invitation only party ("a very special event" from the letter) while we are in Kusadasi, Turkey.
Pepper and salt grinders have been taken away from us. Captain Mercer was a bit pre-occupied writing passenger letters Friday, March 6. The letter we did receive on a timely basis Friday opened up sans whipped cream. It was labeled: HEALTH NOTICE, and began: "During the past few days, we have seen an increase in the number of gastrointestinal illness (GIS) cases on ms Amsterdam." One of the mitigating actions taken was to remove the grinders from dining tables, replacing them with paper packets of salt and pepper. Who can argue?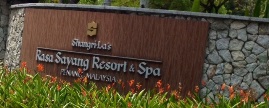 It has been so many years since the funky Penang Palm Beach Hotel, in the elegant Shangri-la chain, had been demolished (the site is now a play area for resort kids) that the bartenders at the Shangri-la Rasa Sayang Resort beach bar, Batu Feringgi (beach) area of Penang Island, Malaysia, couldn't recall the year.
I had stayed for a few days at the Palm Beach, on a courier trip from New York to Singapore, with a plane change in Tokyo, Narita Airport. During my sojourn at the Palm Beach, I had taken a train from Butterworth, on the mainland, in hopes of reaching Bangkok for the first time. Alas, a flood had washed-out the train track. I spent the night in Hat Yai, a Thai city closer to Malaysia than Bangkok. The next morning I raced on the back of a motorbike (still mystified that the rear tire didn't explode) to catch the only train that day bound for Butterworth. I was much younger in those, wilder, days.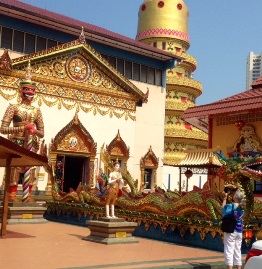 Jeanne and I were enjoying a beer and a Coke Light, and radically efficient free wi-fi, at the Rasa Sayang beach bar because I instructed Alex, our Chinese driver on Penang Island, to take us there. That was after we had made the obligatory and photo-op-jammed visit to Kek Lok Si Temple, where in resides the world's fourth largest reclining Buddha (which I erroneously referred to in a Facebook feed as the declining Buddha).
Alex slipped one over on us but, for a very short time. He pulled up at a tea emporium where we were, obviously, supposed to buy some of its wares, and he was to get his cut. "No more stores, Alex," I didn't exactly shout, but said sternly and loudly in a low menacing voice. Before we escaped the tea joint, after a tiny sip from a plastic thimble, four women in full, black Muslim burkas( eye-slits only uncovered) walked into the joint, accompanied by men. That was the closest I have ever been to an occupied full-burka. Malaysia, nationwide, is almost 80% Muslim. On Penang Island, there are more Chinese than Malays (Muslim).
Georgetown, the principal Penang City, is in the midst of a highrise condo building frenzy. "The money is from Singapore. They buy, then they don't use; they don't rent out. They just buy," is how taxi-driver Alex explained it. "I grew-up here. I don't like it," he concluded.
It was so serene at the resort beach bar, a breeze softly whiffing by, an unhurried, calm, silent scene. It was a very satisfying memory-lane short sojourn. Then came the harried drive to the ship.
---
9 March 2015 - Aboard the MS Amsterdam En Route Phuket Island, Thailand to Thilawa, Myanmar (Burma)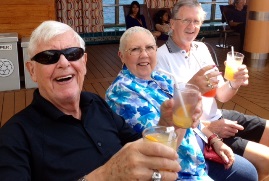 "How did you escape," I asked the Amsterdam chief engineer, as the organized mayhem of the Neptunus Rex ceremony was ending, and fully-clothed Captain Mercer and other principal ship officers were climbing out of the eight deck midships swimming pool. "I can't swim," said Englishman Ian Taylor, and continued on his way, dry as a bone.
It is maritime tradition that those (paying passengers excepted) who cross the equator for the first time on a ship be initiated into King Neptune's realm. My initiation occurred on the Italian Republica de Genova, a mixed-freight-vehicle-carrier in 2006, during a Northern Europe-Angola West Africa round trip. King Neptune had ordered that I be popped into the de Genova's small, top-deck swimming pool, when the captain shouted in Italian: "Not the passenger."
Late morning March 3 turned out to be a lovely opportunity for a party. A significant chunk of the passenger compliment gathered at the edge of the pool—and overhead on deck 9, peering thorough the open roof—in anticipation of the fun to come. The Amsterdam bar staff circulated among the passengers with trays of yellow juice and rum concoctions and virgin pink punch. Passengers weren't obliged to pay with their omnibus room key-credit card for the whistle-wetters this morning. The Amsterdam Neptunus Rex frolic was on the house.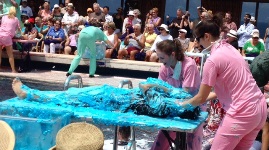 Gene Young, the ship cruise director, played the prosecutor; the king and queen of the mermaids sat to his left; behind them was the Amsterdam orchestra decked out as pirates. The Amsterdam officers sat in a row at the end of the swimming pool.
The hapless initiates were led into the pool area attached to a rope and, with the band playing a dirge, were dealt with ship-department by department. Even the small medical staff had a male nurse about to face his indictment. Gene read out in rhyme the charges facing the initiates. Each accused was turned over to a faux medical team, which plopped them onto "operating tables" and lathered them with a gruesome-looking glop, making certain to smear them completely, cloths, face, hair—everywhere. Then the officer-judges decided if the glopped-up ragamuffins were to be left to bake in the sun or tossed immediately into the pool. Meanwhile the passengers, some pleasantly lubricated by the yellow drinks, laughed uproariously.
I have witnessed more than one Neptunus Rex ceremonies. This one, however, was the first wherein the captain and fellow senior officers, all fully-dressed, ended up in the pool. It proved to my satisfaction that Captain Mercer, master of the Amsterdam, is a very, very good sport.
---
11 March 2015 - Amsterdam Moored at a Cargo Ship Pier (No Such Luxury as a Cruise Terminal Exists for Yangon (nee Rangoon) Thilawa, Myanmar (nee Burma)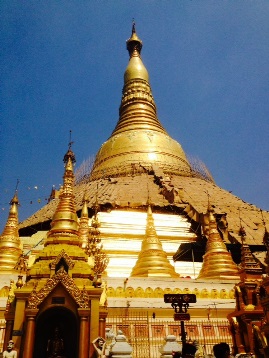 Myanmar - Part I
"Would a wheelchair help," asked the slightly built, bare-footed young man dressed in white. I was in the entrance hall of the 2500 year old Shwedagon Pagoda, on Singuttara Hill, overlooking Yangon. I was alone. Jeanne and other Amsterdam passengers from bus 12, on an excursion from our docked ship 90 long, hard minutes away—despite a police motorcycle escort—had removed their shoes, socks and had taken elevators to the level of golden spires and shrines on the vast pagoda campus above.
"YES", I thought to myself. I was about to lose my opportunity to browse about this ancient, world-renowned sacred place, the earliest-build of the Gautama Buddha era. "Yes, thank you. That would be very helpful," I replied to the polite young man. I had been anchored to the pagoda entrance hall by the fact that I could not walk in my bare feet. This inconvenience was caused by a planters wart-like growth that had been removed by a podiatrist four days before boarding the Amsterdam; the sharp pain, however persists. I am dandy walking with shoes, socks and the orthopedic inserts prescribed and designed by a Virginia Commonwealth U. bone surgeon.
As my fellow passengers filled two elevators and disappeared up and away, I sat shod and inert. The chiseled-in-stone rule of the Shwedagon Pagoda: Only bare feet beyond the entrance hall. I had approached the young man to question if I might take a peek at the upper level wearing shoes; that is when the light went on in his head that saved my Yangon day and Myanmar sojourn.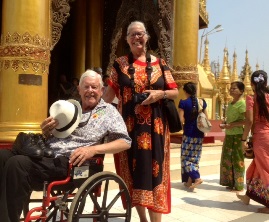 My Man hurriedly produced a folding wheelchair, satisfied himself that it was sturdy enough, and helped me mount the contraption. I was now ready for what wheeled challenges might lie ahead. I self-propelled myself into an open elevator. I sat facing the rear of the lift, having no idea how to turn the thing around. Suddenly My Man was there. "I will help," said he.
Up and out, into the sun-blessed golden shrines, spires and the main attraction, 326 foot high golden stupa (spire) the most sacred of all Myanmar Buddhist sites. The stupa is said to be topped with over 6500 diamonds, rubies and other valued stones. After a hundred yards I spotted the tall, poled-banner of bus number 12, and pointed My Man in the direction of Number 12 Tour Guide. "I need to pay My Man," I told Number 12 Tour Guide, "how much should it be," I asked. "$5," he relied. I immediately peeled off some U.S. Treasury bills. Number 12 Tour Guide expressly instructed My Man when I was to be wheeled back. Now, we were on our way through the Scwedagon Pagoda campus of golden glories.
"Jeanne Ann," I shouted out. She spun around, confused. At first she didn't see me. I called again. Once she gathered her wits, she came over to my traveling party, and said what would be expected under the circumstances: "What are you doing here?" I explained how My Man came about. Jeanne was as delighted as I that I didn't remain shod and inert in this pagoda of all Myanmar pagodas. She joined my Schwedagon Pagoda traveling party. Number 12 Tour Guide made it clear to me and My Man that time was short. We were now a fast-moving sight-seeing party of three. Despite the pace, I had the opportunity to shout and wave at Wells, one of our evening dining companions, as we swiftly passed nearby.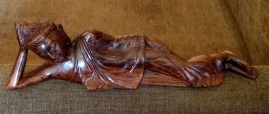 After My Man returned me to the Schwedagon entrance, I fished out more U.S. bills to gift him; he seemed pleased. Soon, after the appointed bewitching hour, Jeanne and I were re-shod and again aboard Number 12 bus. This time on our way to the 70 year old Scott Market, with 2,000 orderly stalls under one Yangon roof. Because Scott Market resulted from British colonial times, it has been renamed with a long Burmese (I wonder if the name of the language has been changed to Myanmarese) name. Without knowing the answer to that burning question, I will assure our readers that the Frinks purchased within the very impressive Scott Market, two high-quality tee shirts and a foot-long reclining Buddha made of teak, ebony (claimed by the sales clerk, but doubted by me) or some other dense and very heavy wood. Now began the long drive home to the Amsterdam.
---
12 March 2015 - Aboard the Amsterdam Anchored in the Yangon River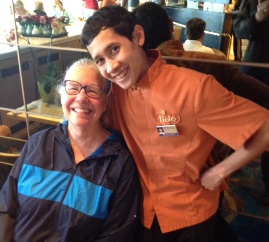 Myanmar - Part II
The Amsterdam is awaiting enough tidal water to float us up so we can sail the 20 miles to the Anadaman Sea without grounding. We were scheduled to leave at noon; now the hope is 4pm
"A dead elephant flouted down the river this morning," said Balinese Gede, our favorite Lido breakfast steward (and jokester.) "Oh come on, you're kidding," I retorted. "Really, at around seven. A couple of small boats came along and towed it away. They dump stuff in the river at night. In my country it's dead pigs."
Also this morning, a lady stranger on a electric-powered scooter in an elevator admired my new Myanmar tee shirt. "I didn't get to spend much time in the market," she said cheerfully. "My day was 17 hours long. I took a private jet to the interior of the country. We saw 3,000 temples, well not all of them, but a lot of them," she said as we exited the elevator. "You mean you flew over 3,000 temples," I retorted. "No, we were on the ground, in pony carts, weaving among all these temples. There weren't any people around," she said as we parted ways for breakfast.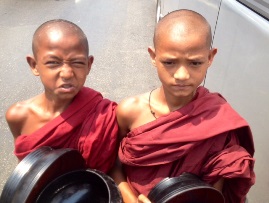 It is nautical tradition that when a ship is in a foreign port, locals doing business with the ship and immigration, customs and other officials are invited aboard, usually for a meal. In the case of the the Republica de Genoa on the West Africa run when I was aboard, the gratuities included a couple of cartons of Marlboro cigarettes and perhaps brand new, crisp $100 bills from the packs the captain kept in his cabin safe. Cases of Marlboros were secured elsewhere.
Yesterday morning I heard a tall young man—a stranger—order his breakfast, as I waited for Jocelyn to hand me a fresh-fruit crepe and two fried eggs. "You must be an American," I said. "Well, yes I am," he replied. He thrust out his hand and said: "I'm Curtis. In answer to my question, he said: "I've been here 18 months. It has been quite an adventure. He was in the tour business with a very high end—read expensive—Seattle adventure tour outfit. Destination Asia, his present employer was looking to expand, and Curtis signed on. "We have tour organizations all over Asia. Myanmar tourism is exploding, so the company needed help here. Three years ago, the country had 300,000 tourists; last year 3 million, and this year 5 million are expected. The cruise business, where I work, is growing 300-400 percent year over year," he explained. Curtis bears the title Manager, Cruises & Corporate Accounts. It was one of his excursions Jeanne and I took yesterday to Yangon (Rangoon.)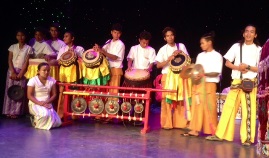 The military ruled Myanmar for roughly 50 years, giving up control to a parliamentary system only five years ago. For much of that half century, with the exception of China, much of the world shunned Myanmar, and it shows. The shabby, largely unpainted buildings we passed reminded Jeanne and me of Havana, Cuba in the 80s. It is clear to us, from the long bus rides in and out of Yangon, that many of the folks outside of center-city Yangon live at a low subsistence level. Perhaps the explosion of foreign tourism money will eventually alleviate some of the apparent, grinding poverty. Jeanne's reaction was: "All the trash everywhere really bothers me."
Roz, our evening dining table companion, put her reaction to the Myanmar she has seen into a Facebook post: "Myanmar...Sorry but been here, done that & do not need to come back! I can think of a lot of other places that I would rather go to..."
The first evening the Amsterdam was docked at Thilawa, Cruise Director Gene, and staff, dug up an amazing Burmese music and dance group from some hamlet 4 hours away. A young woman bounced a half-size soccer ball on the top of her foot while performing amazing balance feats with her left foot and leg. I told Jeanne at the conclusion of the show: "That girl should get herself a manager and go out solo on the cruise ship circuit."
---
16 March 2015 - Amsterdam En Route Colombo, Sri Lanka to Cochin, India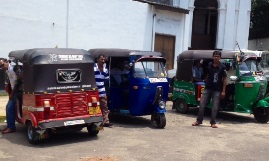 The TAJ Trilogy - Part I
It was the plague of the tuk-tuk drivers. "Location Guide" Barbara (over twenty years of world voyages with Holland America) during her presentation assured passengers that there would be sufficient tuk-tuks available for those adventurers setting out to see on their own the capital city of Colombo. Before leaving the safety of the dock, we encountered a couple who live across the corridor from us aboard the Amsterdam. They were returning from Colombo and speaking to another couple when we overheard: "He wouldn't take us where we wanted to go. Then he wouldn't drive us back here. We had to take another tuk-tuk." Jeanne and I had planned on taking one of the diminutive three-wheel public conveyances for a look around, but...The returning couple confirmed rumors aboard ship: "Beware of the tuk-tuks."
We walked from the policed-protection of the dock into mayhem. Enough tuk-tuk drivers? It was as if the seven year locusts had returned and morphed into Sri Lankan tuk-tuks jockeys. At least 50 of the motor-scooter taxis, lined both sides of the street. "$5.00, a full tour of the city, mister. My tuk-tuk is the cleanest; the one over there. Come, madam, get in. It is hot, madam, you can't walk." One pitch after another. We had no gut-feeling of danger. Just the feeling of deep annoyance, as when a batch of miniscule gnats swarm our faces on a hot Jewell Hollow day. Like the gnats, the tuk-tuk drivers were swarming and in need of being brushed away. After breaking through the initial phalanx of dismounted drivers at the dock gate, we began our seawall sidewalk saunter. Now the gnats revved-up their squealing engines, and set out after their prey. One after another they would pull-up beside us to pitch us, as we loped on the sidewalk. "We've got to get out of here," I told Jeanne.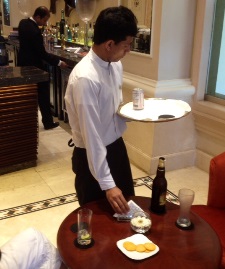 Dick, our evening dining companion, had stopped briefly during his bike ride to tell us that the Raj, and other luxury hotels, were ahead along the waterfront. In order to innoculate ourselves from the tuk-tuk disease I knew we had to ingest a bit of the poison. Two tuk-tuks were beside us. "How much to the Raj hotel," I asked the nearest one. "Two dollars," came the reply. As soon as we were seated, his pitch began: "This is a very special day in Sri Lanka, a Buddhist festival, there are 100 elephants. I will take you there." I had to break his hold on us. "Listen, I have a very special appointment at the Raj Hotel, a police officer. I helped train him when he was in the United States. He is waiting for me at the Raj," I told him. At that moment we passed the Raj Hotel. "STOP," I screamed. He took my advice. Jeanne and I got out. I gave him two $1 bills. "I'll wait for you," he firmly stated. "NO," I replied loudly and with gravitas.
I knew Jeanne and I would be safe at the Raj, a luxury chain based in Mumbai. We shortly learned that its Colombo property is gorgeous. I walked straight to the concierge (whose limited English surprised me.) "Are all tuk-tuk drivers crooks," I asked. "Yes," he said. I asked about the Buddhist festival and the 100 elephants. "There is no festival, no elephants," the concierge assured me. I asked where in the hotel Jeanne and I might enjoy our traditional beer and Diet Coke. He pointed to the right, at an elegant lobby bar. After being seated, a young man very formally presented our drinks, four cheese crackers and three paper napkins—embossed with the Taj logo and encased in a chrome napkin holder. The Taj lobby bar is not our normal on-the-road-beer-and-Diet-Coke-saloon. We took our leisure in the lobby bar.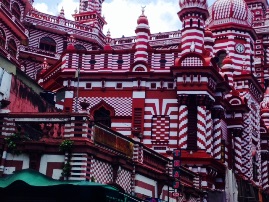 We were ensconced in the luxurious Taj, but how were we to see the sights Jeanne had written down and return to the Amsterdam sans tuk-tuks? After a very long and pleasant respite at the Taj, I returned to "my man in Colombo", as I announced the concierge to be to his colleagues. All smiled. The discussion began with an analysis of metered auto taxis. "You must be careful. Pay only the meter," one of my man's colleagues offered. A taxi car sounded only marginally preferable to tuk-tuks. Finally my man offered: "Why don't you take one of our Taj cars?" He brought the lady manning (pun intended) the travel desk into the discussion. For the sightseeing we wished to do and a safe return to the Amsterdam, $7.00 was agreed upon.
Jeanne had been waiting for me in front of the hotel. "See that car," I said pointing at a polished black sedan sitting in the Taj drive. "We're taking that back to the ship." We then walked carefully across the very busy highway fronting the hotel, to the Galle Face, a long, concrete promenade over an active sea, extending a quarter mile. We strolled a bit, took in the sight and returned to the Taj. Mr. M.K. Jayaweera Anhettiaama was awaiting us. He smartly opened a rear door for Jeanne and we were quickly on our way.
Near the Raj, we passed the Galle Face Hotel, a colonial relic being rehabbed. Mr. M.K. Jayawgera Anhettiaama was an excellent tour guide, pointing out various current government and British colonial buildings, built during the time that country was known as Ceylon. Our sightseeing goal was to view the outside of the Jami Ul-Alfar, or "Red" Mosque. Its candy-stripe brick work was once a beacon for sailors approaching Ceylon's harbor. M.K. parked the sedan and walked with us to the mosque. He was unhurried and gave us all of the time needed to take in the mosque and street scenes around it. We learned from fellow passengers in the mosque street that the Amsterdam was docked near gate one. Jeanne and I were soon disgorged at gate one; before leaving him and the Raj Hotel sedan, M.K wrote out his long name and phone numbers for our return to Sri Lanka. Jeanne had predicted that we would pay him $10, and she was correct.
---
18 March 2015 - Aboard Amsterdam En Route Cochin to Mumbai India
Part I
Health, or lack of it, is the news of the day (or week, or...) aboard ms Amsterdam, as it approaches Mumbai.
First, it is important to note that those aboard with "GI symptoms" (from Capt. Jonathan's latest health missive) are in a tiny minority; that point made, Holland America, from medical leadership in Seattle down to the assistant restaurant stewards— sanitizing every surface in sight—are working to stamp out the contagious bug, which has refused to give up the ghost.
Food and drink restrictions have been placed on passengers: On the buffet line in the Lido, we can no longer scoop up our own delights, as fruit and breads; even salt and pepper paper packets have to be handed to us( table salt and pepper mills are long gone.) We point to what we desire. We can no longer fill our tea and coffee cups at the huge brewing-urns; stewards do that and place the full cups on a table and passengers pick them up. It is not enough that the ship maintains Purell stand-up dispensers at the entrances to all food and beverage venues and around the Amsterdam public areas generally; now, when entering a restaurant, an uniformed steward is in place to squirt the hand sanitizer stuff onto the palms of one's hands. Passengers are required themselves to rub their palms together.
The lending-library has been closed, as have the self-serve laundry, hot-tubs and jacuzzis. Shaking hands is strongly discouraged. The captain and cruise director—more on him later— between them make no less than six daily announcements on the ship-wide public address system. Each ends with a solemn lecture: Gene: "The best way to remain healthy is to often wash your hands for twenty seconds with soap and warm water," A thousand one, a thousand two, a thousand three, until you get to 20. Captain Mercer adds: "...particularly after you have visited the bath room," to his "wash your hands," presentation. The extra work of continually sanitizing public surfaces (including all railings) has put stress on the employees, but they don't grouse or complain, at least in front of passengers.
There has been mild grousing and complaining at the "stomach bug" restrictions, among our evening late-seating dining companions. One evening I replied: "Have any of you had the Norwalk (for Norwalk, Ohio, where it was first discovered in a middle school) Virus," I asked." No one had. "Well, I have, and it is very unpleasant." Jeanne knew where I was going with my speech, and she interceded with a stern "NO." "Projectile vomiting," were the words that rightly Jeanne wouldn't allow me to utter at our dining table. I explained to my table-mates that the insignificant restrictions we were laboring under was a miniscule price to pay in the Amsterdam war against the very contagious and unpleasant bug secreted away among a few of us.
One recent day Captain Mercer, on the public address system, said that in consultation with medical authorities in the Holland America home office, he had become convinced that not all passenger bug-carriers were self-reporting to the front office or the infirmary.
It was October 2010, when the Norwalk struck me aboard the Holland America Oosterdam. I immediately called the ship infirmary, and self-quarantined. A very helpful nurse was dispatched to our cabin; a specialty cleaning crew soon followed. I was dandy after a day, but stayed in the cabin for another 24 hours, to avoid contagion. There was never a mention of payment for my exceptional and welcome treatment. Captain Mercer's first passenger letter about the "GI" bug mentioned that normal medical charges would apply to those stricken.
Last evening, one of my fellow diners strongly stated: "Any passenger aboard this ship can afford to pay medical charges." That might be true, but under the theory of economic incentives and disincentives, it didn't bring about the hoped-for behavior to charge passengers. I'll add now (but didn't last evening) that hundreds of Amsterdam passengers chose cabins without a window. Unless such folks enjoy living in what I label as "a broom closet", they chose an inside cabin because of financial concerns—unlike our six dinner companions who live on deck seven, with balcony suites in the Amsterdam very high rent district.
Last evening we received a health notice that removed any disincentive to seeking medical assistance for the intestinal virus: There are now no medical or medication charges for passengers seeking assistance. For a little topping on the cake (mine is usually black forest in the evening) Holland America will cancel excursion charges for missed adventures while folks are "in isolation as directed by our Medical Department." As for me, it is one great big tip of the Frink Fedora for the manner in which Holland America handled my case of Norwalk Virus on the Oosterdam five years ago and the way it is dealing with whatever is ailing a few folks on the Amsterdam during the 2015 Grand World Voyage.
---
18 March 2015 - Aboard Amsterdam En Route Cochin to Mumbai India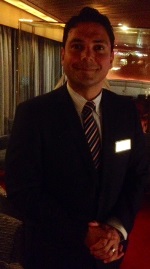 Part II
Gene Young, Amsterdam Cruise Director, is an Amsterdam seemingly-omnipresent dynamo.
"My day begins at six am, when I do an inspection of the ship's public areas; then it's emails to handle, until a staff meeting at nine." Gene follows Captain Jonathan, whenever the master of the Amsterdam, speaks on the public address system, usually twice a day; he brings guests up-to-date on activities aboard. Gene conducts trivia and other games at various times during the day. At one pm, he takes a short break; he re-showers at five pm, to prepare for the formal part of his 18 hour days.
Dressed in a white shirt, tie and proper dark suit, Gene is the master of ceremonies at the opening and close of at least two shows an evening in the two-story Queen's Lounge, the Amsterdam's entertainment theater. After the Queen's Lounge closes down around 11 pm, Gene will often make an appearance in the Crow's Nest, the ship's deck nine, late-night, hang-out saloon in the bow. He avers that one of standards maintained by cruise directors is: "If the passengers are up, you're up."
Perhaps the most important aspect of Gene's job is managing all of the entertainment aboard the Amsterdam, some of it long-term, as with the show singers and dancers, the musicians that backup the rotating acts that move on and off the ship; in addition, there are what I describe as "niche musicians", a dance band trio, a solo electric guitar player/ singer, a Hungarian violin/piano duo, for guests wishing to hear a well-played violin, in various genre. The rotating comics, singers, musicians of a great variety—a Chinese woman playing a digital accordion, to six young Liverpool guys in an ukelele band—(now aboard), are under his direction.
Married to Jodie in Kent, England in 2014, Mr. Young strives to return to their cabin by midnight (Jodie also works aboard ship). It almost goes without mention that Jodie and Gene met on a cruise ship."She wouldn't give me the time of day for the longest time; something about cruise directors," (and reputations thereof). I knew that a couple from our evening dining crew had attended Gene and Jodie's English wedding, and another couple would have but-for a long-planned 50th wedding anniversary celebration in Hawaii.
NEWS ALERT-- 4:45 pm, Wednesday, March 18, 2015
In an extraordinary public address to passengers and crew, speaking in an exasperated tone, Captain Mercer pleaded to passengers with any gastrointestinal symptoms to report them to the infirmary. He said that there is no dimunition in the rate of new cases. "It is demoralizing" that "despite our best efforts", progress has not been made against the virus. "We are at our wit's end." He assured passengers that it had been ascertained that crew members were not causing the problem. Now came the stunning threat in the captain's punch line. If the intestinal virus is not brought under control, "...the ship could be quarantined in port, passengers and crew taken off and the ship completely sanitized." Captain Mercer summed up: "We must stop this madness."
Now back to Gene and Jodie Young: I asked Gene how such firm friendships could be established between passengers and crew. He explained that crew are aboard for up to ten months at a time, passengers for up to seven (some board the Amsterdam for the cruise prior to the Grand World) and he explained it was natural that some solid friendships would be forged.
Gene Young graduated with a (non-classical or opera) voice degree. Naturally enough, he began his cruise career as a singer. He worked his way up through the system to where now, he is on his 2nd Holland America Grand World Voyage, "though I worked on many Grand Voyages before the world." When I asked his age, his answer was "not yet 40." When I asked him how long he planned to maintain the grinding pace of a cruise director (at least of his energy output), he didn't know, but did mention that sometime he and Jodie hopefully will have children, and that might well necessitate a change in occupation and life style.
---
21 March 2015 - Aboard Amsterdam En Route Mumbai, India to Dubai, UAE
The TAJ Trilogy - Part II
When Jeanne and I walked down the gangway and planted our feet on the dock in Cochin, India, we became, at least in my estimation, true world travelers. Cochin was our first Indian adventure; our first experience in the world's largest (by population) democratic nation, with its huge land mass and polyglot of peoples, cultures and languages. We were finally in India, and after an adult lifetime of travel (and 125 stops on the Traveler's Century Club list), we were finally world travelers.
Cochin is a metro area of 2 million folks, mas o menos; its economy floats around the growth, processing and exportation of the Big-3-Cs spices: cardamom, cumin, coriander plus pepper. Cochin must be one of the places that so many sail-bound explorers of lore were looking for, as they inadvertently discovered much of the Americas. We know Vasco de Gama made it to Cochin, because his body was buried in a local Catholic Church, until his bones were repatriated to Portugal.
Preparing for Cochin, Jeanne and I learned that a TAJ Hotel existed within. Our plan was to replicate our Colombo TAJ Hotel caper: get a TAJ car and driver for the air-conditioned comfort and to avoid the whole tuk-tuk driver madness.
WE BREAK FROM COCHIN FOR A 10 AM PIRACY DRILL: The Amsterdam has just completed an anti-piracy drill—YES, I'M SERIOUS. Crew had special assignments, including manning fire hoses on the 3rd deck. All passenger cabins were evacuated, the occupants sent out into the corridors away from windows.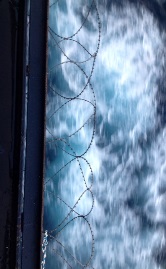 We had not received a written notice or PA scolding from Captain Mercer for a couple of days (which I interpret to mean that the dreaded Norwalk virus is on the wane,) until last evening; then a "Dear Guest" missive arrived under our cabin door from the bridge. This time it was not about health, the washing of hands and the Big Bad Bug. I quote the first sentence: "I have received a number of questions concerning our forthcoming transit of the Arabian Sea towards the Persian Gulf and until we reach the Suez Canal with regard to the oft publicised (sic) 'Piracy' (sic) subject. I believe the more you know, the better your understanding of the subject."
Captain Mercer's letter goes on to explain that slow-moving ships with short water-line to deck measurements are most vulnerable to pirate attack; he points out the Amsterdam will be speeding along at 20 knots; further, he notes that it is a very long way from the Amsterdam's water-line to the first deck. The letter goes on to explain that the Amsterdam will be tracked by AWACS and warships; that we have extra security guards on-board, working 24/7; our ship has "Long Range Acoustic Devices" (pirate ear-drum- busters, I assume) "rigged, manned and ready for immediate use;" the aforementioned fire hoses on deck 3 are ready and waiting for action. Finally, a real attention-getter: " We have rigged razor wire on our free-board deck, if a boarding were attempted, it would be on deck 3." (Deck three is closest to the water-line.) In case of a pirate boarding, the captain wants his guests sitting down, away from windows and doors, because his anti-piracy maneuver would be at very high speed (up to 25 knots) and could result "in heeling of the ship", which I assume means forcing the bow up above the water-line and putting the stern of the Amsterdam on its fanny.
Now, back to our regularly scheduled saga of Jeanne and Gary and their Cochin, India adventures: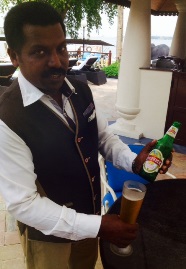 The Indian nation, we have learned, is very militant about protecting its citizenry from aging, often wealthy folks, eager to scatter some of their personal exchequer where ere the Amsterdam may berth or tender to shore. Amsterdam passengers had to submit their Indian landing cards and passport facsimiles to armed Indian military multiple times when going ashore and returning to the ship.
I approached a female Indian officer in a guard shack at the edge of the Cochin dock: "Could you tell me where the TAJ Hotel is, please,?" For a moment, she couldn't believe the stupidity of my question; then her facial expression made her disdain crystal clear: She pointed straight ahead, and said: "It is down there. You can walk to it." Silly us! Jeanne and I had assumed that the Cochin TAJ was in Cochin, not miles away at the port.
We forced our way through the scrum of tuk-tuk drivers importuning us, around a corner we walked and there it was: a waterfront oasis, beyond neat, clean and calm—serene—in every way. We passed three parked silver sedans on the right as we walked to the Hotel entrance. I went immediately to the concierge, professionally attired in a business suit, white shirt and tie. "Good morning, I want to hire your smallest sedan and driver," He explained that there was a three hour minimum. Our tab would be 700 Rupees ($11), payable to the driver. While we waited for our car and driver, Jeanne and I enjoyed our first beer and Diet Coke on Indian soil at the pool bar. The air-conditioning in the small Tara sedan had already conquered the scorching mid-day Southern India heat, when the driver opened a rear door for Jeanne's entry.
"My name is Portuguese," said Peter Rodriguez, our driver. Vasco da Gama made his first voyage to India in 1497-99, beginning Portuguese influence in southwestern India. Goa remained a Portugal colony until 1961. To this day, Cochin is overwhelming Roman Catholic, an enclave in a nation predominately Hindu and Muslim. After a short drive, Peter backed into a space at the edge of Jew Town.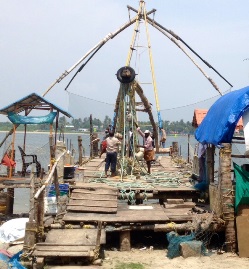 Jew Town encompasses the historical and tourist mercantile area of Cochin. We first walked up the rough, steep steps of the Mattancherry Palace that the Raja of Cochin gave to the Portuguese in 1555; we didn't pay to enter because photos were forbidden. Peter guided us on a short walk to the Pardesi Synagogue, believed to be in continual use since 1568; beyond its age, it is famous for unique individual Chinese floor tiles and a Belgian oil burning glass chandelier; again no photos permitted of the inside. Next in Jew Town, we ambled into a shop owned by a friend of Peter's, where we paid too much (my bad) for a white, eyelet blouse and a fine pashmina; hopefully Peter, a fine fellow, will get his cut of the deal.
Next, Jeanne and I were driven to St. Francis Church, built by Portuguese Friars in 1503, making it the oldest "European" (from ship brochures) church in India; I assume it is the first Indian Christian church. It is here that Vasco da Gama was buried, after his death the day before Christmas, 1524. Then it was on to the rather architecturally madcap Santa Cruz Cathedral, where we were allowed interior photos.
Cochin garners some historical attention from the Kublai Khan-era gigantic Chinese fishing nets lining part of the shoreline. The nets are rotated in and out of the water by a teeter-totter system of weights, small boulders laced together. It was now 2pm. Our Cochin odyssey began at 11am. "Peter, we need a drink in a bar on the water." I commanded mildly. Peter met my challenge with the Family Restaurant, a pleasantly ramshackle frame joint; The cost of a large beer, a 16 oz Coke in a plastic bottle for Peter and Jeanne's Diet Coke was so ridiculously inexpensive, I have completely forgotten the cost.
"Do you want to go to the hotel or the ship," Peter asked as we remounted the little Tata after exiting Family Restaurant—managed by Peter's neighbor. In unison, Jeanne and I said: "The ship." When we pulled up beside our luxurious home-away-from-home, Peter hinted that he would be pleased with something beyond the $11 we owed. "Give him a twenty," Jeanne whispered, evidencing the value we found in our three hours with Mr. Rodriquez and Cochin, India. I did as I was told.
---
22 March 2015 - Aboard the Amsterdam, En Route Mumbai to Dubai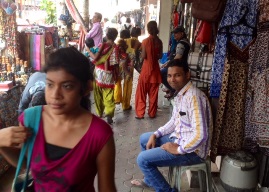 The TAJ Trilogy - Part III
Be ready, dear readers, for in a moment we are going to wrap up THE TAJ TRILOGY with a pass through Mumbai, the financial center of the sub-continent and a city of a mere 21 million people (it is claimed that that almost 60% of them live in slums and shanty towns) with another million commuting to the city. An interesting demographic factoid: India has 800,000,000 cell phone users.
BUT FIRST: A knock on our cabin door. It is Denny, our senior cabin steward (we have two). He is holding out to Jeanne a sheet of paper. She takes it in hand. BAM, BAM, BAM. We have received another urgent message (when the master's missives are hand-delivered they could be categorized as super-urgent) from our tall and straight Master Of The Amsterdam, Captain Jonathan Mercer.
Is this "NOTICE" about the Big Bad Bug and hand-washing? NO. Is it about razor-wire and fire hoses on deck three? NO. This time the missive message is...Oh well, let Captain Mercer speak for himself: "Our original schedule for Dubai and Muscat has changed. ...I wrote to my senior management ashore, voicing my concern that our route from Dubai to Muscat involved a very slow speed in the High Risk Area (Piracy). I suggested we stay longer in Dubai and made (sic) a faster speed to Muscat,..." So, the Amsterdam is going to spend additional time in Dubai, then put-the pedal-to-the-metal and high-tail it to Muscat, Oman, hopefully outrunning all potential pirates. Would appear to be a dandy decision to me. Now, back to memories of Mumbai:
Jeanne tripped and fell at the Mumbai home of the late Mahatma Gandhi. Gandhi was the leader of the non-violent movement that pried India away from the British Empire, two years after the end of World War II. Jeanne was on tour. I was not with her. I wasn't feeling up-to-snuff; at the last moment I declined to climb aboard the tour bus. A small piece of concrete jutted from a sidewalk at Gandhi's place; Jeanne's right foot caught it and over she went head first. But for a scuffed knee and a few remaining aches, my wonderful wife is sturdy as ever.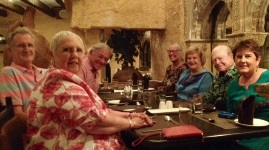 For our first evening in Mumbai, Jan, ever-efficient leader of our late-seating dining table of eight, in January had made a reservation for the eight of us at Khyber; it's a restaurant popular with the regulars—ship officers and guests—on the Amsterdam's annual sashay around the world. Khyber seems to provide some of the annual Mumbai pulse, part of the tempo of the city, for the passengers and officers of The Amsterdam. During our Khyber evening on the cave-like second story of the joint, it appeared that many Amsterdam folks had received the memo, "Khyber Tonight." Even the five members of the soon-to-rotate-off-the-ship zany Liverpool Ukulele Band were lined up on banquette cushions, sitting like crows on a telephone line.
Transport to and from the Khyber was arranged by Wells, one of our dining eight. He hit a home run. When we alighted from the small shuttle-bus at the "Green Gate" (the Mumbai port is gigantic, each of its many gates accorded a color) two small air-conditioned sedans awaited us. It was a short drive to the restaurant. After dinner, the cars were waiting, well-cooled. Wells knew I had remained on the Amsterdam during the day, so he arranged for the drivers to create a scenic parade for me, before returning to the ship.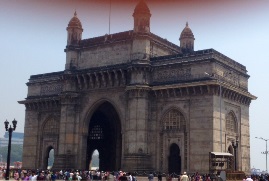 We drove to the Queen's Necklace, so I could see the lights forming the horseshoe waterfront "necklace." I got my first glimpse of the Taj Mahal Palace, the iconic Mumbai hotel that was shot up by Pakistani terrorists, who randomly killed innocents and greatly damaged the hotel. Across the street from the TAJ is the Gateway of India, a beyond-imposing, mufti-story arch, built in 1911 to prominently immortalize the visit to then-Bombay of the king and queen of the British Empire, King George V and Queen Mary.
During our two car parade we passed horse carriages splashed with colored electric lights and silvery tinsel. When we eight were returned to the port Green Gate, the charge was $15.00 per couple. Mr. Shashikant D. Jaitapkar, our driver, handed me his business card in hopes we would engage him during the Amsterdam's second Mumbai day.
The next morning, after multiple credential checks by armed official Indians, we emerged through the Green Gate into a throng of—not tuk-tuk drivers, for there were none in center Mumbai to be witnessed—but a mass taxi drivers, and I chose the wrong one. In fact, he wasn't the driver at all, but a tout. We walked to a taxi and the tout introduced us to the actual driver; then the hustler slid into the front passenger seat and began his city tours pitch. "Look, we hired you to take us to the TAJ Hotel and that is where we had better be going," I said. He was unmoved. I feared we were in the process of being high-jacked to a sari shop or any establishment where the tout would get a cut of our business. "I'm a lawyer, and I'll call the police if you don't take us to the Taj Mahal Hotel." He complied. When I handed him three dollar bills, the agreed fare, he said: "How about another one for me?"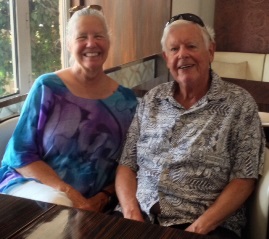 As the barman in the Taj Mahal Palace Harbour Bar served our beer and Diet Coke, it closed out our TAJ Trilogy: Colombo, Cochin and now the iconic, Mumbai flagship of the TAJ chain. We lingered over our drinks, catching an occasional glimpse of the gargantuan Gateway of India through a barroom window.
After the Taj Mahal Palace Hotel, Jeanne and I had the vague goal of walking along Colaba Street, one of the main Mumbai shopping streets, located a few blocks in back of the hotel, in search of roasted Indian cashew nuts. It was Colaba Street wherein we and little Louis (his stage name, for certain) became joined.
The sidewalks on Colaba are rough and narrow. Merchandise seemingly spews out of the stores, encroaching onto the sidewalk. Stalls of goods sit, extending from the curb into the walking space. It is impossible to walk in a straight line down Colaba Street; people weave side to side, through and around an amazing variety of human sizes, shapes and skin hues, ambling along the Colaba side walk. Having not the vaguest idea where genuine, roasted Indian cashews could be obtained in the Colaba and side-street maze, we stopped in front of a small arcade. "Do you know where we can buy some cashews," I asked a young man at the entrance. There was a pause, then: "He will take you there." "He" was a young man, chocolate-skinned, dressed in a white shirt and white trousers. He was tiny: slightly built and so short his head would barely reach Jeanne's shoulder. He was serious, this little man, in a way that gave Jeanne and me confidence in him. We learned that he spoke what could best be described as "pigeon" English—read: 10 words mas or menos.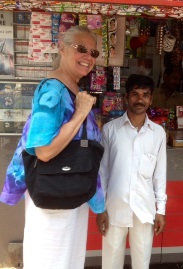 We followed the little man as suggested, his head high, back straight, a miniature figure of authority. It was difficult to keep up him, as he squeezed his small frame through the sidewalk mob. Block after block we went up Colaba Street. As always, it was very hot and muggy in Mumbai. Both our energy and desire for genuine, roasted Indian cashews were slowly waning.
The little man entered a tailor shop; he held the door for us. He spoke in Hindi—or whatever—to a man sitting at a desk in the back of the shop. Apparently the tailor knew of a cashew shop. "Follow him, now he knows where are the cashews," we were instructed. Another shop-man asked: "How about a nice suit for you?" "I can't. We're leaving in a few hours," I said. As the shop door closed behind me, I heard him shout out: "We can send it to you." Two more blocks walking through the mobbed street. The little man finally entered a narrow shop that appeared to be cosmetic store; rows of spices and nuts were shelved in the rear. I bought a kilo of cashews.
Jeanne had told me: "If we find a place where I can get a cheap sari, I would look; but, I'm not going to walk another mile for one." "Sari" was a word the little man knew. We walked another four blocks before our guide opened the door to a sari shop. Jeanne selected one. I offered a bit less than the owner asked. Jeanne now owns a sari.
I took the little man aside, because Jeanne and I were at the end of our Mumbai Colaba Street scene: "What is your name," I asked "Lewis." "Thank you, Lewis." I handled him a five dollar bill. His eyes told me that he was pleased with his "payment." "Taxi," I said. Out the door of the sari shop and into the street we went. "One dollar," said Lewis, as he flagged down a cab. The cab driver apparently declined to drive us to the Green Gate for a buck. Lewis held up two fingers. I nodded. We were soon at the port Green Gate. I paid the taxi driver three bucks, and our Mumbai adventures concluded.
---
25 March 2015 - Aboard the Amsterdam, En Route Dubai to Muscat, Oman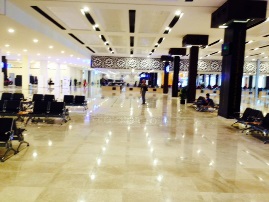 It is difficult to comprehend we are in our 79th day (almost three months) of being pampered in the Amsterdam's floating luxury. We have just entered the final segment of the world voyage. One hundred people disembarked and 40 embarked in Dubai.
It was our second day in Dubai. Jeanne and I had just walked through the over-the-top, wastefully-vast, marble-floored Dubai Port Rashid Cruise Terminal; it, like much of Dubai, begs be described in—or describes itself in—superlatives screaming: "LOOK AT ME!"
The six year old Burj Khalifa, at 163 floors and 2,722 feet high, is the WORLD'S TALLEST BUILDING! (Dubai's Burj Al Arab, is the world's 2nd tallest edifice). Dubai Mall, has over 1200 stores, an aquarium and indoor ice rink, and is THE WORLD'S LARGEST MALL! Dubai is proud as punch to have a very tall, sail-shaped hotel that is so exclusive one must have a reservation for food, drink or a bed to enter the premises. It is known by some (I would assume particularly its PR department) as THE WORLD'S MOST LUXURIOUS HOTEL! In a plaza behind Dubai Mall is a huge fountain; it puts on evening spectaculars, combining water, lights and music. Of course, it is known as the WORLD'S LARGEST CHOREOGRAPHED FOUNTAIN! Even the dullest among us must have by now concluded that Dubai is a narcissistic, unapologetic incorrigible SHOWOFF!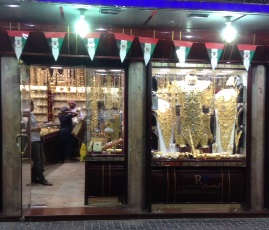 We were on our way to "Old Town" Dubai, where structures are normal-sized, set no records, and superlatives can remain in the dictionary. A line of Dubai ubiquitous Toyota Camry taxis were at the curb fronting the cruise terminal.
Our driver was an Indian, from Mumbai (85% of people living and working in Dubai are foreigners; the driver on our return to the Amsterdam was Pakistani). Our Indian driver provided Jeanne and me with a glimpse of the other side of the coin, in the land of the world's greatest this-or-that. In answer to my questions he said: "I work here for 18 months; then I go home for two months and come back" (that schedule is even more strenuous than the contracts Amsterdam employees labor under). "I have a daughter. I do it for my daughter." "I assume you live with other Indians," I said, knowing the pattern of third-world expats working in the first world to accumulate hard cash. "Yes, he said "and they're all taxi drivers," and laughed. I didn't inquire about his Dubai living conditions.
We were dropped off in the Gold Souk, a serious series of shops with gold jewelry splashed throughout a series of display windows. Jeanne and I were looking, however, for the Spice Souk, which is said to be behind the Gold Souk and across Dubai Creek. The first person I asked: "How do we get to the Spice Souk," looked at me blankly and remain mute (apparently not all Dubaians speak English). The next (young) man I approached, wearing the shoulders-to-shoe-tops white gown, prevalent in the Arab guy world, said: "Follow me." Which Jeanne and I did. We stopped at a shop across the street. Our benefactor said: "The owner speaks English," and opened the shop door for us.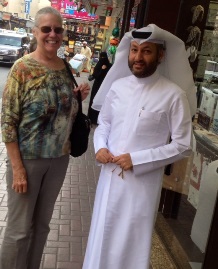 Dressed in an immaculate white version of the same Arab business suit as our benefactor, a man rose from his desk and met us at the shop door; we stood outside. "I'm a graduate of the University of Arizona," he began. Being a little hard of hearing, I asked: "Arizona State?" "No Tucson. Arizona State is in Phoenix."
Jeanne and I had met Fahad, one of the Dubai 15%, a native Dubaian. I asked so many questions: I asked about his glistening white costume, "How do you keep it so white?" "We are a family of three at home, with four maids." Fahad spoke often of God's blessings. Regarding the vibrant economy, in the face of limited resources: "God has blessed us with a safe and secure society." He went on to enumerate the numerous nationalities that live peacefully together in Dubai, and added: "Here, if you want to go to church, go to church; go to your temple if you are Buddhist, to the mosque if you are Muslim. We all live in peace here."
Fahad made it clear that being a relatively open society enables Dubai to provide financial and insurance services other nearby nations do not. Dubai also has the high-end hotels, ultra-chic malls and unique attractions (WORLD'S...) unmatched by nations near and far. Dubai is in tourist bucket-list heaven. During the two days the Amsterdam docked at the cruise terminal, it was school-break time in Saudi Arabia. Thousands of Saudis were in Dubai vacationing, buying expensive goodies and leaving bundles of cash. It also explained why in the Dubai Mall Jeanne and I saw so many full-burkaed women, peaking out a from a slit in their pitch-black, head-to-toe garments; they were Saudi women in family groups, fathers and kids wearing a kaleidoscope of clothing, while women moved about, imprisoned in black. Full-burkas are not as common among Dubai Muslim women.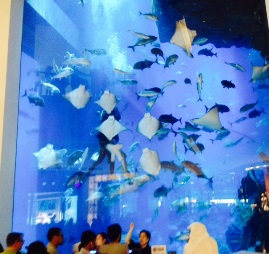 Fahad could not be more proud of, and satisfied with, the Dubai Government. "We are blessed because our president wakes up every morning and the first thing he thinks about is 'how do I make things better for our people'." He gave an example of the efficiency of the Dubai bureaucracy: "One time I had a problem. In front of my shop, there was a curb and people in wheelchairs couldn't cross the street. I called an 800 number. The next morning, before I opened my shop, men were here working, taking out the curb." When Jeanne and I were about to take our leave of Fahad, I said: "I see you are in the linen business," (as it appeared to me). "I sell traditional head coverings. The custom began with men needing to protect their heads and necks from the desert sun, he explained."
Later, I wisecracked to Jeanne: "We were delivered to the only man in Dubai who didn't want to sell us something."
The previous day, Jeanne and I took the gratis, comfortable shuttle bus to Dubai Mall. As we walked in, the large corner stores were Tiffany on the right, and Cartier on the left. Inside, in addition to great variety of expensive brands, we were startled by the size, and beauty of the aquarium and its contents, including a scuba diver swimming through the sea-life, some of them big-biggies.
Beer is not sold in Dubai Mall, which necessitated our walking the length of the place for our traveling beverages, and out the rear door and over a bridge—that provided a great view of the world's highest building and the Dubai fountain, the world's... At the end of the bridge, a flight up, and we were in the Patiala saloon and eatery. Francis, the Filipino bartender, told us he had a business in the Philippines, but like every one of the 85% of the Dubai population, he could make more money leaving home far behind. I lost my mind and ordered a second beer. Bar tab for a Diet Coke and two beers: $27. Welcome to Dubai, indeed.
---
27 March 2015 - Aboard the Amsterdam, En Route Muscat, Oman to Salalah, Oman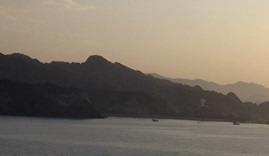 Oman is a long, narrow sultanate (kingdom). The Amsterdam is sailing virtually the length of Oman (a mountainous desert) north to south, from Muscat to Salalah in the Arabian Sea—think of it—the Arabian Sea. Salalah—where cast and crew are scheduled to dock for nine hours tomorrow—is very near the Yemen border. The Sunni Saudis yesterday announced that the oil kingdom has commenced bombing in Yemen to oust the Shia, Iran-supported group that has overthrown the U. S-supported Sunni government. In this part of the world, the Sunnis and Shia are always fighting. For too many years, U.S. government elites have put Americans in the middle of this eternal war; this folly at great cost, in the deaths and maiming of young Americans and, of course, of our national treasure (really— increase in U.S. debt).
Gene, the aforementioned cruise director, made a public address announcement this morning, while Jeanne and I were enjoying our Lido breakfast. He proclaimed that the Amsterdam gym would reopen, because of the diminution in the outbreak of the Norwalk Virus. Gene didn't call the serious tummy distress by that tag; official Amsterdam nomenclature is "GIS", gastrointestinal illness. Jeanne and I suspected some stand-down from the most stringent anti-GIS status might be forthcoming because during the last few days neither Gene nor Captain Mercer were ending their PA announcements with a repetition of the 20-second-hand-washing pitch. Roz, our erstwhile evening dining table-mate, was laid low by the Big-Bad-Bug just prior to de-camping the Amsterdam in Dubai for a return flight to Australia; perhaps her misfortune was the last aboard ship.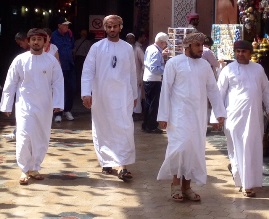 The Muttrah Souk (market) was the big deal in Muscat. Sultanate buses, at no charge, conveyed us to and fro the ship. Deep in the Souk, Jeanne and I left behind crisp U.S. bills, in exchange for a couple of Tee shirts—we'll be the first in Jewell Hollow with Muscat, Oman attire—and items for our granddaughters and Sheila and Penny, Jeanne's college friends of 50 years. The gift items are of Kashmir origin. We bought the them from Rizaz, a Kashmiri operating out of a stall in the Muscat Muttrah Souk. That is not your everyday transaction, even for the traveling Frinks.
Sultan Qaboos Bin Said overthrew his daddy. From appearances in Muscat, Mr. Qaboos now operates an Omani cult-of-personality: gargantuan photos of the fellow in various manly poses are plastered full-blown on buildings at Muscat's water's edge. I photographed one large souk poster of the sultanate head man. Throughout the vast souk, wires were strung overhead containing thousands of tiny banners, each miniscule banner bearing the likeness of—be ready for the punch line—none-other than the Oedipus-complex-stricken, Oman numero uno man, Sultan Qaboos Bin Said himself.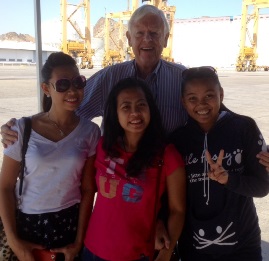 As previously mentioned, an entourage of Holland America big-wigs is coming aboard the Amsterdam later in the voyage. Stein Kruse, Chairman of the Holland America Group (HAL is owned by the Carnival Corporation) is boarding bearing a gift for passengers: Evening at Ephesus. Here is how the April 8 evening is scheduled to shake out:
6:30 pm -Departure from the port
7:00 pm - Arrival at Ephesus
7:45 pm - Cocktails and dinner stations throughout the site
8:45 pm - Proceed to the Great Theater
9:00 pm - Introductions
9:15 pm - Folkloric Dancers
9:35 pm - A Concert by the Aegean Chamber Orchestra in the Great Theater
Everyone is due to be back aboard the Amsterdam by 10:30pm; looks to be a dandy evening.
Speaking of DANDY: Each morning at the Lido breakfast buffet line one or more of the three Filipino server girls asks how I'm feeling; I always reply, "dandy." They now address me as "Mr. Dandy." The three young ladies came down the gangway with us yesterday in Muscat; I suggested a photo. As we were splitting up, one of the gals shouted out: "You should call it Mr. Dandy, and his three angels." I wholeheartedly agree.
---
29 March 2015 - Aboard the Amsterdam, En Route Salalah, Oman to Aqaba, Jordan
The Amsterdam is sailing in the Gulf of Aden (where 21,000 vessels cross a year) along the coast of Yemen.
"Look, the salt and pepper shaker and pepper grinder are back," Jeanne said as we settled into our seats for a rare, elegant—white jacketed servers taking orders and delivering delicious nourishment, placed on a sparkling-white tablecloth, with full silver service—breakfast in the dining room. With absolutely no public notice nor fanfare (though Jan, our dining table leader and Amsterdam mother-hen, told us last evening) Code-Red has vanished. No more tiny salt and pepper packets; we can now serve ourselves on the Lido buffet line, and fill our own coffee cups at the giant brewing stations. Code-Red didn't inconvenience me a single wit; some others groused and grumbled. I assume they had never been stricken by the Norwalk Virus.
While Captain Mercer and Cruise Director Gene voiced no news of the suspension of Code-Red, the Master of the ship did make a special PA pronouncement to passengers and crew last evening: He stated that there has been passenger concern about the Amsterdam steaming along the Yemen coast (Jan said folks at home have been emailing passengers panic-stricken tomes regarding the (aforementioned) Shia-Sunni warfare in Yemen.) The Captain, as he attempted to dampen down concern, assured his charges that Carnival Corp. has excellent intelligence capability, "including former FBI and CIA agents" at its disposal.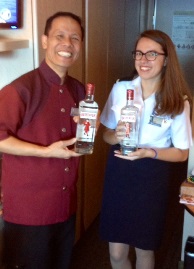 Tension will ratchet-up for Captain Mercer, and Carnival management I assume, when the Amsterdam navigates a narrow 10.8 nautical mile passage between Djibouti (Africa) and an island off Murad, Yemen (Arabia), known as the "Gate of Tears" (use your imagination). When the Amsterdam hits the gap between Africa and Arabia, our leader promised that the ship will be knifing the deep-blue at a ground speed equivalent of 25miles per hour. That extraordinary high speed will continue, we were told, through much of the relatively narrow Red Sea. Sports Fans, twenty-five miles per is wide-open, pedal-to-the-metal, flat-out-gettin'-it for a ship the size of the Amsterdam. Capt. Mercer just concluded his daily mid-day report. At the end, referring to the ship's speed, he said: "Tomorrow morning, around 9:15, we'll start winding it up."
I called Nestor this morning. Nestor is a senior and very lively wine steward. He is the keeper of my Beefeater Gin. When I call, Nestor drops by our cabin with an additional two bottles. The account, before today's upcoming drop-off: Holland America facilitated a special purchase of 22 liters of Beefeater (the brand is no longer served aboard the Amsterdam). Sixteen bottles have been delivered, and all but a tad consumed. Six liters remain. Six liters @ 28 oz. = 168 oz. Thirty one days remain in this incredible (at least for Jeanne and me) voyage. 168 oz. divided by 31days calculates out to 5.41 oz. It appears my daily, single, shaken not stirred, Beefeater martini will continue until the day we are thrown off the Amsterdam in Fort Lauderdale. There was, however, one hitch in the smooth system of Beefeater delivery Nestor created.
Much earlier in the voyage, Nestor's ship phone number was changed, unknown to me. It was Valentine's Day. I was out of gin. I called the customer relations office, after repeated ring-ups to Nestor's old, dead number; Belen, a sweet, young Spanish woman often answers during the day. "Belen, I have had a terrible turn of events. I can't find Nestor. He doesn't answer his phone. It's Valentine's Day and I am completely out of gin. Out of gin means no martini on Valentine's Day. I don't know what to do," as I feigned desperation." "I'll see what I can do, Mr. Frink," she said. Fifteen minutes later Belen was at our cabin door with two bottles of my Beefeater. She also gave me Nestor's new phone number. The next time I called him for my fill-up, both Belen and Nestor showed up at our door, each carrying a liter of Beefeater Gin.
---
1 April 2015 - Aboard the Amsterdam, En Route Salalah, Oman to Aqaba, Jordan
It is Day 86 of the Amsterdam's 114-day circumnavigation of the globe. We are in our final (4th) day at sea from Salalah, Oman to Aqaba, Jordan.
The Amsterdam is out of Yemen waters. Captain Mercer took a wide berth around the Yemen port city of Aden, where the Saudi Arabian Navy had, according the New York Times, "evacuated 86 Arab and Western diplomats," in the face of advancing Houthi Iran-backed rebels. The Yemeni president fled to Aden when the insurgents overran the capital city of Sana. With the Houthis advancing on Aden, the Saudis yanked the prez out. Yemen President Abdu Rabbu Mansour Hadi is now safely residing somewhere in Saudi Arabia. As the Amsterdam passed through the narrow Yemen straight known as the "Gate of Tears", it was zipping ahead at 23+ nautical miles an hour; once clear and into the Red Sea, Captain Jonathan throttled-down the Amsterdam's speed to a more normal 17 NMH.
As our glorious adventure winds down to a return to Fort Lauderdale, I'm going to give you, dear reader, an occasional peek into what I consider to be ancillary luxuries passengers enjoy aboard the Amsterdam. The luxury of having our two cabin stewards daily clean our cabin thoroughly (and change sheets each third day) and straighten it up after we leave for our 8pm dinner is well known to the millions who have boarded a cruise ship. Another well-known cruise ship luxury: the constant availability—and I mean 24 hours a day—of well-prepared chow of your choice delivered by white-jacketed room-service men, in the event one's daily calorie needs were not met by three meals in one or more of the ship restaurants.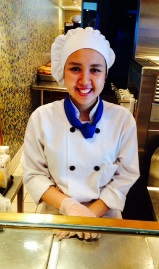 Ice cream, throughout my four-score years, has been a delectable, ephemeral delight; it is its own food group, in my world view. The Amsterdam offers endless, bottomless ice cream, for which passengers lay down not a single farthing. The various flavors can be topped with a choice of chocolate chips (milk, dark or white), various fattening syrups, or even after-dinner booze. Ice cream anytime, day or night, (room service) is a decadent, undeserved, luxury, beyond legality—or should be.
In addition to room service, the Amsterdam maintains an ice cream dispensary; it sits beyond the Lido informal dining room buffet, looking toward the midships swimming pool and on to the bow.
"I soak my right arm in warm water and salt, every night," said Annisa, the Amsterdam "Ice Cream Girl," as I refer to her. This charming, 22 year old Indonesian young lady cheerfully scoops ice cream into large waffle cones or bowls during the open hours of the ice cream dispensary: 11:30am to 5pm; she takes a short break and is again scooping ice cream virtually non-stop from 5:30pm until 8pm. As if her right arm is not already probably writhing in pain, she must satisfy the late-night-calorie-crowd, returning to the dispensary at 10:30pm to scoop, scoop, and scoop for another full hour.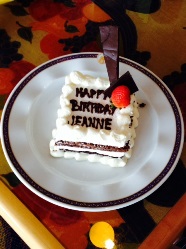 There is no Amsterdam daily per-passenger ceiling or upper limit on how many scoops Annisa's strong right arm can dig out of the tubs of milky sweetness, sitting in the freezer before her. Last year during the Holland America Grand World Voyage passengers, officers et. al., gobbled-down 3384 gallons of ice cream, contained in 1128 cardboard tubs. Thus far during our current seagoing adventure, Amsterdam officers, passengers, musicians, dancers and rotating entertainers have licked or spooned 2952 gallons of an assortment of frozen flavors down the hatch; a very rough calculation would average that out to almost 3 gallons a person, ice cream eaters and abstainers. Rough statistics aside, hundreds of us aboard the Amsterdam hope that Annisa's right arm holds out for another month.
On the last day of March, Jeanne had a three "cake" birthday. At breakfast, I told Mr. Dandy's Angels the good news and they instantly created a "cake" out of scrambled eggs (the body) and a link sausage as a candle, a red grape half as the flame, all surrounded by white grape halves. One of the Angels asked me at breakfast how to spell Jeanne's first name; when we returned for lunch, a proper small, square, chocolate birthday cake had been created, with Happy Birthday Jeanne, emblazoned in whipped cream. Jan had ordered a large birthday cake for our formal night dinner. There were eight of us at dinner, including Chief Engineer Ian and his wife Grace. Our dining stewards carved Jeanne's final birthday cake up so quickly I didn't see it before the surgery. Poof! It was gone. I am certain that it was lovely; I know it was tasty.
---
3 April 2015 - At Anchor in the Red Sea, Awaiting Passage Through the Suez Canal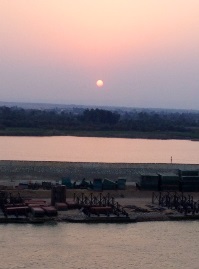 It seems, lately, that the Amsterdam has been dashing here and there. First our ship sped up to avoid any Somali speedy-launch-born pirates that might have wished to come aboard for a chat—and other activities. Next Captain Jonathan gave full-speed-ahead (almost) orders to his engine room dominions so the Amsterdam could blast through the Gate of Tears, the Red Sea Yemen narrows; this so that the excitement of being in a Yemen war zone would be snatched from passengers and crew as soon possible. Last evening, Captain Mercer switched on his P.A mic to announce that the ship was again speeding up. He was time-shortening the Aqaba to Suez Canal entrance run; this, because a Canal functionary had told him if the Amsterdam got to the Canal southern entrance by 10am it would lead a flotilla of 30 ships churning north at 11am. The master of the Amsterdam kicked the ship's speed up over 19 knots, and arrived with many minutes to spare. Alas, another Canal flunky informed our bridge that the departure time had been moved back to 4pm, meaning part of the Suez passage will in darkness.
It is 12:30pm and the Captain's normal mid-day chat was longer and more business-like than usual. The first word from the Canal folks was that the Amsterdam would lead the north-bound flotilla of 30 ships; in fact, we will be 29th in line. "I received a letter from a passenger complaining about the fact that we will be making part of our passage through the Canal at night. I want to explain that it is the Canal Authority that makes passage decisions," he said. At this point, it sounded to me, Ole Cappy's voice got a bit edgy. He explained that it took excess fuel to get the Amsterdam here; that we are lucky to be in the Canal's afternoon parade of ships, period. If we were not joining this afternoon's north-bound flotilla, we would have had to delete our Ashdad port call (which, in my opinion, would have produced some serious passengers' gnashing-of-teeth, shaking-of-fists and angry shouts for mutiny).
Captain Jonathan had a boffo daily "From the Bridge" show finale up his striped-sleeve. "And now for better news..." he began: The Big Bad Bug is gone! "Because of the hard work of our crew," in eradicating the BBB, Holland America management is giving them an Ephesus tour and party. Hurrah!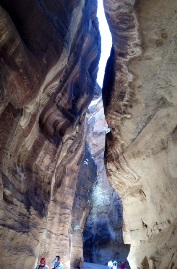 It is Saturday, April 4, and the Amsterdam has passed through the 100 mile Suez Canal. We are now proceeding in a molasses crawl of nine and a half knots to not arrive ahead of our tomorrow morning berth reservation in Ashdod.
"This is not nearly as interesting as the Panama Canal," Jeanne said yesterday afternoon, as we stood on the 9th deck, in a swift breeze, overlooking the canal's endless wall—with periodic guard towers inhabited by guys with guns that go rata-tat-tat, I assume. Jeanne's disinterest in the Suez, as opposed to the Panama Canal results from the lack of locks in the Suez version. The water levels of the Mediterranean and Red Seas coincide; ergo, there is no need for the Egyptians to raise and lower ships as the Latinos must.
Thursday, April 4 was Hashemite Kingdom of Jordan day for Amsterdam paying guests and crew. The Amsterdam was docked in the Jordanian Red Sea Port of Aqaba. By 9am most of us were aboard buses high-balling north, up the Jordan Desert Highway, the narrow little nation's north-south lifeline. We Round-the-Worlders were in search of Petra, the 2,000 year old (much of that time abandoned) sandstone-carved city.
"On the right is Wadi Rum, and the vast desert beyond. This is where in 1917 Lawrence of Arabia, a few British troops and our mounted Bedouin tribesmen fought Ottoman troops. It was the beginning of the end of the Ottoman Empire in Arabia," Samir, our Bedouin guide explained. Wadi Rum is also where the movie, Lawrence of Arabia, was filmed.
Over 20 years ago, I took a TWA flight to Tel Aviv. I spent two days in a Dan Hotel and devoted my time to hanging out on the beach. A slow-moving train, with few passenger's but a guard carrying a snub, Uzi sub-machine gun, delivered me to Jerusalem. After a week roaming the fount of the world's great religions, I took a public bus to Elat—which stopped long enough for me to put my hand in the Dead Sea. On the bus I met three Spanish students; we hooked up to share expenses for the taxi adventure to Petra. The Petra of that day was rudimentary, crude, with few visitors, compared to the Jordanian Money Machine that Jeanne and I encountered Thursday.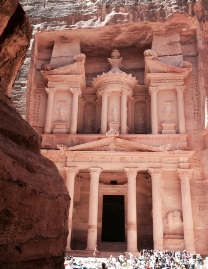 A previously non-existent visitor's center is huge, containing a vast plaza, and modern (and very welcome) toilet facilities. The Petra entrance now even has a turnstile, as visitors begin the long, sharp-down-grade walk—or horseback ride, or horse drawn buggy ride—down through the SIG, the narrow gorge that ends with one's first sight of "Petra's most magnificent facade: the treasury or Al Khazna. It is almost 40 meters high and intricately decorated with Corinthian Capitals, Friezes, figures and more." (from the Visitor's Center pamphlet). The movie character Indiana Jones made famous the SIG and Treasury.
I had forgotten how long is the walk down a very rough stone-strewn path to the SIG, (I twice turned my left ankle) and down through the gorge to the explosion of light, as one first glimpses the Treasury. "We are going to have to walk back up this mountain," Jeanne reminded me as we were midway to the SIG opening into the Treasury Plaza. One of our first sights in the plaza was of the fallen fellow passenger being gingerly placed into an ambulance.
Jeanne and I walked about. "We must buy you something inside Petra," I told Jeanne. A delicate, silver-filigree bracelet, with colored stones fit the bill. After haggling a bit, I dropped $7 on a father and son merchant team. We walked further into Petra "campus" for a short distance, but understood that for every yard we went deeper into the stone city, it was a yard we would have to retrace walking up-grade. Suffice it to state: We paused three times on the walk back up the SIG, and further on to the Visitor's Center, and the almost-adjoining Movenpik Hotel (a Swiss chain, according to Samir).
We had an absolutely delicious, beautifully presented buffet meal at the Movenpik. The salads were splendid: one, whole onions marinated in olive oil and lemon, and another olive oil brazed cauliflower, as examples. The Hummus was seemingly perfect—though an Amsterdamite dining near us said: "I like mine real lemony," as she earnestly squeezed. The lamb had been roasted whole and was delicious, doused with yoghurt. Both the dark and white chocolate mousses were delectable.
After lunch Jeanne and I remounted Amsterdam excursion bus #10. Two hours later we were again in cabin 1938, with aching ankles, one hip (mine) and knee (Jeanne). It was early to bed, sans dinner.
---
7 April 2015 - Aboard the Amsterdam En Route Haifa, Israel to Kusadasi, Turkey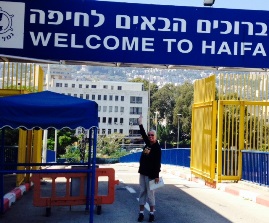 The ship was at dock in Ashdod, Israel. At 1:35 am, there was a knock on our cabin door. "Israeli immigration wants you in the conference room, now," a voice commanded through the door. Jeanne and I dressed hurriedly. In the conference room we were told to sit at the head of the table. The captain faced us. Three dour female Israeli immigration officials sat to the side. "You must wonder why I called this meeting," I began. The women glared. The captain winced.
"Have you ever been to Israel before? "The largest of the unamused, uniformed women asked me. "Yes," I responded, now in the depths of seriousness. "Why are you coming to Israel again?" Where are you going in Israel? How long will you stay?" After a couple more questions, the women became convinced that Jeanne and I were not going to jump ship and create an existential threat to the Jewish state.
A tour to Jerusalem was arranged. We were two in an eight passenger van. Unknown to us we were on our way to Bethlehem. Outside of the city, our Israeli driver had to abandon us, for his vehicle wasn't allowed in Palestine. We were joined up with Isaac and his old junker-of-a-car. In route to Palestine our Hebrew-speaking-only driver had handed me a cell phone and said: "It's Isaac" Isaac said: "I'm your guide."
Jeanne and Isaac visited the Church of the Nativity (I had ducked into the hole-in-a-wall entrance before and declined the honor again.) After going through a maximum-security-like-prison steel wall to re-enter Israel, we entered The Old City through the Jaffa Gate, the area in which I had spent a week roaming on my own, many years ago. I got reacquainted with Vic Lepedjian, the Armenian ceramicist, from whom I had bought some customized tiles on my previous visit. Jeanne and I visited the Church of the Holy Sepulcher which she found to be profoundly moving. Of course, we visited the Western Wall below the Dome of the Rock.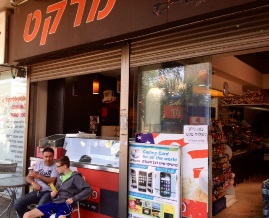 Jeanne and I immensely enjoyed our visit to Bethlehem-Jerusalem. The 1:35am knock on our cabin door was delivered October 17, 2007. The ship wasn't the luxurious Amsterdam, but the relatively spartan Grimaldi Mediterranean car carrier, The Grande Ellade (click here to read about the The Grande Ellade voyage). Did we have a similar experience during the Amsterdam's 'Round the World-15 dockings in Ashdod and Haifa? Not exactly.
In Ashdod, we took a shuttle bus to a mall. We were walking to find a cafe for our traditional beer and diet coke—"I'm sorry sir", the waitress said, "All of the cafes along here are kosher." "Beer isn't..." and let it go. After the beer-rebuff, we were walking back to the bus station in front of the mall to take a public bus to Tel Aviv and Jaffa: "Look at you. You can't walk. We're going back to the ship," Jeanne said. She was right. My left hip was shooting out signals down as far as my knee that I interpreted as rather-sharp pain (later largely dissipated by a couple of Tylenol-like tablets I travel with).
"Israel isn't tourist user-friendly," Jeanne said as we exited the Haifa port yesterday. The street and other signs don't have English subtitles, as with the Myanmar, Oman, Sri Lanka and other nations with exotic official languages. Hebrew qualifies as exotic to these two American Protestants. We were going to take a bus up to a cable car and also visit the headquarters of the Baha'i Faith, with its hanging gardens. Bus tickets popped-out of a Hebrew-only machine. We were snookered. There was no Haifa Plan B.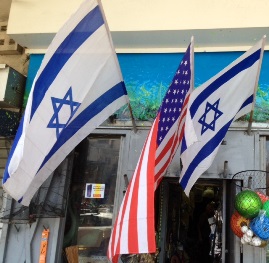 When in doubt in a foreign land, Jeanne and I most often wander. In the case of Haifa, we wandered along a scruffy dock street; not quite skid-row, but certainly not 5th Avenue. We were vaguely in search of club soda (for Jeanne's virgin cocktails of cranberry juice and club soda). Coke Zero is always a welcome find. We wandered into an un-named grocery-convenience joint. At the furthest extension of the place, deep in the back, Jeanne found liters of Schweppes (sounds Yiddish, doesn't it) club soda and Hebrew-marked Coke Zero. "We don't have shekels," I said to Asher, the energetic young man at the cash register. "I'll take dollars," he countered. To give you, dear reader, more color on this down-at-the-heels-dock neighborhood: While I was standing near the cash register, a man came in and bought one Marlboro cigarette. One table in the store contained a bulk spread of various nuts; I bought a slew of dry-roasted red-skin peanuts, treats seldom seen in Luray, Virginia.
I asked Asher where there would be a cafe wherein Jeanne and I could partake of our traditional ashore drinks. "You can get them over there," he said, pointing at a cooler at the door, "and drink them out front." At this point Asher's children entered the store; later his father, suggesting a photo shoot.
As we sat on the street on well-worn wicker chairs with our drinks balanced on a small table, which did not meet Amsterdam hygienic standards, I suggested that perhaps Asher would take a photo of us, to continue our beer-and-Diet-Coke photo series. "I don't want to have a photo taken here," Jeanne said.
As we left Asher's place, a store up the street was flying two Israeli flags and one U.S. The flag-flying shopkeeper turned and entered his store as I took the photo, giving me the strong impression he didn't want to chit-chat. We'll never know why he saw fit to hoist together the flags of Bebe and Barack.
---
9 April 2015 - Aboard the Amsterdam En Route Kusadasi, Turkey to Piraeus, Greece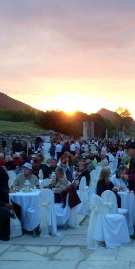 I had a dream. In my dream, a college fraternity brother, now a flamboyant hedge-fund billionaire, invited me to his 50th birthday party. He invited 100 friends and family to join him on his improbable, unforgettable celebration. All of my friend's guests were somehow gathered up and magically deposited on an ancient Grecian-roman site; this site—this ancient place—was once a vibrant city of seaborne commerce, with a citizenry approaching a quarter million in number. This city, which Alexander the Great conquered and where St. Paul strode its cobblestone streets, preaching the Gospel of Jesus Christ, was until recent times buried deep in Cayster River Delta silt; this place of the Greek God Zeus, Emperor Augustus and the Roman legions that followed, has in recent times been divinely touched, for a thousand year-long reclamation from the stifling silt has begun that will, one day, fully resurrect this once buried city.
When my friend's guests arrived at this place, we were greeted by Roman senators, resplendent in their togas, uniformed soldiers, wearing body armor and carrying ancient weapons. We sat on white-draped chairs and supped from tables draped in a fine white material that flowed to the cobblestones. Delectable, warm and cool morsels appeared on our porcelain plates. Maidens continually passed among us, pouring fermented grape juice from bottles that seemingly had no bottoms.
When the sun set in the western sky in this place, it shown brilliantly on the 24,000 seat stone theater, where my friend intended our evening of commemoration to end; but let us not speak of the end of this grandiose celebration, for ours was a moveable feast.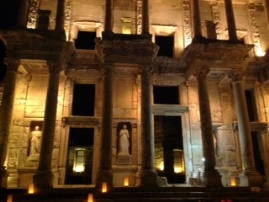 As twilight deepened, the celebration of my friend's birthday slowly flowed from the narrow valley where we had supped, to higher ground, and the great, columned library of this once-vital city. Now laid before us were unfathomed quantities of baklava, and other sweets of this land. The maidens purveying fermented juice, from the bottles that never dried, followed us to where we again sat at tables, enjoying our sweets and wine. Guests sat in front of the artificially-lit library portico, as a string quartet played sweet sonatas. Soon, as darkness fell, so did the time for our host's piece de resistance, his grand finale. We guests walked gingerly, with great care, over the now-ill-lit cobblestones, leading to the amphitheater and the end to our ephemeral time in this magic place. Servants abounded to assist me and fellow guests.
Once his guests were seated in the before-Christ place of entertainment, our host and benefactor spoke words of greeting and thanks to his friends and family in attendance. He also mentioned that, because of his "friends" that this would be the first concert allowed for a decade in this place (billionaires are different.) He then introduced a local dance group, which performed. Next, The Aegean Chamber Orchestra—plus a most-skilled female flutist—played a prolonged concert of Vivaldi, Mozart, Bach, Dvorak, Brahms and other composers.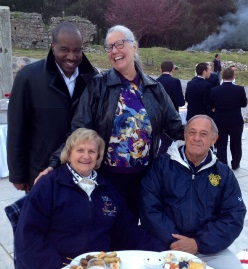 I awoke from my dream as my billionaire friend and his guests were being magically whisked away to their homes, scattered over the earth. Once awake, I said to myself: "Wait a minute. That dream: It happened last evening, at Ephesus, in Turkey. That was real. Sure, a dream in a real sense, but Jeanne and I were there…really!"
There were a few differences between reality last evening and my dream. There were not 100 guests; there were 800 Amsterdam passengers and a large number of ship crew to assist, plus a huge catering staff. We weren't swept away, as in a dream. We were transported in a fleet of over-the-highway tourist buses—800 divided by 34, not accounting for crew, you do the math. Every passenger was issued a wool lap robe(temp was in the high 40s); 800 cushions were placed on the stone seats of the amphitheater before passengers arrived.
Stein Kruse, CEO of Holland America Group, gave the remarks. He reminisced about past Mariner Appreciation Days, (one underground in the Istanbul cistern) "and this one might be the best of all." Mr. Kruse then introduced Orlando Ashford, his successor as prez of HAL.
Back "home", when passengers came up the gangplank and re-entered the bowels of the Amsterdam, crew members—40 perhaps—lined the sides of the entrance way cheering our return.
Unique, peerless, unmatchable, unimaginable, pick your adjective. For Jeanne and Gary Frink, the Holland America "thank you" evening at Ephesus was a dream-like, once-in-a-lifetime party. One hell of a party!
---
12 April 2015 - Aboard the Amsterdam Docked at Katakolon, Greece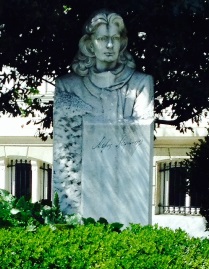 Poof, Greece flew by in a blink—as I strongly suspect that the remaining European stops will, before the Amsterdam makes its six day mad dash across the Atlantic to culture shock and reality in Fort Lauderdale. Folks aboard are anticipating the dreaded return to normalcy. This morning, during breakfast, Jeanne wistfully said: "You know, the thing I dread more than unpacking is going to the grocery store and reloading our pantry. We are going to need everything..."
Christians aboard the Amsterdam had two Easters this year. Today is the Orthodox Easter Sunday.
Our first day in Athens—the Amsterdam docked, of course, in Piraeus—was Greek Good Friday. It was our third visit to the 2500 year old birthplace of western civilization. We had no particular plans, no dear ship excursions scheduled, so we turned to the world-wide, ubiquitous tourist transport of choice: the double-deck hop-on-hop-off bus.
Hop-on-hop-off whisked us by the Temple of Zeus, the Greek Parliament and the New Acropolis Museum before pulling up at the base of the Acropolis, looking up at the Parthenon, shrouded in maintenance-work scaffolding. Jeanne and I have walked the Parthenon site, absorbing its gleaming, classical beauty. All Athens falls below the endearing symbol of the once-greatness of ancient Greece. We remained on Hopalong. "Been there, done that," Jeanne said.
If the Parthenon is the symbol of the success of Ancient Greece, the graffiti-ed-over empty stores and small business buildings we saw on the return run to Piraeus is symbolic of modern Greece's devotion to out of control public spending and its current bankruptcy. Will frugal northern countries in the Euro Zone continue to bailout the feckless Greeks, or will the new left-wing Greek government be forced to default the debt, pull out and return to the their currency, the drachma? That is a game in progress.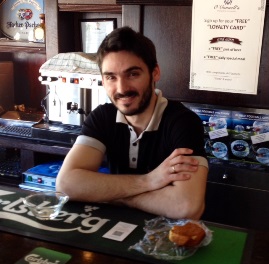 "If we (the Greek government) get a deal with Russia, then the Americans will get involved and push Europe to get off our backs," is the Greek monetary crisis view of Chronis, our Good Friday bartender at O'Connel (sic) Irish pub. The pub is across the avenue from the Hopalong station.
We paused at the bottom of the steep steps leading to the pub. "I don't think it's open," Jeanne said as I started up the stairs. It was open, and inside were Chronis' wife, infant daughter, aunt and grandmother. They had been to Good Friday church services, and the family was enjoying time together in the saloon, sans customers. We sat at the bar, being unobtrusive as possible. Chronis served me a pint of Guinness and Jeanne a bottle of Beck's alcohol-less Blue. The wi-fi was fast; the restrooms worthy of a five star hotel. Chronis' family soon withdrew for home, but Jeanne and I stayed on until our wi-fi appetites were satiated. We returned to the nearby Amsterdam in time for a late lunch. Saturday was a Friday do-over, but for Hopalong. We didn't need another bus ride.
Katakolon is the port for Olympia, 10 miles away and the site where games honoring Zeus began. Easter Sunday and the ruins of the Olympian Temple of Zeus are closed; ergo, Jeanne and I remained afoot in the Katakolon village, dropping in and out of shops. After a spell, we settled in at a seaside cafe, for a beer and a Diet Coke. It was a short walk to the Amsterdam and lunch.
Greece has been thin gruel and stale beer compared to Ephesus, Petra and a cartload of other adventures Jeanne and I have grappled with during our 97 days living in this luxurious floating hotel.
---
14 April 2015 - At Dock in Napoli, Italy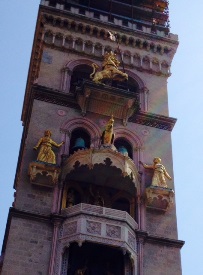 "Do we know where we're going," I asked a short, stocky fellow passenger who, with his equally stocky—but more than a head taller—wife, I have seen vigorously dancing in the Crow's Nest. "I think so. I believe we turn left up ahead," came the reply.
We were in Sicily - Messina Sicily, to be exact. Messina is old, big-time old; the word on the street is that the Greeks founded it circa 700 B.C. The Amsterdam had passed through the three mile-wide Messina Strait. It separates the boot of Italy from Sicily, the home of the Cosa Nostra, the secret society that has morphed from the Middle Ages into the modern Mafia—the Sicilian crime gang we know and love (to read books and watch movies about).
The Amsterdam docked early, at approximately 11:30am; this was fortuitous for we adventure-seeking folks, not locked into a bus excursion to be whisked out of town. Jeanne and I were a half a block away when we heard the first guttural roar of the lion; then a rooster crowed. We were headed to the Piazza del Duomo. The Messina Cathedral sits at the back of the large plaza. Attached to the Cathedral is a (deservedly) famous bell tower. The bell tower performs once a day, and it is a doozy, a boffo performance. The bell tower turns its trick at the strike of noon. Jeanne and I, and scads of other passengers, were rushing to be in position for the April 13, 2015 performance.
The bell tower is approximately 180 feet high, with three steeples and four large clocks which face in each direction; it is alleged the clock faces can be seen from anywhere in Messina (during our Messina moment, the clock faces and steeples were obscured by scaffolding). The lion sits at the first level below the clock face, and... I'll tell you what I'm going to do: I'll quote from the guide book I laid-out four Euros for (four bucks and change):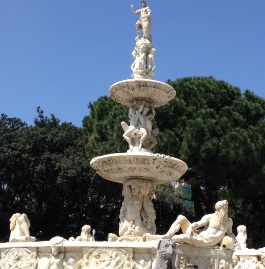 "...the mechanism brings to life golden statues...On the first facade...a roaring lion standing on his hind legs wags his tail and shakes his head, while a rooster flaps his wings and crows, and the statues of the Messina Heroines Dina and Clarenza beat out the hours and quarters." It goes on, the Grim Reaper beats out the quarter hours with his sickle, a dove flies around a mountain and seven pagan "deities" drive carts portraying the days of the weeks. All of this while loudly-amplified Ave Maria orchestral music blares-away. Trust me: I couldn't make this up.
Don't go away; we're not done with the Piazza del Duomo. The modest cathedral—by European standards—sans the clock tower (built 1908, after an earthquake) was first constructed in 1120; "first constructed," because fires, earthquakes and the fact that IL Duce, and the rest of the Italians, were on the wrong side of history during WW II—Allied bombing blew the old church to smithereens—have wasted Messina's Cathedral through the ages.
Orion had a colorful career in Greek mythology: unrequited love, being blinded by a king, getting his sight restored by the sun and as a hunter—he drove the wild animals out of the Isle of Chios. Oh, by the way: Orion founded Messina. His Fountain, in which he is prominently featured, with his trusty dog Sirius, sits in front of the cathedral, off to the side. It's a very pretty piece of stone handicraft, according to my taste in such things.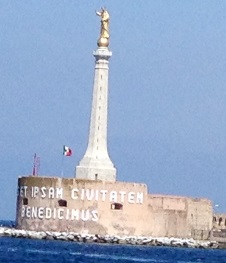 After a short stroll from the Piazza del Duomo, Jeanne and I were upon the 12th Century Church of the Annunciation of the Catalans. Unlike most of the European churches I have gazed upon during over 40 years (off and on) of church-gazing on our ancestral continent, it doesn't aspire to physically reach the heavens: Its "steeple" is rounded and stubby, reflecting, my guide book avers, Arabic, Norman and Byzantine characteristics. Whatever influenced the design of the short, squat structure, it has enabled the Catalan Church to survive all of the Messina earthquakes and the WWII U.S. et. al. bombs.
Jeanne and I were in Sicily for the first time. We were certainly going to have a pizza for lunch. I walked into a small restaurant at the corner of Settembre and Battisti streets, not far from the Piazza del Duomo and—not realizing it was also a pizza joint—asked: "where is the best pizza around here?" The young women behind the counter looked at each other puzzled; finally one of them piped up: "We do." We strolled on, found nothing that our instincts told us would be better, and returned. Our white pizza (mozzarella and basil) was delicious, of course washed down with the ubiquitous beer (a heavy lager) and Diet Coke.
Jeanne and I were taken with Messina. Of course, the noon carrying-on of the Cathedral bell tower was a hoot. We enjoyed meandering through much of the city's history. The scale of the city was impressive: Its size didn't overwhelm. We could walk site-to-site, and did.
The Messina Port snuggles right into the city center, which made it very convenient for those of us not on Amsterdam tour buses. I took one last photo before the ship pulled her lines and sailed away: An ancient fort sits on a tiny island in the port; on it is a tower with a statue of Madonna of the Letter, the patron saint of Messina; on the base, in very large relief letters, it states (in Latin) "I bless you and your city." After our short sojourn in Messina, Jeanne and I do as well.
---
17 April 2015 - At Dock in Cartagena, Spain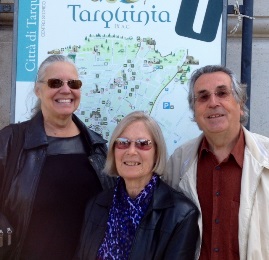 "Hans, if it had not been for you I would never have started my travel website, never have thought of such a thing," I said as four us walked to lunch in the town of Tarquinia, Italy. Tarquinia is in the heart of what was once Etruria, the land of the Etruscan Civilization; it began at the end of the Bronze Age (12th to the 10th century BC) and at one time included all of Tuscany and Rome (Romans revolted circa 500 BC.) Etruria lasted until Roman legions swept through the land in 311 BC and remained. Tarquinia became an official Roman town in 90 BC; it is 20 miles, mas or menos, south of Civitavecchia (port for Rome), where the Amsterdam was docked for the day.
Hans is Hans Isler, the retired head of passenger service for Grimaldi Lines, a cargo shipping line, based in Naples, Italy. In early 2006, I was struggling to rack-up visitations to reach a hundred countries on the Traveler's Century Club list; my goal was to be eligible to join-up. I was plotting my way through the Balkans (lots of relatively teeny countries I had not visited) and became frustrated at the lack in integrated transport.
I Googled "cargo ships." Up came Grimaldi. I emailed blindly. Hans answered. After a series of emails, I became the sole passenger aboard the Republica di Genova, on a 40 plus day round trip from Northern Europe to Angola, West Africa. It was an adventure of a life time. The ship captain made it immediately clear to me that he didn't want a passenger-nuisance aboard his ship. Given my life was in his hands, Cappy's attitude laid a heavy load of stress on my heart and mind. It worked out eventually. In fact, it came about that the captain and I began to enjoy each other's company, to the point that he would carry me along on his on-shore adventures.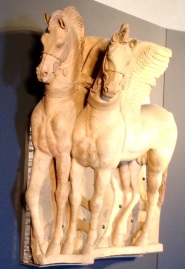 During my time aboard the 'di Genova, completely isolated from Jeanne and and all the bits and flotsam of my comfort zone, I wrote—occasionally two a day—over 40 stories of my musings and adventures on and off the ship. Those stories, and the photo gallery photo gallery accompanying them, were the Genesis of "Cruisin-Thru" website, now overflowing with the thousands upon thousands of my words and hundreds of photos.
What does the history of "Cruisin' Thru" have to do with Tarquinia, Italy you, a perceptive reader of my in-motion chronicles, might reasonably inquire. Hans and the Frinks have remained in (Facebook) touch over the years. In addition to my long voyage aboard the Republica di Genova, Hans arranged for Jeanne and me to be aboard the Grand Ellade for an interesting spin around the Mediterranean, which included Jeanne's first visit the Israel and Jerusalem. To cut to the core: Learning that we would be aboard the Amsterdam during its short sojourn in Civitavecchia, Hans offered to drive down from his Roman home and give us a custom-made excursion; and it came to pass.
We were exploring the first floor of the Palazzo Vitelleschi, named for the archbishop-cardinal who, it is claimed, designed and paid for the construction of the 15th Century opulent structure that is now the National Museum of Tarquinia, when Hans said: "In those days, when a man became cardinal, he accumulated enough wealth for his entire family. If he made pope, his wealth took care for his entire clan.
As we walked up the wide, minimally raised palazzo steps—to accommodate Cardinal Vitelleschi's horse carriages—Hans explained that the job of pope was so desired that incumbents were sometimes murdered. Poison was the preferred method to dispatch the subject. To avoid a premature departure from this life, popes would avoid the intrigue of Rome, remaining in their home town palaces, surrounded by family and friends.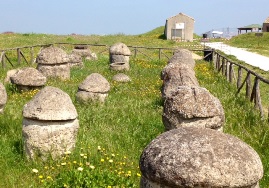 Hans, his wife, Lena, Jeanne and I were in the Palazzo Vitelleschi—in Tarquinia, for that matter—because of the elaborately painted and stone-carved tombs, dating back to the 9th Century Before Christ. We witnessed resurrected examples of carved stone "caskets", some with a full-life statue of the wealthy deceased carved into the lid.
From Cardinal Vitelleschi's place, we motored out to the vast Monterozzi Necropolis (cemetery) on the outskirts of Tarquinia. Thus far, 6,000 BC tombs have been discovered; of those, a couple hundred were elaborately decorated, many grave-robbed before official discovery. Our exploring party of four walked down steel steps in permanent huts, to peer into now-empty tombs carved out of solid rock.
Hans again drove through the Traquinia city walls to the self-serve municipal parking area. Lena inquired from passersby about where we might enjoy a celebratory luncheon. Arcadia, near the town cathedral, was chosen. We lingered over fish dishes and a very large carafe of not-too dry white wine. "I remember picking you up in a driving rain storm, in Salerno..." Hans began one reminiscence.
After lunch, and a walk to view the cathedral and some interesting old homes, we drove slowly on a two lane road, through the fields of Tuscany, on our return to Civitavecchia and the awaiting Amsterdam. Jeanne and I shall always thank Hans and Lena for their friendship and a beyond-memorable day in ancient Tarquinia.
---
20 April 2015 - Aboard the Amsterdam En Route Cadiz, Spain to Ponta Delgada, Sao Miguel, Azores, Portugal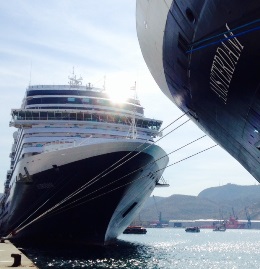 The Amsterdam did a three day Spanish port horseshoe spin before we took our leave of continental Europe.
When the Amsterdam docked in the Mediterranean port of Cartagena and threw out its lines, it floated bow to bow, nose to nose to her sister ship, the Eurodam. Crew members of the two ships looked up friends on the opposite HAL ship and had a grand Cartagena day.
Jeanne and I walked off the gangway and were almost immediately in the city. "Look at the jellyfish," Jeanne said as we ambled along the concrete walkway at the water's edge. There were thousands of floating red-tentacled globs as far we could see; an unexplained curiosity.
Founded by Carthaginians in 227 BC and under the control of North African Muslims from 711 until 1269, Cartagena played a prominent—albeit tragic—role in the Spanish Civil War of 1936-39. The south of Spain was largely a Republican (loyalist) stronghold during the war with General Francisco Franco's led insurgents. Cartagena was the principal Republican supply port (Franco won and was Spanish dictator until his death, 1975).
Nazi Germany and Italy supported Franco and, in my view, used the Spanish Civil War as target practice for WWII; regardless, Nazi bombardiers did their best to turn Cartagena into a pile of rubble.
Jeanne and I set out walking in search of the Refugio-Museo de la Guerra Civil (air raid shelter museum). As we walked high above the port, we discovered a lonely statute of Christopher Columbus. Columbus certainly wasn't born in Cartagena; did he sail to the Americas from the Mediterranean port? Emily-The-Librarian, of Amsterdam renown, was thrown into the quest for an answer to this vital question: "Without internet, all I could find out was that Columbus didn't sail from Cartagena," she reported back to me.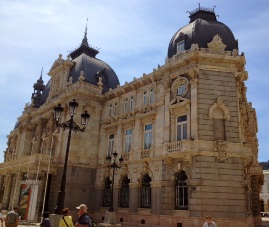 The Air Raid Shelter Museum was, as advertised, an underground shelter. It is kept in semi-darkness for effect. I photographed a poster exhorting the citizens of Cartagena to: TODAY-NOW enroll in the battalions of public works and fortifications. Not much else was notable. Near the museum, on a high bluff, stands (pun intended) the bombed-out remains of the medieval Castillo de la Concepcion, with one wall partially restored and braced-up.
Before strolling back to the Amsterdam, Jeanne and I sat for an hour in the sun at a tapas bar; it is on a pedestrian street, not far from the plaza featuring the new, elegant, art-nouveau town hall—you can easily guess what happened to the original. We were contented watching the passing parade and slowly sipping our libations.
Malaga is billed as Europe's southernmost city—though a score of Andalusian towns and villages west of the city dip down closer to Africa. Malaga is a lovely city, with a broad avenue along the waterfront, Picasso's home and museum and history hanging all the way back to 770 BC. With all it has to offer, Jeanne and I wanted no more than to scamper out of Malaga as swiftly as possible.
My love affair with Nerja, the Mediterranean village 40 miles east of Malaga, up the coastal road (or by freeway), began on Easter weekend, 1973; it has held me in its grip to this day. In November 2012, a last moment change in schedule on a Brand X relocation voyage from Barcelona to Miami interrupted our plans to zoom to Nerja for a short sentimental sojourn. I poured out my angst, engendered by the so-close-but-so-far missed opportunity, in a 1700 word story (click here) that began with the long ago Easter and flowed on.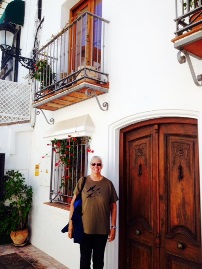 On this Malaga port Saturday, Jeanne and I would not be denied. A port shuttle bus delivered us to the tourist info bureau in the center of the city, where decorated horse carriages waited curbside on the avenue. "Here is a bus schedule," the helpful young woman offered. "The bus station is across the street. There is a bus for Nerja every hour." "One leaves in 15 minutes," Jeanne told me, after a glance at the proffered schedule. We scurried across the avenue. I handed a clerk a credit card for two round trip tickets ($16.) and our Nerja memory dig was underway.
The old road to Nerja winds along the Mediterranean coast, passing through hamlets with homes and shops built virtually to edge the highway. The bus stopped in larger towns, Velez-Malaga and Torrox, stuffed to the gills with pan-European tourists and Germans and Englishmen retired to the sweet sun of the Costa del Sol.
We arrived at the top of Nerja, as it begins to slope through the town streets, ending in the Mediterranean. We walked on very narrow sidewalks heading down to the center of Town. Our first objective was 32 Calle Carabeo, a street that springs out from the town plaza and the Catholic Church that dominates it. In November and December 1983 we lived in a late friend's restored home, high over the sea, while she was resident in Washington D.C. Late in life, and in her dotage, she married an Italian (some have described him as a gigolo) half her age; rumors were that after her death he wanted to turn the property into a restaurant, like many on the now walking-only street. When we arrived at 32, the once-prominent number above the door had been plastered and painted-over. I inquired of the status of the Mediterranean Sea-side home of our aging dreams with a waiter working at the small hotel at 34 Carabeo. He assured me that it was still "privada." We did not knock. I took a photo of Jeanne in front of the graceful, wooden front door.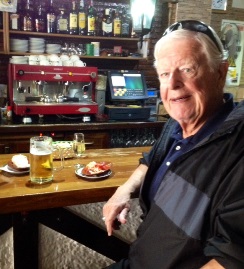 Our next objective was Meson Antonio, a tapas bar on the street passing to the right of the church, where a large crowd was gathered in anticipation of the beginning of an apparent (to me, at least) rich-folks wedding. I hoped Antonio was still alive and running his joint, for he was the last person in Nerja I would know.
It was early afternoon when we entered Meson Antonio; he was not in. While waiting, we sipped a fino sherry and a tonic water and discussed our voyage with Antonio's brother and a young bartender. They were fascinated with the idea of living on a ship for 114 days. Like his brother, when he entered Antonio recognized me immediately, though at least 20 years have passed since I last sat at his bar.
Our walk continued on Nerja Streets, sloping down to the Mediterranean beach. Jeanne was convinced that she could find the apartment in which a decade ago she stayed for a week with our friends Dick and Glo Reber, while I was in Richmond working in the Virginia House of Delegates. We finally meandered down to a side street near the beach. "That's it," Jeanne said.
The apartment the Rebers rented was then a part of a hotel, the Perla Marina. That abode has been sold, I learned from a desk clerk at the hotel. We, however, looked at a two-bedroom on the beach, attached to the hotel, and priced it for winter use. It would be ideal for us in the future.
A taxi returned us to the highway bus stop. An express bus return to Malaga, a shuttle bus ride to the cruise terminal and we were again home ensconced in our Amsterdam luxury. Later, as we discussed our short, but rewarding, sojourn to Nerja, Jeanne said: "I could live in Nerja for the rest of my life."
It was Sunday in Cadiz. In the dead of night, the Amsterdam had squeezed through the Strait of Gibraltar. We were now in the Atlantic Ocean, and will remain so until we disembark in Fort Lauderdale.
Cadiz must be one of the oldest cities in Europe: It was founded by the Phoenicians circa BC 1100. Whoa! That is old, for anyplace beyond China. Jeanne and I walked the town plazas and partook of tapas and drinks in a saloon named "Nueva Ola", which I would translate as "New Hi," as in "Howdy." Regardless, The Amsterdam has left Cadiz and continental Europe far behind and we are on our way home.
---
26 April 2015 - Aboard the Amsterdam En Route Ponta Delgado, Azores, Portugal to Fort Lauderdale
The Days Dwindle Down To a Precious Few... but before we get to the emotional and physical bottoming out of our glorious, once-in-a-lifetime four month sojourn aboard the Amsterdam, I must update you on a slight schedule change.
Tuesday, 4/21/15 passengers received the latest (and most likely last) alert-letter from Captain Jonathan. "The forecast for Horta is, in a word, awful; 3 1/2-4 meter swells and 25 knots of wind, gusting above 30." Cappy wisely scrubbed Horta, our second (and a tender-lifeboat) port in the Azores; it was to have been the Amsterdam's last stop before we hauled anchor for Fort Lauderdale.
We spent an extra day in wind-swept Ponta Delgado, with its iconic Portuguese black and white stone paved streets and sidewalks. It was peaceful. Jeanne and I ventured out to a town cafe each day for our customary beverages. That was it for Ponta Delgado. We were tourist-ed-out. Regardless, when the Amsterdam pulled her lines, we sailed from Ponta Delgado with a thumbs-up impression. "I like this place," Jeanne had said. "It's clean and pleasant."
The last time time I was in Portugal was October 2006, in Lisbon; and like Ponta Delgado I arrived on a ship. That bright morning in early October, the Republica di Genova steamed slowly up the Tagus River, as I watched the sun-drenched city pass by. The "Republica" was a spare, Spartan cargo ship—very unlike the luxurious Amsterdam—on its way to West Africa with a load of vehicles and construction equipment so used-up only the impoverished cities along our South Atlantic route to Angola would welcome them. I was the only passenger. The ship had one cook, one steward. In Lisbon, I looked ahead to 40 plus days of unknown, somewhat unsettling, maritime adventure.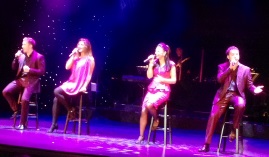 Last evening, Jeanne and I clapped and hooted (at least I did) loudly at the climax of the last after-dinner show by the Amsterdam resident singers, dancers and orchestra. This morning was the last moment our soiled shirts, socks and underwear could be sent out to the ship's laundry, with a guarantee it be washed up and returned to us before we abandon ship. Yesterday we attended the crew talent show, always a feature of the last moments of a voyage; Nestor, who recently delivered my final two bottles of Beefeater Gin, was a director and singing star. Tonight is a "Thanks for the memories" cocktail party for Holland America regulars, with booze on the house. Light packing has begun. You get the painting being brushed-in here: Our 114 days on the Amsterdam's Grand World Voyage are being squeezed-down to hours, 100 or so.
Speaking of squeezing, I have promised you examples of small scale luxuries we passengers have indulged in during our four months aboard the Amsterdam. Limit-less ice cream was first. Next in line is limitless, freshly squeezed orange juice.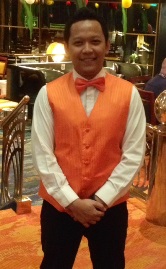 I have often noticed passengers in the Lido during breakfast hours walking away from the juice station carrying four glasses of orange juice; two for themselves and—there is a pun coming— two for their main squeeze. Once I noticed a man with four glasses of orange juice in front of his plate. After breakfast, passengers often carry glasses of orange juice as they exit the Lido.
Suryo, our evening assistant dining room steward, is the squeezer. He begins at 4 am and mechanically squeezes for an hour. In that early hour each morning he dispatches 15 boxes of oranges, 60 to a box, or 900 oranges in all. "Why do you choose to work so early," I asked the very bright young fellow, who doesn't complete dinner dining duties much before 11pm. "No boss," he replied and smiled.
The after-dinner show lounge rotating entertainment (during our four months aboard, dozens of individual acts and groups have flown to meet the ship, done a show or two and flown then away at the next port) has been varied and usually totally enjoyable.
Passengers enjoyed a faux Beatles group that had them literally dancing in the aisles and throwing undergarments on the stage. Naki Ataman, a pianist, played without pause for an hour, building into the theme of "Around the World in 80 Days" snippets of recognizable music from various nations. Ataman was backed by the Amsterdam bassist and drummer, and uttered not a word before, during or after his boffo performance.
There were a number of "clean comedians" (no bad words); a Polish woman played the violin, who spoke such broken English that it was unintended comedy. Terry Davies was The Piano Man, expertly playing the works of Billy Joel and Elton John; he was also the leader of a faux Abba foursome. Don Bryan is an amusing and expert ventriloquist. The Black Tie, an Australian favorite of the World Voyage regulars, features the comedy of two Russian-Greek brothers—one born in China, long story—and their piano and cello playing wives. We have had a Vegas headliner female comedienne, Doo Wappers, The Three Divas (I fell for the one from Liverpool) and Vegas crooners.
Passengers were even mysteriously presented a Liverpool ukulele band, of all the strange acts. England, particularly Liverpool was the source of a remarkable number of the rotating acts (Las Vegas the other.) I asked Cruise Director Gene Young why: "Some of the major talent agencies are in London and the travel and visa arrangements out of the UK are often easier," came the answer. There were magicians, some funny, some serious, and a mentalist (mind reader). We even had a former Olympic gymnast, who, in addition to flying around the stage on a sash, could memorize the order of a deck of playing cards and recall them. Tonight we will enjoy a male vocal quartet, singing in the close harmony manner of the Four Freshmen—one probably has to be long-in-the-tooth to digest the reference. I remember the Four Freshmen fondly.
Think of it: In order to be exposed to the Amsterdam's panoply of imported talent, all we passengers needed do is walk the length of the ship from the dining room in the stern to the show lounge in the bow. No reservations to make. No cars to drive (no designated drivers.) No tickets to buy. Simply make the walk through the 5th deck of the Amsterdam, passing an excellent pop trio in the Ocean Bar, a piano bar virtuoso and a Hungarian piano, violin duo, capable of playing the classics and jazz.
Jeanne and I often listen to the trio for a few minutes before entering the show lounge. Interesting: The leader and bassist is from Oregon, lives with his Filipino wife near Manila, the piano player is Polish and lives in Warsaw and the drummer lives on a small island near Vancouver.
I could go on about the variety of entertainment and diversions we have been offered during our four months aboard the Amsterdam but, alas, it is time to go watch Jeanne pack.
---