A Mini Mexico Adventure


---
October 17, 2010 - Aboard the Oosterdam
Another Holland America voyage, another rescue at sea.
Some readers might remember that this year Jeanne and I were aboard the Amsterdam during the Singapore to Seattle leg of the Holland America Grand World Voyage. As the Amsterdam plowed its way through the Bering Sea south of Alaska on its way to Vancouver, and after some passengers had experienced a few spring hours in the still-frozen city of Petropavlovsk, Siberia, a young passenger fell seriously ill. The Amsterdam's medical staff concluded that the young man's plight was life threatening and beyond its ability to stabilize.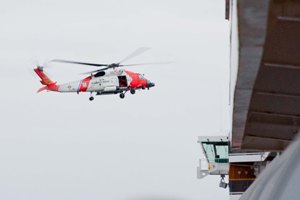 Early that morning, the captain informed the ship's complement that he had diverted course and that the Amsterdam was proceeding toward Kodiak Island; this in order to bring the ship within round trip range of a U.S. Coast Guard helicopter. It was on its way to airlift the stricken passenger to Kodiak and from there to a hospital in Anchorage. The helicopter was escorted by a C-130, a four-engine cargo plane, which circled continuously, until a Coast Guard crewman was lowered to the bow deck from the hovering chopper, the patient secured in a basket gurney and crewman and patient winched up and into the helicopter. Some of us were able to photograph the dramatic scene from the Crow's Nest.
This morning, shortly after six a.m. and to our amazement, Captain Jeroen Baijens announced on the public address system that, for the Frinks at least, the Coast Guard rescue epic was being repeated, this time along the Mexican Pacific Coast. Today, the rescue chopper arrived sans the C-130, hovered beside the port bow, moved in to lower a crewman, circled the ship while the patient was being prepared for the lift to the helicopter, pulled crewman and patient into the chopper and then was quickly on its return to San Diego. The captain informed us during his early morning announcement that he had ordered the ship to make a 180 degree in order to steam toward the incoming helicopter and its limited flight range.
"Just think of it," Jeanne said. "All of the voyages we have taken and we never encountered an at-sea rescue; now there are two in a row." For me, these two incidents underline how Americans, and all of the Judeo-Christian cultures, value human life. In each case, immense risk was undertaken by the Coast Guard helicopter crews and untold private and public funds were expended to do all that could be done to save a single life. As Captain Baijens explained before today's rescue operation and later, "Holland America's chief concern is for the safety and welfare of its passengers and crew;" That maxim applies in spades to the men and women of the U. S. Coast Guard.
Tonight is the first formal night on this seven day San Diego to San Diego Oosterdam Mexican West Coast cruise. Our traveling party, Jeanne, her brother Jim, and his wife, Jill and I will get all gussied-up, but I left my tux, tux shirts and shoes at home; just too much "stuff" to haul around for two formal nights on a seven-day cruise.
We had a couple of glitches during our first 24 hours aboard the Oosterdam, but Julie, a supervisor in the Front Office, smoothed them out quickly and with a smile.
I received a phone call this afternoon, and the young woman asked me: "Mr. Frink, have you received your Holland America 100 day bronze medal yet?" I informed her in the negative, and she told me that Jeanne and I will be recognized for our years of Holland America voyages tomorrow morning at the Mariner's brunch. It occurred to me that some our fellow passengers on the 2010 Grand World Voyage earned their bronze medals in a single year.
---
October 18 - Aboard the Oosterdam, steaming south in the Pacific, along the Mexican coast
Today my mother is 101. Happy Birthday Granny.
Jeanne, her brother Jim, his wife, Jill and I are on a seven day cruise, with stops in Mazatlan, Puerto Vallarta and Cabo San Lucas. Before we boarded the Oosterdam on Saturday, we did a two day tourist two step in San Diego, including the obligatory Mexican lunch in Old Town. Our day roaming the San Diego Zoo was a delight.
The black Jaguar is etched in memory: Ebony black, his fur radiating a sparkling sheen, he menacingly paced his private space behind the industrial strength wire fencing.
The famous animal resort has a huge open area for its six African and one Asian elephants, some bred at the Zoo's off-site animal park, some retired from circus and other employment. The bubbly, petit young lady, driving our double deck bus and guiding us through the intricacies of San Diego's captive animal maze, was careful to explain: "Each elephant poops 200 pounds a day," which, she explained, is used to fertilize various plants in what is also one of the largest U.S. botanical gardens.
The Giant Chinese Pandas sat on their rumps pealing and eating hearts of bamboo, of which each gobbles down 40 pounds per day. For reasons unknown, the female panda was larger than her mate; each projected a silent aura of command and entitlement.
I watched the pink Caribbean flamingos in their designated pool, also populated by Mallard ducks and various other visiting, swimming, feathered paddlers. Zoo staff hand-feed the baby flamingos, to be certain that they ingest sufficient nutrition, in the face of all of the hungry, interloping, water birds. I stood for a long moment watching an adult flamingo stand on one foot; I would have thought if flamingos need only one leg and foot evolution would have eliminated the other; obviously, that has not been the case.
Jeanne has a particular affinity for Zoos. Thus far, those checked off her bucket list are, of course, San Diego, National Zoo, D. C., Zoo Berlin and the Detroit Zoo, in Royal Oak MI, rumored to have closed because of lack of funding.
My Great Grandfather Snyder was the first caretaker of the Detroit Zoo. It is family lore that he would transport caged wolverines to Ann Arbor and Michigan Stadium on football game days.
Our interesting San Diego Zoo experience was further enriched by the presence of Jim and Jill McConnell's two delightful daughters, one from Santa Monica, one from Nebraska. A choc-full zoo, four McConnells and one McConnell-Frink provided this writer a perfectly delightful day.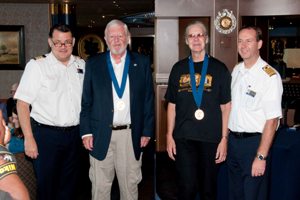 This morning, during a small reception, Captain Baijens presented Jeanne and me with Holland America's "bronze" medals, attached to blue fabric lanyards (suitable for wearing around ones neck); this, emblematic of our having spent 100 (plus 31) days aboard Holland America ships. It was all high camp, but it did induce us to reflect back on the many voyages we have made with Holland America. Our first master was Captain Vandenberg, now retired.
We dock at Mazatlan tomorrow. The adventures will proceed. I have explored much of Mexico, beginning in 1954 when I arrived at Mexico City College for a winter quarter of learning in an exciting foreign city, far from a dreary, frigid East Lansing winter. In the spring I returned to Michigan State, organized a group of 75 Michigan State students to accompany me to Mexico City College the following winter; MCC President Murray had agreed to pay me $10 a head; he did and gave me a job to boot. It is a saga much too rich and lengthy to fully relate here and now. Finally the point: Jeanne and I have spent extended periods of time in Mexico, but this will be our first visits to Cabo San Lucas and Mazatlan.
---
October 18 - Slipping away from Mazatlan, aboard the Oosterdam in route to Puerta Vallarta
Today the sun and warmth blasted through, after almost five days of inexplicable cloud cover and chill, which began during out time in San Diego.
The Oosterdam was securely docked by 8 am. Our traveling party, well fueled by Lido breakfasts, crossed the gang plank shortly after 9:30. The Mazatlan Cruise Port provided open metal benches on a flat bed trailer pulled by a small tractor to convey us and the other passengers to the small, crowded but orderly cruise terminal.
The hawkers lay in wait. Van tours were predominant among the offerings. The four McConnell/Frinks didn't want our time in Mazatlan to be as sanitized, organized or shielded from the gorgeous, sun-sparkling day before us that an air conditioned, Ford eight passenger van would force upon us. We kept walking.
Small, open Volkswagen dune-buggy-like taxis lined the street as we walked out of the confines of the cruise terminal. I had already completed some bargaining by the time we reached the street. "I give you a deal: four hours for $60. That's cheap." That was more time than we needed to audit the sights of the midsize Mexican city before us, best known for the shrimp, oysters, clams and fish its residents scoop from Olas Altas Bay, The Gulf of California and Pacific beyond.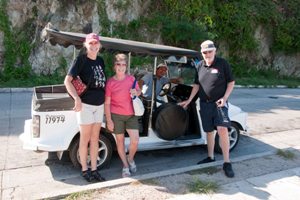 Ernesto drove up, as we stood rudderless on the curb. A deal of $15 an hour flat (no minimum) was struck. We were then swept away from the sea of hawkers, as if Houdini himself had performed the feat.
Ernesto did a swift U turn as we were passing the point on the sea-side avenue where divers plunge from a shallow cliff into the bay below; a young man, the color of wheat toast, was preparing to make a leap. He made it! It was not nearly as thrilling or dangerous as the Acapulco La Perla divers that perform the same feat from a very high cliff; but, we weren't in Acapulco and were not about to be. Immediately after the shallow splash, a middle aged man came through the small gathering of dive-witnesses hustling tips; Jim gave him a buck, with the usual tourist's refrain: "Oh, what the hell."
Into the narrow built-for-horse-and-carriage streets of Viejo (old) Mazatlan we next proceeded. We moseyed into the obligatory cathedral, as Ernesto gabbed with his dune-buggy-tourist-taxi colleagues at the curb. Inside, we were struck by the brilliant azure emanating from behind the alter. Completed during the last year of the 19th century, the cathedral's twin blue and gold spires are a Mazatlan landmark. We strolled around the original town square, where construction crews are placing power lines beneath the tiled streets, detracting a bit from the quaintness of it all.
The beach was our goal. We were pleased to ride around Mazatlan in Ernest's dune buggy making the mandatory tourist stops, but when we reached our goal for the day it was all that lovers of sea, sand and sun could possibly envision.
Our beach base for the hour and a half we spent at the closed end of the horse shoe bay was a wall-less, thatched roof, Palapa restaurant, a few steps down from the Avenue Del Mar multi-lane thoroughfare.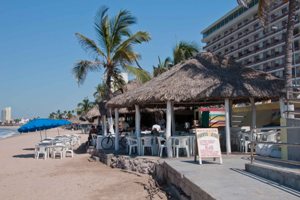 The four of us walked immediately to the wave-less Pacific, shoes and sandals in hand. We were the only people on the vast beach as far as we could see, left to right, probably explained by the fact that it was the morning of a week day.
Jeanne and Jill began their long shell-seeking beach stroll to the right; Jim and I returned to shade and drinks under the palapa. As we made our way to our table, I noticed that two idle municipal lifeguards were doing extra duty peeling shrimp. Oysters and clams were heaped on the restaurant counter. As we drove by it, Ernesto had explained that restaurants purchase their seafood directly from the fishermen and oyster divers early each morning at an informal beach market.
Sitting under the palapa, looking out to sea, sipping a beer on a crystalline Mazatlan morning was a rare, satisfying moment; it was prolonged when the women returned from their beach walk and we ordered a plate of shrimp and some oysters in the half shell and more drinks.
At the appointed moment Ernesto was to return for us, a man approached our table and asked if we spoke Spanish. Once assured, he told us that Ernesto was "occupado" and he, Julio, was his replacement. At the cruise terminal, I purchased a wide, leather belt from a Mexican whose English was almost native-speaker quality ("I worked in the states for 10 years.")
In the Lido, I built a large, green salad to supplement the beach side oysters. That evening it was dinner for four in the Vista (main) dining room and an energetic (they are always energetic) show by the young Oosterdam resident singers and dancers in the two story bow theatre.
---
October 24 - Aboard the Oosterdam in route San Diego
It might have been one of the oysters or the knife that opened them; or a limitless number of other unsanitary opportunities. A known fact: I did dine—In Mexico—On The Beach, in Mazatlan.
The next morning the Oosterdam docked in Puerta Vallarta. After a hearty Lido breakfast of three over-easy eggs, bacon and yogurt, it was time to explore Puerta Vallarta. The one time Mexican fishing village was made famous by the production there of the movie Night of the Iguana and the torrid and public Elizabeth Taylor, Richard Burton liaison. Last year the town entertained 3 million tourists.
Jeanne and I spent happy sojourns in Puerta Vallarta in the late '90s as guests of friends living in a fine condominium building; it had an ample balcony, on which we would sit and overlook the beach commotion of hawkers and sun bathers and far out into the gigantic Bay of Banderas. We wanted to retrace our steps, find the building where we had enjoyed so many memorable moments (including my 61st birthday party), walk the beach and gaze once again at the John Huston (director of Night of the Iguana) statute on the tiny island formed by the Rio Cuale near the point where it empties into the Bay.
We were at the bottom of the Oosterdam's gangplank on our way to the port gate when I said to Jeanne: "Wait a minute. I'm going to have to go back." Montezuma's, or some other, revenge was soon upon me. Jim, Jill, Jeanne and I returned to our cabins, in the hope that within an hour the Aztec king would release me, but he did not.
I urged my three companions to make their get away to Puerta Vallarta without me. "No, I'll stay with you," Jeanne said. "Absolutely not. There is nothing you can do for me; this thing just has to run its course." My relatives complied, left the ship, and hailed a taxi for Central Puerta Vallarta. When not in our cabin's sanitary facility, I attempted to sleep.
I was miserably, dreadfully sick, like a college fraternity party hangover, but cubed. I chills and shattering shakes so threatening to my well-being, I told myself: "When I get home, I'm going to get checked for malaria. It can lie dormant." This fear sprang from the time, four years ago, when I was in Douala, Cameroon, West Africa, during my 47 day voyage as the solo passenger aboard the Republica di Genova. The river in which the ship was docked was (and certainly still is) mosquito infested. On the previous di Genova voyage, the second mate had to be removed from the ship after developing malaria from a Douala mosquito bite. It spooked me.
As the afternoon slowly dragged on, I became aware (I'll spare the reader details) that I probably had a case of Norwalk Virus, named after the Ohio city where it was first isolated. The Norwalk is highly contagious. It was clear that it was my duty to others on the ship was to report my condition to the Oosterdam's infirmary. I knew that I would be quarantined to my cabin for—only God knows how long. "It is what it is," Jeanne responds to most of life's travails, large and small.
Jeanne had returned from Puerta Vallarta (unable to locate our nostalgic icons) before Holland America Nurse Lisa Bellehumer entered my miserable existence. "You have a borderline fever," said she, after a quick temp check in my ear. "The first day you may try any small amounts of liquids you can keep down, like flat soda, juice, broth, ice." She left me with a list of bland foods for the second day. A very pleasant and efficient English native-speaker born and raised in Quebec, upon leaving she reminded me of the terms of my imprisonment: "You are quarantined until 24 hours after your last 'incident.'" Suffice it to record that my quarantine was 48 hours.
During my confinement, I received a call from the front office. Sweet-voiced Ina was disappointed she couldn't to anything to enhance my condition: "Wouldn't you like a DVD," she plaintively asked.
A specialty cleaning crew has been assigned to us, three men including a uniformed supervisor, "The Hazmat team," Jeanne calls them. Another nurse called after my first 24 hours in lockup to run down a check list of my condition; after hearing my responses, she sent me on to another 24 hours of in house confinement.
Holland America takes all possible precautions against infectious diseases. Passengers are constantly reminded to wash their hands frequently and to use the hand sanitizers. I now know from experience that once a dreaded bug bites, Holland America has an efficient and compassionate response ready for the afflicted.
---