Now Playing:

A Mammoth Asian Adventure

Click here for the photo gallery of the Asian Adventure!


---
March 16, 2010 - The Tuscan Inn, Fisherman's Wharf, San Francisco
I washed down my vitamins this morning with French sparkling white wine. I don't do that very often in Jewell Hollow, or even Richmond Virginia; but then, I am not in Jewell Hollow or Richmond. Jeanne and I are in San Francisco.
The sparkling wine smiled out at us from an ice bucket as we arrived in our room, after a Southwest flight from Dulles to Denver and on to San Francisco; on the second leg, the stewardess (that's better than female flight attendant) sang to us—twice.
Regular readers of "cruising", like John Rainey, know that Jeanne and I favor funky Kimpton Hotels, each created out of standing structures in various cities; this one is an old motel, renovated in late eclectic.
Kimpton encourages their guests to bring along the family pets. Last evening, as Jeanne and I set out to explore Fisherman's Wharf, we took notice of a man and woman in a small park in front of the hotel each leashed to a gargantuan dog. "There're huge," Jeanne said. "They look like horses." We learned today that a young man and wife and the two Great Danes are staying together in one Tuscan room.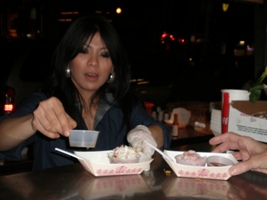 Once outside the hotel last evening, our first encounter was a homeless man sound asleep on the wide curb separating the ins and outs to a parking garage; he was not the last in similar circumstance to be seen in our short stroll.
The hotel is two blocks from the long-standing Alioto seafood restaurant, on the corner of a block facing the open water containing three or four copycat establishments. It was 10 p.m. and business was winding down along the wharf, but good luck struck us: We were able to acquire a small container of Dungeness Crab and tiny shrimp; Jeanne ate her shrimp at the outdoor counter of purchase, I carefully escorted my crab and plastic fork back to the hotel and the bottle of bubbly. Crab and bubbly were a harmonious treat. We were in bed by 2 a.m. eastern time.
In the lobby, Tuscan Hotel, same day.
We walked. We walked up long hills and short. We walked from the waterside flats of Fisherman's Wharf up Columbus Avenue crossing Lombard, Chestnut and Powell, We walked past North Beach and Washington Square and park, continuing up to Grant Avenue and the outer reaches of San Francisco Chinatown.
We were in search of a dim sum (simple Chinese fast breakfast fare) brunch. On a side street, in a tiny, narrow storefront, no-English-spoken-here we settled into a $5.99 (not a penny more for the scalding tea) all-you-can-eat Chinese eatery. After the worries of food poisoning past from consciousness, we enjoyed sticky rice, steamed dumplings, pork buns, noodles and on and on. It was a virtual walking glide back down to the water flats and our hotel.
We are situated in the far corner of the Tuscan lobby in comfy easy chairs. I write, Jeanne works one of her many Sudoku puzzles. Our late checkout has run out. Our plane to Singapore is scheduled to suck its wheels back into the fuselage at 1 a.m. tomorrow morning. With five hours to expend before the shuttle drive to the airport, the hotel lobby serves as our pre-flight home.
I'm finally convinced that our maritime tour of much of Southeast and Northern Asia will occur. For two months resident in Richmond and laboring in the General Assembly Building, it was difficult to visualize our coming adventure. The vision is much easier from San Francisco and the Pacific shore.
---
March 20, 2010 - Quincy Hotel, Singapore
Singapore has been a wipeout.
Yesterday I arose at 7 a.m. to finish an essay that I had begun in the Hong Kong airport. I added a couple of paragraphs about how I am spooked by airport security. I edited one word and the screen went blank. I had lost 1,000 words.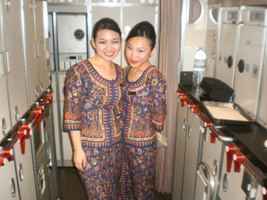 Jeanne tried. Hotel employees tried, but the words were not to be resurrected. I went into a deep funk of great despair. It was not only the lose of a long essay detailing our 20 hours aboard a single airplane, nor my description of the excellent service the Singapore Airline cabin crews provided, nor my ruminations about airport security. It was fear of the future. If I lost one essay without understanding the cause of the mishap it could happen again.
After entering the funk, I was attacked by a vicious bug of unknown strain and origin. The bug stayed with me until late afternoon.
Let me recount our stay in Singapore: We arrived Thursday afternoon (Wednesday in the U.S.). We enjoyed a late lunch in the hotel lobby. After losing two nights sleep enroute, we took a nap. We enjoyed the cocktail hour (English Gordon's gin, not the watered down U.S. licensee version) and took dinner in the hotel. Again to bed. Then the horrors of Friday began.
Here we are: Two days in the tiny, orderly city-state of Singapore and I have not been out of the hotel. Now it is time take our leave of the Quincy (an ultra modern establishment of chrome, glass and various shades of grey all attractively and efficiently designed) and taxi to a dock and board the Amsterdam.
Jeanne has spent her two days in Singapore and has seen and experienced nothing more than the confines of this hotel. Sometimes life is simply not fair.
---
March 21, 2010 - Aboard the Amsterdam, enroute Singapore-Sihanoukville, Cambodia
"Oh, from the United States, you have come a long distance," said the young Indonesian crew member checking off newly embarked passengers yesterday afternoon at lifeboat station number 10.
If he only knew. The rigors of sitting in a single airplane seat for 18 hours with a Hong Kong short stopover, passing through uncounted time zones continues to take its toll on our bodies: We cannot get enough sleep. Naps, falling asleep sitting in chairs, early to bed, late to rise, nothing brings our sleep deprivation to a close. "I'm so discombobulated," Jeanne said this morning during breakfast.
We are settled in. We are unpacked. After almost a week of partially unpacking and repacking our two very large bags in hotel rooms in Chantilly, Virginia, San Francisco and Singapore we are ensconced in cabin 1928, first deck, where I watch the South China Sea flow by as I write. "It feels like home," Jeanne said this morning of the familiar Holland America environment.
Home, but change is the only constant. This morning at the Lido (informal) dining facility I twice circled the cafeteria lines looking for a tray. During the many years we have traveled aboard Holland America ships we have been greeted at breakfast by young Indonesian Lido staff members with a cheery "Good Morning," and handed a food tray. Finally I approached a staffer and asked, "Where are the trays?" "Trays?" he responded. A woman passenger overheard the exchange. "There are no more trays. You carry what you eat. It has cut food waste by 20%," said the woman, obviously aboard longer than we.
The Amsterdam was delayed an hour casting off from the Singapore Cruise Center dock; Singapore officialdom apparently found a T that was not crossed. When we did get underway, we traversed the very narrow and shallow West Keppel and Jong "fairways" into the Singapore Straits. There, we passed through a large out-of-work-ship resting place. Ships without cargos awaiting unsure futures in this unsure world economy. Tens upon tens of them scattered about the Straits anchored, empty, high in the water, with skeleton crews. Men and ships stagnant, like bobbers afloat on a still farm pond on a hot August day.
I describe the scene in the Singapore Straits as a resting place for cargo-less ships, for that is what it is, a purgatory of sorts. If an owner of a particular ship cannot find cargo for it and determines that it is financially unwise to continue paying the crews, insurance and other fees, then that ship is dispatched to a ship cemetery. Ship cemeteries in the maritime trade are called "breakup yards"; most are located in India and Bangladesh. Once a ship reaches its cemetery it is deliberately beached. Then, hundreds of extremely low paid men swarm over it with torches and hammers dismantling it, scavenging anything of value, particularly the steel plate that once gave the vessel its form and function. For the last two to three years, business has been brisk in Indian and Bangladeshi break up yards.
---
March 22, 2010 - At Dock, Sihanoukville, Cambodia
"NO TUK TUKS!" Jeanne said the words as emphatically as she is capable, short of shouting. The shuttle bus to Sihanoukville's principal market from the Amsterdam's dock at Cambodia's only commercial port moved slowly through a human sea of hawkers, hungry for the hard currency of the industrialized world.
A woman seated in front of us on the bus said: "We're not getting off." Outside the bus, the bodies of Holland America contract employees formed a short avenue allowing passengers to exit. As Jeanne and I slowly moved toward the arched roof of Sihanoukville's main market across a crammed street, drivers of two to four passenger carriages pulled by aging motorcycles (Tuk Tuks) surrounded us, pleading for business.
Throughout the very large market stalls sold soft goods—mostly feminine apparel to my eye. In one area of the market, meals were being cooked on charcoal braziers. Beggars clogged the main aisles. One small café had a table and four plastic chairs. A couple of European origin lounged comfortably at the table with a Cambodian couple. "You've acclimated well," I said, assuming the man was an Amsterdam passenger. "No English. Russian," came the reply.
Jeanne found nothing of interest in the soft goods stalls. I urged her to look at the chains offered in one of the money changer-gold dealer stalls. She had zero interest in gold or anything else in the market. Her interest was to remove herself from the market's claustrophobic compression of humankind.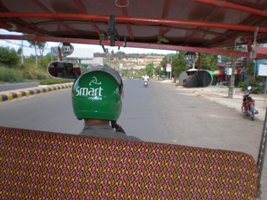 During the half hour we traipsed the market, a short, ebony haired Tuk Tuk driver stayed with us, quietly and respectfully urging us to go here, there, anywhere. Once again outside , I realized two facts: We would reboard the shuttle bus and have seen absolutely nothing, nada, zip, zero of what Sihanoukville might have to offer a couple of Americans who had come a very significant distance. Finally, I was not at all put off by my shadow, the persistent but polite Cambodian Tuk Tuk driver. The obvious answer for the moment was to take a Tuk Tuk tour. A Tuk Tuk business transaction ensued.
Once underway, I doubted the bike's scrawny internal combustion engine could adequately propel the three of us but, like The Little Engine That Could, we huffed and puffed it through. We went so far as to pass another Tuk Tuk on the return from the Wat Khrom. I shouted to the tourist couple in the pass-ee Tuk Tuk, "Ha! My Tuk Tuk is faster than your Tuk Tuk."
We spent pleasant moments photographing a Monk and a reclining Buddha (ala Bangkok, but smaller and much more primitive.) The beggars were compelling. One man had stumps where his hands once were. I contributed Yankee Dollars toward the maintenance of the Pagoda and the Buddha.
Down and around, to the seashore we did Tuk Tuk. It was a pristinely beautiful day to be on Victory Beach. As we approached the entrance to The Airport, disco by night, quiet beachfront restaurant and bar by day, a young European couple arrived on a motorcycle. They didn't appear to be tourists. "Do you live here," I asked. "Russian." he replied.
The Airport is owned by Russians. Jeanne walked the beach in search of sea shells. I chatted with another Russian couple. They live in Moscow and winter nearby in a $500.00/month rented home. I asked the slender, attractive woman what business her husband was in, after she offered the fact that he was a businessman. Several moments of whispered reflection later, it was decided that he was in the oil business. We bought Cambodia mementos in the Airport gift shop.
Nat, our driver, drove us to the container ship dock and the Amsterdam. But for him, we would have seen nothing of Cambodia. I gave him a 50% tip.
I awoke this morning at six. The Amsterdam was an hour from docking. Outside our window as far as I could see were identical, what looked to be 40-60 foot fishing boats dragging nets returning from a night of fishing. I dressed and walked to the Promenade Deck to photograph the amazing sight. The "pop-pop" sound of what I took to be two cycle engines filled the morning sunrise.
---
March 24, 2010 - Morning, at dock in the Cai Met River, near the town of Phu My, in Vung Tau District, Vietnam, 75 miles SE of Ho Chi Minh City (Saigon)
Vietnam: certainly a country that does not have to be introduced to Americans.
Thirty large highway buses are leaving the dock area carrying Amsterdam passengers on a 150 mile round trip to Saigon ("For those of you traveling on your own, be sure to allow at least three hours for the return trip," the lady Travel Guide stated in her auditorium presentation).
We declined the invitation to deplete our exchequer by $264. for a nine and a half hour highway drive and city tour for a couple of reasons: First, and foremost, the cash; secondly, after reflecting on the importance to us to spend three to four hours in the infamous city, we came to the realization that we don't have any Saigon experiences or memories, horrid or sublime, to go back to. To us, Saigon is just another city, no matter how infamous. We will meet our new Vietnamese friends in Vung Tau, a beach resort and off shore oil drilling support town an hour from the Amsterdam.
Vietnam immediately made an impression on Jeanne. We had exited the port and had made our way to the highway to Vung Tau. ("Our way," was the two of us in a Mercedes Benz seven passenger van, driven by a quietly personable Vietnamese young man).
"Look, there is no trash in the streets. It was awful in Cambodia; trash everywhere." She was correct and I too noticed the difference, after her prod. Later on in the drive toward Vung Tau, Jeanne again commented on her observations from the window behind the driver. "Everything appears to be orderly here." First impressions are, I have heard it claimed, far more important than what might follow.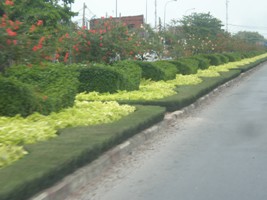 As we closed in on Vung Tau we entered a long, wide boulevard, built by the French in the late 19th Century (Vung Tau was a French colonial resort town). We were fascinated by the contents of the divider separating traffic passing in opposite directions: a foot high shrub hedge ran above the curb as far as one could see; the interior of the divider contained a long series of manicured four foot high decorative trees, their tops cut in conical or round balled shapes, interspersed with pink flowering trees. Decorative palm trees were placed at dramatic intervals. The garden bed of the divider was covered with a broad-leafed, greenish-cream flowering plant that added a splash of lightness to the grand stroke of living art. This highway beauty is maintained obviously by a society with an enormous sense of civic pride, I have traveled much of the world, and I do not ever remember observing such roadway flora beauty.
Our first stop in Vung Tau was an Ocean Park beach front restaurant. From our front table we gazed at a beach that appeared to continue for miles. Of course the French liked the place and built it up. A long tropical beach on the South China Sea would be ignored only by those whose idea of outdoor fun is ice fishing and dog sledding. We had two Heineken beers ("Look at me, I'm drinking Heineken in Viet Nam."), two Pepsis as well as a large order of spring rolls and the bill, translated from Dongs to Dollars to the joint's large advantage, was $8 (20,000 Dongs to the buck).
Next stop: Whale Buddhist Temple with a stack of whale bones in the back, behind the incense alter (pardon the misnomer, if you're a Buddhist). We were chased into the temple small parking lot by two women on a motorcycle. They sped to our side to peddle their wares, T shirts and such. With such hustling salesmanship it was preordained that we would buy.
We stopped across the street from another beach to walk up a cobbled street—it was mid-day and the locals were asleep in lawn chairs on the side as we trudged up—and I sang out to Jeanne: "Only mad dogs and Englishmen go out in the mid-day sun." Up a couple of dozen of steps and lo and behold we were before another RECLINING BUDDHA.
From Buddha, we drove at a leisurely pace in the left lane (our driver must have believed it had been deeded to him) and soon were back on the Amsterdam and in the arms of Mother Holland America.
---
March 25, 2010 - Aboard the Amsterdam, proceeding north to Halong Bay, a port four to five hours by vehicle from Hanoi (not enough time for excursions).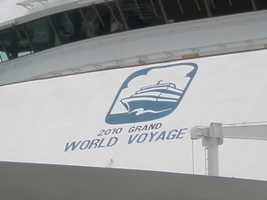 The South China Sea is as smooth as silk.
Whoa! After five days aboard, it has sunk in that we are on a WORLD CRUISE. Today is the 79th day of the 114 day 2010 Amsterdam world-go-round.
Jeanne and I have long discussed and ruminated over our desires to one day embark on a world cruise. When we planned this Asian adventure we built it around the itinerary we had long been lusting after and the fact that it came after 60 days working in the Virginia House of Delegates. We gave no thought to the "world cruise" jazz, but here we are. Hey, we are not in for the whole loaf, but we are floating right along with the swells who are. Let the record clearly show: Jeanne and Gary Frink are part and parcel of the annual Holland America World Cruise.
This cruise has its own logo, "2010 Grand WORLD VOYAGE ms. Amsterdam," with a boxed drawing of the ship. When we returned to the ship in Cambodia we noticed a very large replica of the logo pasted below the bridge for all the world to see. Inside the vessel, shirts, bags and other paraphernalia with the 2010 world voyage logo are selling like…, selling well; we see them adorning passengers about the ship.
The core essence of the differences between a voyage taking over a quarter of an entire year and more normal ten day or two week cruises become apparent when I chat with crew members. I learned from Tom, the Canadian Maitre'd, that many world voyage crew members are picked specifically for the assignment, rather than rotating onto any Holland America ship at the beginning of a new employment contract. Crew members I have spoken with consider it a gold star on their foreheads to be selected for world voyage duty. For example, conversations invariably bring out the proud calculation: "This is my (pick a number) world cruise."
"A big part of my job is helping those in need, particularly bereavement counseling," explained the stunningly beautiful Christel Mensink, Guest Relations Manager of the Amsterdam. "How many deaths are normal on a cruise this long," was the question being begged to be asked. "Normally, three to five. Knock on wood; we have had only one thus far on this voyage. Often the surviving partner chooses to stay on board, particularly if they don't have anyone at home. It's easier to be here among their friends and the staff before they have to return and face the real world."
"What is your training for this job," I asked. "I have a degree from the Netherlands, but mostly it is common sense." "And perhaps a willingness to listen and an ability to empathize," I added. "Yes; I am often amazed at the level of loneliness of some of the passengers I encounter, particularly the widows, Christel concluded."
One night in the Crow's Nest (the bow bar, deck eight) I watched the "hosts"—"dancers" in the vernacular—men assumed to be good ballroom dancers, on board to dance with unattached ladies in the evening and enjoying a gratis cruise as a result—approach and dance with solo women. It was awkward to watch, the hesitant acceptance by the ladies, the stiff beginning. At the same moment, it appeared to me to be hopeful that, for the length of a fox trot, the candle of obvious loneliness could be snuffed out.
This evening is our first formal dinner. Given airline baggage weight limits, I left my dinner jacket (and tux shoes, vest and other accessories) in the closet. A dark blue, mohair and silk suit, white shirt and dashing bow tie will have to suffice. Jeanne's gown will brighten the dining room.
The silky smooth seas of morning have evolved into the choppy, white caps of afternoon.
---
March 27, 2010 - Aboard the Amsterdam, En Route to Hong Kong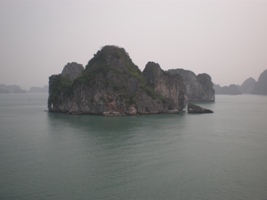 We pulled anchor in Halong Bay, Vietnam at 6 p.m. yesterday.
Halong Bay covers 600 square miles, contains 1969 limestone islets and is a UNESCO World Heritage site. Limestone protuberances were scattered across the waterscape as the Amsterdam slowly approached its point of anchor Friday morning. Over the centuries, water and weather have carved the once solid soft stone into a varied and vast series of small islands jutting out of the bay; and, dear reader, that is what the UNESCO fuss is all about.
Many of our World Cruise passengers paid for an excursion to glide among islets in tour boats. Jeanne and I took the tender (motorized life boat) to town.
The dock Holland America used fronted a tourist market and what appeared to be a major street in the city. Upon walking the long, flag festooned dock, Jeanne and I crossed the street to an outdoor restaurant and established ourselves.
For the next two hours we sat at our sidewalk table, sipping drinks, nibbling on crab spring rolls (we preferred the more elaborate southern version) and photographing the passersby. We communicated as best we could with all who would give us enough pause to make the attempt; but, this being North Vietnam (four hours from Hanoi and a short distance from the Chinese border) English is not as prevalent as in the south.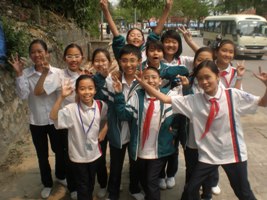 Passels of happy, bright-eyed, uniformed school children, apparently on their way home for lunch, were the delight of our sidewalk campout. They sang out "hello" to us. When I photographed them, they screamed and jumped for joy.
Everyone we encountered was kind and courteous to us. Even the lady vendors bearing the weight of two hanging baskets of fruit from a long pole carried across the back of their shoulders and the child-carrying beggars were polite and moved on without fuss after a few moments.
In both South and North Vietnam a large percentage of people walking or riding motorbikes and cycles covered their mouths and noses with surgical-type masks or scarves wrapped around the entire face just below their eyes. Perhaps these pulmonary precautions have become national habit.
At the tourist market we haggled-out some typical purchases: cotton T shirts so thin they might be produced out of gauze. Jeanne bought a matched pair (each gender) of wooden pigs (her pig collection stems, I am certain, from her Iowa DNA). I bought a red fatigue hat with a gold star in front. Most such hats were of other colors with red stars, the symbol of Communist Vietnam. I could not bring home any thing bearing a red star of Vietnam, out of respect for my friends who fought there, on the ground and above it in B-52s.
As we leave Vietnam: The nation appeared to me to be much more economically developed than I had expected. Motorized personal transport is the norm, of course with some bicycle exceptions. We encountered a surprising number—to my view—of expensive SUVs and Japanese and German sedans and vans. Our miniscule exposure to the people of Vietnam leads me to believe that they are orderly, tidy, self-assured and industrious and that the Vietnam economy will continue to climb.
On to Hong Kong we go. The Amsterdam will be in port for two days. According to our loose plan, we will ferry to Macau the first day and take in the sights and markets of Kowloon and Hong Kong the second.
After breakfast this morning (two pancakes, two poached eggs, sausage patty and milk - Jeanne's modest yogurt and granola) it was mandated that we pass through the principal dining room to have our body temperature taken by a laser-like device. The Hong Kong government is still in shock over its SARS flu experience.
---
March 29, 2010 - At dock Ocean Terminal, Harbour City, Kowloon (mainland) Hong Kong Special Administrative Region, People's Republic of China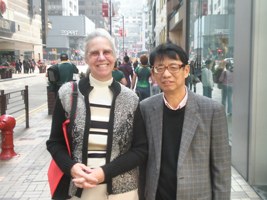 The Tailor Tout got to me. It was easy; we were barely out of the gangplank area. A quiet, calm fellow of at least three score years, he inquired if I were interested in Hong Kong tailoring. I stopped. Jeanne rolled her eyes, knowing I was hooked.
I need a summer weight blue blazer. What could I do? Since Halong Bay, two representatives of Princeton (doesn't that just stink of American-esque class) Hong Kong tailors were aboard vending their made-to-order-wares. Their pitch claimed the reps aboard could take measurements and passenger's garments would be delivered when the ship threw out lines in Hong Kong. Where would the fitting (s) come in?
I inquired of one of the Princeton reps about my favorite suit fabric, silk and mohair. My formal night suit aboard ship is a navy mohair and silk, custom made for me in Taipei 20 years ago. It WILL NOT wrinkle. After a week smothered in the main compartment of my suitcase, I took it out, hung it up in our cabin closet and BINGO, it was ready to go.
Princeton, big name and all didn't have any mohair and silk among its massive stack of swatch books. The man tried to shove me off on an English worsted. He wrinkled it up and said: "Look, it won't wrinkle," without so much as a smile at his own lie. "How much?" ask I. "$450," he shot back.
The Tailor Tout delivered Jeanne and me to H. K. Broadway Custom Tailor shop in a small, rundown arcade, just off Nathan Road, near the Holiday Inn and disappeared. "Peter" the apparent owner of the tiny shop did have mohair and silk, summer weight, navy material. We haggled in a friendly way "The blazer buttons alone cost me $50HK," was one lament. "You use Visa? They charge me 5%," was another. We settled on $250 US. I gave him a $40US deposit.
He took me to the second floor and pointed me toward the unsavory men's room. After: "You got plenty of time to go the Peak and be back here for your fitting at two. You take subway. Go to machine. Punch "Central", put in money and get ticket. One stop. Get off at Central," (it was two stops). "Go up to street. Get taxi, go to tram station."
A friendly policeman helped us find a ticket machine that took bills. It was Sunday. Perhaps because of the day of rest, or in spite of it, the subway was jammed. To follow Jeanne on to the car in front of us as the train slowed to a stop, I physically had to push my way inside (not much of a contest given my 215 lbs.)
When we exited Central, the adjoining streets were blocked off for a Sunday street fair, principally for Filipino women immigrant workers. With a billion, two hundred million Chinese to choose from, Hong Kongers bring in Filipino domestics? Travel brings out my desire to learn.
There were no taxi stands. Those whizzing by were engaged. Finally, we wandered near an unmarked hotel. A taxi was pulling away after dropping a patron. We waved frantically. We won.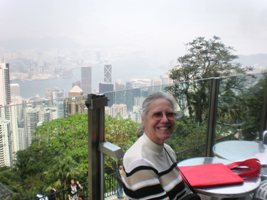 A long line of Sunday local and foreign folks desiring to view the city from one of Hong Kong Island's highest points awaited us. The wooden tram carriages are pulled up the mountain by cable. At the top, in addition to a view shrouded in a light smog, we encountered high-end retailers and restaurants. We continued our viewing from a narrow outdoor porch of an almost-elegant restaurant. We paid dearly for the privilege and our draft beer and Diet Coke.
Once the cable slid us and the other carriage passengers back down from our perch above the city, we settled on a taxi-all-the-way approach for our return to Kowloon and H. K. Broadway Custom Tailor. The superstructure of a mohair and silk blue blazer awaited us. The guy from upstairs, the actual tailor, made some adjustments on his work product and we were admonished by Peter to be back today not later than four…"in case we have to make adjustments; we close at five,", he said, making a motion of shuttering down the front of his narrow shop.
It was a challenge to find our way back to the ship, until we learned we had to use a pedestrian tunnel under Nathan Road. The Amsterdam is docked beside an elegant shopping arcade that not only appears to have every world-wide luxury consumer brand, it contains a Mercedes-Benz dealership. After a full day of Hong Kong adventuring, we were famished for a very late Lido luncheon.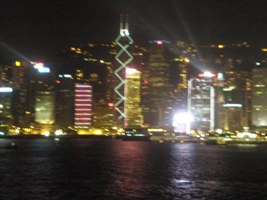 We missed our 8 p.m. dining room dinner. We took the time to stand starboard on the Lido deck and watch the hippest municipal event I have ever witnessed: The Hong Kong Symphony of Lights. Forty Hong Kong Island buildings facing Kowloon across the water put on a spectacular multi-colored show of flashing lights, including strobes and lasers, complete with music (if you are close enough to hear it or tune it in on the radio.) Guinness World Records has labeled the daily event the largest permanent light and sound show in the world. It was gorgeous.
After the light show, I wanted more Hong Kong adventure. Jeanne was content to take a late bite from the 11 p.m. Lido offering, but we pushed on. We returned to the luxury arcade in search of Dim Sum, Hong Kong's most famous series of bite-sized delectables. We found it at the Jasmine Restaurant.
As we walked and window-shopped our way back to the ship through the arcade, Jeanne produced a ponder: Do these people ever do anything but shop?
---
March 30, 2010 - Aboard the Amsterdam, steaming north to Shanghai in the Taiwan Strait
It is the 84th day of the Holland America 2010 World Voyage.
We're not in Southeast Asia anymore Toto. 80° days are far behind us, as the Amsterdam methodically marches (metaphorically) north: Shanghai, Xingang (serving Beijing) Cheju City, South Korea and on to Kagoshima, the first stop in Japan.
The Blue Blazer Caper came off without a hitch. Yesterday, Jeanne and I walked down Canton Road, on to Salisbury Rd, past the Peninsula Hotel (often described by well-healed travelers as the best in the world), turned left on Nathan Road, past the Sheraton on the corner. Up Nathan we strode to the Holiday Inn, our landmark for finding the Mirador Arcade, home of the now-famous (at least to the readers of "Cruisin'") H.K. Broadway Custom Tailor shop.
Peter was busy with an English client, former long-time resident of Hong Kong, who returns every year for, among other tasks, a couple of new suits from Broadway C. T. My moment of tailoring truth was soon upon me.
Out came the maroon-lined, two button, mohair and silk blazer of my dreams. I had pre-instructed Jeanne to watch particularly the collar fit around my neck and upper shoulders; excellent. "Look, shirt sleeve show an inch, just like you wanted," enthused Peter. "And length, perfect." Again he was on the money. Amazed, at how well this process had gone, I made Peter show me again the bolt of mohair and silk cloth so I could compare with my blazer. Again, everything matched.
"No funny business," Peter said as he translated my U. S. dollar due bill (he reduced it by $300HK I gave him from my pocket, desiring to bid farewell to this Special Administrative Region of the PRC devoid of HK dollars) into HK dollars for the credit card chit. "You tell your friends. When they come Hong Kong come right to my shop. Don't listen to guys on the street."
The irony of Peter's last words to me was not lost on me.
When the Tailor Tout found his way to me, as Jeanne and I emerged from the Amsterdam in Hong Kong for the first time, my gut said OK, give it a try. Arriving at Peter's shop, again no alarm bells tolled from my ample belly. My gut was right. I now possess a much-needed, very well crafted garment and paid what I consider a fair price.
My closet still holds suits from the 1970-80s that Mr. Chapman, my Saville Row, London tailor, had made for me. I expect a long and fruitful friendship with Peter's Hong Kong navy blue blazer.
During the two days the Amsterdam was docked at Harbour City, I did not see a single traditional Sampan or Junk boat in the narrow passage between Kowloon and Hong Kong Island.
On my first trip to Hong Kong during the late 1970s, I was a non-government employee member of Secretary of Agriculture Bob Bergland's traveling party. We toured much of Asia in a Boeing 707 with the words "United States of America" blazoned across the fuselage. During our time in Hong Kong we were guests in the aforementioned Sheraton Hotel. My room overlooked the water and on to the island.
I was so enthralled by the sight of those oh-so-typically-Chinese wooden boats with the double sails I rearranged the furniture in my room. I pulled the couch up to the picture windows and sat for long periods watching the Sampan and Junk traffic in the strait. It was a wondrous sight to behold for a one-time boy from a small Michigan town on his first visit to Asia. End
---
April 1, 2010 - Morning At Dock, Shanghai, Waiting to Go Ashore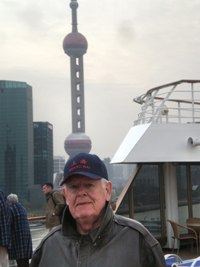 Before fog set in I could see the Oriental Pearl TV Tower (tallest building in Asia 3rd , tallest TV tower in world) across the Huangpu River and into Pudong from our cabin window.
My first visit to Shanghai was under the sponsorship of my dear friend Alvin Tong. Alvin grew up in Taiwan, holds a PhD degree in Electrical Engineering from the University of Minnesota, worked for many years for IBM and retired as president of Acer, the Taiwan computer manufacturer. We met in the late 1980s at a University of Michigan conference on Southeast Asia.
In the early 1990s, Alvin invited me to join him during a week of consulting with the inchoate Pudong High Tech Park, in what was then a vast open field across the Huangpu River from the Shanghai Bund (water front main drag).
New! How do you say new? Try this: When we arrived at our still-under-construction Pudong High Tech Park guesthouse the paint on the walls of our suite was wet. A few stubble-field blocks away, we dined alone in the evenings in an ancient, genteel shabby Chinese restaurant in business to serve locals working the land (who apparently dined at home in the evening.)
Today, Pudong is jammed with high rise office buildings, an international airport, vast shopping malls and the aforementioned Oriental Pearl TV Tower. The growth in the 15 years since I have been in Shanghai is staggering. It is predicted that the city whose citizens consider themselves as the Parisians or Manhattanites of China will soon surpass Hong Kong as the financial capital of China; if that should happen, it will boost Shanghai's financial center ranking to third in the world, behind London and New York.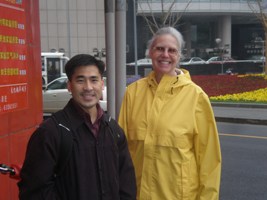 Now we spin ahead to today: "Mr. Frink," the voice on our cabin phone asked. "Mr. Tong has been waiting for you in the dock area." It was almost 10 a.m. and Scott Tong had been waiting for over an hour. At 8 a.m. we went to the 4th deck to retrieve our passport from the Purser's office. In answer to my question, a young woman behind the counter told us that the ship had not yet been cleared by PRC officials. We should wait for the official announcement before attempting to disembark. We returned to our cabin to wait. In fact, the ship had already been cleared by eight, so there was to be no announcement as we sat in wait.
Alvin Tong's son Scott lives in Shanghai. He is the China Bureau Chief for "Marketplace", the morning business show production of American Public Media, heard on NPR. We attended the event fifteen years ago when he married Cathy in D.C. They and their three children (one a Chinese girl they flew to China to adopt long prior to his current assignment) have lived in China for three and a half years.
"I saw all those people streaming off the ship and I couldn't figure out where you were," Scott said when we finally met him at the dock gate. "I was standing near the gangplank for a while, but they kicked me out."
It was soon to be a day of unrelenting wind and rain. As we walked the bridge over Suzhou Creek the storm was just spitting a bit, warming up to throw a fast ball deluge at the pedestrians and bi/motorcycle riders that swamp the streets and sidewalks of Shanghai.
---
April 2, 2010 - Morning At Dock, Shanghai
Our first stop was at Bund 18. We were seeking a quiet place to relax and chat. We found it in the passageway café between the very expensive European brand shops on either side of the entrance area. Patek Philippe was to Jeanne's back as she faced the Cartier shop.
We were served by a—roll the drums—Filipino young man. "I came to visit my brother, and well,,, stayed. This is a good job and I like the company." I mentioned to Scott about the Filipino Immigrant Workers Union gathering we stumbled upon on Sunday in Hong Kong. "The wealthy Chinese want nannies for their children who will speak only English to them," Scott explained.
We emerged from Bund 18 after an hour of conversation into a wind-driven rain storm. It was a type of gale in which the wind laughs at unfolded umbrellas as it flips them inside out. Jeanne and I always travel with matching, hooded waterproof slickers that totally protect against such a rage of nature. Scott opened a small umbrella.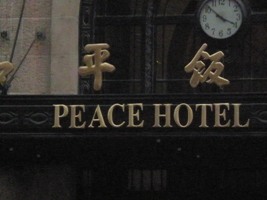 We passed the Peace Hotel, the most famous of the Art Deco buildings standing along the Bund, hoping to enter. Alvin Tong and I were guests at a banquet there during my first sojourn in Shanghai. The heavy set ship board Holland America "Travel Guide" had assured passengers that the Fairmont hotel chain had purchased, rehabbed and reopened the Peace Hotel but, alas, it was not true. Doors were chained and workers were busying themselves inside.
Nearby, we did enter what had once been the Hong Kong and Shanghai Bank, the apex of the English controlled Shanghai economy after the first Opium War of 1840; it left the British in control of Hong Kong and Shanghai.
The next time you drop into Shanghai you must enter this magnificent building (now occupied by another banking institution) with its staggeringly beautiful mosaic ceiling depicting the Zodiac and other themes. I sign-languaged a guard: Could I take a photo? NO, his waving arms shot back. "No is the default answer to everything in Shanghai," Scott assured us. We were there to play the ATM machine and watch the Chinese Yuan spit out; so we did.
After stuffing a handful of Yuan into my pocket, Scott hailed us a cab. It was a gratifying experience: White cotton slip covers over the seats, a very reasonable cost (the Chinese keep the value of the Yuan low to facilitate exports) and a meter which produced a paper receipt. We drove through the Yan an Dung Lu Tunnel to Pudong and the Super Brand Mall.
Scott arranged for us to have lunch with his wife, Cathy, his brother Tony and his wife Caroline and their two sons, visiting from California, at the elegant Xiao Nan Guo Restaurant on the 9th floor of the Mall building. The restaurant possesses panoramic views overlooking the Huangpu River and Pudong Park.
There was no reservation for Tong, the way I pronounced it. After a phone call from Scott's assistant double-checking the reservation, the assistant manager who had escorted me through the maze of private rooms looking for the five Tongs corrected my pronunciation of "Tong."
What a glorious luncheon it turned out to be. The Lazy Susan was piled with dishes of: beef; pork; delicious cooked Spanish peanuts (I could grasp as many as four with my chopsticks); sautéed eggplant; two platters of pork dumplings; sautéed greens; two bowls of salad; pieces of fish, fried in clean oil; noodles in a rich peanut sauce; and finally, watermelon for desert.
Cathy sat next to me, so we were able to discuss our families and the Tong's lives in Shanghai "We never see blue sky here." Scott, Cathy and the children will be returning to the U.S. in August. Scott will take up a new assignment for NPR in Washington, Cathy will again work as a nurse practitioner with the M.D. she was affiliated with in Northern Virginia before China and they will reclaim their Arlington home.
After lunch, Jeanne and I roamed the Super Brand Mall for a short time. Then we again braved the rainstorm and shortly were able to flag down a cab. Holland America at each stop provides a pocket size card with local currency values against the U.S. dollar and direction back to the ship in the local language.
Upon entering the cab, we handed the card to the driver and off we went to original Shanghai. When we reached the pier area, we passed the Amsterdam by two to three blocks and entered another pier. The driver pulled up and waited for us to pay him and exit his cab. We knew we were in the wrong place, but with my Mandarin limited to "hello" and "thank you" we were stuck.
I paid the driver and Jeanne and I got out of the cab. A security guard at the gate of the "wrong" pier, frantically motioned us away from the gate. Then he screamed at the cab, now 50 yards down the street. The cab, to our amazement, stopped and backed up.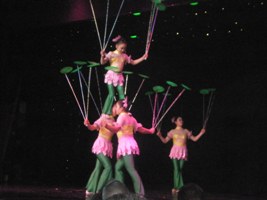 The cab driver rolled down his window and the security guard issued forth a tirade. The security guard then opened a back door of the cab and we reentered. The driver raced down the street to the correct pier. When I offered him further compensation, he vehemently refused the reward I was offering.
"It said Security Guard on that guy's uniform. He wasn't even a real cop, yet that cab driver did what he was told. Can you imagine that happening in the states," I offered up to Jeanne.
The plan had been to taxi to Scott and Cathy's home for a six p.m. arrival. Once back in the dry and warm arms of Mother Holland America, Jeanne and I had strong second thoughts about going back into the storm and handing another cab driver a piece of paper with some Chinese characters on it and pray that he would deliver us to the Tongs. We called Scott and regretted.
After dinner (the second helping of Jeanne's creamy birthday cake was perhaps tastier) we found the dexterity and amazing balance of the Shanghai Ai Fu International Acrobats to be phenomenal.
---
April 2, 2010 - Aboard the Amsterdam, 6 p.m. During First of Two-Day Sail to Xingang, China (near Beijing)
"Jeanne, how much did we pay for the excursion to the Great Wall," I casually asked. She answered. "MY GOD, $400," I snorted out in a state of total disbelief.
That dollar number is more than we have spent total on excursions we have ponied-up for during decades of cruise ship voyages. In St. Petersburg, Russia we took an excursion to the Hermitage, and it probably cost a Ruble or two, but—Hey, I used to be a contributing editor to the Shoestring Traveler. Where is the shoestring here?
The Great Wall is different. While Jeanne and I were back in my House of Delegates office during the 2010 session of the Virginia General Assembly and she was planning our Asian fantasy tail end of the this year's Holland America around the world voyage, I told her: "We have to take the excursion. You must walk The Great Wall of China. If something should happen where we couldn't hustle our way there on our own, it would be a disaster. Get the excursion. I still mean it, but MY GOD, $400? Okay, it is a 12 hour dog and pony show, but still…
Before the memories of Shanghai slip silently into the sea...
On our second and final day docked with a panoramic view out our port side cabin window of Pudong and the mesmerizing, gigantic Oriental Pearl TV Tower, we took one of the shuttle buses into an area of Shanghai beyond the Bund. They had been provided by Holland America or Julong Handicrafts and Silk Exhibition Hall, the huge silk sales emporium where the shuttle dropped us.
Before our bus became mobile, a well dressed Chinese man came aboard and explained where we were going and how to make our way back to the Amsterdam once we escaped the clutches of the silk sales joint. During his chat with the shuttle passengers, speaking English so colloquial and fluent he could have been raised in Cedar Rapids, Iowa, he said: "Oh, by the way: The port address in Chinese on the card the ship gave you is wrong. When you get to Julong Handicrafts, ask the girl at the information desk to rewrite it for you. The correct number is 380, not 800." And it happened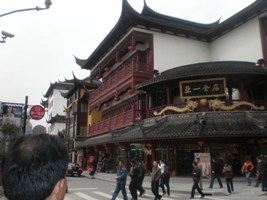 So, going back to our first day in Shanghai and the taxi driver who initially dropped us at the wrong pier and the rent-a-cop who saved us: The taxi driver was correct. He drove us to 800 Darning Road, as the card from the Amsterdam dictated. But for the gent on the bus bringing the mistake to our attention, Jeanne and I would have had the same hassle when we returned from The Old City (Chinatown) in a taxicab.
A Chinatown in Shanghai? Isn't that redundant? As the young man in the Hertz ads might say: Not exactly.
The Shanghai city fathers have preserved from the inexorable modern development an area surrounding the Yu Chinese Gardens as a typical memory of 19th Century urban China. With its wooden structures and pagoda-like roofs, Shanghai's Chinatown looks very similar to Chinatowns in San Francisco, Vancouver, you fill in the space; and the same commerce occurs there, restaurants and shops selling to local and touring consumers.
Yu Yuan Chinese Garden was a disappointment. Its serenity was stolen by the belly to belly crowds and the wear and tear over many generations. For a Chinese garden that really delivers do not—I repeat, do not—miss the Portland, Oregon Chinese Garden.
We did what self-respecting American tourists would do in Shanghai's Chinatown: We ate, drank and purchased kitschy stuff, a T shirt, a baseball cap proclaiming Shanghai and a small replica of one of a Terra Cotta soldier dug up in Xian. The taxi ride return to the Amsterdam in mid-afternoon was uneventful.
Lines were pulled a bit after the planned 5 p.m. departure: A lady passenger was forced to leave the ship for medical treatment in Shanghai.
The Amsterdam backed up for a few hundred yards, did a 180 degree turn in the river (with the help of tugs on the bow and stern) and proceeded 60 miles down the Huangpu River, its banks lined with shipyards and heavy industry. Then out into the East China Sea, where the ride could not have been smoother if we were afloat in an Iowa farm pond.
---
April 6, 2010 - At dock, port of Xingang (serving Beijing)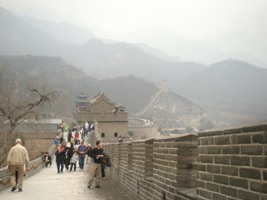 "Isn't this a marvelous experience," a stranger proclaimed exuberantly and apparently to himself, as he spun around to look up at The Great Wall. "It certainly is," Jeanne said to me in awe.
The Great Wall of China was begun during the Qin Dynasty (221-207 BC). The 30 foot high masonry and stone construction marvel once snaked 4,000 miles through valleys and over mountain ridges from the Yellow Sea deep into Central Asia. While it probably took centuries to construct the Wall, it took Jeanne and me only four hours riding a reasonably comfortable tourist bus from our dock in Xingang into the outer reaches of Beijing and out again to the restored section at Badaling.
Of course, the bus made a long Pre-Wall stop at one of the ubiquitous government-owned Friendship Stores for a tasty, lazy Susan-stacked, multi-dish, (egg drop soup; a large serving dish of rice, with scrambled eggs and processed meat; sliced roast pork; delicate sautéed cucumber slices; sautéed Spanish peanuts; lightly-fried fish—with head thoughtfully removed and displayed; chicken in peanut sauce; Beef and onions sautéed; a dish each of battered and fried chicken and shrimp; ample beer, Coke and bottled water; apple and orange pieces for dessert) luncheon and forced-march shopping. The dining room was large enough to suck in and serve multi-busloads of tourists simultaneously.
Roc, our English-fluent but heavily accented Chinese guide, allowed his bus # 8 (there were a total of 9) MS Amsterdam charges more than an hour at the wall. Jeanne and I spent a non-competitive, casual time walking up and down some of the steeply rising steps, leading to a watchtower high on a mountain ridge; some of the youth aboard competed to determine who would get to the ridge-top lookout.
NEWS FLASH—4 p.m. 4/6 We regret the necessity to interrupt this scintillating recount of our bus-born trip to the Great Wall, but it is what it is.
The PRC authorities have insisted that before the Amsterdam can depart Xingang all passengers must vacate the ship. You read that correctly, Herman. In most ports (including Hong Kong and Shanghai) a ship is cleared upon arrival and passengers enter and exit the port by showing a passport.
At 2 p.m., Brucie, the cruise director, got on the public address horn and plainly stated that the passengers had to get off the ship NOW and proceed into the terminal building for immigration inspection. 1,000 or so passengers complied. Lines were formed on the ship a deck above the gangway level. Lines continued the 50 yards into the terminal. Passenger's lines slowly snaked through the terminal. After 45 minutes, Captain Olav showed up to, I assume, intercede with the PRC immigration dudes and to let his passengers know that he was feeling their pain.
For two hours passengers stood in line, many of them aged and mightily infirm. Then the dam broke and the lines moved to immigration cubicles, where stony-faced PRC immigration boys and girls one by one ran passenger passports through a scanner.
Why did the PRC demand the ship be vacuumed out of paying customers? Why did the immigration bureaucrats leave them standing aimlessly about bringing pain to aged backs and knobby knees, in order to check them OUT of their worker's paradise?
Afterward, in the Lido Restaurant, one wag was heard trying to explain the passenger's treatment at the hands of the People's Republic of China "Maybe it was because we didn't drop enough money in their Friendship Stores."
Meanwhile, back at the Great Wall: Jeanne and I hung-out with the Wall as long as possible. We walked in and around some of the wooden shop buildings. We emerged from the back of one building, up a serious number of steps from the bus-park level, and encountered two card tables spread with heavy paper scrolls, watercolor depictions of an area of the Great Wall.
An older Chinese man sat behind the tables. His interpreter insisted he was the artist; regardless, we found his scrolls to be lovely. We bought one and whoever the artist might be, the man behind the table dedicated it to us in Chinese with delicate strokes of a black-tinted, fine-pointed paint brush.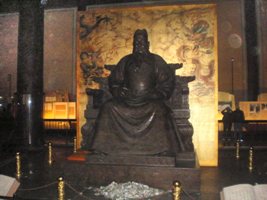 Bus # 8, Roc and Amsterdam passengers next drove the short distance to the site of the tombs of the 13 Emperors of the Ming Dynasty (1368-1644.) There, a small museum stands over the site of the excavation of the tomb of the 3rd Ming emperor, Zhu Di; inside the focal point of the pavilion is a gigantic statute of number three himself and exhibits of priceless jade and gold ingots retrieved from the great man's grave.
I fondly remember the Ming Tombs for the large, black, probably-rabbit, four flaps, Russian style winter hat I bought from one of the outdoor venders on the grounds during my first visit to China. I remember little else.
Smog was our constant companion during our day of adventure to the Great Wall of China. It was strong enough to irritate our throats and others on bus # 8. It put a partial pall over our adventure, but what could deeply dampen the thrill of walking on the cobble stones of one of the great wonders of the world?
The four hour return trip to our mother ship was perilous, along truck-jammed, rain-soaked, dark highways. Upon our arrival at the gangway, we noticed that ship personnel had hoisted a long "Welcome Home" banner above the entrance.
We arrived at the gangplank at 9:30 p.m., The Hotel Manager was there to great us and inform us that the Lido would be open for dinner until midnight (I was so surprised to be greeted by Mr. Mensink, I forgot to thank him for the bottle of Moet Champagne he sent to our cabin when we embarked.)
Captain Olav just made an important announcement: Because of our PRC immigration friends in the terminal building he, King Olav I, had proclaimed free wine at dinner for all passengers. Now, that's a great reason to love a guy named Olav.
---
April 7, 2010 - Enroute Xingang, China to Cheju Island, a South Korean Island off the southern tip of the Korean Peninsula
True to the word of King Olav I, wine flowed like—like wine should flow—during dinner. The sommeliers moved about the dining room with a bottle each of red and white cradled in their left arms, pouring freely with their right hands (OK, some of them might have been left-handed, just reverse it for them.)
During dinner Jeanne said to me: "After China and the Great Wall—except when I travel with you—my wanderlust might be over."
Thanks to the Grimaldi family in Naples, we were able to participate in a Mediterranean cargo ship voyage which docked in Israel long enough for me to take her to Jerusalem. Now she has experienced some of China. For decades, it had been my fervent hope that I could be with her in those two fascinating destinations: tiny Jerusalem, the fount of Judaism, Christianity and Islam; China, the land of 1 billion, 300 million people and the 800 pound gorilla of the developing world. Perhaps Jeanne sensed that with these two critical travel goals having been achieved, the sacrifices demanded by the travel-god had been received.
During dinner last evening I heard a passenger well describe to a tablemate his initial experience with The Great Wall: "We were driving along and out of nowhere this mountain appeared. I looked up and there it was, like the longest, steepest escalator you have ever seen."
The Amsterdam is in a day and a half race to Cheju Island. A race against time, but a race no less. We passed a bulk carrier cargo ship this morning like a Ferrari passing a Ford.
Captain Olav announced as we left Xingang that his speed goal for the voyage to Cheju was over 18 knots; that might not be pedal-to-the-metal maritime speed, but for the Amsterdam, with its 780 foot length, almost 60,000 gross tons—plus 1260 guests, 600 crew and all their drag-alongs—it is cutting through the sea smartly.
We will spend only from 7 a.m. to 2 p.m. docked at Cheju City. Regardless of the time in port, for Jeanne and me, Korea will be another nation to add to our long lists. We will stroll about city.
Our first dock in Japan will be in Kagoshima. Again, a short-timer, 8 a.m. to 5 p.m. I assume only King Olav I knows why the Amsterdam is making the effort. Perhaps, because in 1549 Francis Xavier, a Portuguese Jesuit, landed there and became the first Christian missionary to Japan.
Saturday, April 10, The Amsterdam will dock in Kobe at 3 p.m. and out again to Yokohama at 5 p.m. Sunday. We hope to take a train to Kyoto and explore the cultural center of Japan.
Easter Sunday, the food and beverage crew spread out a splendid brunch feast. Guests were greeted by the Easter Bunny, as they entered the principal dining room. Jeanne and E. Bunny posed for an appropriate photo.
The food aboard the Amsterdam has been uniformly excellent, the service peerless. Where in the world of wage-slave affordability can one enjoy three multi-course meals (dinner: appetizer, soup, salad, entrée and desert) with appropriate silver, and served on blue and gold rimmed custom-made china, as we are aboard the Amsterdam?
The Frinks are on to Korea and Japan.
---
April 8, 2010 - Aboard the Amsterdam, in the Cheju Strait, heading from Cheju Island, Korea, southeast to Kagoshima, Japan
Korea we hardly knew ye. Six hours in a country is a poof, a blink, a wink. The Amsterdam propelled in at 7 a.m. and out again at 2 p.m.
We did the best adventuring we could with the meager raw materials we were given. Cheju is an island 60 miles south of the Korean Peninsula.
The shuttle buses to the clean, orderly Cheju mini-city began running at 9 a.m. Sometime after the starter gun exploded, Jeanne and I were on a fussily (chinse and tassel) trimmed out tourist bus with other Holland America clients, either too cheap or too disinterested to be led around on one of the short shore excursions.
"I see you have on a U.S. Navy Seal cap," I stated the obvious to a young man standing in the back of a pickup truck on a side street off-loading vegetables the size of large egg plants onto a conveyor. He stopped his work and we began a concerted effort to communicate.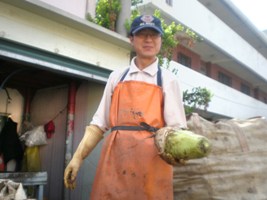 "What are those?" "Wash," came back the reply. "No, what are these vegetables you have in your truck?" My new Korean friend knew enough English words that he eventually got the drift of my insightful question. "Kim che," came the answer.
"They marinate and shred it and use it as a condiment for Korean dishes," Jeanne explained to me. "Oh, I remember now. I ate it with Mark and Rita (our cousins) in Hawaii."
While we discussed the creation and purpose of Kim She, the young man, who was placing the just-dug-up-on-the-farm roots on a conveyor which sent them through a spray, ducked into the conveyor opening in the small frame building. He returned and handed me a chunk of pealed Kim She the size of a softball.
I immediately took a chaw and handed it to Jeanne, who did the same. We bid our new friend farewell with a hearty "Thank you." We walked up the side street to the avenue where bus had discharged us.
Now, gentle reader, you have the sum and substance of our attempt to interact with a real Korean, in contrast to someone trying to sell something of serving us.
Earlier, I had said to Jeanne: "I don't know a single word of Korean." It is tough to get to the point of hanging out with the locals when you don't speak a word of their language and spend less than half a day in their country.
Jeanne and I then wandered in search of a local joint-type establishment in which we could relax and enjoy a beverage; our walking up and down the avenue produced no such open business. We discovered bars and clubs, with fancy sounding names in English, but they would open hours after the Amsterdam slipped away from its Cheju City mooring.
Across the avenue was the Jeju Grand Hotel (Jeju is local vernacular for Cheju). The casino and the principal bar were closed, but guests were being served in the lobby bar and coffee shop.
Cass is the local beer; one of them and a cappuccino, served by a lovely, slight, young woman in a kimono-like outfit, hit one of our credit cards for $14 (no extra charge for the bread sticks and dainty container of unsalted peanuts.)
Back across the avenue we skipped to the "duty free" emporium of luxurious world-wide brands; Tiffany was one among many. On the second floor, Jeanne fancied an amethyst pendant. Because we did not need a visa for Korea, we did not carry with us our passports nor photocopies thereof. Wrong move!
With the help of a very limited English speaking sales clerk, Jeanne made a pendant selection. "Passport?" "No." "Photocopy?" "No." The original purchase had to be canceled out. A second swipe-through of a credit occurred, using the passport number of a generous fellow passenger standing at the counter. For our troubles, the sweet, young sales lady gave Jeanne two gifts instead of the normal one.
Back on the shuttle bus, the drive through the city streets of Jeju/Cheju (you pick) back to the port and up the gangplank of the Amsterdam by 12:30 p.m.
Korea? Been there. Scratch another country off the Traveler's Century Club list of 300 countries and detached jurisdictions.
---
April 10, 2010 - Kobe, Japan, Docked at 3 p.m., now 8:00 pm
Japanese are orderly. Japanese are thorough, no stone unturned kind of folks.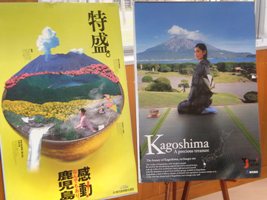 Kagoshima was our first port of call in Japan. The word went out forcefully and often over the ship audio system: "Every passenger, if you are going ashore or not, must meet personally with Japanese immigration officials between 8:30 and 10 in the La Fontaine Dining Room. I repeat, every passenger must meet Japanese immigration officials between 8:30 and 10."
Thirteen hundred Amsterdam passengers, mas o menos, lined up beginning before the opening gun. The lines were long and remained so during the appointed time period.
When our turn came Jeanne and I entered the top floor of the dining room, veered to the left into an ante-room. As we entered, we were shot by a camera-like device on a tripod that instantaneously recorded our body temperature. Okay, we were used to the temperature gun from our Hong Kong immigration go around. What country wants to knowingly allow sick people into their port, city or country?
After the body temp gun, we were guided to various tables. To our shock, by official body and sign language we were ordered to put forth our index pinkies to be finger printed. Not the messy ink-smudge finger print system used when I got busted at a Michigan State fraternity beer bust, but a high-tech electronic gadget.
FINGERPRINTED? To be allowed to get off a ship so we could convert our low-rent Yankee Dollars to their high-rent Yen and spend, spend, spend? When the Nippon fuzz already had our passport numbers and had run them through this or that data base? It was the late Gilda Radner, in character as Rose Ann Roseannadanna, who famously and often summed up life with: "It's always something."
Upon taking my leave of the Nippon finger-printers and body-temp shooters, I walked over to the long ingoing line and said to no one in particular: "If any of you have Interpol rap sheets you better get out of line 'cause they're taking finger prints in there."
Next, it was on the dock and into the ubiquitous shuttle bus to the center of town. A bank was conveniently situated across a side street from the point where the bus disgorged a cross section of the polyglot of nationalities aboard the Amsterdam.
Into the bank we went and straight to what appeared to be ATM machines. (We try to use an ATM and a credit card for local cash. I'll always remember standing before a Budapest ATM many years ago and laughing as it spit out Hungarian zorts for us. "It's magic," I told Jeanne.)
Jeanne selected a machine and inserted a card; it was rejected. Another try, same result. A bank guard (unarmed, I might add) approached and pointed to the tellers working further into the bank proper. Then he motioned for us to follow him. He delivered us to a teller.
"Visa and driver's license," she told us. Jeanne possessed both and handed them over to the pleasant young woman. Negotiations then ensued as to how many Yankee Dollars we wanted to convert for what denominations of Yen. I selected 500 yen as the proper denomination for us, and marked 20 of the 500 yen on the form. The teller then smiled and held up a 500 yen coin. We settled on 10 1,000 yen notes. Throughout our first Japanese financial transaction, the bank personnel were helpful, pleasant and courteous.
Our plan was to take a 15 minute ferry ride Sakurajima Island, where a live volcano smolders. Rain began, so the plan was changed to return to the ship on a shuttle bus, get our slickers, return to the city, and take a taxi to the Sakurajima Ferry Terminal.
On the way to the Amsterdam, Jeanne and I began to calculate the time needed to get to Sakurajima, explore the volcano area and return in time for a 4:30 p.m. gangway pull-in. "We don't know the ferry schedule. It is noon now. It's just not worth the risk of missing the ship."
We scuttled Sakurajima, made some minor purchases at a shop at the pier (and sampled some excellent fish balls and not-so excellent booze made from sweet potatoes, offered by the Kagoshima tourist folks) and returned to the Mother Ship. Goodbye and good luck Kagoshima, Japan.
---
April 12, 2010 - Enroute from Kobe to Yokohama, Japan entering the Uraga Channel of the Pacific Ocean in rough seas.
We are preparing for our 2 PM docking in Yokohama.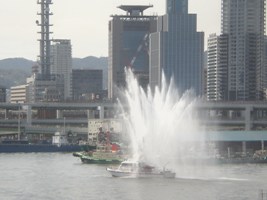 We had no beef with Kobe. In fact, we had no beef in Kobe. On our first foray into downtown Kobe, Japan we meandered past a Kobe beef restaurant. I caught a glimpse of the bill of fare. A prepared taste (100 grams or approximately 3 ½ oz.) of the extraordinarily pampered steers—prior to slaughter, that is—cost $65, by my rough reckoning yen to dollars.
It was a gala affair when we docked in Kobe. A fireboat spewed giant arches of sea water in honor of our arrival. As the ship's thrusters sidled us up to the dock, serious festivities broke out: A university brass band played swinging tunes, as passengers clapped to the rhythm; a man continually waved a pole with three nautical flags attached. Others just gawked at the HAL World Voyage load of westerners, with a few Asians thrown in for good measure.
Our welcomers were nearly nose to nose to us. They stood on the second level of the terminal and we passengers were on the third (lower promenade) deck of the Amsterdam. We took photos of them taking photos of us.
After the excitement of our 3 p.m. arrival in Kobe, it was down the gangway and into the—you guessed it—shuttle bus. Within a half hour we were in the center of Kobe, after having passed a number of attractive mini-parks with blooms abounding. We also saw carefully groomed and flowering avenue dividers.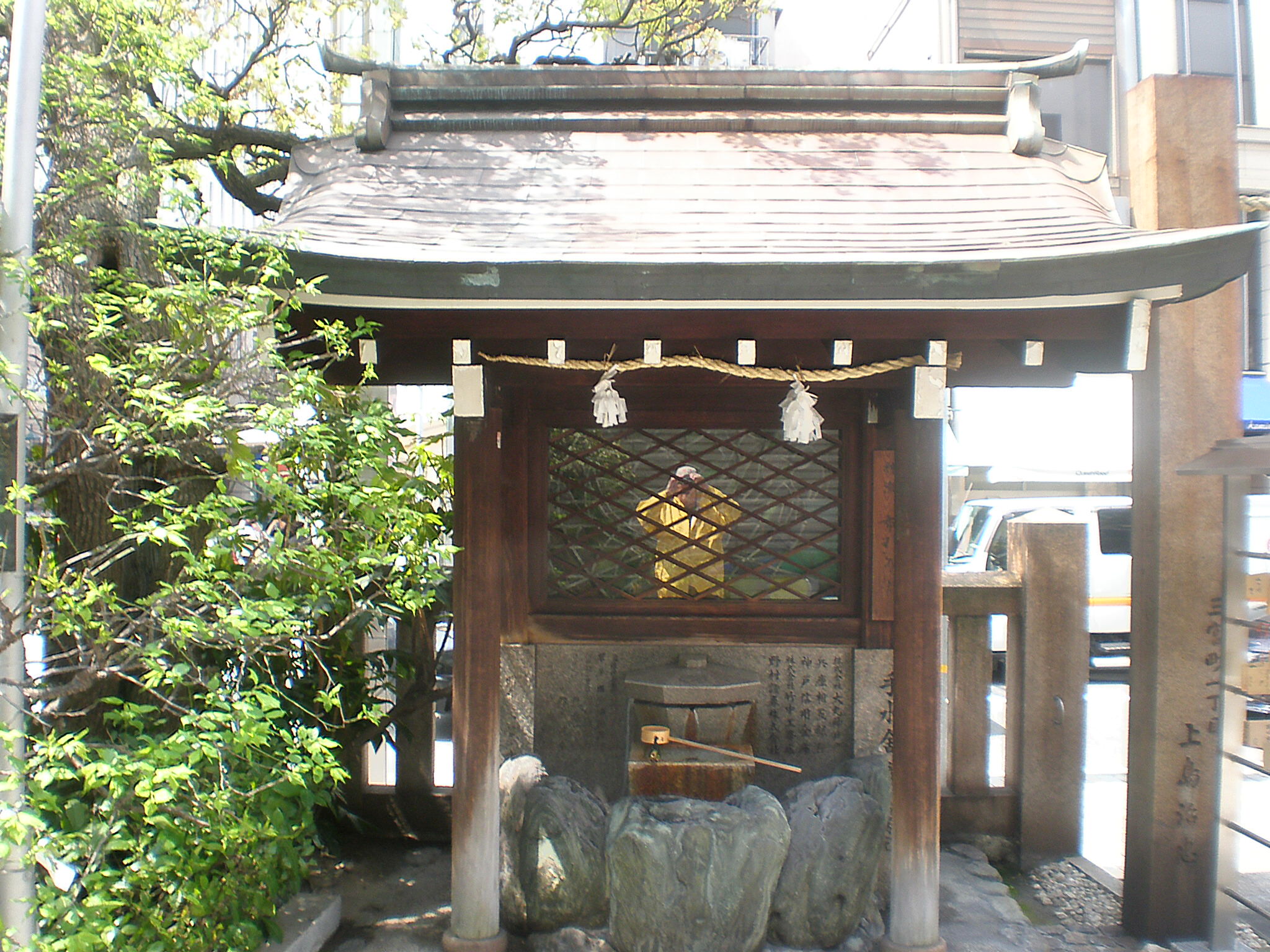 "We just passed a Shinto Shrine," Jeanne said, a block from where we escaped the bus, across the street from Chinatown and the Motomachi translucently covered 500 yard long shopping street (mall).
The following day, Sunday, on our second shuttle bus trip downtown we walked back to the Shinto Shrine. It is a very low-rise, open air respite of calm serenity amidst Kobe's shops and towering high-rise buildings.
As we stood respectfully before the traditional Shinto gate, a man entered and approached what in the west would be called an alter. He quickly deposited a coin in the offering box; he then produced a sound from the large brass cow bell-shaped bell hanging from a long red sash. He placed his hands in front of his chest in the traditional Asian sign of respect and clapped them twice. He paused for a brief moment of prayer or reflection, turned and quickly walked again onto the city street. Jeanne and I then respectfully entered the Shinto Shrine, a house of worship for the majority of the Japanese people.
Saturday, our first afternoon in Kobe, we ambled through a large Chinatown, with its open air booths vending dumplings, sticky rice, barbequed pork buns and trinkets. After two blocks, we turned right into a narrow street, walked a block and were—Bingo—smack in the center of the Motomachi shopping street.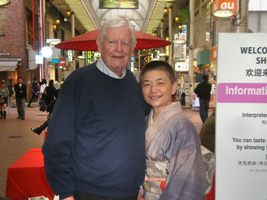 Among the women "manning" the visitor's booth in the middle of the street was a young woman who grew up in Western Europe and Canada. Her English was near native-speaker quality. She was a great help to Jeanne and me orienting us to the area; she was even good enough ask a colleague to guide us three blocks to public toilets.
The visitor's booth was in front of a Family Mart convenience store. Therein I bought a genuine Kirin Beer (the U.S. version is manufactured by Budweiser in Los Angeles) and a Coke for Jeanne. We slowly enjoyed them as we sat on visitor's booth benches and watched the Kobe world pass by.
We were urged by our visitor's booth benefactor to venture more deeply into Motomachi Street to receive our second set of gifts (the first were bottled green tea and a package of sweets.) We set off on a very long Motomachi mall march. I kidded Jeanne: "You'd walk your legs off for a free little gift." The mall was beginning to shut for the night when we finally reached the second visitor's center. Our reward: A very cute, yellow, globe-headed, three inch high, fabric doll, wearing a pink dress and booties.
Another slow-step Motomachi march to the entrance, a walk across the street with the disciplined hoard, that to a person waited for the green walk sign, and we were on the shuttle bus for the return to Mother Amsterdam.
Yesterday, we took a tourist bus loop ride around inner Kobe. The bus was so jammed with Japanese tourists, we had to stand and didn't see a great deal.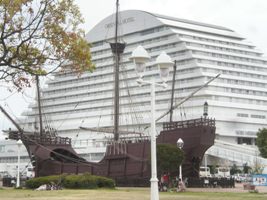 We stopped off at the waterfront, watched a Sunday female dancing group, backed up by energetic amateur drummers and then took in the Maritime Museum. The museum building is inexplicably shared with exhibits and a multi-media show of the glories of Japanese industrial giant Kawasaki. The Kawasaki show was much more exciting than the museum we bargained for.
Before re-boarding a tourist bus at the waterfront stop, I enjoyed another genuine Kirin and Jeanne a fountain Coke at a tiny café. We sat at an outdoor table, enjoying the passing parade and a bright and warm Kobe day.
Last evening was a Japanese-esque, Asian formal night in the dining room. Jeanne wore the red-dragoned, black jacket she bought from the lady who chased us down on her motorcycle as we drove into a shrine in South Vietnam. The entertainment was a beautifully costumed show, energetically presented by the Amsterdam troupe of talented vocalists and dancers.
---
April 14, 2010 - Aboard the Amsterdam, En Route Yokohama to Hakodate Japan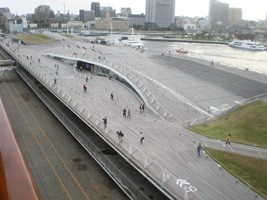 In Kobe, the locals provided us a celebratory arrival. In Yokohama, they beat the drums when we left.
A Japanese classical drumming group, with choreographed movements and dramatic thumps on ancient-appearing drums, performed outside the cruise terminal level directly facing our 3rd deck, as the Amsterdam edged away from the pier at 6: p.m. Passengers hooted, hollered and clapped in appreciation. Photos were also taken. Our passengers triggered their point-and-shoots. The Japanese bystanders were aiming more sophisticated cameras at us.
Japanese tourists are known worldwide as shutterbugs. At home in Japan, we found that great numbers of the natives were carrying and using expensive digital cameras. Folks were photographing around the docks, in the city centers, in the tourist destinations—everywhere.
We docked in Yokohama at 2p.m.during a torrential rain storm. The rain continued throughout the night. The Yokohama Cruise Terminal abuts the center of the city. Jeanne and I had planned to do a little afternoon and evening foot cruising around the waterfront area, but the ferocity of the storm put us off. That left us until 5:30 the next day, Tuesday, April 13, to explore Yokohama.
Yokohama was a small fishing village when Commodore Perry and U.S. naval vessels arrived south of town in 1853 and demanded that Japan open up to the world. The Port of Yokohama was established six years later.
Today, Yokohama is a city of 3.6 million and Japan's second largest. Tokyo expansion has gobbled Yokohama into a de facto suburb, but the port continues to give Yokohama its strong individuality.
Instead of dashing off to Tokyo in a Bullet Train or a slower version, Jeanne and I spent what time we had in Yokohama walking about the city nearest the port. Tuesday dawned, and continued, a bright, warm, sunshiny day.
Our first goal was to visit the nearby Yokohama Red Brick Warehouses, which have been turned into a series of restaurants and boutiques.
When we walked through the gangway and into the very long second level of the terminal on a floor made of wood decking (which inexplicably covers as well hundreds of yards of the outdoor grounds surrounding the terminal building) the Yokohama Visitors Bureau folks asked Jeanne if she would wish to dress up in a glittery kimono for a photo op; there was even a small blue and white jacket for me to wear. Who could resist? I bowed in respect to the faux-Japanese princess in the first shot.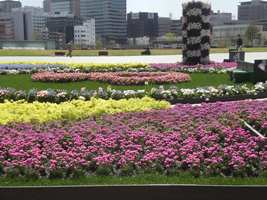 Our walk to the old warehouse area was moderately-paced and very pleasant (I removed my leather jacket as the temperature rose). Once there, we delighted at an intricate, multi-colored flower garden sited between the two brick buildings, where school children in their school uniforms posed for each others photos. We slowly browsed the shops within the larger of the two former warehouses after they opened at 11 a.m.
We then walked over an elevated pedestrian way to Happy Lawson Yamashita Park. Happy Lawson sits on the water's edge. I bought a beer and a Coke and carried it outside to a weather-beaten table and chairs, where we sat within five yards of the water. The Amsterdam lay dead ahead, bow pointing at us.
We spent an hour in the sun at Happy Lawson watching the pilot boats come and go. Next to us, an elderly Japanese gentleman spent 15 minutes carefully cleaning and brushing the lens on his Canon Camera while slowly dining upon a small lunch brought from home in a fabric bag. Two tables away, a Japanese ladies luncheon group of four obviously enjoyed each other's company while they chatted and retrieved morsels with chopsticks from their bento boxes purchased inside. In front of us, three men sat on the concrete patio yoga style watching the maritime activity in the Port of Yokohama and eating their mid-day meal.
Was our time spent at Happy Lawson Yamashita Park as exciting as walking the Great Wall or the Shanghai Bund? The answer is obvious, but our time at Happy Lawson was slow, serene and satisfying.
Near Happy Lawson, as we were walking back to the Yokohama International Passenger Terminal, Jeanne discovered the second story entrance to the Silk Museum. We entered and paid our senior citizen admittance fee. The Yokohama Silk Museum is not an in-name-only shill for a high-priced, high-pressure silk sales joint, as was the "Silk Museum" in Shanghai.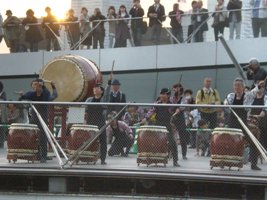 The Yokohama Silk Museum is a serious depiction of the history of Japanese silkworm agriculture (the raw silk comes from the worm cocoon,) silk manufacturing and commerce; it features exhibits detailing Japanese silk clothing styles from the old Samurai warriors to 21st Century ladies dresses and gowns. One exhibit allowed us to touch raw silk and feel silkworm cocoons under water.
When Jeanne and I returned to the Amsterdam, I went to the open air stern on the Lido deck to smoke a cigar and indulge in more people watching. The deck was close enough to the dock, where people were strolling and gawking, I could talk to those below. One of my conversationists was a young woman from Portland Oregon who teaches English in a Yokohama school. She has lived in the city for ten years. In answer to my question inquiring of her satisfaction living in Yokohama, she shouted back: "I love it."
Soon the drumming began and we were gone.
---
April 16, 2010 - Aboard the Amsterdam, enroute Hakodate, Japan to Petropavlovsk (Siberia) Russia
It is a bright, sunny day in the North Pacific. Air temperature is just above freezing, at 34.5 ° F.
It was a challenge packing just one suitcase each with the right stuff: We needed airy duds for the heat and humidity of Southeast Asia and weighty sweaters and jackets for the bone chilling spring temps of Northern Japan and Russia. We were met by snow flurries yesterday in Hakodate.
The days dwindle down to a precious few. Our Asian Adventure is slipping away as we navigate toward the volcanic Asian-Russia fishing city of Petropavlovsk. We will reluctantly take our final leave of the Amsterdam in Seattle, Monday, April 26, after a seven day voyage in the North Pacific, navigating just south of the Aleutian Islands and the Bering Sea. Thirty eight days, POOF.
Now get this: We must set our time pieces four hours ahead during the two and a half day voyage to Petropavlovsk. To make it easier on everyone aboard, one hour leaps forward occur at 2 a.m. and 2 p.m. today and tomorrow. The point of this time-twisting exercise? The Amsterdam's time must be revved up to local time in Petro-ville by the time we drop anchor.
A gale wind accompanied the snow flurries yesterday in Hakodate, the big town on Hokkaido, Japan's remotest and most northern occupied island. The icy wind cut through our desire to amble about Hakodate, casually taking in what ambiance might exist. We took the omnipresent Amsterdam shuttle bus instead.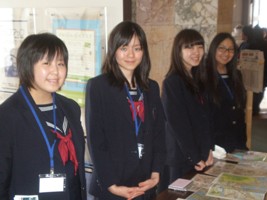 It was Holland America Day in Hakodate yesterday (I would hope the mayor gave Captain Olav a Large key to city, but I don't know.) Regardless, when the shuttle bus dropped us off at a retired bank, the folks inside were ready for us; it looked like a weekend garage sale was in progress.
There were dozens of shiny-faced high school girls who knew enough English to be helpful for those about to brave the gale to see the sights. There were, of course, items for sale—kimonos, silk fabric, a woman artist vending her renditions of cat figures and tables of fans, figurines and other knick-knacks.
The island of Hokkaido is far enough away from Tokyo and Honshu Island, that it was first occupied by an indigenous non-Japanese people, the Ainu. The Ainu possessed their own language and far-north Asia culture. For an analogy, think of Washington D. C. and the Inuit people of Alaska. Mighty different folks living in the hinterlands in each case.
"I want this," Jeanne said, holding up a foot high carved, painted and varnished wooden totem pole. "Where's it from," I retorted. Jeanne suspected that it was Ainu.
I brought one of the eager high school students over to translate my question for the pleasant middle-aged Japanese man vending items from a long table. I don't think the student understood my question. The result was a total lack of communication with the vendor. I thought it senseless to buy a totem pole in Japan if it were made in a nearby Russian administrated-Japan-claimed island—or perish the thought CHINA.
We perused small painted figurines on the vendor's table, but no sale. We walked up stairs to where kimonos, silk fabric and the ladies' clay cats were on sale. Again, no sale. We returned to the first floor.
Jeanne again picked up the totem pole; it was obvious that this was her strong choice to join our wonderful, wooden laughing pigs from North Vietnam and other mementos from Asian Adventure nations. "Okay, I'll try with another student at the information counter," I told Jeanne in the hopes of cracking the mystery of the origin of the totem pole.
As I was about to return to the table with another student, I heard a loud: "Gary, come here." Jeanne had come across a female adult who, not only spoke intelligible English, but forcefully assured Jeanne that, in fact, the totem pole was a product of an Ainu craftsman.
It was a sweet ending to our very short out-and-about Hakodate adventure: The totem pole sits on our lamp table standing head and shoulders above the other members of our very minor collection of Asian assets.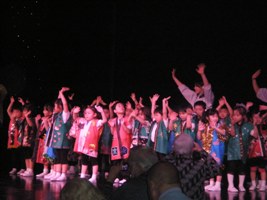 Twenty minutes to four p.m., I was gently pounding our laptop, when the Amsterdam public address system unexpectedly came alive: "This is your cruise director, Bruce. I have a very special announcement. We have arranged for a group of wonderful school children to dance for you in the Queen's Lounge (show theatre) at four. Twenty minutes from now, bring your cameras…"
Bruce was correct. The kindergardeners, tiny boys and girls, danced and danced, obviously well rehearsed by their participating three instructors. The narrator told the passengers that the children's mothers had made their multi-colored costumes.
Thirty or so little Japanese kids dancing in a circle, jumping and throwing their hands in the air; they were a delight. After the children finished their routines, passengers were invited to join the kids onstage and join the dancing; many did. It was fun!
As we exited the theatre, Jeanne remarked: "Kids and animals," obviously meaning that they are tough acts to follow. That evening in the same theatre a 76 year old relic from the Frank Sinatra, Dean Martin and Sammy Davis Jr. Las Vegas days (or so he said) crooned his way through 45 minutes.
Young and fresh, old and stale. The kids flat-out won the imaginary Queen's Lounge contest.
---
April 19, 2010 - Aboard the Amsterdam in the Bering Sea On a Seven Day Voyage to Vancouver.
I quote from the Daily Program, 4/19: "Today we will carefully cruise between the chain of more than 300 small volcanic islands known as the Aleutian Islands… These mountainous islands are located in the south of the Bering Sea, forming an arc between Siberia and Alaska… Rip tides, swirls and eddies are common between the islands. Fog is particularly common all year round in these sailing areas."
Siberia, the Aleutian Islands, the Bering Sea are, to me, romantic words and sounds depicting near top-of-the-earth destinations I never expected to reach during my global wanderings. Yet, there we were yesterday walking about in the fishing port of Petropavlovsk, surrounded by snow covered mountains on the Siberian Kamchatka Peninsula.
Today the Amsterdam navigates through the sea named after the man Peter the Great sent forth to determine if North America and Asia had a land connection. In 1728 Bering's expedition set sail from the Kamchatka Peninsula, perhaps from the very tip end where Jeanne and I ambled about yesterday. Bering's discovery laid the basis for Russia's takeover of the huge land mass that is now Alaska.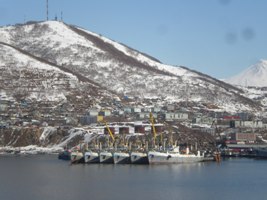 It was sunny, with crystalline clear air, near freezing temps and much melting snow yesterday on the eastern tip of Siberia. By 11 a.m. the folks taking excursions had been tendered to the small dock ashore, tucked beside four docked fishing trawlers (Petropavlovsk's fishing fleet brings home a million tons a year) that appeared to my eyes to be at least 400 feet long. We independent explorers were next into the life boats conveying passengers back and forth to the Amsterdam.
Disembarking passengers were met at the dock by a large banner hanging from a waterfront warehouse that proclaimed: WELCOME TO KAMCHATKA
WE BREAK FOR A BULLETIN: Captain Olav, a moment ago during his mid-day briefing over the ship public address system, informed us that we are not yet in the Bering Sea. "Ve vill enter the Bering Sea tonight. Ve vill sail north of the Aleutian Islands in the hope of finding smoother seas, though we do expect to have waves of ten feet." King Olav I then went on to explain why all aboard will experience two Mondays, 19th of April. It is all a matter of going back through the International Dateline (we are presently a day ahead of North America.)
MEANWHILE BACK IN PETROPAVLOVSK, KAMCHATKA PENINSULA, SIBERIA, RUSSIA:
Jeanne and I entered the warehouse, well, because it was there, with the welcoming sign, and we didn't know where else to go in Siberia. On the left of the 30 yard long metal building were tables laden with Soviet (probably fake) memorabilia, Russia dolls and—yes Virginia, even in Siberia—T shirts. The cautionary words of Cruise Director Bruce rang in my head as I watched Yankee Dollars swiftly being exchanged for the stuff on the tables: "Remember rubles only; Russian Rubles only tomorrow ashore."
On the right side of the warehouse were two lovely, porcelain-skinned young ladies working as welcomers for what I deemed the equivalent of the Petropavlovsk Chamber of Commerce or Tourist Bureau. They stood behind a table covered with clear plastic thimbles of Smirnoff Vodka and green plates heaped with Russian, thick, brown bread; atop the bread was golden caviar, each egg the size of small spring peas. REAL RUSSIAN CAVIAR -- and they were giving it away!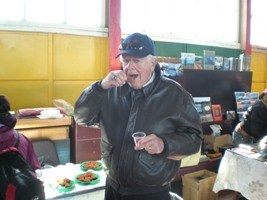 I lost all sense of decorum. Each time I would approach (then re-approach) the table one of the young ladies would urge: "Please, try some caviar and Russian vodka." Are you kidding me? I ate so much of that caviar-slavered bread, washed down thimble loads of vodka that Jeanne said disdainfully: "You're going to get sick on that stuff." Oh no!
When Jeanne could pry me away from the caviar and vodka, we went for a walk along the rocky beach. It was Sunday; folks were out on a spring (for them) day walking their small children (bundled up in snowsuits) slowly along the beach. I captured a photo of two beautiful little girls, then their proud parents.
As I walked the beach, I picked up random stones. On my first trip to Spain/Europe in 1973 I returned with three, smooth Mediterranean stones from one of the Nerja beaches; I see them every day, as I brush my teeth in Jewell Hollow. I was determined to return home with a Siberian beach rock.
I straightened up from one beach rock examination to find a young (late high school, early college) man standing in front of me. "Here," he said. "This is for you," and held out a 3"x 3" heavy, multi-colored rock. Surprised, I sputtered: "Why, thank you." "Where are you from," he asked, and our mini-conversation began. "Yes, I study English in school," he said. I was very touched by the young man's thoughtfulness.
My new Siberian rock sits beside me as I write. It will be an indestructible memory of my two hours in Petropavlovsk, Kamchatka Peninsula, Siberia, Russia.
---
April 20, 2010 - Aboard the Amsterdam En Route to Vancouver.
Capt Olav has informed us that we have plunged through the Unimak Pass and again are navigating in the Pacific Ocean, after a nifty ride across the bottom of the Bering Sea. Olav I has also informed us that the rocky-rolly is going to be more pronounced in the Pacific. He is correct.
Hotel manager Henk Mensink, in charge of everything aboard except the propulsion and the navigation of the Amsterdam (we have an interview scheduled for lunch tomorrow), and his gang are doing their best to entertain we passengers during the seven and a half days at sea between ports Petropavlovsk and Vancouver.
Two nights ago, the public areas of the ship were themed-out as a Chicago Prohibition speakeasy. Dinner that evening was "Speakeasy Formal." Beginning at 11 p.m., there was a late night party in the Crow's Nest. The show band played until midnight; then Steve, the ship DJ (and bingo caller and…) came on. It might be over-the-top to describe King Olav as a party animal, but he mixed it up well with passengers and crew during that mildly rowdy event.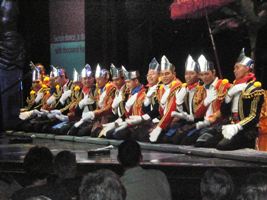 The Indonesian crew show (350 of them work aboard the Amsterdam) was held last evening. The well-costumed and well-rehearsed production of music and dance from the world's 4th most populous nation (and former Dutch colony) played before an enthusiastic and packed house, both levels of the Queen's Lounge. Passengers show up or explain their absence to their dining room attendants the next day—"Did you see me last night?"
The kitchen staff produced a lavish buffet at midday today, complete with six (count 'em six) ice sculptures, all presented in the lower level of the main dining room. There was a photo opportunity before the devouring hordes descended. We photographed, but didn't dine (with two eggs, meat, yogurt, milk and a pancake, I'm always well-fueled after a late breakfast.)
A long distance between ports of call gives me time to reflect on many aspects of what will be, for us, a 38 day voyage (tomorrow, passengers who boarded in Fort Lauderdale will be on their 107th Amsterdam day.) I have met a few passengers and observed many others.
One blond, quiet fiftyish fellow, with his very attractive girl friend, boarded the Amsterdam in September. He recently had a birthday party in the La Fontaine Dining Room; Captain Olav showed up; Henk, the hotel manager, stayed for coffee and desert. Eight months on a cruise ship. What a revenue generator that guy is!
The Birthday Boy, I have observed, has a friend. I have nicknamed him Zero Mostel. The very verbal, heavy set man has a "Zero" aura about him, as in wheeler-dealer. He and his wife play Texas Hold 'Em Poker twice a day: A $20 tournament in the afternoon and an after dinner game that usually begins at a designated table in the casino around 9:30 p.m.
Trudy was aboard from India to Kobe Japan. A thin, slight olive-skinned woman of unknown origin, she was a Dutch widow—"Dutch men, Americans are second, make the best husbands. My late husband wanted me to continue to live in the style he provided." I admired Trudy's dinner time garb, one flashy style in particular. "I have it in all colors," she told me. After Trudy was no longer with us, I mentioned her evening attire to one of her female dinner table companions. "She never wore the same gown twice," the lady said.
During one conversation, Trudy said: "I paid to board in Fort Lauderdale, but my brother phoned me, and said, 'Trudy, you must come visit me.' My brother loves me so much, I had to go. He is the richest man in Sri Lanka…He bought the Queen Mother's Bentley limo, but the president of Sri Lanka said she had to have the largest car in the country and he wasn't allowed to import it."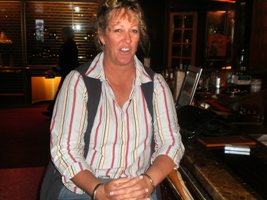 At 6' 2", and admittedly significant pounds above her fighting weight, with rapid staccato speech in a heavy Australian accent and seemingly always in flight, 47 year old Rhonda is by her own admission, "over-the-top."
I offer you example one: After the 114 day Holland America World Voyage finally docks in Los Angeles, Rhonda is flying home to see her daughters (ages 24,25,26 "triplets would have been easier") for two weeks. She will then board a Princess cruise ship for a 104 day Sidney to Sidney world cruise. "This time I won't have to fly," she told me. "I'm going to cut down on my drinking and smoking on this trip, work out and try and get back in shape." She has already booked the 2011 Holland America World Voyage.
"I was sort of the black sheep of my family. I left home at 16 to play professional softball. That's how I met my husband." They are divorced.
"Where does the money come from," I asked. "My parents were killed in an auto accident when I was 19. My father left home in Scotland when he was 15 and immigrated to Australia. He was in transportation, the bus business. He started with two buses and built it up from there." A manager ran the business for 28 years for Rhonda, her three sisters and a brother; it was recently sold.
Example two of Rhonda's madcap ways: "We had a wedding in the Crow's Nest. 250 people came. The ship even gave us a wedding cake. It was sort of a dull time, so Casey and I decided to have a wedding before he left the ship in Buenos Aires. Right after the wedding we got divorced."
She asked a man sitting at the bar (our interview took place at the Casino bar, Rhonda bought) "What role did you play?" "Well," the man said, "I was ring bearer for the wedding and a divorce lawyer for the divorce."
Casey, the erstwhile faux-groom, is a bartender at something called "Martha McGraw's" in the Hamptons (Manhattanites' posh, summer Long Island play ground), if I heard Rhonda correctly. I took a photo of a print of the bride and groom, which will be included for certain in the "Cruisin" photo gallery of our Asian Adventure.
Then there is the passenger I call Mr. Calm… No, that is enough on our fellow passengers for now.
---
April 22, 2010 - Rescue At Sea En Route to Vancouver BC
"This is Captain Olav speaking. We have begun a diversion toward Kodiak Island. We have a passenger in need of urgent medical treatment beyond what the ship can provide. We have arranged with the Kodiak Coast Guard to rendezvous with a rescue helicopter, which will be accompanied by a C 130. They are expected at 7:40 [pm]."
The good captain's voice returned to the PA system at 7:15: "This is the captain again. The Coast Guard helicopter is ten minutes away."
Jeanne and I switched on our cabin television set and tuned it to the channel that carries images from the Amsterdam bow video camera. We assumed the chopper would alight on the bow.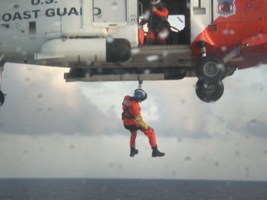 Jeanne first spotted the chopper from our cabin window; it was a speck, high above the white-capped Pacific Ocean. "I'm going to the Crow's Nest," said I, and bolted out the door and fast-walked the length of the ship (our cabin is on the passenger deck nearest the water, at the aft bank of elevators.)
When I reached the bow bank of elevators, three of the four were up at deck nine, the Crow's Nest deck. "Error in judgment," I thought. "I should have taken an elevator out our door and walked across on the Lido Deck."
My first photo of the helicopter was from out of doors on deck nine as it made its approach. I then joined a hoard of passengers in the Crow's Nest, overlooking the bow of the Amsterdam. My next photo was with the choppers side door still closed as it slowly came closer to the ship, level to the 9th deck. I took another photo when the crewman opened the side door.
It became very clear that the helicopter was not going to attempt to alight on the Amsterdam, when a crewman in a bright orange jumpsuit wearing a large blue safety helmet emerged out of the open door and was lowered on a cable to the ship's bow. A few minutes later, the remaining Coast Guard crewman in the belly of the craft cabled-down a rescue basket.
The helicopter then slid away out of sight. After a short period of time, the chopper moved back into position and crewman and passenger/patient were hoisted into the midsection. During the entire evacuation operation, the four engines C-130 could be seen slowly flying in a circle.
The back story: A 26 year old Ukrainian American, on board with a Northern California man in his eighties, had been drinking heavily during the entire cruise (and years before that, according to Sidney, the older man who took the helicopter-born patient under his care after promising the boy's dying father that he would look out for his son.) The 26 year old was having stomach pains. Sidney sent him to the Amsterdam's infirmary and attending physician. Tests were made. The young man has serious liver and pancreas failure.
At lunch today, Sidney said: "I would have gone off in the helicopter with him, but there wasn't enough room." Captain Olav reported during his midday PA speak-out today that Sasha, the subject of the probably multi-million dollar U. S. Coast Guard rescue effort, is in intensive care in an Anchorage hospital.
"It's ironic," Jeanne said after I returned from the Crow's Nest yesterday." With all of the elderly people on this ship, the Coast Guard has to come and rescue a 26 year old."
---
April 23, 2010 - Aboard the Amsterdam, A Day and a Half from Vancouver in the North Pacific
Snippets and Reflections:
Jeanne and I are enjoying our 35th day aboard the Amsterdam; we take leave of her Monday, April 26.
Good service, just how good is it? A couple of examples: Believing, as did FDR, that the cocktail hour is "sacred" (his word), when we came aboard in March, I told our cabin steward that I wanted fresh ice delivered each day at 5 p.m. (prior to his evening work shift). Without fail, each evening at 4:50 our door is knocked upon; I open it and call out: "The Ice Man Cometh," (with apologies to Eugene O'Neill.) A steward, other than our own, is there to fetch us ice.
Example two: Five nights ago at our evening meal in the two story dining room (seating begins at 8 p.m.) I ordered an appetizer from the menu: goat cheese in a phyllo puff pastry, on a strawberry sauce; my-oh-my, it was tasty.
"I want his every night. I want this for the rest of my life," I exclaimed to Yam, our dining room steward. Each evening since, Yam has delivered me a carbon copy of the goat cheese delight. If I wish an appetizer off the menu in addition, he delivers that as well.
All courses of all three dining room meals are multiple choice exams. If I, or any passenger, make a selection that turns out not be to our liking, another menu item from that course is quickly and cheerfully produced. Try that at your local diner.
We have passed through at least seven times zones (it is hard to keep track) since pulling anchor in Siberia. Jeanne, and other passengers I have spoken with, can not fall asleep before three or four in the morning; then, of course, she (and probably they) desire to sleep into the afternoon. Yesterday we moved our time pieces forward for the last time on the 1010 Grand World Voyage. The ship, and passengers, are at last on, if not yet attuned to, North America west coast time.
The Great Wall an expensive ($440) excursion: We made the correct executive decision; it is doubtful in the extreme that Jeanne and I would have found our way to the Great Wall on our own; and if so, the taxis would probably have gotten into our pockets for even more than the cost of the excursion.
It was a long way from our dock in the smoggy steel-making city of Xingang to the outskirts of Beijing, on to the mountains and the restored section of the Great Wall we briefly visited. Our usual go-it-alone caper on that day was unacceptable risk. Our entire Asian Adventure would have been ruined if Jeanne had been unable to walk the Great Wall.
An interesting (and apparently wealthy) sub-culture exists on the Amsterdam: THE WE GO ON THE ENTIRE HOLLAND AMERICA GRAND WORLD VOYAGE EVERY YEAR GANG.
Jeanne and I arrived on the Amsterdam in Singapore all, pepped up about our long nautical sweep through Southeast and North Asia (with Siberia thrown in to make it a baker's dozen), but the World Voyage was two thirds over; as a result, we had not made the acquaintances and relationships that were cemented during the first almost three months of the voyage.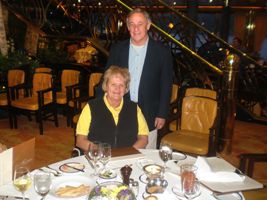 During the sorely missed days of sun and warmth of Southeast Asia, Dick and I met near the small Lido deck pool above the stern, over the Amsterdam Library book he was reading: Game Change, a fascinating rendition of the fights and foibles of the 2008 primary session and general election. After a short conversation, in which he learned I have some experience in the political process, Dick said: "I'm through with it. Take it; just return it to the library when you finish it." Before he turned to go indoors, he said: "We'll have to invite you to our table one evening." Invite us to their table?
We were to learn that Dick, and his wife Jan, are on their fourth consecutive Holland America Grand World Voyage. With Jan doing the organizing, they maintain an evening dinner "salon" at their eight seat table on the first floor of the dining room, second seating. Jeanne and I sit at a table for two near them.
They invite people of interest to them, lecturers, entertainers, certain staff members—and for one evening Jeanne and Gary Frink—to discuss the issues of the day and to learn more about their guests (Sam Donaldson gave a couple of (I'm certain very well paid) off the cuff reminiscences in the Queen's Lounge; he and his wife were invited to Jan and Dick's table. Sam arrived enough in his cups from exposure to the cocktail hour that he promptly dumped his wine into the rabbi's wife's lap.)
Jan has told us that a rival "salon" table exists and there is competition between them (how many times the captain joins each—that sort of thing.)
Regardless, as a leader of the Every-Year-Or-Bust subculture, Jan is planning her table composition (she maintains three permanent members) for the 2011 Holland America world voyage. In fact, she is already seriously mulling the question of who will be re-invited as permanents at the "salon" table next year.
Last evening after the "Fairy Ball" (Olav I attended and danced with some widows) Jan said to Jeanne and me. "Next year, you'll have to do the entire cruise with us." Oh Boy! If that were but possible.
---
April 25, 2010 - Aboard the Amsterdam at dock, Vancouver B.C., About to Push Away for Seattle
The Amsterdam's seven and a half day nonstop voyage from the eastern tip of Siberia to Vancouver covered 2917 nautical miles.
King Olav I, during his midday PA roundup yesterday, announced interesting news: "I have received permission from the authorities to leave the open Pacific and enter the Inland Passage. This will mean that beginning at 2 p.m., when we pick up our Canadian pilot, passengers will be able see some delightful mountain and forest scenery, as we navigate through narrow passes and straits as we approach Vancouver." And so it came to pass (a little word play there.)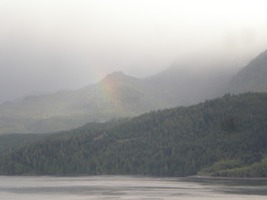 I learned from Barbara, the Amsterdam's Travel Guide, that the Inland Passage we navigated through yesterday was THE INLAND PASSAGE TO ALASKA. With the exception of some nautical mileage spent in the open Pacific, the Inland Passage is a 1500 mile, sheltered seawater path from Seattle to Seward.
The Amsterdam has pulled lines in Vancouver and soon will pass through Boundary Pass and Haro Strait. We will disembark our Canadian pilot near Victoria B. C. and pick up our U.S. pilot near the Port Angeles; then on through the Puget Sound we go.
Jeanne has already begun to pack us up, after 38 peerless days aboard the Amsterdam. For the Frinks and Holland America in Seattle it is, as a great West Coast political leader once said, Hasta La Vista, Baby!
Jeanne and I briefly walked the streets of Vancouver today. Within a three block span, we were hit-up by six beggars and a delusionary man who said he was on the way to the hospital and told me that I was a good fellow. I gave a dollar to the begging man with a missing hand; the others were not as lucky (the dollar, not the missing hand.) So many beggars in prosperous Vancouver and semi-Socialist Canada; how can this be?
In our long odyssey through southeast and northern Asia, if memory serves correctly, we encountered one beggar sitting in the middle of the town market in Sihanoukville, Cambodia, a very impoverished nation. When the Amsterdam dropped anchor in Halong Bay, Vietnam, a woman with two children rowed out in a small boat to beg; for as much as I strained my faculties of mental focus, I couldn't figure out how to get help to her. Coins were worthless. How does someone throw paper money so accurately from the eighth deck of a large passenger ship that it lands in a tiny row boat? Regardless, she was paddling the bay begging.
Rich, developed Canada and we encountered six beggars in three blocks. We saw fewer than six beggars in Cambodia, Vietnam, China, a small Korean Island, Japan and the eastern tip of Siberia, Russia combined. I find it difficult to believe, but there it is. You, dear reader, now have the opportunity to create a rationale for this reality.
In my piece on Rhonda, I neglected to include what might have been her best quote. "My room rent (cabin rate) is the smallest item on my tab" (and she pays a hefty single supplement for being alone in that cabin.)
With shore excursions, bar, shop, spa and dinner wine bills, Rhonda is almost certain not to be the only Amsterdam passenger facing that fact in three days, when the 2010 Grand World Voyage grinds to a halt in Los Angeles harbor.
---
May 16, 2010 - Jewell Hollow, Page County, Virginia
It is good to be home. It is spring in the Shenandoah Valley. We are in the midst of wild morel mushroom picking season throughout the hardwood forests of, and near, the Shenandoah National Park.
While it is good to be home after 38 days aboard the m.s. Amsterdam, our luxurious living as passengers on Holland America's Grand World Voyage is acutely missed. Where is Edgar, a morning line cook in the Lido Restaurant, to cheerfully create for me two eggs over easy, three pieces of Canadian bacon and one pancake?
I have found that the sushi I became accustomed to for a light, late lunch doesn't exist in Jewell Hollow. The Bigelow green tea that I habitually drank throughout the day aboard the Amsterdam also doesn't exist in Page County; Jeanne had to enlist the internet to order a few boxes from Amazon.
In Jewell Hollow, there is no excuse to dress for dinner. Yam is not available to serve me four or five courses of delectable dining fare, served on the Holland America custom-made blue rimmed, gold embossed china. Oh, even in the wilds of Jewell Hollow we possess a full set of Spode china, purchased decades ago in London; but it is our special occasion china, not to be used on a daily basis.
Ali is not available to clean up our bedroom and bath twice a day and, frankly, it shows.
Entertainment in Jewell Hollow? A pair of hummingbirds has returned to its feeder hanging outside a cabin front room window pane, after a round trip over the Gulf of Mexico that began in September; but the hummingbirds don't quite compensate for standing with Joy, the Amsterdam hostess, at the lower door of the two story show lounge before going in to be enthralled by the Amsterdam singers and dancers.
I'm not whining, you understand; I am simply acutely aware, now that it has been removed from me, of the seldom-found-ashore luxurious living that Jeanne and I enjoy on a Holland America voyage; further, the Grand World Voyage was the gift that kept on giving.
In addition to the duffle bags imprinted with the 2010 World Voyage logo, the leather log books and small wallets also with the logo, the origami kit, the final gift of the voyage was absolutely splendid, a keepsake for the ages: a large Royal Dutch Goedewaagen Delft plate "inspired by Chinese shapes and decorations used on ceramics from the Wan-Li period (1573-1619)…" (from the certificate.) The plate also depicts the globe, with the route of this year's world voyage outlined, and a blue (of course) representation of the Amsterdam. It was, as were all the gifts, totally unexpected.
Jeanne and I have our own special mementos from the Asian and Siberian itinerary of the World Voyage. The rock that the young man gave me on the Petropavlovsk beach of the Kamchatka Peninsula, Siberia sits on my bathroom shelf, where I see it each day. Jeanne's matched pair of laughing pigs we purchased in Halong Bay, Vietnam sits on a table in front of my easy chair. The wooden totem pole, carved by an Ainu (native people) of the northern most Japanese island of Hokkaido, sits on our living room fireplace mantle. They are all fond memories of a fabulous itinerary and a luxurious time aboard the Amsterdam during the last days of the Holland America 2010 Grand World Voyage.