Historic Halifax, North Carolina


---
16 February 2013 - Richmond, Virginia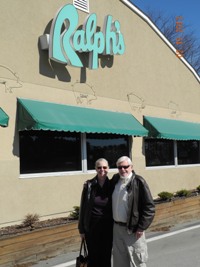 Our first stop was at Ralph's. "This is among my top three North Carolina barbeque joints", said John Rainey. He held the entrance door for the triplets he was conveying back to the history of, and his time living in, Halifax County, North Carolina. The Capitol in Richmond would be the normal locus for his three guests, during a day the Virginia General Assembly was in session.
John exited I-95, after an hour and half journey in his black GMC SUV, just a long howitzer-pop from the Virginia line, at Roanoke Rapids, NC; Ralph's was nearby, in a scruffy neighborhood, east of the principal chunk of town. Our obligatory pork barbeque (topped with cold slaw) was accompanied by savory fried chicken, lightly fried shrimp and scallops; the meal was finished off with various deserts. Cold banana pudding was a winner. My wife, Jeanne, later remembered the chocolate cake she enjoyed was "Devil's Float", a concoction her mother would make.
John Rainey, a public affairs employee of Altria (he covers shallow-south states, like Virginia and Kentucky), has read each of our travel adventures—many, many thousands of words—over the almost seven year life of Cruisin-Thru-100.com; clearly, no one has read more of my worldwide musings. Over the years, John has repeatedly asserted to Jeanne and me: "One of these days, we are going to take a day and we are all going to Historic Halifax—get some barbeque, see the sights—and you can write about it on your website." Friday, February 15, 2013, that day finally arrived.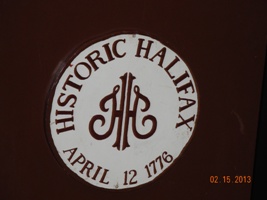 "All" included Charlie Davis a tall, very experienced, ambling-grey-headed-stubble-bearded-naughty-story-telling-raconteur contract Virginia lobbyist for Altria. During his political life, Charlie was a press secretary to Republican Governor John Dalton. "I want everyone to be good to Rainey, 'cause he Okays my bills." he is known to jest when John is in earshot.
After Ralph's, it was down the road to Historic Halifax. In the town visitor's center, we viewed a 12 minute film, which framed Halifax into the early mosaic of what was to become the colonial revolt and Revolutionary War. It is all about the "Halifax Resolves." From the Welcome to Halifax brochure: "North Carolina's Fourth Provincial Congress met in Halifax in the spring of 1776. On April 12, delegates unanimously enacted the first legislation by an entire colony recommending independence from England-the 'Halifax Resolves.'" In other words, North Carolina was the first colony to pump for liberty and independence from England—and the legislature did it in the Roanoke River port and plantation market town of Halifax.
While ambling around the brick, seemingly-circular visitor's center, tucked in a nook, I came upon a bust of Revolutionary naval hero, John Paul Jones. Legend has it that Willie Jones, a Halifax politician and grandee of the time, took pity on a homeless young man wandering the streets of the town with the given names John Paul.. Jones took John Paul permanently into his home and helped him get a Revolutionary naval commission. John Paul took Jones surname and became a Revolutionary War hero. To paraphrase the late radio legend Paul Harvey: Now you probably know more than you ever wished to know of that story.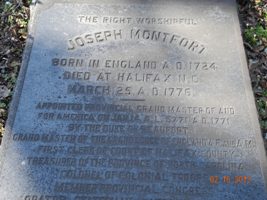 I walked a few yards down the road to a small, white clapboard building while Jeanne, John and Charlie remained in the Halifax Visitor's Center; I had noticed it as we approached the visitor's center. A sign in front of the building proclaimed it to be Masonic Lodge number two which, I believe, means that it is the second oldest Masonic Lodge in North Carolina. As I approached the white building, after jumping over a drainage gully and climbing its bank, I noticed a black iron gate hanging loosely on a low iron fence; below, was a long stone slab in the shape of a large coffin. The engraved slab proclaims that below is what is left of one Joseph Montfort, born in England in 1734, expired in Halifax 1776.At the bottom of Mr. Montfort's stone, words are engraved that even grabbed me, a non-Mason, as being fascinating and certainly historical: "THE FIRST THE LAST THE ONLY GRAND MASTER OF AMERICA." As I understand it, The Masonic Order is, and has been since the demise of Mr. Montfort, governed within each state. So, buried down the street from the visitor's center are the remains of Mr. Joseph Montfort , the only nationwide American Masonic head honcho to have walked the earth; yet, there is nary a word of his mention in the Historic Halifax tourist literature, which promotes an 18th Century jail, tavern and a variety of homes. There surely is a story to be told; it simply hasn't been revealed to me..
Out of Old Halifax and into the new. We were next drawn to the law, as we continued our sojourn through Halifax County North Carolina. After a short cross-town drive, our field trip crew climbed out of the SUV at the new Halifax County Court House, where John, as a young lawyer, had once practiced law.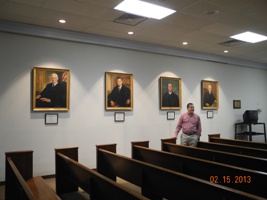 After the four of us were successfully screened for weapons by a seriously obese woman, bulging out of her uniform, John dashed off, proclaiming: "I'll get the Clerk to unlock the Superior Court Room." On our way to Superior Court, we walked past the prosecutor's office. "My office was in there," John proclaimed, speaking of his young-lawyer days prosecuting minor crimes. In the short time we had been in the courthouse, it became clear to the three of us that the professional heart of John Rainey—successful executive in a gargantuan corporation—remained deeply embedded in this small North Carolina country courthouse.
The room in which the highest court in Halifax is held was indeed a sight. For its small population, far from the power corridors of North Carolina, Halifax County has produced an extraordinary number of state Supreme Court justices; and the walls of the Superior Court room are lined with their painted likenesses. "You remember I told you about how when I was 18 I drove Senator Julian R. Allsbrook back and forth to Raleigh? Well, his son, the judge, swore me into the bar right over there," and John pointed to the very spot. "The others got sworn in a group, but I came home to be sworn in by Senator Allsbrook's son, Branch." Judge Branch Allsbrook looked down at us from his spot on the Superior Court Room wall.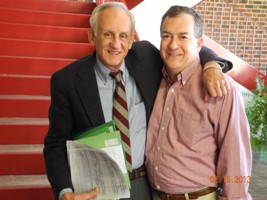 Now it was time for the Halifax sojourners to again get under way. Jeanne and I followed John and Charlie down the stairs to the first floor. Before we could make our way to the bottom of the stairs, there was a great clamor below us. At the bottom of the steps, John had encountered his lifelong mentor ("He taught me how to shoot pool and try a criminal case,") Lawyer James S. Livermon, Jr. The beaming Livermon grabbed Rainey around the shoulders and shouted: "This is my second son." Livermon was a witness to John's bar swearing in. John then served as the older man's law associate for 18 months, before taking the assistant prosecutor job. "A joyful encounter" doesn't do justice to the happiness that flowed between Lawyer Livermon and his protege, Lawyer Rainey on the first floor of the Halifax Courthouse.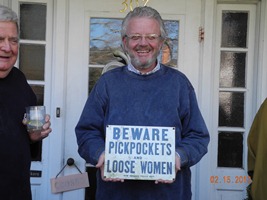 We drove to Enfield, John's hometown. It was depressing. It appeared to me that at least 80% of the stores were abandoned and derelict. "This town used to have three auto dealerships, all gone." When I asked him what had happened to the town he replied, "The young people went away to school or jobs and never came back." A bright spot was A&B Milling Company, doing business as "Aunt Ruby's Peanuts." As our crew was loading up on various nut and chocolate products, I chatted briefly with the owner, Bob Allsbrook: "In 1945, my uncle and dad came to town and started a feed and seed business. There was more farming in the county then. They delivered animal feed and sold seeds. Now we are in the nut business. We produce all our products here, in this building," he explained. Bob does a big mail order business. It was apparent to me that the little, gutted Enfield couldn't support such a high-end snack business. John told Bob that we were next going to try and have a short visit with Dr. Ralph Hardee Rives, retired English professor at East Carolina University, and the town eccentric. "He's a recluse; doesn't answer his phone. He only communicates by letter. And you better plan on taking a lot of time. He's a talker." Allsbrook warned. John had mentioned that he and his wife had once stopped in at 1 pm for a short chat and couldn't get away until 9 pm.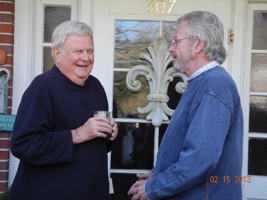 Dr. Ralph Hardee Rives did not disappoint. As we approached his red brick ancestral home, John's father was on the small porch with the professor. As we all climbed out of the black SUV, "the raconteur of Halifax county asked John's father: "Who are these people? I certainly hope they are Republicans." Fitting a lifelong Anglophile an English flag on a pole was standing in his yard. As we approached his stoop the conversation began. Once assured that we were, in fact, Republicans he told us of his great distress: "That's the Baptist Church parsonage next door," and grandly waved his left arm so hard it almost spilled some of the gin and tonic in a glass in his right hand. "They are Democrats. Can you imagine? Baptists and Democrats? They are nice, though. They look in on me on occasion." He then discoursed about Colonial Williamsburg "My daddy used to drag me there as a child." He then went on discussing the question if Historic Halifax could rise to such a level of grandeur; from there to rich old ladies, and the Queen of England. One subject flowed into another with a Truman Capote beat, but delivered not in Capote's squeak, but a tenor mixed accent of Carolina and hi-bred England. He was very pleased that an anonymous former student had endowed a chair in his honor at East Carolina. "Some ask me, 'aren't you curious who it is?' I retort that I respect the wishes of the dear woman, as it has been revealed that the donor is a woman..." He and Charlie then exchanged stories about their undergraduate student lives at the University of Virginia. The conversation didn't cease until Dr. Ralph Hardee Rives removed his head from within the front passenger window frame of the SUV, as he concluded his story of a former student who ignored his advice about remaining a bachelor and now has three children. He giggled at that story. He waved as we drove away, gin and tonic still in his right hand.
Our last stop in Halifax County was a short visit with John's mother and father in their home. On the return drive to Richmond we regaled each other with stories of past and present politicians and colleagues.