A Hollywood Wedding and Trip to Hawaii

---
May 28, 2011 - Beverly Hilton Hotel, Beverly Hills CA
"We're not in Kansas anymore, Toto" Judy Garland intoned in the sublime movie Wizard of Oz. I have used variations on that line before, in the tens upon tens of thousands of my words sitting up in the sky on this website.
On this binge, Jeanne and I sure as hell are not in Jewell Hollow anymore. Count on it! First the hotel: it is not to be confused with the Beverly Hills Hotel, with the pink theme, bungalows and the Polo Bar, where the Franklin-Gersh wedding will be held tomorrow.
Upon the arrival of our shuttle from L.A. International, we had to cut short our planned grand entrance because a movie was being shot within (Luck-HBO). After dragging our suitcases over power cables, we came upon a gaggle of bystanders ten yards from the front desk, which was functioning. As a Screen Actors Guild member, who has spent many enjoyable hours on movie sets, I said to Jeanne "They're only setting the lights," and we pushed through.
At the front desk, I pivoted to take in the scene. There, five yards away, with a white towel around his neck to keep makeup from bleeding onto his shirt, stood Dustin Hoffman. "Look Jeanne, there's Dustin Hoffman." "Where," she asked. The much-honored movie actor is so short she couldn't pick him out from the group of movie-making courtiers surrounding him.
A production assistant (PA in the business) was briefly standing near me. Said I: "I'm a regional SAG member from Virginia. It's nice of you to put this little show on for my Hollywood arrival." "I'm from Cabin John Maryland, and I worked on West Wing (which to my regret I did not.) Got to get back to work," and she dashed off, as PAs are prone to do.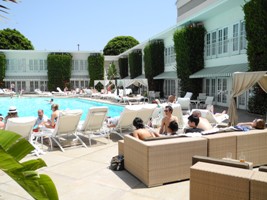 Our room is ample, with a large bathroom featuring lots of marbled stone; a walk-in tub-shower; a box containing bottled water, snacks and other for sale-stuff and a stuffed chair. It is on the third floor, overlooking the parking garage and two mature palm trees. The palms sway when provoked by the gentlest of breezes.
Jeanne futilely attempted to activate the internet for our laptop shortly after arrival. I picked up one of the three phones (including one next to the throne in the bathroom): "Do we have to pay for internet," I asked. "One moment, while I check your rate," came the reply from the modulated female voice, "Yes, internet service will cost you $21 a day, noon to noon."
WHOA! We're paying $715.14 to sleep three nights in this joint and our Franklin-Gersh marriage cut rate is so low brow we have to pay another $21 a day for a service that every 50 buck a night motel provides as a comp?
Later, I discovered there were no drinking glasses in our cut rate room. I called. "Hello Mr. Frink," the female voice answered. "I want you to know there are no drinking glasses in our room. I thought maybe that because we had to pay for internet that we were supposed to bring our own drinking glasses from the Shenandoah Valley." I perceived that the she was not amused. When Rita, the housekeeping supervisor arrived, she said: "We don't put glasses in the bathroom anymore." "I could understand that, but not glasses anywhere?" We now have four solid, eight ounce drinking glasses in our room.
Last evening, after a phone call to a male voice, we located a hairdryer in a bag behind the safe in the closet. I arose at six a.m. to begin this report. I again called the front desk. Sheila answered. "Sheila, I can't find a coffee machine in our room." Mr. Frink, we usually do not put coffee machines in the rooms. I'll send one right up." A man quickly appeared with a coffee machine. It is a Quisinart brand, elaborate, two spigots to pour into large, white china cups, with www.beverleyhilton.com discretely embossed on the side. "Look at this Jeanne (who was trying to continue her night's rest), they say they don't have coffee machines in the rooms, but this fancy deal shows up," I lament. "They probably only put them in the suites," she countered. You got to pay to play in Hollywood.
Last evening was the first—if informal—event of the "The Wedding Weekend." Formal events are outlined in a lovely printed program, featuring a Christy and Steve logo, which includes instructions for provided buses to and from the rehearsal dinner and wedding. The wedding program was in a bag that contained a box of Edelweiss Chocolates, a Los Angeles photo book, sunscreen, lip balm and other items too numerous to mention. The bag of goodies was lying on our bed when we returned from our extravagant night in the mountain foothills of Los Angeles.
After a $25.00 cab ride from the Hilton, we arrived at PACE, an Italian restaurant so in, it seemingly hides from its clientele. It is co-located with a food market somewhere up Laurel Canyon Drive, in a grungy basement so dark our diners had to use flash lights to read menus. There, crowded into a near claustrophobic ante-room next to the toilets, were fifteen of the father of the bride's closest family and friends. The word throughout the wine-driven and story telling evening was the spoken mantra: "Keep the wine coming." The two guys serving us, dressed in grunge-black matching the joint's decor, must have opened and served at least a case of vino.
Some of the conversation reinforced to me how my life has long slipped away from that of a high-flying Washington lawyer-lobbyist to our more tranquil and less costly life-style in Jewell Hollow. One wedding guest, retired from our major client when Christy's dad and I were Washington law partners, had just bought himself a new Maserati (to his wife's obvious chagrin.) One couple is on a two month 36 foot, diesel-powered motor coach safari, stopping at RV parks costing $100 and north a night. There were stories of golf weekends in Ireland. I told the story of how the bride's father was responsible for Jeanne and me getting married in Hawaii, in the first hurricane to strike the islands in 50 years, 29 years ago this coming November.
When the check came, one of the participants stood and said: "It has been great for George to put this together, everyone give me a credit card and we'll take care of the bill." There were no discounts allowed for the diners who didn't help guzzle the case of wine (Jeanne.) Suffice it to say that our share of the tab for the evening in the dark basement was nearly enough for a glorious meal for two at the inventive and world-renowned, Inn at Little Washington. And as any bi-coastal foodie elite can testify, that's a lot.
---
May 28, 2011 - Beverly Hilton Hotel, Beverly Hills CA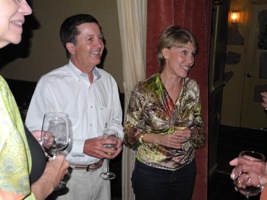 As soon as George, the bride's daddy, spotted us, after we exited our wedding bus and entered the Sunset Towers Hotel (with a tiny metal sign at ground level covered with vines playing peek-a-boo you can't find me) he motioned frantically to us: "Come 're, Come 're". As Jeanne and I followed him, I thought he had some important pre-wedding mission for us.
We stopped out of earshot of others. "Look, I'm sorry about last night. They told me that room could hold 20 and it wasn't large enough for 15. And I had no idea that Jerry was going to stand up and ask for credit cards. For God's sake, I didn't pay anything. All that money and Jeanne doesn't even drink. Here!" George jammed a $100 bill into my right hand. "We can't take that," Jeanne said. "Oh yes you can. Open a bar tab on the Big Island."
Others in the bride's traveling party told us that George had called them, upset about the over-priced previous evening in a grungy basement on Laurel Canyon. George's compensatory action didn't surprise Jeanne and me: He has a sterling character, a fact I have known since I gave him his first job out of law school in the early 70's. During our professional years together he stuck with me during perilous times when others would have fled.
"You know, this is where Vanity Fair holds its Oscar party," Susan, the mother of the groom, told me. This Hollywood joint is far enough up Sunset Boulevard that its panoramic view of Los Angles, with the high rise buildings in the distant view, is perhaps not breathtaking but certainly splendid.
"You know, this is where Vanity Fair holds its Oscar party," Susan, the mother of the groom, told me. This Hollywood joint is far enough up Sunset Boulevard that its panoramic view of Los Angles, with the high rise buildings in the distant view, is perhaps not breathtaking but certainly splendid.
As Susan spoke of the Vanity Fair party, 50 persons were standing in the cool-ish, still-light evening near the swimming pool, gazing at the view and enjoying hors d'oeuvres (raw tuna tartar, pizzitas, pups-in-blankets and sliders) offered by mingling waiters. Adult drinks were expertly and quickly prepared by Mike and his bar crew, working at the open bar under an awning up two steps above the pool.
"I feel like I'm in a movie," Jeanne had said as our bus had seamlessly floated us from the Beverly Hilton to the rehearsal dinner-party. Her sentiment precisely fitted the moment as we stood drinks in hand, hob-knobbing with Hollywood folks on the pool deck of the Sunset Tower.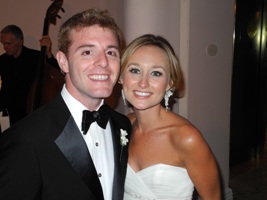 The dinner scene was spectacular. Each table of ten was aglow with a dozen or so potted candles. The place cards were written with flowing, expert penmanship. A cadre of wait-persons continually filled wine glasses.
The bar remained open for those amateur drinkers guzzling martinis with their dinners, displaying their loutishness and abusing the hospitality of our hosts; two such sat at our table. To my right was a left-handed woman, beyond tipsy, drinking volumes of red wine. Her glass was perched so if she should slightly gesture my way, I would be awash in red wine. "Damn it, Jeanne, that woman is going to dump red wine on the only suit I brought with me." Thankfully, she didn't.
After food (most had "New York Prime Steak") came the warm and often funny speeches directed at the bride and groom. David, the groom's father began. He spoke of his son growing up and uttered a memorable line: "You have been my best friend since the moment you were born."
The groom's high school friend spoke next, remembering pranks and minor troubles that kids get into; then a college friend of the groom's recalled how he broke Steve's tooth in Acapulco, when he missed in a 5 a.m. attempt to jam a metal ice bucket over the groom's head
The bride's Princeton roommate recalled how Christy was always ahead, in her studies, perceptions of others—always ahead. Then Christy unexpectedly rose to speak. She told how a few years ago, on her 24th birthday on a date with Steve, she wished that he would be the one with whom she would spend the rest of her days.
There you have it: A fairytale evening on Sunset Boulevard. The bus returned and we were soon home snuggled in bed at the Hilton.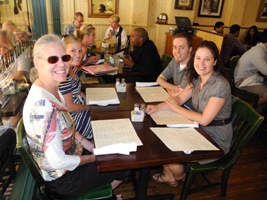 We were not idle in the early portion of our day. At noon sharp, Jeanne's niece, Santa Monica residents Jamie, and her husband Trent, with Crystal, a visiting Nebraska high school friend, picked us up and off we went for a funny and delightful brunch at the "Farm of Beverly Hills." Jeanne and I had a delicious scrambled eggs mixture that included black beans, corn, green onions and brisket of beef.
Jamie thanked us for taking time out of the wedding schedule to see them. "we couldn't be here and not see you. You couldn't get to the Iowa reunion, so we were determined to bring part of the reunion to you."
We explored the hotel pool area in the afternoon. After lounging about and chatting with friends from the wedding traveling party, we did a naughty thing. We walked into the poolside Trader Vic's saloon, sat down at the bar and, for reasons still unknown, I ordered and drank the first Zombie of my life. Jeanne had a delicious-looking non-alcohol concoction. We paid Sam, the bartender, $25 for that error in judgment and marched off to our room for a nap. End
---
May 29, 2011 - VIRUSES!!!
Double-whammied, the author is en route to the Big Island, HI, but has been struck by both a computer virus and one of a more personal nature. Gary is on the rebound, but the same can't be said for his once-trusty laptop. The adventure continues and you'll read about it as soon as the author's sparkling new library card grants him access to a computer.
---
May 29, 2011 - Kailua, Kona, Big Island, Hawaii
"Those paddle boards are long and heavy; they're the bullies of the surfer world. I know. I have been hit three times by one of those things," explained Ursula, resident surfer and vice-chairman of the condo board where we are contentedly ensconced in a well-appointed unit, overlooking the beach, 300 yards below. I had queried her in an attempt to learn more about the nuts and bolts of surfing.
First, my laptop blew up in Beverly Hills. On the flight to Honolulu, I began to blow up, with fever, shakes and chills. After a thorough exam, the taking of blood, urine and a chest x-ray, doctors at the Waikiki walk-in clinic credited my malaise to a tiny spot on my left lung; regardless, the prescribed antibiotic has well-performed.
No laptop, no writing, no daily contributions to Cruisin-Thru-100. Bad! I have found my communications disability difficult to overcome. Monday, our first day on the Big Island, we were told by a young woman working in the bookshop in the supermarket strip mall near our condo of an internet-connected public library ten miles up the mountain.
Up the mountain we scurried in our rented, Chevy four-banger. The library is so small we missed it, on our first pass through the Kona coffee farmer market town. The cost to play was a $10, three month Hawaii library card, the first I've purchased since childhood, 70 years ago.
Jeanne and I decided it would be best to write directly into an email. Among a passel of polite children, I set off to create my first dispatch since Beverly Hills. After three paragraphs, the screen went blank, never to again come alive for me.
Yesterday, in addition to setting off to the volcano; discovering the point where Captain Cook landed in his first voyage to Hawaii (and able to see across the bay the monument where Hawaiians killed him on his third visit to the islands); and briefly visiting a national historical park containing the remains of royal residences circa pre-Cook) we drove into tourist-packed Kona in search of a biz containing both internet connection and a computer to use. We found one, but couldn't find a place to park the Chevy. The yellow pages produced this Mail Boxes franchise, where I write among the noisy commerce of a Saturday afternoon.
The Beverly Hills Hotel wedding of Christy and Steve was as opulent and near perfection as human hands and a bottomless checking account can produce. Depiction of the wedding (with photos), and adventures in Honolulu and further tales of the Big Island must, alas, wait until our return Tuesday to the "mainland" , as locals refer to the motherland.
---
15 June, 2011 - Jewell Hollow, Page Co. VA
When last heard from, the Frinks were marooned without a functioning computer on the island of Hawaii, six time zones and ten hours flying time from Jewell Hollow.
Let us return to Memorial Day Sunday and the Beverly Hills Hotel where, on a gorgeous afternoon in a garden nook, Christy Franklin and Steven Gersh were bound up in the Holy Spirit and legalisms of marriage. The usual happened: bridesmaids marched down the short grassy aisle, followed by George and his beaming, beautiful, diminutive daughter-bride, accompanied by appropriate music.
The ceremony was unusual to my protestant Midwestern eyes and ears. An attractive—in a prim and proper way—lady Presbyterian minister from Granville, Ohio (hometown of the bride) and a man wearing a yarmulke, who I took to be rabbi, conducted the ceremony.
The Jewish guy had a guitar with him; when he began to sing his tenor voice was so pure I told Jeanne: "That guy might a Rabbi now, but he had to have been a Cantor (singer and musical head of a synagogue) before." The formality of the late afternoon came to a smashing end as the groom stomped on the wrapped wine glass (symbolizing that there is much work to do in this broken world—and yes, I acknowledge the pun.) That ended anything that could be considered Presbyterian. From that moment on, 'til we left at midnight, it was one hell of a Jewish party.
During the pre-dinner reception in the foyer of the Beverly Hills Hotel grand ballroom (where again, like the rehearsal dinner Saturday) waiters flowed through the crowd offering lamb chops, shrimp, other delectables and a seemingly endless variety of drinks from the open bar. A string trio played.
I complimented the "Rabbi" on his voice and learned that he was, in fact, a cantor. Perplexed I asked one of the Hollywood revelers near me in the foyer crowd why a cantor and not a rabbi. "Most rabbis won't officiate in mixed-faith marriages," came the answer. So, the Midwestern lady Presbyterian Minister was the only one present with the authority to legally knot-up these charmed, Barbi and Ken young folks during their fabulous Hollywood wedding.
The wedding dinner-dance in the grand ballroom of the Beverly Hills Hotel was, for us Midwestern-born, Jewell Hollow-living folks, a surreal moment in Hollywood extravagance. I shall always remember the flowers: There were over 20 tables surrounding the dance floor; each had a two foot by one foot centerpiece box stuffed tightly with a color-spectrum of blooms. Fascinated, I did the tacky: I touched to determine authenticity. Yeah, they were fresh flowers, all right. The front of the bandstand was a solid wall of red and pink posies.
The dinner entrée was a choice of wild Chilean Sea Bass or filet of beef. I chose the sea bass; it was the tastiest fork-full of fish I have ever slipped into my mouth (I was later informed by a Virginia friend: "It's over $20 a pound at Fresh Foods.")
The party began in earnest shortly after dinner guests were ushered into the grand ballroom. Hava Nagila, the Hebrew folk song and mainstay at Jewish weddings, got the room rockin'. A well-amplified nine piece band backed up a male singer. The tuxedoed men of the Hollywood home team made a circle and fervently danced. Most of the Midwestern-East Coast visiting team watched the novelty before us in awe. Then came the Jewish wedding ritual of tossing the bride and groom into the air from high-held arm chairs; this, I was told symbolized that they were king and queen for a day (get it? On their thrones, though I don't understand the tossing-up-in-the-air part of the shtick).
Not to be forgotten through this wonderful weekend is the bright, attractive young couple who before us locked together their lives. Christy is as beautiful as she is accomplished (Princeton undergraduate degree and May-awarded Juris Doctor). Stephen, child of Hollywood, Duke Graduate and a busy agent within his father's show biz agency, matches Christy perfectly.
As we made our midnight exit to a bus waiting to whisk us back to the Beverly Hilton (wedding discounted rooms at the Beverly Hills Hotel were between $500 and $600 a night) waiters motioned us to a table stacked high with cellophane bags (there were 250 wedding dinner guests.) We were each handed a bag of granola, a final gift (when we checked into the Hilton on our bed lay a bag containing a box of chocolate truffles; "Los Angles" a book of photos by Tim Street-Porter (intro by Diane Keaton); a tube of sun screen and a tube of fancy skin lotion).
You have probably already surmised that our parting gift would not be an ordinary grocery store bag of crunchies - you are correct. It was a very special and hip gift. From the label: "Christy and Steven's Homemade Granola—Ingredients: Rolled Oats, Peanut Butter, Roasted Salted Almonds, Cinnamon, Golden Raisins, Dried Cherries, Semi Sweet Chocolate Chips. ENJOY!" I don't know if Christy and Steven stayed up nights concocting their granola for their many wedding guests but, it was a deft—and to repeat—hip touch.
For 48 hours, Jeanne and I (and other Franklin family and friends, all inhabitants of fly-over country) were small players in a grandiose, flesh and blood Hollywood Fairy Tale.
---