Another Caribbean Christmas


---
18 December 2013 - Holiday Inn, Hollywood FL
We drove out of Jewell Hollow a day early.
Saturday morning, I stood at the living room window looking out at the newly-fallen, wispy snow. After a long, ponderous moment I exclaimed to Jeanne: "The forecast is for rain later today; if that should happen, we'll be trapped in the driveway. The rain will wash away the snow. What will be left is the ice underneath. It will be so slippery we'll never be able to back out the car."
Jeanne had packed her suitcase. While I turned off the well pump, drained the toilets and added antifreeze, Jeanne finished packing my suitcase. I then trudged out to the pump house in the rear of the cabin. I opened spigots that drained water out of the cabin pipes, and removed the casing of the full-house water filter. I trashed the inner cylinder and spattered the ugly orange-brown waste water onto the pristine, white ground. I took the filter casing back to the cabin for safekeeping. While I had been busy in the pump house, Jeanne had woman-handled the suitcases out of the cabin and into car.
Ten minutes before high noon, I carefully backed the silver sport coupe out of our long driveway. We were on our way and another Frink adventure had begun.
Twenty miles to the west of Jewell Hollow, in New Market, Virginia (famous for a Civil War battle in which youthful Virginia Military Institute cadets were hurled into the maelstrom of combat) we entered Interstate 81 and a snowstorm. The light snow (the highway had been treated, thus no accumulation) lasted until Roanoke, then turned to rain. At the Claytor Lake I-81 exit we stopped for fuel and a Dairy Queen treat. Almost 300 miles after leaving our cabin, we arrived at our motel in Statesville N.C., Circa 6 pm. My dinner was a fried egg-laden, sausage, waffle and milk extravaganza at a Waffle House, our highway staple. Jeanne dined more modestly.
Sunday morning we evaluated our options moving forward to Fort Lauderdale. Our original plan was to begin our trek that morning, but now we had two driving days to cover approximately 700 miles, for us a virtual walk in the park. I gave ponderous consideration to phoning a once-dear college and early adulthood friend and inviting ourselves for a short reunion. He had retired to Florida 20 years ago and become somewhat of a recluse. Jeanne advised against: "If he had wanted to be in touch, he would have been in touch." In the car ready to travel, with the engine idling, I made the decision: I had no right to invade my friend's privacy; further, I dreaded the possibility of a rebuff.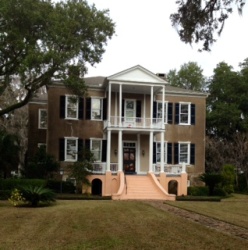 Onward! Jeanne and I drive as fast as the traffic flow and conditions allow on Interstate highways; often our speeds will range well into the 80s. During the second day in our supercharged small Mercedes we quickly gobbled up what remained of I-77, I-26 and were in South Carolina charging south on I-95, the principal east coast north-south interstate highway. It was Sunday. Our ship wasn't going to pull lines in the Fort Lauderdale Cruise Terminal until Wednesday; we had time to do a bit of exploring.
"We have never stopped in the South Carolina low country, the places Pat Conway made famous," I said to Jeanne, "why don't we head to Beaufort for a late lunch?" We gave up the smooth, effortless interstate for a two lane road that varied from wavy to bumpy. It took us through blighted, table-top flat, hard-scrabble wetlands, pocked with dilapidated single-wide trailer homes. After a depressing, two-lane half hour (mas o menos) drive we came upon Beaufort South Carolina, a low-country Colonial America gem.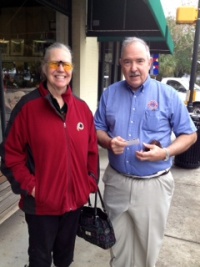 As we stepped onto the first commercial block of Bay Street, a man was sitting on a bench in front of a small store. "Do you live here," I asked the man. He stood up immediately. "Why, yes I do. I'm from Paducah. Kentucky originally, lived in Laurel, Maryland, was a salesman, lawn seed. In those days my average sale was $10,000, now it's eight; retired here when our daughter retired from the Air Force. She married the mayor; he tried to force a prenupt on her at the last minute, but my friend a Boston lawyer (used to be on Westmoreland's staff) said it had to be offered two weeks before the wedding." We had just met Mr. Jesse L. Yopp, proprietor of the sundry store where we stood. Mr Yopp further explained: "Our antebellum homes here were built before the Revolutionary War. You have to see St. Helena Anglican Church, oldest Episcopal church in the country; it began 1712. There are British solders from the Revolution buried in the cemetery." We inquired where we might dine. My Yopp gave us a number of options. After I took a photo of Mr. Yopp and Jeanne, we took our leave of the de facto Beaufort Town Crier. We dined at Luther's, a pharmacy-turned-saloon, took photos St. Helena Church and cemetery and of colonial homes along Bay Street.
Our GPS (Miss Garmin, by name) took us to I-95 through a portion of Hilton Head, S.C. We drove on to St. Augustine FL, stayed in a fraudulently-named Holiday Inn, Historic District (it was a mile away.) We arrived in Fort Lauderdale Monday afternoon. Tuesday evening Jeanne and I had a delightful reunion with our Michigan State friends Jim and Judy Sullivan. Wednesday, we were aboard the Eurodam, as it sailed for Key West.
---
23 December 2013 - Aboard the Eurodam, En Route to Half Moon Cay, Bahamas
Jeanne and I are on the second leg of our 11 day Eurodam adventure. We are doing what the cruise biz denotes as "back-to-backs," two or more consecutive separate cruises on the same ship, cobbled into one on-board water-born sojourn. In our case, a four day cruise out of Fort Lauderdale that churned to Key West, FL; Nassau, Bahamas; the Holland America-owned Half Moon Cay, for a beach frolic; and back to Fort Lauderdale. Our follow-on is a seven day affair that again stops at Key West and Half Moon Cay; it adds Ocho Rios, Jamaica (where we shall celebrate Christmas day) and Georgetown, Cayman Islands, best known for its off-shore, tax-dodging-enabler bank secrecy laws.
I consider the first, four day segment of our 11 days in the arms of Mother Holland America to be our shakedown voyage, getting the kinks out for the main event. Little things, like our remote TV control didn't function (our efficient and jocular cabin steward found batteries to cure the defect;) when it was time to retire--a stuffy synonym for "go to bed" and "hit the sack"--we learned our cabin door refused to double-lock; the next day a maintenance man came by to cure that defect. The following day, unrequested by us, a maintenance man came by to squirt some WD-40 on our almost musically squeaky cabin door hinges.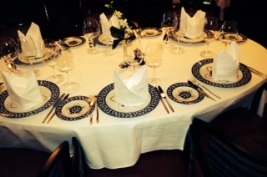 Holland America has a fleet-wide tradition of placing day-of-the-week mats in passenger elevators (if you have ever been on a long ocean voyage you understand.) On Wednesday we stepped into an elevator with a mat proudly proclaiming the day to be Tuesday. On Thursday, it was Wednesday in one of the elevators we boarded. Amusing lapses, probably not to be repeated on our seven day cruise.
During the four day cruise, we took the opportunity dine at Eurodam's three premium restaurants; each was a distinctive delight. The Pinnacle Restaurant reminds me of a refined gentleman's club: its environment woody and hushed, with the exception of brilliantly colored, custom designed and manufactured Rosenthal (German) China. At its core, The Pinnacle is a fine steakhouse. During our evening dinner, Jeanne enjoyed a perfectly prepared filet of beef, and I three loin lamb chops, equally well prepared to my specifications. We shared a funnel of french fries, highlighted by a wonderful garlic- accented truffle aioli dip. Jeanne also enjoyed a tradition of ours, the rich Pinnacle lobster bisque, though the table-side routine of pouring a splash of cognac over the plated bisque has vanished.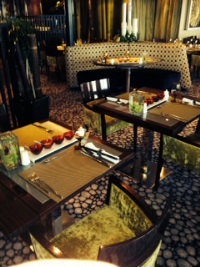 Holland America has a fleet of 15 ships serving passengers and sweeping through the seas in various parts of the globe. Two members of the fleet—the Eurodam (2008) and the Nieuw Amsterdam (2010)—are relative new-builds; they are tabbed The Signature Class and offer their passengers a unique dining experience. Built into the 11th (top) deck of the Signature ships, and only on those two, are Tamarind Asian restaurants. Jeanne I dined at the Tamarind on the evening following our Pinnacle dinner. We enjoyed a boffo experience. The design of the place, with brown partial walls separating sections of the large room, gave me the sensation of Asian bamboo.
"We are very pleased to have you with us this evening, Mr. and Mrs. Frink," the manager assured us. The wait staff scurried about in a Japanese-esque, manner, but took time to assist us with the long menu. Jeanne and I each began with shrimp tempura, which arrived in a high, narrow bowl. The tempura "sticks" were the longest pieces of shrimp I have ever seen and the batter crisp and golden. Delicious! I followed with Japanese sashimi (raw tuna) and a California roll (fish packed into a roll of rice). Jeanne had a red curry chicken dish, served in a large porcelain bowl. "It was very, very good," she assured me. Tamarind was an all-around delightful experience, and we hope to return before we disembark in Ft. Lauderdale.
The waiters wear vertically striped black and white tee shirts at the Eurodam's Italian Restaurant, Canaletto (certain to be a takeoff on the Grand Canal of Venice, and the shirts hinting at the gondoliers thereon.) Canaletto exists as a premium restaurant on many Holland America ships. Tucked into a corner of 9th deck Lido informal dining area, the Canaletto had never enticed us. Our Bad! Suffice it to state that the veal piccatta was sublime; and if the veal piccatta is a success, most northern Italian eateries will continue on. One of these days, we'll return to the Canaletto for its signature dish.
---
24 December 2013 - En Route Ocho Rios, Jamaica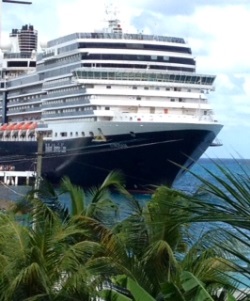 Yesterday, the Eurodam spent most of the day idling near Half Moon Cay, Holland America's private beach-party island. Hundreds of Eurodam's passengers were ferried to and fro the island on large double-deck launches, instead of the ship's motorized lifeboats. Jeanne and I stayed aboard the Eurodam, as we had visited the island a few days ago.
I believed that I had recognized the Prinsendam, the smallest ship in the Holland America fleet; a Eurodam sister ship was also offering its passengers a day at the beach. "Is that the Prinsendam," I asked the voice on the other end of the line after pushing "information" on our cabin phone. "Yes, Mr. Frink, it's the Prinsendam." Sighting the ship brought back warm memories of a month aboard. The two year-ago adventure took us up the vast Amazon river as far as Manaus, the largest city in Amazonia, near where the Amazon and Negro rivers join. We visited Manaus, made rich when the Amazon rain forest was the global sole source of rubber, and small communities along the banks of the mighty river; one, a floating hamlet, we reached by motorized dug-out canoes. Reflecting on the Amazon adventure, I realize all of our vast travel experiences are reduced to memories— precious memories— for those of us— blessed or plagued—who have long-lusted to take the unknown turn in the road, and disembark at the next port of call.
At this time, Jeanne and I can clearly see the Cuban southern shore, as the Eurodam has rounded the eastern end of the island, and is proceeding on a southwesterly course to Ocho Rios.
Our brief stop in Nassau, Bahamas was a trip through Cruisin' Mania. Six cruise ships-count 'em, six ships, each with at least 2,000 passengers and a slew of crew, disgorged thousands of folks onto Bay Street, Nassau's main drag at virtually the same time. Jeanne and I quickly passed through—more accurately, we skirted—the town's well known Straw Market, jammed with tourists,
"Go down this side street to the water, turn left and you'll find one," a kindly local directed us, in answer to my question: "Where can we find a bar?" We followed directions, and after a couple of blocks came upon the Copacabana, a narrow alfresco saloon, featuring a young man creating and selling conch salad to passersby on the side walk. Behind the salad man, were six small tables. The Copacabana occupied a shallow chunk of a building, wherein a mid-aged woman made drinks and passed them and beer bottles out to a younger woman; she was the joint's waitress. "You're Cuban, aren't you," I asked the beige-skin, cheerful woman. "Yes," was the most conversation she had time for. The small establishment was bulging with crew and passengers from the ships. Crew members were using the $5.00 internet service.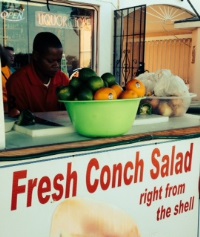 While we were sipping our Diet Coke and Diet Coke and rum, I said to Jeanne: I think I'll try some of that conch salad; she looked at me as she does when I have gone over the edge. "You'll do what," she asked incredulously. Her steely response to my desire to sample the local cuisine sent visions of serious stomach and lower bowel discomfort shooting through the left side of my brain. I left Nassau alfresco sidewalk conch salad for another day.
As we initially rounded the corner onto Bay St, a young female hawker gave Jeanne a brochure for Venetian Jewelry, with the admonition: "Be sure and get your free gift." "Free Gift" and jewelry stores are a Frink family story. A few years ago, when were guests at the Ritz Carlton , on Carolina Beach, near the San Juan International Airport, there was a jewelry shop in the hotel. Each time we would walk in front of the shop, a hawker would say to Jeanne: " Be sure to come in for your free gift." One day she did. The gift was a cute little silvery frog, which Jeanne wears often. Walking Bay St., on our way back to the Eurodam, we in fact sought out Venetian Jewelry. We walked into the open front shop and Jeanne announced sweetly: "I have come for my free gift." "Let me show you some Jewelry," said the pleasant young woman. While Jeanne went about her free-gift business, I chatted with three young salesgirls, huddled together behind a display case. Jeanne's gift: A tiny, metal replica of a whale with a chain. Jeanne will wear it. We walked with and through the masses of Christmas Cruisers to the dock and to and into the Eurodam. We relaxed quietly in the chairs on our balcony until the cocktail hour.
---
25 December 2013, Christmas Morning - At Dock Ocho Rios, Jamaica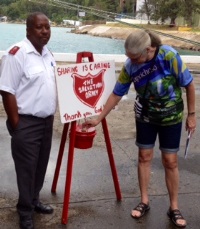 Christmas morning docked in Ocho Rios, Jamaica. It's a first. During my adult lifetime of peripatetic wandering, this is the first Christmas morning in Ocho Rios. I remember more than one Christmas morning arising in our casita at Las Brisas, a stunning hotel collection of private "little houses" with pools, high above and overlooking Acapulco Bay and the slum that is the city of the same name.
A curious Eurodam fact: On the second day of the initial four day cruise, crew members placed small, green wreaths on the outside of all cabin doors, at least on our deck; a nice Christmas/holiday touch. At dock in Ft. Lauderdale, during the mass outflow of the first set of passengers and the incoming human flood for the seven day segment, the crew removed the wreaths. For the Christmas cruise, they replaced the green wreaths with...(hold your breath) nothing; zip, zero, nada. Strange!
---
26 December 2013 - At anchor off Georgetown, Grand Cayman
Ocho Rios was underwhelming. From our balcony facing the industrial dock, where authorities placed the Eurodam, we watched short, severe rain showers. That is a little more exciting than watching grass grow.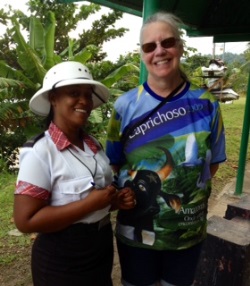 Our walk into town took us past heaps of trash and folks washing clothing in what looked to be a shallow natural pool. We stopped to chat with an attractive young woman cast in the role of official tourist helper; she wore a pith helmet and a white shirt that bore her title. I asked her about security in the town, and she quickly answered with: "Oh, we have drug dealers, but when they are discovered they are taken into custody and tried."
At the base of the hill we had been walking, on a bluff to the right, was a strip-mall with a tent-covered outdoor cantina. It drew us in. As we sat sipping our drinks, I took a measure of the place. A straw-hatted Jamaican with a burro, parrot and large rabbit, posed for tourist photos; he had placed two tip boxes on the pavement in front of his performance space. A man dressed in two shades of gray took photos of the seemingly endless flow of vans loaded with ship passengers, lambs the shopkeepers hoped they could feast upon. The shops were ubiquitous Caribbean: Del Sol (color-changing clothing); Tanzanite International, (reputed to be vendors of semi-precious stones); and bringing us to the trifecta of Caribbean regulars, Diamonds International.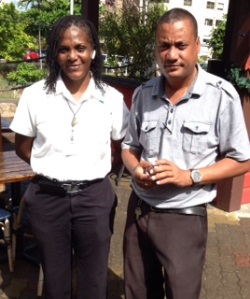 As I sat with my Red Stripe beer, I noticed at the far end of the horseshoe-shaped mall, on the second story porch of a souvenir shop, ship crew members were intently studying their smart phones and pads. Ah-Ha, I had sleuthed-out Wi-Fi, in fact the best possible Wi-Fi for travelers: FREE WI-FI. Password: "buyabeer." Off we went to the second story of Pirana Joe's. I was stumbling through 150 emails when Jeanne announced: "I am going to get my free gifts." She hit on 50%: Tanzanite International gave her a gold charm bracelet, with an attached sea horse, despite Jeanne not possessing a required coupon. At Del Sol, the saleslady turned Jeanne down flat: "You must have the coupon."
As we ambled out of Harbour Shops strip-mall, I stopped to speak with Robert, the gray-clad man photographing ship passenger-jammed vans. I gave my erroneous theory, and he gave me the skinny: "I photograph where the vans park. The shop owners often complain that they didn't get enough business because the vans parked too far from the store. I have proof vans parked in front of all the shops."
When we first arrived at Harbour Shops and were sipping our drinks, Jeanne said: "I have a quote for you, You dragged me out of my serene balcony for this?'"
Christmas dinner was a formal night on the ship. Passengers cleaned up nicely and dinner was delicious. Entertainment in the show theater was an excellent steel drum quartet from Trinidad, birthplace of the instrument (1930).
---
27 December 2013 - En Route to Key West, FL
The Eurodam yesterday was the 5th cruise ship parked in the shallows off Grand Cayman Island. The narrow street along the tiny Georgetown waterfront was stuffed with every imaginable human size, shape and gender.
Jeanne and I tendered to the Georgetown south dock largely to take a lifeboat ride on the placid Caribbean Sea. Ashore, we needed to fill the short time before we would return to the ship (we had walked Georgetown's malecon in the past, one time having had a pleasant pub conversation with a Cayman high judge).
"Let's go look at a Rolex watch for you," I suggested to Jeanne, as we approached Kirk Freeport, a very large jewelry establishment, and the Cayman sole vender of the Swiss watchmaker. I purchased my Oyster Perpetual Rolex in Paris in the early 1970s for $600 and change. I had, through the years, mentioned to Jeanne that she too should have a Rolex on her left wrist sized, of course, for a lady.
When I suggested that it was the day to shop for a Jeanne Rolex, I truly expected her to throw off the idea and demur; not the case. Into Kirk Freeport we marched , right up to the lady Rolex display case. A diminutive young man, wearing a thin, black glove on his right hand, his left bare—a la Michael Jackson—soon arrived.
Jeanne really studied the watches Michael Jackson delicately withdrew from the case and placed in her hand. She studied the watches with serious aplomb, I studied her. She didn't appear to be phased by north of $10,000 price tags. I thought to myself: "she might actually make the leap." Mr. Jackson kept up his presentation: "This one is a little more, as you can see it has diamonds."
Perhaps I coughed, or my childhood stutter returned. Whatever, when Michael absorbed the reality that one of the larger faced (and dearest) Lady Rolexes was not likely to adorn Jeanne's left wrist, he shifted to another display case; in it were baby-faced timepieces beginning at $8,000 (no diamonds.) "Do you have a budget," he asked. "Not really," I retorted. At this point, Jeanne is seriously engrossed in the examination of two of the baby-faces. I am convinced that I am going to buy my bride the Rolex of her dreams. "If she is for it I'm for it," I puffed to myself. After a few moments she stepped back from the glass case and sweetly informed Michael that we would not be laying eight big-ones on him that Grand Cayman afternoon.
As we walked to the door and the milling hods outside, I said: "I thought you were going to do it." Jeanne stopped. She put her face near mine and said: "ARE YOU NUTS?" You thought I was going to pay $8,000 for a watch? How long have you known me?" "Well," I said sheepishly, "it sure was a very good acting job."
We found The Old Gaol Cafe Beer & Wine bar, an al fresco side street saloon and spent the next hour and a half drinking beer and Cokes and luxuriating in its free Wi-Fi. The tender ride home was very pleasant on a calm Caribbean Sea.
---
New Year's Day 2014 - Sarasota, FL
A New Years Eve dinner party with dear, very old friends and new acquaintances. Whoa, can't be beat!
Reflecting back on our 11 days aboard the Eurodam: The first elements that jump out at me are the youth of the management aboard ship and the Holland America changes that have taken place since we disembarked in Seattle in May. We had been aboard the Oosterdam for 37 days, bouncing around New Zealand, Australia, the Samoas, among other South Pacific islands.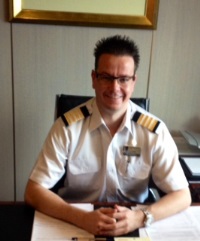 Let us take a peek at some of the changes that Holland America regulars (and they are legion) will notice almost immediately when they weigh anchor on their next cruises. The first is the daily program: It has been changed to a four-color, two-fold; it is attractive and is devoted almost entirely to activities aboard ship. The previous program form included a snippet of historical intel on the next port of call; at least on our cruise, the historical bit vanished without a trace.
Next, experienced HAL voyagers will notice that officers are again shaking passengers' hands, in reception lines or when appropriate during casual encounters. "It is just more friendly," (than ultra-sanitary fist and elbow bumps, previously the rule) Don Habets, the hotel director, explained to me. It wouldn't have taken a genius to have pondered-out that policy reversal.
The production company responsible for mounting the resident singer-dancer shows in the main theater has been changed. We noticed the absence of the romantic, boy-girl lead singers' duets and what we took to be a diminution in the flamboyance of the costumes. The tremendously spirited energy of the singers/dancers was still very evident; during the two shows we attended, the young performers were rewarded with passengers' applause and shrill whistles.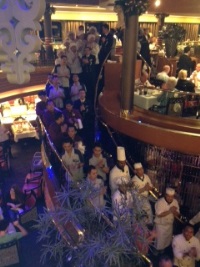 The Holland America iconic tradition of the cruise final evening dining room Parade of the Baked Alaskas has gone the way of sailing ships, buggy whips, Cherries Jubilee and other flaming desserts. Oh, employees marched about a bit, empty-handed as if to cover the absence of the darkened dining room parade, with the (first candles atop the classic dessert, then sparklers, then zip illumination) Baked Alaskas proudly held high by the dining room staff and line-cooks. "It was just too much waste, $4000," said our assistant dining room manager. "Oh, but you can still order Baked Alaska." Also missing on our Caribbean Christmas cruise was the once-a-voyage, 11pm, Chocolate Extravaganza.
The flavor and presentation of the food on our Eurodam Caribbean loop was very good, in the dining room, the informal-dining Lido, even at the hotdog stand, facing the midships deck 9 pool. Our dining room wine steward was Chello, a diminutive, sweet-tempered, young lady, who also served us aboard the Oosterdam. "After the Oosterdam, I spent three months home in Manila with my parents. I could have stayed longer, but I have all this energy, I want to work. Besides, all my friends at home want my job. I know how lucky I am to be here," she told us. Our dining room steward, and assistant, was efficient in taking care of our dinner desires. After the dinner dessert plates were cleared away, our steward would ply us with parlor tricks, including one in which he would balance interlocked forks on end-to-end tooth picks; we would give it a parlor-trick Oscar.
Officers we met on the Eurodam were the most youthful we have yet encountered on our over 200 days and nights aboard HAL ships: Dutch Captain Emiel de Vries is 40. His Canadian wife and three year old daughter were aboard for the holidays voyages. Panningen Holland-born Hotel Director Habets is 32. American J.T. Watters, the dynamo, omnipresent cruise director has all of 29 years on this watery planet.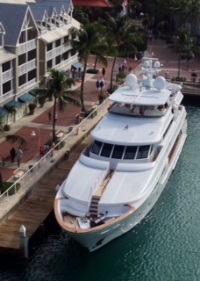 I interviewed Hotel Director Habets. He is a graduate of the hotel management school in Maastricht, The Netherlands. His second internship (the first at an airport hotel near London) was with Holland America. He was hired thereafter, and has worked his way up through housekeeping, food and beverage responsibilities. He is proud of the fact that, first by his peers and finally by Seattle-based HAL management, he was chosen for the 2011 President's Leadership award. Habets is a bachelor and the first cruise officer I have met with spiked hair.
I asked Habets if fruit baskets in the staterooms had gone the way of the Baked Alaska Parade? "No, why? Didn't you get one of the stainless steel fruit baskets?" I assured him that no such receptacle had appeared in our cabin. He scribbled a note. I asked about the disappearance of the holiday wreaths prior to the Christmas cruise. "I didn't like the quality of them; besides, some people asked them to be removed because they didn't celebrate Christmas." I didn't follow up with a question about the large Christmas tree in the atrium and the fact the wreaths were holiday-neutral. "We tested the new daily program design with passengers," answered that question. When I inquired about the elevator mats comically misstating the day of the week, Habets replied: "We've had some elevators out of service, and that could account for the wrong day mats."
The Eurodam docked downtown, for our second short sojourn on Key West Island. Below our balcony three crew members scrubbed diligently on all outer surfaces of Penny Mae, a large white yacht, registered in the Marshall Islands. We began a meaningless Key West stroll, but sought shelter on a bench under an overhang at the entrance to a Westin Resort. We continued our walk after the tropical shower abated. I took a couple of photos of the "train" we used to tour Key West on our first stop; then back to the Eurodam for lunch.
---