Now Playing:

A Journey Down the Amazon

Click here for the photo gallery of the Amazon Journey!


---
November 22, 2011 - Jewell Hollow, Page County, VA
"Watch out for the piranhas." "Don't drag your hand in the water." "Be careful of the alligators," are the range of comments by friends and family when they learn that Jeanne and I are about to embark on a 24 day Amazon River and Caribbean adventure aboard Holland America's Prinsendam.
This Fort Lauderdale roundtrip HAL voyage is not your usual sun and surf Caribbean Island float, with overnight sails between a string of islands and a couple of days at sea on each end. The capstone of this HAL voyage is a 2,000 mile, eight day round trip incursion in and out of the Amazon River. We will stop at three towns on our way to Manaus, a city of two million, where we will spend the better part of two days. As we retrace our way back to the Atlantic Ocean passengers will have the opportunity to explore two more river towns.
With headwaters in the Peruvian Andes, the Amazon River is over 4,000 miles long; it has 1,000 known tributaries; of these, 17 are at least a thousand miles long. Those are staggering stats. Here are more: The Amazon River basin covers 2.5 million square miles, encompassing two thirds of the South American land mass and touching nine nations. Brazil, of course, is the largest country in South America (larger than the continental U.S.) and the country containing the most of the Amazon rain forest; it makes up 54% of all the rain forests remaining on earth. The Amazon dumps into the Atlantic 15% of the fresh water spewed into global seas and oceans combined from all of the world's rivers; its muddy water plume can be seen 100 miles distant from its Atlantic entrance. The mouth of the river is so vast that it has an island in the middle of it almost the size of Switzerland.
On November 5, 1912, Teddy Roosevelt lost his quest for a third presidential term as the Bull Moose candidate, split the Republican vote, defeated Taft and as a result, elected Democrat Wilson. The defeat put the Rough Rider into a deep funk. After a lifetime of frenetic action, purposeful, hyper-adventure would be the only antidote to his depressive state. On October 18, 1913, Roosevelt's chartered ship, the Vandyck, landed in Bahia, Brazil. It offloaded the two-term president, his entourage and five tons of baggage. His life-threatening caper to traverse the unexplored Amazon tributary, The River of Doubt, had begun.
Jeanne and I don't aspire to board the Prinsendam with five tons of baggage or spend months attempting to kill ourselves fighting off disease and Indian warriors while traversing an unpredictable, raging river. That stated, our check list of to-do items before beginning the two day drive south; medications and vitamins; clothing and shoes; gadgets (cameras, binoculars); protective stuff like slickers and bug repellant, to pack and bring with us has ballooned to over 70 notations.
While Teddy Roosevelt tested his endurance while facing the dangers and endless rain of an uncharted Amazon tributary, Jeanne and I will give in to the luxury afforded us by Mother Holland America: a balcony cabin, with twice daily service, three varied, multi-choice and delicious meals each day (and room service availability if one's need is 5-6000 calories a day). We will enjoy evening show extravaganzas and daily lectures that Teddy would have envied. There will be six formal nights that Jeanne and I will dress up for and the dinner menu will be a bit more splendid as well. Teddy would have scoffed at our panty waist-luxury, and he would be correct. He went down the Amazon his way; we have selected the Holland America way, thank you very much.
---
November 26, 2011 - Holiday Inn, Hollywood, FL
From the road, we phoned for a motel reservation in Savannah; 8,000 Choice Hotel points paid for a Quality Inn on Abercorn St., which turned out to be a six lane main drag three miles from the river and old Savannah. The motel was the usual two story square, old and abused. We parked in a desolate lot behind the place that appeared so insecure that we laboriously removed our luggage trove and dragged it to our shabby room; further, I awoke in the night fearing that the new tires on the front of our swift Mercedes Benz coupe had been cannibalized and that we would be bereft and marooned in outer Savannah, Georgia.
Nicole, the young African-American woman behind the desk who well-spoke the king's English ("I'll tell my parents you said that and let 'em know that putting me through that private school paid off") told us of the Japanese restaurant and the American steakhouse on the side street crossing Abercorn. Jeanne and I set off at a brisk pace in search of sushi. The empty restaurant parking lot provided our first clue that the Nip food emporium was closed for Thanksgiving.
We walked on the grass along the sidewalk-less side street toward the bright lights of Abercorn St. Next to the gas station on the corner was the Abercorn Diner, toward which we strode. As we were about to enter, I spotted the flashing blue and red "open" sign of the Pakwan Indian Restaurant behind."No, let's try the Indian place behind it," I hollered to Jeanne, and the adventure began.
When we entered The Pakwan House of Indian Cuisine it was immediately apparent that we were the only clients in a space created for droves of diners; those who might have been in attendance on another Thursday evening were likely at home sated with turkey and other Thanksgiving table fare. Varun seated us at a small booth in the anterior area to the main dining room. As we settled in, our waiter informed us: "My name is Varum, but you may call me "V". I asked him if he were a Patel or a Mehta, and if so did he own a motel. "No, wrong city. I'm from Delhi. The Patel and Mehta clans are from the Bombay area," he responded with a smile. V is to receive his masters degree in industrial engineering in May from Georgia Tech.
Jeanne and I began our Thanksgiving dinner with a coned, fried vegetable samosa each, she with an iced tea and a Heineken for me. Normally in an East Indian food establishment we would take our main-course lamb in the form of rogan josh, chunks of meat in a creamy sauce. V suggested "shepard's choice" and we succumbed. It was a delectable part of the evening adventure: marinated lamb cubes, slowly cooked in a tandoor and simmered in a red (non-tomato) picante, Kashmiri sauce. Jeanne ordered us a side of Poori, a deeply fried puffy bread, that arrived at the table as a bread balloon. The shepard's choice was a satisfying new taste.
Midway through the meal it occurred to me that a second beer would be in order. "Why don't you try a Taj Mahal, (obviously an Indian beer) better than Heineken" offered Chand, the young Pakwan owner. I did, and when it was presented to me it was a full 22 oz. Bottle. The beer quality was as impressive as its quantity.
When I meet someone I perceive to be foreign-born, I always ask, and so I asked Chand, where he was from. "Queens New York. My father ran a chain of Indian restaurants. When it was time to open this place, my entire family came down to help decorate," he explained. Chand has just graduated with a degree in Psychology from Armstrong College, in Savannah, a college I called upon as a young Prentice-Hall college book salesman in the late 1950s.
During dinner, my dear friend Ted Jones called me from his Louisiana farm; during our chat, I mentioned that Thursday was our 29th wedding anniversary Near the end of our meal (and my 22 oz. Taj Mahal), Chand approached us and said: "Sorry I eavesdropped, it is an Indian tradition to have a sweet to celebrate anniversaries" So, in our honor, Chand placed on our table a small bowl of gulab jamun, deep fried milk balls, soaked in honey syrup. Oh my! Honey syrup, dripping sweetness and so delicious.
The gulab jamun was a fitting evening recognition of our wedding anniversary on the road. While we will never know the adventure that awaited us in the Abercorn St. Diner (Frost's "Road Not Taken") we were delighted with the meal and camaraderie in what South Magazine describes as the area's best Indian restaurant.
---
November 28, 2011 - Aboard the M.S. Prinsendam
Our two days at the Holiday Inn, Hollywood Fl were tranquil to boring. My most profound occurrence was a not-so-hot haircut at Hair Cuttery, late Friday afternoon—Whoopee! Then on to a mad cap swoop through a large supermarket, where we stocked up on cheeses, pate and crackers and pop (Midwestern-speak for soda)! Can it get more exciting? Saturday was watch college football on the telly day, as Michigan-Beat-Ohio State-For-The-First-Time-In-Seven-Years (and Virginia Tech clobbered Virginia.) Throw in a Saturday brunch at Denny's (big excitement: the couple seated next to us walked out on their check) and you have vicariously experienced our two day saga: The Frinks Take Hollywood. Suddenly, Sunday arrived and POOF, we were gone!
Registration at the Port Everglades cruise terminal was snail-like slow. The reason was the need for the Holland America clerks to ascertain that each passenger had a correct Brazilian visa; further, they had to determine that each guest had a valid Yellow Fever vaccination certificate. No one dock side would become a Prinsendam passenger without the yellow (no pun) World Health Organization form, even if they were to remain on board during the Prinsendam's 2,000 mile trek up and down the Amazon River.
Once registered, Barbara Caulfield, a cheerful and energetic shore employee led us on board; she turned us over to Aaron, Assistant Dining Room Manager, who saw to it that we met Andrea, the Guest Relations Supervisor. All and all, it was a very warm welcome back into the bosom of Mother Holland America.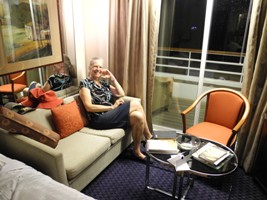 Our balconey cabin is on deck nine, forward, with a large walkin closet, a first for us, after numerous voyages on cargo and cruise ships (we have over 300 days aboard Holland America ships alone.)
The Prinsendam is unique within the HAL fleet. First, it is the only ship that Holland American didn't contract to have built; The Royal Viking Line owned her when her keel was laid in1988 and she became theViking Sun. I assume HAL acquired her because of her size, as she can ply shallower waters that beahmoth cruise vessels of today—1,000 feet long, carrying 5,000 passengers—would never dare attempt.. Thus, I would guess, we are aboard the only Holland America ship small enough to safely get 1,000 miles deep into the Amazon River. Second, the master of the Prinsendam, Captain Halle Thon Gundersen, is Norwegian. Our first ship master, when we began sailing with HAL in the 1990's, was Captain Vandenburg; all subsequent HAL masters have been Dutch, until now.
The Prinsendam is only 673 feet long, with a 24 foot draft. She carries up to 793 passengers, with a crew of 439. The ship is a minimalization of the other HAL ships we sojourned on. Everything is in the normal location: The Crow's Nest bar has the same sweeping 180 degree view from deck 11, over the bow; it is remarkably smaller than the other ships in the fleet. The same comparison applies to the aft Lido casual dining restaurant: It is in its usual place, 11th deck aft, but compacted down, as if squished by a pair of giant hands. All of the public places aboard the Prinsendam are in familiar locations, but downsized to meet the small overall structure of the ship.
Today we have cruised by some of the Bahama Islands, churning along at a brisk 18.3 knots (top speed 21.5) on a two-day straight line nautical propulsion southeast to Gustavia, on the miniscure island of St. Barthelemy (St. Barts to all.)
To those who follow Jeanne's exploits on the penny and nickel slots: When she arrived back in the cabin at midnight, after a diligent night-fight with the machines in the Tom Thumb-sized casino, I asked her what she had for her efforts. "I broke about even. I couldn't find the right machine," she wearily replied.
---
November 30, 2011 - At anchor, off Gustavia, St. Barthelemy, French West Indies
He was standing in the open door way as we ambled up a street parallel to the waterfront, Rue du Bord du Mer, Gustavia, St Barts. Slight in stature, the white-goateed man standing in the building threshold projected a quiet I'm-very-pleased-with-my-presence-at-this-time-and-place serenity. "My I take your photo?" He nodded; I shot. "Where are you from?" I replied and after a moment he said: "I'm the boss here."
Our aimless amble ashore had brought us to Le Select, a bar and grill that the man in the door way established in 1949. "When my wife and I started this place, my cap was the only thing I owned." Eighty-eight year old Marius Stakelborough (a family name from the time before 1878, when the Swedes gave St. Bart's to the French) tapped his cap at the memory. From a small side street shack, where business was conducted through an open window, he and his wife have built the saloon at its current site into an ample interior space with a bar, tables and chairs. Adjoining the building is a very large outdoor patio with tables, shielded by garishly-colored umbrellas. The patio sits on a busy corner of the Rue du General de Gaulle.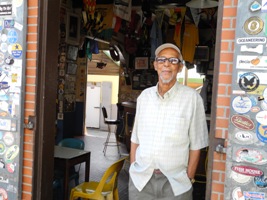 On an interior pillar nearest the bar are photos of Marius in Stockholm with the King of Sweden and Jimmy Buffet, who has played concerts in the joint. "Jimmy Buffet is my best American friend," Marius avers, (perhaps without remembering the Kalamazoo Ophthalmologist who saved the sight in his one functioning eye.) When Marius learned I was a travel writer, he walked slowly to a china hutch in the back of the room to retrieve a pamphlet for me; on the inside cover is a 1969 photo of Marius, his wife, Helen, and their nine—count 'em, nine—children standing in a line.
After finishing my beer and Jeanne's tonic water, we inquired of the bartender where I might buy liquor. "At the market, down the street," came the answer. The AMC Libre Service is a small supermarket facing the water. We purchased two .750 liter bottles of Beefeater Gin ($10.50 each) a decent-sized chunk of Brie Cheese, two bottles of Perrier Water and a very sturdy market bag. We stopped at a small park along the Rue du Bord du Mer on our way to the Holland America tender boat, waiting to return us to the ship. There, we poured out the fizzy water from the Perrier bottles, substituted the the gin and tossed the Beafeaters bottles in a trash can. After exiting the bobbing tender boat and walking a short gang plank into the fourth deck of the Prisendam, the shopping bag was placed on a X-ray conveyor. The Perrier bottles passed the test and, once again, the booze police were thwarted.
It was a short stop (8 am-3pm)on a small island. For Jeanne and me, St. Barts was another chunk of sun-soaked volcanic rock surrounded by gloriously hued, emerald blue water. It was a short sideshow to our center-ring Amazon River adventure.
Dinner at eight in the La Fontaine Dining Room; we won't be late.
---
December 1, 2011 - Aboard the Prinsendam at Dock, Castries, St. Lucia
When it rains in St. Lucia, it rains very, very hard.
Jeanne and I travel with yellow, thigh-length, rubberized slickers; they were needed today. Our goal, as we slipped out of the Deck Four forward gang plank, was to see the Cathedral of the Immaculate Conception, facing Derek Wolcott Square (named for a native son, winner of a literature Nobel prize); it is perhaps the largest church in the Caribbean and famed for the brightly-hued paintings above and around the tall, arched windows on the two sides of the interior vault.
We began the short trek past the Carnival ship at dock in front of the Prinsendam to the water taxi dock with the slickers tied around our waists, for a only a slight mist accompanied us. By the time we completed the 10-minute voyage in the rough and rusty water taxi and made the long step onto the concrete dock in center city Castries, a torrential rain was upon us.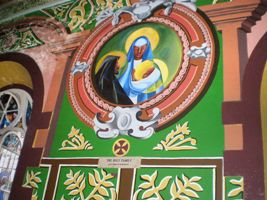 Protected by our hooded slickers and splashing along in boat shoes and sandals, we plunged on toward the Cathedral, passing local citizens who had paused on the sidewalk under building overhangs. The beautiful Cathedral, constructed in 1897, was worth our efforts to reach it. With permission from a man at the front of the church offering candles, Jeanne and I took a series of photos. Then it was back into the rain (falling more intensely than before), a slog through the streets to the water taxi dock, the brief ride, a brisk walk through puddles and we were again in our cool, dry Prinsendam balcony cabin.
The experiences of yesterday and today are pleasant, but they are a side show, a prelude to the main event; they are like an overture to a three movement symphony, the first card warmup fight to a world champion heavyweight boxing match, the opening act for—lack of another entertainer to come to mind—Jimmy Buffet. I want to get on to the main event and it is going to be like nothing that I have experienced in almost 60 years of travel to 120 countries and detached jurisdictions. How different you, dear reader, might well question. Let me count the ways.
Yesterday we received a letter from Captain Gundersen; the operative force in the letter briefly follows: "During out stay on the Amazon, it will not be possible to produce fresh water onboard due to the poor quality of the river water and the sediment that clogs up the evaporators." He goes on to state, obviously, that the passengers and crew will have to sharply curtail water usage while we make our 2,000 mile Amazon roundtrip.
Another example:You fellow cruisers are familiar with the in-cabin excursion pamphlets; they set forth how you can drop some of the family lucre on tours, horseback riding, rum-soaked sunset sails, ATV rides and any number of diversions while your ship is at dock or anchor.
To demonstrate how different the Amazon experience is likely to be, allow me to quote from the excursion pamphlet for Boca Da Valeria, Brazil: "No shore excursion is available in BDV. ...Take time to interact with the locals. Between...stall keepers, hunters, fishermen, children and shamans, you never know what you might see. SHAMANS? Are you kidding me? No tourist infrastructure at all?
Our next and last stop before the Amazon is the defunct French Devil's Island penal colony, though we won't land there because nature has completely reclaimed it; we'll land at Isle Royale, also part of the old French Guiana penal system.
Then...let's get it on. Let's get to the main event. Let's get to the Amazon River.
---
December 4, 2011 - En route Devil's Island, French Guiana to Macapa, first stop in Amazon/Brazil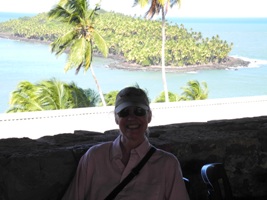 The three Iles de Salut (ironically, islands of health or salvation, depending on your interpretation) were part of the French Guiana prison system France maintained for a century ending in the 1950s. Devil's Island was the most notorious of the three (Royale and St. Joseph are the others.) The criminal courts of metropolitan France sent approximately 80,000 prisoners to the island prisons; 50,000 of them perished there. When the agony of a prisoner's earthly existence came to an end on Devil's Island, guards unceremoniously tossed his body into the ocean to feed the sharks, constantly prowling through the Atlantic waters below the tiny (3900 feet long, 1320 feet wide) island. The sharks and strong currents made escape from Devil's Island possible only in the delirium of its desperate inmates.
Yesterday, as we each prepared to enter a diesel powered Prinsendam lifeboat to be conveyed to the Ile Royale, passengers were exposed to the force of the local currents: the tenders were briskly swept up and down to the extend that passengers had to time their leaps into the small boats. Sharks neglected to make an appearance.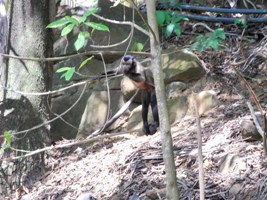 Upon landing on Ile Royale, some passengers set out to make a 45 minute circumferential sea-level tour of the island. After pausing to watch and photograph monkeys playing in a grove of trees, Jeanne and I began a climb over a series of uneven stone steps to the top of the island. At the summit is a grand view of the abandoned and now-palm-tree-overgrown Devil's Island below, across a 650 foot channel. Also at the summit is a drab concrete structure, once the guard mess hall, now a spartan, hotel, restaurant and anachronistic gift shop. At one end of the lobby, a perspiring French bartender sold Heineken beer and sodas to Prinsendam passengers, who had mastered the stone-step climb, as fast as he could shove out the canned liquid and take in dollars; at the other end, a dark-toned woman incongruously pounded a baby grand piano. Jeanne and I drank our beverages in an au fresco dining area, in order to view Devil's Island and its waving palm trees.
On the way up to the mess hall-cum-hotel, I stopped briefly to attempt an inter-lingual chat with an 80 year-old French Ile Royale resident. He appeared to be in the business of selling small, blue tee shirts from an inventory of only 10 to 15. I took away from our brief encounter that he was proud to be still working at his age.
The walk down, over the uneven stone steps, was easier, but we had to be cautious about picking up speed and ending up rolling to the bottom. The ride back to the mother ship was smoother that the outgoing one. end
---
December 5, 2011 - in route to Santarem, Brazil from Porto Santana, Brazil (Port for Macapa) Near the Mouth of the Amazon
It was pulse-pounding exciting to awaken this morning on the Prinsendam, as it floated at dock on the Amazon River near the mouth of the fabled, 4,000 mile, rich caramel pudding colored-waterway. From our balcony, with the aid of our binoculars, we could see a small community and the cross reaching skyward atop the village church. Recalling our home on the St. Clair River facing Canada, we gauged the distance from ship to shore to be one half-mile, mas o menos.
The Prinsendam at dock was approximately ten miles away from the city of Macapa. The exact line of the Equator passes through Macapa at some point; we were, therefore, during our time on the ship and during our exploratory walk in the neighborhood adjacent to the dock very close to 0° North.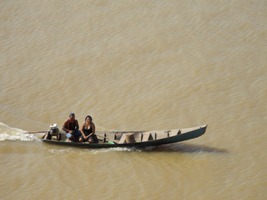 Jeanne and I enjoy our daily breakfast on the covered open deck behind the Lido, the Prinsendam casual dining site. This morning a few yards from the pier, we were confronted with two gargantuan high mounds of what I took to be lumber mill saw dust; a series of conveyor belts beginning at the mounds ended with a very long one running along the pier. The conveyor system and the "saw dust" made sense when, during the beginning of our walk, a young English-speaking port office employee set us straight: "Those are wood chips. They will be exported to Japan to make paper," Eloisa, explained.
After breakfast we indulged in the luxury of standing on our balcony watching the river traffic below. There were small, covered ferries, excursion boats and motorized canoes going up and down the Amazon . There are no community-connecting highways in the entire state of Amapa, of which Macapa is the capital. People and goods are flown in and out or they are conveyed on the Amazon and its tributaries. The highway-less and largely undeveloped state of Amapa is so vast (it extends to the French Guiana border) that The Cabo Orange National Park within its borders alone absorbs a jaw-dropping 1,550,000 acres.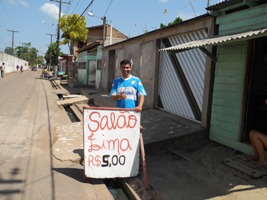 Jeanne and I ambled up and down dirt streets during our pre-luncheon walk. We passed very modest homes, one with freshly washed clothes on the line (it is Monday.) We stopped at a tiny hair salon ( hair cut 5 Reals--$3.10). I greeted each person I met alone the way with a hearty "Bon Dia" (Good Morning, in Portuguese) and the greeting was universally returned.
We learned after spending a few minutes meandering through an air-conditioned "super" market that beer was not sold within. We sought in vain an open cafe in which we could purchase and enjoy a beer and a cola. Then, we walked back into the port and returned to our Holland America home. When we reached our cabin, Jeanne and I realized our shirts were more than moist and less than dripping from our exertions in the near-90° heat.
Craig T. Oakes, Prinsendam hotel manager (he oversees 380 employees of the 420 aboard) is only 48 years old; but in that time he has worked on merchant ships; the P and O cruise line; owned (with a partner) a pub in Windsor, England; worked as beverage manager in hotels in Beirut and Amman (and catered for the Queen of Jordan); then back to England and Ireland to be part of the management teams of hotels in Dublin, Manchester and Nottingham—you know, Sherwood Forest. In 2004, a head hunter called about him about a Holland America opening in the beverage department. He was yearning to return to sea and after an interview in London (he grew up in the West End) he signed up. Since that time he has worked his way up to hotel manager and is now responsible for the food, drink, cabins and general comfort of the passengers aboard on this Amazon cruise.
"I'm very happy with Holland America. I enjoy working with the Indonesians and Filipinos, who make up most of my staff. Those smiles you see come from the heart," he explained to me in an interview. Oakes is also a proud family man. "He's my hero," he says of Charles, his son from a previous marriage, an honor student in his second year at The University of Leicester, UK. "He is taking advantage of opportunities I didn't have."
Craig's wife, Clarina, is at home in the Philippines with their four year old daughter, Clara; he and Clarina met on the Maasdam, another Holland America ship.
---
December 7 (The Day of Infamy, FDR called it 70 years ago), 2011 - En Route from Boca Da Valeria to Manaus, Brazil
" Now you'll see the real Brazil," said one of the Holland America officers I had previously met, standing on the wooden near-makeshift dock near the minuscule Amazon River community of Boca Da Valeria. He continued: "One woman on the tender asked me where the shuttle and shops were", he said. "I told her: 'Madam, there is no shuttle and there are no shops.' She told me: 'Then I won't get off' and she didn't." Boca Da Valeria is the Amazon Riverside spec of dirt that Holland America literature describes as having no tourism infrastructure; ergo, the company offers no organized tours or activities for the stop. Therein lies the tale.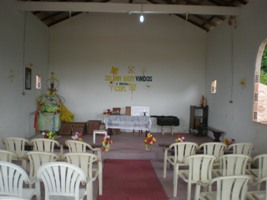 As Jeanne and I exited the tender, small children politely attempted to take us by the hand, one on each side; we, just as politely, declined. Many of the grandfather and grandmother passengers accepted the offer. Later, I heard one "grandmother" tell the little girl who had adopted her: "Dear, I don't have any more dollar bills."
Boca Da Valeria has a small, white church; inside, the "pews" are WalMart-like white plastic chairs, lined in rows before a modest, colorful alter. We were left to ponder how often the residents receive sacraments from an ordained priest. Next to the church is a tiny school. Are its students blessed with a teacher? Regardless, it was transparently clear school was out during the five hours the Prinsendam tenders flowed back and forth to the dock. An impressive number of children swarmed the visitors.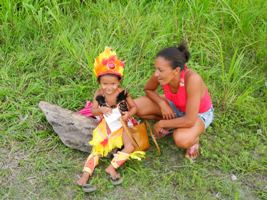 The children did not beg. If a child posed for a photo, a dollar bill was the price; I succumbed to more than one costumed Amazon River-water-toned little girl. The homes in Valeria are small, open-windowed, shacks built on stilts (Oh, the Amazon does rise during the rainy season.) Some had hammocks hanging between stilts, obviously to alleviate the lack of sleeping space in the home above.
We found the open, thatched roof saloon at the far end of town. It offered cold beer in a can, small bottled water and what appeared to be an imitation Coke or Pepsi (yes, this section of the Amazon River is so remote Coke has yet to find it.) Our drinks were removed from a jumbo Styrofoam container filled with ice. The community has at least some electricity, perhaps created from private generators. Count on it: The Brazilian version of Consolidated Edison or Virginia Power is not yet even a dream for the residents of Valeria.
"Did you take the river boat ride", asked a fellow Prinsendam passenger seated next to us at the al fresco saloon. Jeanne and I had taken up the subject in jest, but we had no intent to test the efficacy of the local river boat builders. "Oh, it was wonderful. Five dollars apiece for 45 minutes, people fishing, birds, houses. You won't regret it." Jeanne and I looked at each other. "Well..." I said and we were off on the 50 yard walk down to the Rio Valeria, picking up a waterman on the way.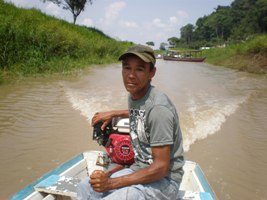 Our blue and white conveyance was, I surmised about 18 feet long. It was powered by an outboard engine that would produce a smirk on Mr. Evinrude's face. The tranquil time was as the women in the saloon had convincingly stated, with the added sight of a mixed herd of cattle slowly ambling near the water's edge. On our return, we saw the cattle come galloping around a bend with three young men in hot pursuit.
We passed a boat larger than ours, with a canopy; in it, were a Prinsendam couple and a "grandson" for the day. The male passenger motioned to me and made me understand that their grandson had caught a small fish with his hand. The boy held it up. Also on our return to Valeria, we passed almost almost a baker's dozen of boats similar to ours crammed with children and mothers. As the Prinsendam was soon to haul anchor, their "dollar bill" work for the day was completed and they were are their way home to...?
The sun glistened throughout our few hours ashore and afloat on the the Rio Valeria. The Amazonian River Basin flora we encountered was bright green and lush. Our un-programmed time in Amazonia was an unique peak into another time and place.
"After a day like today, isn't it wonderful to have the HAL air conditioned comfort and great food to come back to," I said to Jeanne, as we ate a late luncheon in the Lido.
---
December 9, 2011 - Aboard the Prinsendam in route Manaus to Parintins, Brazil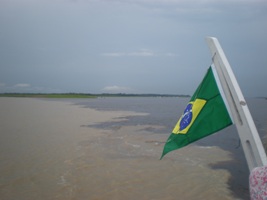 If I were wearing boots I would now be shaking in them. In my modest essays, I hope to bring you, dear reader, the tiniest knowledge snippet of the majesty and vastness of Amazonia (The Amazon rain forest); further, I wish to relate our experiences along the largest river system and greatest fresh water source in the world in a such a way that my words tingle in your gut to give you a tiny drop of the Amazon immmersion that Jeanne and I are experiencing. I know I will fail and that is why I tremble.
The guide on the excursion boat that took us yesterday where the Rio Negro (Manaus, the largest Amazonia city sits on its shore) is just a few miles east of the point where one can visually grasp the joining of the muddy Amazon and the opaque "black" waters of the Rio Negro, introduced us to a floating universe.
The Amazonia rainy season extends from December through June. The Amazon in the area that includes Manaus is flat as a pancake, which causes it to expand in width from one to five miles during that seven month of daily rain. The dock in the center of Manaus, to which the Prinsendam was tethered during our 30 hour stay, floats.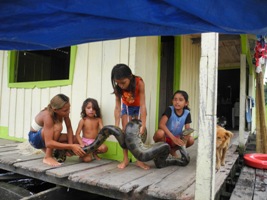 Yesterday, after two hours aboard the double-deck excursion boat, passengers transferred to a series of "canoes" - narrow, outboard-engine-propelled wooden boats, slightly larger than the one we experienced on the Rio Valeria. Into Lake January we scooted, in a fleet of canoes; there we saw up close—very close indeed—humble shacks built on logs. At one tiny home, as the bow of our canoe tapped the floor of the glass window-less shack, the four daughters brought out their eight foot long, chubby, three year old, pet Anaconda snake for our inspection. The crew chief of the excursion boat rode in the bow of our canoe; he gave the oldest girl a Real note. When the river rises, the Amazonian world rises with it.
The crew chief explained to me how it is that electricity exists in the remote outreaches we had seen in Lake January and along the Amazon: "Lula (immediate past Brazilian president) started it and Delma (his former chief of staff and now president) continues it. They want Brazilians to develop Amazonia before others try to take it. The government will extend you electricity if you will live out here. The electricity here comes all the way from Manaus," he said.
How large is the Amazonia that Lula and Delma wish to lure Brazilians to pioneer? The data that Holland America has provided us is staggering: 1.2 billion acres, beginning as runoff from the mountain snow caps of Peru. Eight other South American nations share Amazonia. Brazil contains 60% of the rain forest within its national boundaries. Here come some of the mind-numbing Amazonia statistics: It is home to 2.5 million different insects; 40,000 plant species; 3,000 different fish; 1294 birds, 427 mammals, 378 reptiles. This is a quote from the HAL daily Explorer of Wednesday, 12/7: "...one square mile can contain over 75,000 types of trees." The enormity of Amazonia is beyond human visualization.
Manaus is the largest Amazonian city. It was a boom-town of gargantuan proportions from 1890 to 1920, when rain forest trees contained the only rubber latex in the world. What a monopoly! Manaus fortunes were made, palaces were constructed, a huge (now restored) opera house was built. Then, like the explosion over Hiroshima, it was all over. During the boom, a British scientist secreted thousands of rubber plant seed out of Brazil. Enterprizing Brits planted them in neat rows in Malaysia; when those trees grew to become productive, the laborious gathering of laytex from wild rubber trees of Amazonian rain forest was no longer profitable and the enevitable bust of the boom to bust cycle fell upon Manaus. The area did not revive until the mid-20th Century when the Brazilian government turned the city into a free trade zone. Now parts from China shipped in, assembled in Manaus and sold to the world as Made in Brazil electronic goodies. Manaus is back in business.
---
December 10, 2011 - At anchor, Off the Village of Parintins, Brazil, 350 Amazonian Miles NE of Manaus.
With small plates of salads in hand, we walked through the Lido casual restaurant to enjoy a light meal in the aft outdoor dining area, where we invariably enjoy our breakfast. The automatic sliding door would not budge. Jeanne waved her hand over the ray gun controlling the contraption. It refused to respond to her entreaty. "Oh well, let's just sit inside," she said. After we consumed our simple luncheon, Jeanne returned to the door because she could see that a printed sign had been placed on it. "Due to inclement weather and for your comfort, this door is temporarily closed." What weather would dictate that passengers should not enjoy their meals in the open, but covered, deck 11 aft dining area? Heat!
How hot is it, a probing reader might ask - 95° (F), with humidity of 78 percent. When we returned on the tender from Parintins, a genuinely funky little Amazon River town, we realized our shirts were perspiration-drenched when the Prinsendam's cool air smacked us as we entered the bowels of the ship. I relish very hot weather, muggy or not. Experience has taught me that I am in the heat minority. I can virtually hear the moans of some readers as they visualize participating in a sunny, muggy, 95 degree day on the shore of the Amazon River.
Parintins is known for one thing: an annual, three day, late June festival—alleged to be a mini Rio Carnival—called the Boi-Bumba. It pits one Parintins clan against another in competitions for music, costumes, dancing and the general madness that Rio's renowned bash represents.
Jeanne has been looking for an attractive Tee shirt, one with substantial fabric and an attractive motif; strangely, we have not found one on our travels up and down the globe's greatest river. Today we popped into a Parintins curio shop, in our continuing search for the garment that would project such charm, beauty and uniqueness that we would part with a portion of our dwindling Yankee Dollars.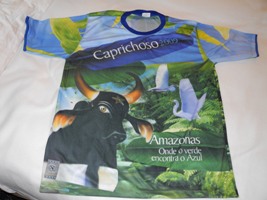 I entered the shop after Jeanne had had time to case-out the joint. "They want $25 for a Tee shirt," she said."Ooooo," I replied, as if I had been mildly wounded. "Let me give it a try." I have found that I can achieve basic communication with some Brazilian-Portuguese-speaking folks by speaking Spanish (the languages are similar except the pronunciation differences of many words). I asked the clerk if she had anything cheaper. She brought out a green and blue shirt that had "2009" printed on it. I asked how much. She said $15, and was immediately countermanded by a male voice from behind me: "Diez." The clerk told me that it was the only garment in the store at that price. Jeanne tried it on; it fit. SOLD to the tall lady for $10.
As we sat sipping our beverages at the open-aired saloon overlooking the river and the Prinsendam anchored in the distance, I said to Jeanne: "Let's see what we have here," and pulled the "T shirt" from its bag. We examined the nylon-ish shirt and came to realize that we had bought a 2009, Boi-Bumba competition jersey; Jeanne even identified the clan to which she was now symbolically attached. Is this hip or what? She is virtually certain to be the only woman in the entire Commonwealth of Virginia with her very own Blue Team, 2009 Boi-Bumba jersey from the bush-league, Amazon River town of Parintins, Brazil.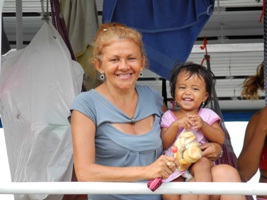 The Prinsendam Parintins shore-side tender station utilized the same dock as the Amazon River Boat to Somewhere; of course the people on-board knew where they were going on the Amazon highway, only I was in the dark. We did not speak, the travelers and I, but much was clear to me. The people peering out at me from that open deck were happy to be aboard. They were also pleased to be photographed by a tall, light-skinned, foreign stranger standing a few feet below them One woman held up her granddaughter to assure that I adequately recorded the two of them, in a photograph they will never see. A family of four posed for me, patiently waiting until I clicked off the image that gave me satisfaction. Their smiles radiated.
There might have been passenger cabins toward the bow of the boat, but the people I briefly encountered on that Amazonian River boat were going to sleep in the open, in hammocks, during their overnight voyage; some were hanging in wait. I didn't know any of the logistics of their river journey: what sanitary facilities existed or if there would be food to be purchased or if the passengers had carried aboard their voyage vittles.
I knew nothing of the subjects of my photos taken as I stood on a strange dock, yet I felt a bond with them. They were happy travelers, as am I. They were content to be off on a less grand and luxurious adventure than the one Holland America has put before me, but an adventure nonetheless. I silently wished them Bon Voyage for now and wherever their life adventures shall take them.
---
December 13, 2011 - Churning through the Atlantic, en route Alter Do Chao, Brazil to Bridgetown, Barbados (Three Days at Sea)
The last astounding Amazon River statistic I shall thrust upon you during this marvelous Holland America adventure: The flow of the muddy Amazon into the emerald-to-blue-Topaz Atlantic, as the two meet at the Amazon River Delta, is a pulsating and mind-stretching 46,500 GALLONS PER SECOND.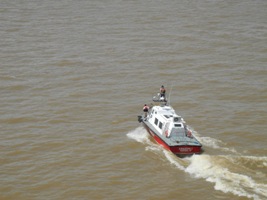 Jeanne and I were momentarily touched with nostalgia as we watched the final two river pilots (long stretches of the river required the doubling up, so one pilot was awake on the bridge at all times) climb onto the waiting pilot boat and speed away. While the Prinsendam was still navigating in the Amazon, we knew the end was near.
Alter do Chao was the Prinsendam's final Brazilian pause (8am-3pm) as we lunged northeasterly, toward the Atlantic. Alter do Chao is different. It is a beach resort, sited on the Rio Tapajos. Clear water and its seemingly endless beaches are in radical contrast to the lush, impenetrable rain forest bordering the silt-laden Amazon. The dry season has just ended; as a result, the Prinsendam was forced to anchor far from shore, with only a meager yard of water under its keel.
We enjoyed our time on the shore of the Rio Tapajos. Jeanne walked into the water, an occasion I dutifully photographed. We then strolled through the town. As we strolled toward the beach fronting the town, we again encountered Frank Buckingham, the travel lecturer aboard the Prinsendam, in an open air restaurant. Again, because for whatever unfathomable reason, beginning in Santarem and continuing in Manaus, Parintins and now Alter Do Chao, we have had unplanned encounters with the Lincoln College, Oxford educated (philosophy, economics, politics) Londoner, in shops, saloons and restaurants.
Frank is the personification of the American visualization of the well educated Englishman; in this case, a slightly stooped, thin one, old enough to have lived through the Nazi blitz of London during World War II. His going-ashore uniform reinforces American's vision of Frank as the stereotypical proper Englishman abroad in the colonial tropics: Black shoes, black trousers, a long sleeve, white open collar shirt, with a silk cravat properly covering the collar opening. To top it off (pun intended), a spotless, white Panama hat with a black band. To chisel-in-stone the image of a proper Londoner, Frank carries a long, tightly wrapped black umbrella.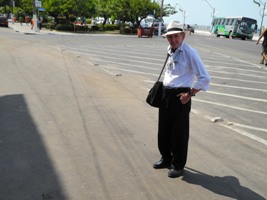 "After college, I spent three years teaching at Finchley Catholic Grammar School, which I attended as a boy," he explained. Then, at the age 25 or 26, he can't remember exactly, he turned to the travel business by taking small groups on tours of London. Frank speaks for a living, and to put it in his vernacular, he does it very very well, indeed. Aboard ship, he gives at least one hour lecture a day on areas to be visited and has office hours (much like a university professor) to answer passenger's questions. "The Mediterranean and North Europe are my specialties, but I have traveled the world for so long I've been most everywhere and can hopefully share that experience." Frank's lectures that I have attended have been informative in the extreme and delivered in the dry wit one might expect from an educated Londoner. He appears to leave his audiences enthralled.
The Prinsendam recrossed the Equator yesterday. The obligatory King Neptune age-old ceremony of initiating crew members new to the experience of crossing the global band that delineates the southern and northern hemispheres on a ship was dutifully held at the pool area, deck nine. The initiates (pollywogs) were rounded up and imprisoned until the cruise director called their names to be led before King Neptune to kneel and receive their sentences (laid on tables and lathered up with salad makings—including dressings, then tossed into the pool by the "pirates", played by the Prinsendam singers and dancers.) Passengers were out on force on deck 11 and the pool deck to observe and enjoy the ritual shenanigans.
---
December 15, 2011 - At Dock, Bridgetown, Barbados
It was an unusual time of day for Yoga, our cabin steward, to knock and ask to enter cabin 126, nine deck; usually he is in our cabin before noon to clean and again while we are dining in the evening. "This is for you," he said as he handed Jeanne a small flower arrangement, built around four red roses and a small envelope.
The hand-written note began: "Dear Mr. and Mrs. Frink, We want to thank you so much for having us to dinner with you last night. We can't overstate how much we always enjoy your kind company and fascinating conversation. We truly feel fortunate to have had the chance to meet and spend time with such wonderful people. It was very special." And therein lies a story.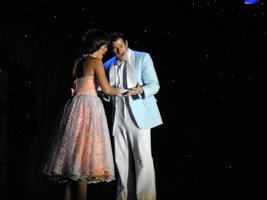 Jeanne and I boarded the Holland America S.S. Amsterdam in Singapore in mid-March, 2010 to begin a luxurious, 38 day trek through much of southeastern and northern Asia, including Cambodia, Vietnam, China, South Korea and Japan. The final foreign stop (Canada doesn't count in my compilation) was a fishing fleet city in Siberia; there, I gorged myself on the golden, little finger-end-sized caviar on Russian black bread (washed down with vodka, of course) graciously provided gratis by what I took to be the chamber of commerce of the unspellable city at the tip of the Kamchatka Peninsula.
During our portion of the HAL 2010 Grand World Voyage, we, as always, took special notice of the talents of the singers and dancers responsible for the periodic, spectacular Broadway-musical-esque shows presented after dinner. During our time on the Grand World Voyage, we became acquainted with the lead singers, Jini (Jeannie) Scoville and Josh Hamilton. They each have university-trained voices, which when combined in duets that include soaring reaches into their high ranges can, and sometimes do, give me tingling goose bumps.
At the time of the world voyage, Jini and Josh were entered a period of forced-breakup from their personal and professional relationships. Their contracts were to end when the Amsterdam completed its global circumnavigation in Los Angles; Jini grew up in Burbank and still lives in L.A. Josh was on his way back to the Midwest, where he was raised near Cincinnati and graduated from Bowling Green University, Ohio. I remember him saying: "I really hate to see this group break up." It included another mixed pair of singers and four dancers. "It is the best I've ever worked with," Josh explained to me.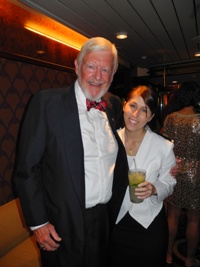 The first evening after-dinner entertainment in the show theater aboard a Holland America voyage is always a prevue/promo of some of the shows passengers are free to enjoy during their time on-board. To our delight, on Sunday evening, November 27, Jini and Josh sang a short number. I didn't remember their names on first flush, but I knew certainly that they were the young (she now 26, he soon to be 30) couple with whom we had become acquainted during our Grand World Voyage, now approaching two years ago.
For reasons known only to others, I was informed by Craig Oakes, the hotel manager, that during the Amazon Explorer voyage I have been assigned a "personal concierge." I have, in fact, been given a bull pen of the darlings: Meirielle, Isabel, Noemi and Carolien, all bright and attractive front office employees. I have tended to conduct much of my business through Noemi (No-amy), an Italian young lady raised in Tivoli, a Roman suburb. After checking with Linda, an English woman and the first female cruise director I have encountered, to determine Jini and Josh's names, I had Noemi inquire of the young couple if they would wish to have dinner with us in the La Fontaine Dining Room.
Our foursome dinner date was a boffo success. Over after-dinner coffee, the conversation raged on, until our table was the near-last to be vacated in order that the waiters and assistants could set up for the next morning breakfast service. Thus, we received the lovely note, flowers and another sea-going story has been told.
---
December 16, 2011 - Aboard the Prinsendam, En Route to Oranjestad, Aruba
There was confusion in cabin 126 for sometime about St. Vincent and the Grenadines and something called Bequia (pronounced Beck-wee). The itinerary we printed off from the Holland America website, and continue to use, states our port of call today was "Port Elizabeth, Saint Vincent And The Grenadines." The small map on the itinerary page, detailing all of the ports of call during The Amazon Explorer voyage, demarcates Bequia as our port of call.
Jeanne and I are a well-traveled couple (I won't bore you with chapter and verse of our journeys over the last four decades—and my chapter is longer.) Returning on the tender to the Prinsendam early this afternoon, I said to Jeanne: "I swear to God I had never heard of Bequia." Now that we spent a few delightful hours in/on Port Elizabeth (named in honor of the current and seemingly perpetual Queen of England) and Bequia Island, let me run it down.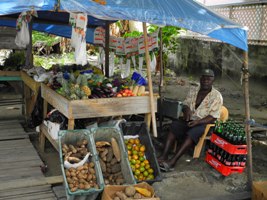 Saint Vincent And The Grenadines is a tiny island nation which became independent of Great Britain in 1979. Saint Vincent is the principal island of the national federation and referred to locally as the "mainland;" it contains the seat of government. Port Elizabeth is the main town on the island of Bequia. Bequia is the largest in the Grenadines chain of over 35 small islands. Obviously, when we planted our feet on the Port Elizabeth dock today we were visiting Port Elizabeth, the town; Bequia, the island; and Saint Vincent And The Grenadines, the nation, all for the first time.
I state unequivocally that Bequia, the Caribbean island I became aware of today (AND learned to correctly pronounce its name,) is a tucked-away-from-the-Caribbean-beaten-path delight. First, its people treat visitors casually, none of the constant hustle and confidence games of the "tourist" islands (take your pick.) There are no Little Switzerlands, Diamond Internationals, Colombian Emeralds or duty-free shops polluting the waterfront and main drag (they are one and the same in Port Elizabeth.) There are no Carlos and Charlies tourist trap, booze joints; not even a Denny's 24 hour restaurant graces the island. There are no high rise buildings jutting out of the sand on Bequia,the seven square mile sandy spec in the Caribbean. There are no time-share hotels. To put Bequia in context: Try to imagine what St. Thomas looked like 60 years ago, when A. H. Riise was one of the very few main street shops catering to visitors.
"I read an, ad in the Wall Street Journal about land for sale here, came down and eventually bought a chunk of the island. That was 18 years ago, and I have been living here full time for the last ten." Jeanne and I were in the dock-side Bequia tourist office when I struck up a conversation with Emmett Pace, a tanned, diminutive 70s-something man from South Carolina. He was a willing wealth of information about everything Bequia. Jeanne and I absorbed his flow of island knowledge. Health care? "There is one government doctor; the nurses try, but there is no equipment here." Vehicles? "They raise much of their government revenue here from import duties, after all, everything is imported. You bring in a car from the States, the import tax will double its cost." Before we took his leave, Emmett offered to sell us a compound (two houses and a guest house) for $998,000, "they turned down a million two last year." I told him that when we were in the market for Bequia real estate he'd be our man.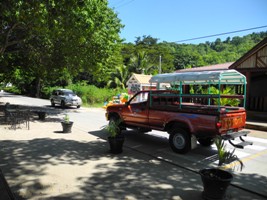 We next strolled the beach-side narrow, concrete walkway; it is so deliberately placed at the Caribbean's edge, that wavelets lap gently over it. We stopped at the clap board Hotel Frangipani; given that it features some rooms without private bath, it clearly has more in common with a guest house than a modern hotel. We were at the far end of the sea-front sidewalk. "What do you want to do now," I asked Jeanne, "tour of the island or the beach?" "The beach," was her expected answer.
After walking back to the middle of Port Elizabeth and the Prinsendam's small tender dock, we engaged a "taxi," an old Japanese pickup truck with two benches built along the sides of the cargo box and a wooden canopy as sun shade. "Take us to the beach," were the only instructions needed. Bequia has several long, wide, picture-post-card-quality, Caribbean Sea-meets-sand sites. We left the selection to our driver; he chose well.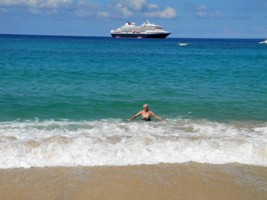 Lower Bay Beach is a comber's perfect vision. Our momentary piece of it was directly in front of and across the narrow paved road, from Mango's Bar and Grill. It was one-stop shopping: We rented two padded beach lounges, purchased a Coke Zero, a rum punch and lastly, for the road, a local beer. Most importantly, Jeanne delighted in bouncing about in strong Lower Bay Beach waves. When she removed her bathing suit to shower and dress for dinner, a full handful of sand fell to the tiled floor of our cabin bathroom.
As we waited for the return of our taxi, I chatted amicably with a Canadian gentleman who, with his wife, had arrived to have a Mango's lunch at a table on the beach side of the road, near where we waited for our return taxi."Toronto," he replied to my inquiry as to his residence. "It gets cold there," I smartly returned. "Oh, we have had a home here for 15 years and haven't seen a Canadian winter in ten. We come in November and stay 'til spring." That two-handed forehand smash ended the match. Later, when I commented on how remote and unknown Bequia is, he replied: "Most of us wish to keep it that way."
Back in Port Elizabeth, we successfully walked Main Road in search of a Tee shirt for Jeanne as a memento of our brief discovery mission to Bequia. It is an island over which we'll pine for long sojourns during winters yet to unfold.
BREAKING NEWS: Jeanne was agitated early this morning, when she returned to our cabin after her customary casino stint: "I had a 10,000 units payout. The machine said 10,000, I couldn't believe it." $100 is a lot of money for one hit, when playing a penny slot machine.
---
December 19, 2011 - En route Aruba to Ft. Lauderdale
Over the years of voyages, beginning with an Atlantic crossing on the Cunard Line Queen Elizabeth II in 1978, I have tended to be reflective as time aboard ship fades to an end; that time is upon us. The Prinsendam is at sea for its final two days in its incarnation as the Amazon Explorer. Wednesday, after sliding its explorers of the Amazon down a chute to a Fort Lauderdale dock, it will take on a load of Christmas and New Years revelers and become The South Caribbean Holiday Cruise.
One issue I have sometimes reflected upon is the number of days that I have spent aboard ships. Jeanne and I have luxuriated aboard Holland America ships alone for 149 sailing days. We spent 14 fascinating days on the Aranui, out of Tahiti, exploring the Marquesas Islands. We have done the Baltic, St. Petersburg and Scandinavia in two weeks aboard a cruise ship. We spent 14 days sailing the Mediterranean aboard an Italian cargo ship. I spent 47 days as the lone passenger (until Jeanne came aboard in Amsterdam and we perceived we were at death's door during an overnight November North Sea storm) on a Grimaldi vehicle carrier that churned from Antwerp to Luanda, Angola, West Africa and back to Hamburg. After a stop in Douala, Cameroon, the Republica di Genova was ten days between ports-of-call on its return to North Europe. We did a Greek Island cruise and, of course, Jeanne and I have enjoyed Caribbean cruises beyond count. Alas, I'll probably never know my complete voyages dossier.
When aboard Holland America ships, another issue I often reflect upon is the over-the-top-luxury that a HAL voyage entails; luxury that is affordable to middle class people. Where else can one choose to enjoy three daily multi-course meals in a formal dining room setting, served on custom-made Rosenthal, blue and gold edged china, by pleasant and attentive young men who ascertain that your utensils are correctly in place for the course you are consuming and that your stemmed water glass is seldom empty? Where, indeed?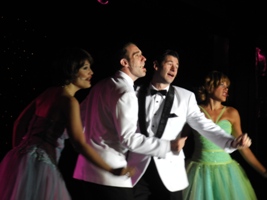 The Lido, the informal Holland America dining site, offers breakfast (Eggs Benedict, a pancake or two, milk and coffee for me) lunch and dinner; and from roomservice, Jeanne and I have enjoyed a full breakfast, served on our cabin balcony. Room service is always happy to serve (before I begin writing my essays, I call for a pot of coffee, cream and sugar and POOF, they arrive magically.)
Where in the real world of the 21st Century is your bedroom cleaned twice a day? Where is it in that same real world that professional entertainers, including Broadway production-like shows with a resident group of energetic singers and dancers, entertain you in a theater setting, situated a few moments from your front door? Lectures, bingo, first-line movies, a casino? They are all here.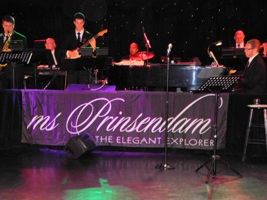 Wish to take dining luxury up a notch? For a premium, HAL guests are offered an intimate, hushed setting (dark wood paneling, Murano Glass light fixtures) with a posse of white-jacketed waiters scurrying about to do your bidding. The Pinnacle Grill offers a choice of top notch meats and seafood; the meat selected is carved for you table-side.
Music? An electric quartet plays for dancing each evening in one lounge; a three-piece string group plays in another. A piano man plays until late evening closing in the 11 deck bow lounge. The six piece band that backs up the vocalists and other performers that rotate on and off the ship during a voyage, also occasionally plays for dancing.
For Jeanne and me, a Holland America voyage adds up to luxury; with an itinerary as imaginative as the Amazon Explorer, adventure and discovery are also thrown in.