A South Pacific Adventure

Click here for the photo gallery of the South Pacific adventure


---
27 March 2013 - Rydges Hotel, Auckland, New Zealand
"My purse," Jeanne exclaimed, and bolted out of the room! I stood stunned for a moment. I knew that her purse contained our passports. Obviously her purse, passports and a few hundred dollars were out of her possession. Next to death or injury, a traveler's most horrific nightmare is to become inadvertently detached from his or her right to travel the world and return home. I waited, but not for long. My usual low-level anxiety grew to a fever pitch. In the elevator, I pushed the wrong floor button and exited on the first floor instead of the ground (lobby) level. As I started down the stairs to the lobby, I heard Jeanne's voice ring out clearly: "Thank you so much." I looked down. She was in front of the elevator bank, clutching her purse.
The Rydges has lobby bars. The fancy-coffees bar sits in a windowed corner facing the street; the booze bar is more dimly lit, further into the bowels of the lobby. Jeanne and I had enjoyed a couple each of "Flat Whites", New Zealand-talk for a thick Latte. She had placed her purse on an empty chair beside our table. After coffee, we sought out the gym on the third floor.
When we were safely back in room 908, I asked "What happened?" "Well, I rushed to the lobby. A man was sitting at our table. He saw the look of terror on my face and immediately said: 'Check at reception.' It was in the safe; I had to wait for someone to open it. The desk clerk asked: 'Would like me to send it up to you?' Oh no. I'll wait, thank you." Our passports have now been safety deposited in our room safe.
Air New Zealand cheated us out of Tuesday. We flew from Los Angeles at 11: 20 pm Monday in a Boeing 777. Thirteen hours later, when we landed in Auckland, it was 7:30 am Wednesday morning.
We are in Auckland in order to on Saturday board the Holland America's Oosterdam; it is scheduled to convey us to four additional cities in New Zealand, three in Australia and on to exotic South Pacific island nations: New Caledonia, Fiji and the Samoas, the U.S. version and its independent sister; then on to Seattle.
Jeanne creates our travel plans and itineraries. We flew United Airlines from Dulles to Los Angeles on the five hour first leg of our current odyssey. New Zealand Airlines was the choice for the non-stop, 6525 mile, southwestern sweep across the vast Pacific Ocean. After our reservations were secured, Jeanne received an email from Air New Zealand wanting to know if she wished to bid on upgrading our status from Economy to something called Premium Economy, with Spaceseat Preferred. We could put in a bid, and the folks at Air New Zealand would let us know in three to seven days before departure if we were to win the right to put our bottoms in seats above Economy and below Business Class. Jeanne submitted a low-ball bid; she "won."
What she won was our admittance to a unique long-haul flying experience: The three across, two seat high-back, laminated pods. Each seat is angled away from its pod-mate, for those who wish no physical or spiritual contact with the other; for those traveling with their main-squeeze, each may raise his or her leather-covered armrest, joining it with the other, forming a large elbow to elbow playground." This whole Premium Economy concept is Air New Zealand's idea. We used a sail maker to form the curvature of each pod," said Maria, service director for the flight. "You mean Boeing didn't have anything to do with the design," I asked. "No, absolutely nothing, it is all Air New Zealand.. We are a small country, but we have people with great ideas, and this is one of them," she concluded The height and curvature of the pods allows passengers to snuggle their (larger than normal) airline pillow and their sleepy head into the curve, while their feet slide effortlessly into a hole in the pod ahead. Jeanne and I agreed, it was the most restful time on an overnight flight we have ever enjoyed. Later, Paula demonstrated for me how Air New Zealand's full bed system operates in business class. A full length bed when made up; a high-sided seat when not. Neat. Next time, dear reader, when you are about to fly the 10,000 mile (rounded off) trip from the U. S. East Coast to New Zealand, I would suggest you give the flying Kiwis a shot at your business.
After a full night of sleep in a king-sized bed in a fine Auckland hotel, Jeanne and I killed jet lag, were rejuvenated and ready to begin our exploration of Auckland (oh so far away from home) New Zealand.
---
29 March 2013, Good Friday - Rydges Hotel, Auckland, New Zealand
For years, Jeanne and I have proclaimed that we would save New Zealand and Australia for near the end of our world travels."They speak English and they have the same culture as ours," I would remind friends. This compared to exotic countries where the cultural stimulus goes off with a roar, like a NASA rocket bound for the moon. The first time we visited Paris and Venice, we had to drag ourselves away from the mesmerizing spell those ancient cities had cast over us. In your mind's eye try to compare being in Bangkok, with its enchanting temples and gracious, self-effacing people with being in Toronto, Canada; or for that matter, Auckland, New Zealand, where cultures and family lines spring from England, as do ours.
It was after the cocktail hour. Jeanne and I were on the street in search of dinner. A hundred yards down Federal street from the hotel, the street ends at St. Patrick's Square. Absorbing much of that square is The Cathedral of Saint Patrick, the seat of the Roman Catholic Church in Auckland. Earlier in the day, we had lazied about the square, as I took photos of the exterior of the church.
As we approached the Cathedral last evening, we were drawn to it by the light streaming from the interior. We stood at the entrance for a few moments, peering in at an ongoing mass; clearly, the church was full of parishioners. Suddenly, a hunched over, wiry man, dressed in white, appeared as if threw between the legs of the people standing in front of us. "Come with me, there is leaning room at the back." Mysteriously, we followed the man. He took us through a side door and midway up the vaulted church interior; we were in the nave, facing the The Bishop, and the row of lesser-ranked priests conducting the Mass of the Lord's Supper. As we began our "lean" against the wall, a well-dressed young man darted from his seat in the pew in front of us, and by the strength of his hand wave, insisted we take his place.
Here we were: Protestants, suddenly guests without plan or rationality, during a high Roman Catholic Mass in the Cathedral of a city almost 10,000 miles from. We were stunned, saying nary a word during the entire enchanted experience, which we calculate lasted over an hour an a half.
The thin, spare woman, with straight, white-hair could have been a retired nun, she was so unadorned. She sang like God him/her self had delivered her crystalline soprano voice. Embarrassed that I could not keep up with songs and responses to the priest's words, I uttered my only words during the mass: "I'm not a Roman Catholic." She must have thought: "What in God's name are you doing here tonight?"
I watched as Bishop Nunn washed the feet of what I perceived to be a cross section of the parishioners present: old, young, both genders, various shades of skin coloring. One of the lesser priests waved an incense smoker, the aroma of which wafted down to our pew. I contributed ten dollars when the offering basket passed my way. We did not, of course, take communion: Jeanne and I have been baptized, but not in the Holy Roman Church. Hundreds of people rose to accept "the body and blood of Christ," and the procedure was handed swiftly and efficiently, as row after row of pews emptied and refilled. I was pleasantly surprised at the great number of men attending the mass with us, perhaps more than 50%; such, would never happen in today's Europe.
Our being inexplicable swept up (almost literally) in the Mass of the Lord's Supper, in the Cathedral of St. Patrick, Auckland, New Zealand in the evening before Good Friday was a mystical and profound experience. I do not know its meaning. I do know that it belies my theory that nothing beyond the bland would occur in the English-speaking world we are in the process of visiting.
---
31 March 2013, Easter Sunday and Jeanne's Birthday - Aboard Oosterdam, Mount Maunganui, Bay of Plenty, New Zealand
We are afloat. Our cabin is small but adequate. The rear outside wall is glass, reminding me of a sliding suburban glass door leading out to a deck and propane grill; this glass wall, however, is stubbornly solid; it looks out upon perhaps the most attractive, large, orange lifeboat I have ever been this close and cozy with. If the captain should ever signal to abandon ship, we need only to break the glass wall and hop in.
Jeanne has settled us in, finding a place for the 100lbs of traveling supplies in two gigantic suitcases we dragged through airports and left open on floors of hotels. "We are home," Jeanne proclaimed, after the last pair of socks was stowed. She collapsed in a chair and moaned "I'm exhausted."
Meanwhile back in Auckland...Sky Tower is, at 1,000 feet, the tallest structure in Auckland, New Zealand and all of Polynesia—a vast Pacific Ocean triangle extending from Hawaii in the north, to New Zealand in the west and east to Easter Island. Jeanne and I made the almost obligatory (it sits a mere block from the Rydges Hotel) elevator swoosh to the top and took in a 360 degree panorama of Auckland and its suburban islands; we even succumbed to the lure of two T shirts at the base station. We declined, however, the opportunity to "Leap off the Sky Tower and fall straight down for 11 seconds at 85 kilometers per hour!" (from a brochure.)
As our Saturday Rydges breakfast was winding down, I said to Jeanne: "We've got all this time, I believe we should go the the museum" (The Auckland War Memorial Museum), for we did not have to be aboard the Oosterdam until 10 pm, for a set-sail (or churn up the diesels, if you wish) at 11:30 pm. "We can take the Green Bus." I had noticed in a guide book that the Green Bus goes to the museum; further, while sipping a India Pale Ale on the second story balcony of the Shakespeare brew-pub—in the Shakespeare Hotel building of olden days—I spotted a Green Bus below on Albert Street .
We walked down the hill from St. Patrick's Cathedral (I stopped to take a few interior photos) and began attempting to decipher the bus route-signs on Albert street. There were blue buses, orange buses and the Green Bus listed, but we couldn't make sense of the route system beyond the colors. After waiting on one side of the street without encountering a Green Bus, we switched sides. There, we saw Green Buses going by on the other side of Albert St; we re-switched Albert Street sides. Finally, I waved down a Green Bus; the driver apparently took pity on us, because we were not in a Green Bus stop."Don't get off at the Museum Stop; get off at the Parnell Library Stop," the driver warned me.
Behind the Parnell Library a large farmer's market was winding down: "Come over here, everything is half price," the bakery lady importuned me. We knew the Oosterdam would bake ample bread for its 1900 passengers, so we moved on; up a high grassy knoll, to the imposing, classic structure on the ridge we marched. Inside, I asked a docent: "If you were from the United States and you could enter only one gallery here, what would it be?" "The Maori Gallery, for certain," she answered.
The Maori are the Polynesian (native) people of New Zealand. When the British took control of New Zealand in 1842, years of war with the Maori ensued. Of course, the technologically superior pale-faces won; no surprise there. What is a surprise is the amount of Maori artifacts remaining in The Auckland War Memorial Museum. Polynesians were and are prodigious carvers. Perhaps the most fascinating Maori artifact in the museum is the 85 feet long war canoe, carved out of a single log. It could carry 100 warriors. We also walked into a chief's wooden house, every inch of which was ornamentally carved. Jeanne and I were exposed to Polynesian culture and lore during two weeks aboard a cargo/passenger ship in the Marquesas Islands. There are many Marquesas essays and a photo gallery of the experience here.
We bought tickets on the hop-on-hop-off tourist bus for the return to the hotel. After sipping a beer that tasted like it had been brewed with sour lemon drops, we taxied to the dock where the Oosterdam awaited.
---
1 April 2013 - En route Napier NZ, aboard the Oosterdam
Jeanne's birthday was properly celebrated in the Vista Dining Room, when at the end of our evening meal, the Indonesian serving crew and dining room management presented her with a delicious chocolate cake; they then began clapping their hands and sang a rousing version of what we took to be a Malay celebratory song. Jeanne was embarrassed. The cake, with white cream frosting, was delicious.
Our brief sojourn on tierra firma in Mount Maunganui, Bay of Plenty (so named by Capt. Cook in 1769 because the area Maori tribes were docile and gave him supplies) was pleasant. Immediately upon leaving the ship dock, we walked onto a small, wooden boat dock; there families strolled, men and boys fished—I asked one father what he hoped to catch,"Whatever bites," came the reply—young children climbed the dock railing and screamed with delight as they jumped into the Bay.
Jeanne and I strolled into the small resort town, passing cafes, ice cream shops and a store-front real estate office: "Look at that little place, and they want $450,000 for it," Jeanne exclaimed; in fairness to New Zealand real estate vendors, the exchange rate is $1.19 NZ for a buck, U.S., so prices are not as alarming as Jeanne perceived.
We strolled a U two blocks deep into the town and returned to the rather long beach that extends out from the small boat dock. As we crossed the street parallel to the beach, I stopped to chat with a man sitting serenely on a low-slung beach chair facing the beach, his mongrel dog at his side; at the curb, behind him, was an old, olive drab, highway bus, the interior of which had obviously been refurbished by an amateur (a stove pipe stuck out through the roof.) It was the type of contraption that Mr. Winnebago would send away to an Iowa junk yard.
Man and dog appeared approachable. I stopped and asked: "Is this your home?" "Yes, and it took me a long time to finish it," he pleasantly replied. He continued: "I'm an over-the-highway-trucker. For the last 18 months I have been hauling from Wellington to Auckland." "So this is all you need," I interjected. "Yes, it does me fine." I explained to him that I was a travel writer and on the ship at dock; I told him I would go for my camera, and get back for some photos. Regrettably I got caught up in activities on the ship and never returned. I hope he didn't wait for me.
Sometimes I speak to strangers; sometimes strangers speak to me. I wore my long sleeve MICHIGAN T shirt yesterday. I was standing on the beach, watching Jeanne beach-comb. A short, slight, well-aged man approached me and asked: "Are you a Michigan grad or just a fan?" "I earned my law degree there," I replied. He came up beside me, we shook hands and he said: "I have a son and daughter-in-law in Ann Arbor; they are both University of Michigan professors." That was the beginning: I learned that his three children have law degrees (the Ann Arbor son also has Ph.D); another son is a graduate of the Naval Academy, flew fighter jets during the Iraq war and now has a law practice devoted solely to the issues and problems of private aircraft ownership; his daughter is divorced, has given up on the law, and is an assistant manager at Lowe's, somewhere in Ohio. By this time Jeanne was far down the beach, in her never ending quest for beach treasure trove. "Oh, my," the man said, "have I run off your wife?" "Oh no," I replied. "She is beach-combing, and that's all she ever wanted to do." With that, the man and I parted.
Today, the ship slowed as it passed the only active volcano within New Zealand waters. All I could see was a great conical blob of solidified lava and what appeared to be never-ending steam finding an escape from somewhere within the blob.
---
2 April 2013 - At dock, Napier NZ
It is a very big deal in little Napier N.Z. when the Oosterdam comes to town (of course, Hawke's Bay, on which the town sits, was discovered in 1769 by none other than Capt. John Cook).
While I have seen no evidence of a fatted calf being slaughtered, I have seen town folk dressed up in flapper-era retro gowns, jackets and hats, clustered around antique autos, as a Dixie Land band blared away. As I write this, cars, band and the dressed up folks are at our dock, wishing us a fond farewell (and hoping that Holland America will return next season to again drop high-roller passengers in their midst).
Napier is small. When I asked city councilman Clarence Bertram St. John Fitz Montague, ("Bertie" to his family, friends, constituents and passing by Americans) if Napier is a town or a city, he answered: "It's a city, but barely. In New Zealand, to qualify as a city, an urban area must have a population of 30,000 and a cathedral. We have two, an Anglican and a Catholic. Our population is a little over the limit." Bertie's business card describes him as "Ambassador For Napier" and he is that for certain. He was standing in a small city square, a diminutive man, dressed in a bright, vertically striped jacket, open dress shirt, with a golden cravat covering the shirt gap, answering questions from passing Oosterdam passengers about his forest green, antique, Austin sports car.
Since floating in and around New Zealand for a week, I have been curious how this two -island nation of fewer than four and a half million people creates its obvious prosperity. I asked Bertie about the New Zealand economy. "Dairy exports are first, then tourism and finally, sheep—meat and wool exports," he explained. A stranger can readily see that Napier's port is also the instrument for the exportation of timber, lumber, wood chips and other pine tree products. Our shuttle bus driver explained that the wood goes largely to Japan. Tourism? Given the effort to welcome our passengers, Napier depends on it.
Upon taking our leave of Bertie, Jeanne and I wandered into the commercial section of Napier. We were shortly sucked into the aura of The Rose, Irish Pub. We sat on stools in what could best be described as joint's front porch, encroaching on the sidewalk. When I went to the bar to order our drinks, I saw a "Guinness Pint Club" plaque, with perhaps a hundred names listed with numbers attached. "What's that?" I asked Nikki, the bartenderess. "Those are our regular Guinness drinkers," she said. "Wow, some have 500 beside their names," said I. "Oh, that is way out of date. Some... (and she spun off a couple of Irish names that sounded to me like Bobby McDonnell and Marty O'Malley) have a total of over 4,000..." "But, how can that be," I interrupted. "Three pints a day, every day, it adds up" she said. We finished our drinks (mine was a Guinness) in a leisurely fashion and walked toward the two beat sound of Dixie Land music.
Alas, Napier is best known for a 1931 horrendous 7.9 on-the- Richter-scale earthquake that totally destroyed the city; what the tremors didn't shake down, the fires finished off. Thankfully, the horror of that February morning 82 years ago has faded into Napier's past. Presently, it is a charming, small city, huddled around a three-mile long beach of large, dark gray pebbles on the street-side of the beach, that graduate down to very course granules at the water's edge. We walked across the pebbles to the water line. Jeanne waded into the benign surf. She smiled as I shot the obligatory photo.
We are steaming toward Wellington, the nation's capital. As for Napier, New Zealand? Been there; done that.
---
5 April 2013 - At anchor, Akaroa Bay, (within Banks Peninsula), New Zealand
I'll attempt to peel back the last 36 hours, layer by thin layer.
Wellington: Windy Wellington it is called. Wellington is the capital of New Zealand. It is a city of 200,000 people, plus or minus. It abounds with tall buildings, busy shops, hustle and bustle. Jeanne and I roamed its city center streets, decked out in our hooded, yellow rain slickers, in stark contrast to the businessmen we walked past correctly tailored in pin striped suits.
The wind did blow; it attacked us severely enough to almost knock us on our fannies, as we came around one corner. We visited the "Te Papa" museum (abbreviation for a Maori phrase meaning "container of treasures.") We saw a replication of the Maori artifacts we encountered in Auckland. Jeanne bought a lovely Paua shell necklace. We had a beer and a coke in a brew-pub, where many of the Oosterdam musicians, singers and dancers had gathered. After a walk in a windy light rain, we took the shuttle bus back to the ship. Frink quick-take on Wellington: No charm for on-the-fly visitors. Wind is, in fact, impressive; as you noticed, I found it (obsessively) noteworthy.
Before we abandoned ship to face the winds of Wellington, there was a knock on our cabin door. There stood a very tall Dutchman, Edwin Brunink, Hotel Director (he is in charge of everything on the ship except propulsion and navigation) and the head housekeeper. I was surprised. "It's the cops," I said to Jeanne. In all our days and nights at sea, this was our first house call from a hotel director. I invited them into our tiny cabin. He inquired about our well being. I assured him that our being was fine.
To make conversation, I said: "This is our second voyage with Captain Van Der Loo. The first one was almost a decade ago, on the Maasdam when he was a newly-minted captain, the youngest in the fleet. We had dinner with him. I quoted him in the lead sentence of an article I published about the Caribbean cruise in an Oregon newspaper. He was very approachable. Is he still as energetic as he was in those days?" I was assured that Arjen Van Der Loo is still very energetic. That evening, as we went through a short reception line to an almost as short cocktail reception, it was clear that Brunink had briefed the captain about our earlier chat. "He looks about the same," Jeanne remarked of Van Der Loo after we were seated.
Akaroa made up in spades for Wellington's lack of charm. Charm, you want charm? How about a small (off-season population 500) French-founded, New Zealand seaside village, located in a bowl of calm sea, with modest volcanic mountains forming the sides of the bowl; throw in very welcoming, low-key towns-folk, the tastiest fresh fried fish you have ever placed in your mouth, and you are beginning to grasp the charm of Akaroa, New Zealand.
The waters of Akaroa Harbour, as the bay is known, must be shallow indeed. It was a 20 minute tendering (aboard a motorized life boat) ride to the small town dock. After a stroll across the wooden wharf and onto Beach Road, I paused near two men I took to be locals. "What's the population of Akaroa," I asked. "Well,,,,,,," one said. The taller of the two began: "We really don't know. We aren't from around here. We are taking a break from the national plowing competition going on in London, up near Christchurch." At this point I noticed a series of plow patches on the left sleeve of his shirt. I asked them to explain how the competition works. " It is four hours, sort of a balance between speed and care; you go too fast, you lose points, not fast enough and you don't finish your plot," said the shorter, heavier set, John.
I asked about their farms. John began: "I supervise seven dairy farms, a total of three thousand and a half cows." "3500 cows?" I asked in astonishment. I had heard correctly. Once processed into cheese and butter, it is all exported, most to China. The younger, taller, thinner Paul responded: "I own 500 acres and lease another thousand acres of mostly hilly land. Mine is pretty much a grazing operation, mostly sheep, some beef. I grow a little malt barley, but not much." They mentioned how New Zealand's worst drought in 70 years has caused problems in each of their operations. I shook hands with my new friends and joined Jeanne on her slow stroll through the sights of Akaroa.
Akaroa features what Fodor's guide book describes "old fashioned cottages." How can I explain, they are simply cute pastel-hued little wooden residences, with gardens, low picket fences with front gates. Now you are beginning to get the "charming" part of Akaroa; the quaint town oozes it. The town (wooden) library was filled with passengers and crew members when we arrived. The draw? Free Wi-Fi. The lady librarians were patient and kindly with those of us who had invaded their small, sheltered world of books and computers.
Again to Fodor: "Akaroa Fish and Chips. Acclaimed around the country as having some of the best fish-and-chips available..." Oh, speak to me Mr. Fodor! The fish was flaky, fresh blue cod, so fresh, there was almost sweetness to the taste. The batter was so golden in color, it was as if the cook had poured new oil in the deep-fryer, just for Jeanne and Gary. By all means, the next time you are in Akaroa, New Zealand stop by...
A tender ride back, and we were again happily in the arms of Mother Holland America. That evening, after she had finished her meal (scallop ceviche, salad, pink—not red— perfectly prepared beef tenderloin, topped off with a new discovery, chocolate crème brulee), Jeanne exclaimed: "This was the perfect meal." And off she went to the penny slots in the casino, where thus far she has won 9500 pennies.
---
8 April 2013 - In the Tasman Sea, en route Hobart, Tasmania, Australia
"Is this wonderful, or what? We watch live as Michigan beats Syracuse to get into the final game, then sit here and watch hundreds of little dolphins visit the ship." It was Saturday in the U.S., Sunday down under; we were sitting on the port side of the Lido (casual dining restaurant) having a light lunch. Passengers behind us began to stir. We looked about, curious about the commotion."There, ahead; look there they are," a passenger said. And there, in fact, they were, a very large school (or whatever a large convention of small dolphins are called) of what I believe in New Zealand are called Hector's dolphins. Almost in unison, the little fellas would pop up above the water line, then down into the light surf and up again, in a rhythmic repetition. After a very short time, they were gone.
In 2006, when I was aboard the cargo ship Republica di Genova for 44 days on a round trip voyage to West Africa (see 50 or more essays and a photo gallery here) I photographed the bottle-nosed, or regular dolphins, more than once close by the side of the ship. The captain told me that they were drawn to the ship by the vibrations of its engines and that they came to play. If I remember correctly, much was learned from studying dolphins when modern sonar was being developed. I do remember for certain that Republica di Genova crew members were elated whenever dolphins came to cut through the South Atlantic waters with us. "They are so wonderful, so free—not like us," the third mate rhapsodized.
Port Chalmers was our last port of call in New Zealand. It is a rough, working-man's-town, existing to provide labor and services to the port . Its short, shop-worn main drag had a seaman's mission, a liquor store and saloon masquerading as a small hotel, and a hodge-podge of impractical small shops: a "costume" store, a shop of collectibles, a small take out eatery, but no clothing or furniture stores.
As we walked up the hill from dockside, I stopped in the small "bottle shop", curious about liquor prices. I stood around for a minute, before a curly-red-headed woman came through the door, stage right. I saw the beer taps over the small sink, in front of the liquor bottles stacked against the wall, in the very narrow commercial space. We chatted briefly: "What makes this town go," I asked the woman. She waved her thumb down toward the docks. "There" she said, "The wharf." "Can I get a beer here," I asked. "No but you can in the bar." The store and the bar are in the same building.
We walked into the saloon, selected a table; I went to the bar, which was attended by the red-headed woman. "I'd like a beer and a coke, please." "This one is a good lager, made here." The place might have been called "The-Time-To-Kill Saloon." Near us, two men sat drinking a pitcher of beer each. The chords of Jimmy Buffet's Margaritaville filled the room. A man to our right asked me: "Where's Margaritaville?" "Wherever you can get a Margarita, I guess," I replied. I asked the bartender if I could take her photo. She didn't object. "What's your first name?" "Annette," came the answer. The near-toothless old man sitting at the bar, well into his first pitcher or more of beer, piped up: "She says Annette, but we all call her arsehole," and laughed in a rough manner. Annette smiled wanly. I knew that remark made Jeanne a little uncomfortable and my chance for a second local draft beer had vanished. The first man spoke to us: "He's an old retired seaman; been all over the world. Now he just sits at the bar." In the lower half of the room, men were betting on televised horse races.
I asked the man sitting near us what he did for a living. "I drive down at the wharf." The subject came up of all the logs that are exported out of New Zealand ports. "It would appear to me that we all would be better off if we sent all this wood out as product, lumber, chips, whatever." I agreed. "But what do I know? I'm just an old wharfee." My beer was gone and it was time for us to be as well. Jeanne and I trudged up the street to Port Chalmer's only supermarket. Our few remaining New Zealand dollars were burning a hole in my pocket. When we returned to the ship, Jeanne said: "I believe I've been New Zealanded-out." Shortly thereafter, lines were pulled in and we began our voyage to Australia.
---
10 April 2013 - Aboard the Oosterdam, En Route Melbourne, Australia
"I know why you keep coming back. It is because we keep changing the menu," so stated Captain Arjen Van Der Loo during his speech Monday at the brunch for Mariner Society members (repeat Holland America voyagers.)
I don't know about the psychic pull of changing dining room menus, but Holland America Line has an almost mystical ability to seduce passengers back to its ships and itineraries over and over again.
Before Captain Van Der Loo spoke at the brunch, he had placed beribboned metal medallions around the necks of repeat HAL passengers at a reception, symbolic of their having ridden the waves with Holland America for at least 100 days. After the reception, I spoke with Drew, the cruise director, who had acted as master of ceremonies; he announced the name of each medallion recipient before they marched on stage to meet their honorific fate and be photographed with the Captain and Hotel Director Brunink.
"The ceremony appeared to me to be long. How many recipients were there," I queried Drew. "There were so many on this cruise due to get an award, we had to split the event into two days. During the two receptions, Captain Van Der Loo gave out 110 bronze (100 days), five silver (300 days aboard) medallions and one gold (500) medallion. "Oh, by the way," he emphasized, "one Mariner on this voyage has sailed 634 passenger days aboard HAL ships."
Jeanne and I have always been pleased and sometime pleasantly surprised by the culinary delights we encounter in Holland America dining rooms. So far on this voyage, we have uttered WOW! with, of all things, a date dessert; another WOW! went up for a pate en croute appetizer. I delight in the chilled soups, from the traditional Spanish tomato-based gazpacho, to concoctions created out of various fruits; I enjoy one each evening. The veal, beef, pork, lamb and duck creations presented to us have, without exception, been expertly prepared and beautifully plated. Dian, our table steward, is bright, efficient and when prodded, has a delightful laugh, ranging up to a giggle. Our eight pm appointment at table 25, upper floor of the Vista Dining room is something we look forward to each and every day.
Bineesh, the assistant maître de hotel assigned to our table for two, in addition to being attentive to our dining room needs, has an interesting background. First, he is an East Indian, while the serving staff is universally Indonesian (a throw-back to the time when the island country was a Dutch colony). While India is overwhelmingly Hindu and Muslim, Bineesh is a Roman Catholic; further, he studied for the priesthood for four years in a Jesuit seminary. "A priest friend from the seminary officiated at my wedding", he said and chuckled. Often times when we encounter a Catholic Indian, he or she is from the state of Goa, a long-time Portuguese and Catholic colony. Bineesh, however is from the Indian state of Kerala, where, he told us, St. Thomas personally took the word of Christ. My desktop Encyclopaedia Britannica assures me that St. Thomas died in India, circa AD 53. Bineesh could well be correct that St. Thomas proselytized in the state of Kerala.
Jeanne bought me a bathroom scale in Auckland. Thus far I have been a steady 115 kilos; this, despite breakfasts of two Eggs Scottish (Eggs Benedict, with smoked salmon substituted for Canadian bacon,) milk and a parfait of yoghurt and fruit. Late lunches are light. Our evening Vista Dining Room dinners are four-five course delights, including, of course, caloric—usually chocolate—desert concoctions. Anyone claiming to dine at home in a similar luxurious state—food and service—is obviously a person whose veracity cannot be trusted.
---
12 April 2013 - Aboard The Oosterdam, En Route Sydney, Australia
The modern rail-tram at the end of the Melbourne ship pier had hardly begun to move toward the center-city when the renowned friendliness of the Australian people touched us. A short man with a brush cut, wearing a jacket bearing "Carrier" badges struck up a conversation; we soon learned a little about the man: "I worked for Carrier (the heating and air conditioning manufacturer) in Syracuse for six years," he began. I asked how he dealt with the cold weather in upstate New York (Melbourne maintains moderate temperatures in the winter, rarely falling to freezing.) "We got used to it. In fact, we all acclimated to to America generally. When I would call home, my brother would kid me about my American accent." By this time he had learned that Jeanne and I live in Virginia. "Is it any warmer in Virginia in the winter," he inquired. I assured him it was. "Virginia is not Florida, but it sure is warmer that Syracuse," I averred. Our new friend and his family might still be in Syracuse but for one serious issue: "What really drew us home was college education for our children. Here it is free, there it costs a fortune." He wished us well as he exited the tram at the next stop.
A man sitting behind Jeanne took up the be-friendly-to-the-foreign-Frinks cudgel. He began a tourist guide-like patter: "That building on the left was the stock exchange. We are in the financial district now..." Before he got off the tram, he made certain that we knew that the next the tram stop was ours, two blocks from the corner of Flinders and Swanston streets, the bulls eye of center-city Melbourne.
After a block walking up Swanston street, we encountered the massive St. Paul's Anglican Cathedral, which sits astride one third of a city block, facing Federation Square across Flinders Street. I took photos of the apparently-Gothic, gargantuan seat of the Church of England in the State of Victoria.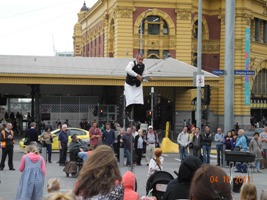 Federation Square is a huge space, facing The Cathedral. It is partially filled with fragmented and cubist structures that strongly reminded me of the work of Frank Gehry, the famous Los Angeles architect. Wrong Again! The Federation Square structures were designed by two firms, one from London, the other Melbourne-based. Part of the open space is consumed by a 10,000 seat amphitheater. All and all, Federation Square screams out: Look at me! It is a Melbourne civic triumph and, if one is within sight, impossible to ignore.
Across Flinders Street is the Flinders St. Station, a full block long and built in the style and magnitude of grand European rail stations. "It even has a ballroom on top," a docent at the Federation Square Visitor's Center told me.
Jeanne and I approached a group of three red-coated Visitor's Center volunteers assisting tourists across Flinders Street from the rail station. "I'm from the United States", I began "and I want to go to the nearest authentic Australian pub." The woman I spoke to chuckled and pointed behind us. We were standing in front 150 year old Young and Jackson, a saloon and restaurant, a very old establishment given that Capt James Cook didn't claim the continent for Great Britain until 1770. "You are standing in front of it," the woman said. As we moved away, she said: "Be sure to go to the second floor. There is a very famous painting there."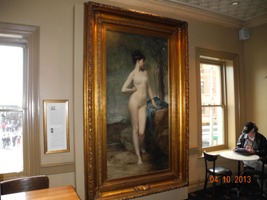 We walked into The Young and Jackson second floor tap room and there she was: Chloe! A six foot tall painting of a 19 year old, demure, barely-blossoming nude girl, or as the saloon brochure states: "a wistful nymph-awaiting a lost love." Done in 1875 by Jules Lefebvre, Parisian academician, Chloe, the painting, possesses an interesting history.
In May 1883, a Doctor Fitzgerald lent her to the National Gallery of Victoria. Chloe's nudity caused such a public hubbub, the good doctor re-took possession of her. Now from the Young and Jackson brochure: "Chloe was purchased at the end of 1908 by Henry Figsby Young—a publican and art collector...Chloe was installed in Young and Jackson in 1909 in the main bar of the hotel creating a frenzy of excitement, disdain, curiosity, rumour and innuendo. In her first year Chloe reputedly caused marriage break-up, general loss of innocence and St. Paul's Cathedral to move its main entrance to Flinders Street! (Apparently the church objected to its flock fleeing directly from church, across the road, drink with Chloe.") Nowhere have I seen it mentioned how Chloe made her way to Australia, but that doesn't dull the story a whit.
Tim, our Young and Jackson bartender, hit it on the head when he observed to us: "You two stumbled on to one of Melbourne's landmarks." Oh, yeah we did! Jeanne finished her lemon-lime bitters and I my hoppy-lager and we bid farewell to Tim and Chloe. We walked two blocks and boarded the #109 tram. Soon we were safely within the bosom of Mother Holland America. Upon arrival at cabin 0482, I flopped on the bed exhausted. Travel adventures are tiring.
---
15 April 2013 - Aboard The Oosterdam, En Route Sydney-Noumea, New Caledonia
The year is 1788. Eleven ships of the British First Fleet enter the vast, hospitable natural harbor and drop anchors. Slowly, methodically, sailors of the fleet off-load 736 passengers into life boats for the short paddle to the rocks, forming the shore. That day, marked the founding of Australia and Sydney, its oldest and largest city. The 736 passengers were "convicts", men and women forcibly removed to the new continent to begin the British colonization of Australia.
Two hundred and thirty five years later, with the rising sun streaming through the eight or so shells, representing sails (perhaps of the original eleven naval ships) that make up the structure of the beyond-dramatic, iconic Sydney Opera House, the Oosterdam slowly eased its way into the horseshoe dock area of the largest natural harbor in the world. When ship's lines were secured, we were attached to the Circular Quay, exactly where the 736, God-forsaken, bedraggled, forced-to-be-founding Australians came ashore. Beyond our bow was the skyscraper-laden, commercial core of Sydney, a four million person, 4,000 square mile megalopolis.
Sydney, here we come!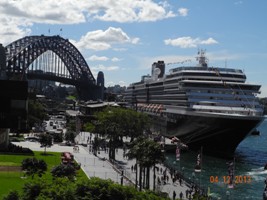 Jeanne and I didn't have a plan, but we knew wanted to wander the now-chi-chi Rocks area, where original warehouses and residences have been turned into urban-obligatory museums, jewelry shops and sidewalk cafe-fronting pubs and eateries. It was Saturday morning as our short time ashore began. It appeared to us as if every other small structure along the narrow Rocks streets contained a joint that would have been delighted to vend us its brunch special; one such, extended out into the cobblestone street under a canvas awning, was doing a brisk business in long, steaming bratwursts, hacked into three pieces and placed diagonally on a bun with sautéed onions. The brats looked great, in a Wisconsin sort of way, and emitted such a delightful aroma, I almost succumbed; this, despite a full multi-egg and yoghurt breakfast aboard ship.
We passed Cadman's Cottage, the oldest home in Sydney (1816), named for its first owner, John Cadman, a horse thief. Alas, the horse thief's residence was in a state of resurrection and we were denied entrance. We did enter, however, The Rocks Discovery Museum and browsed a bit, among a very eclectic depository of early Australian pottery and bottles. Next, it was on to George Street and the Rocks Saturday and Sunday open-air market.
"What's the name of this place," I asked Yvonne, the barmaid, as she drew me a draft brew and began making Jeanne's favorite Australian drink, Lemon/Lime Bitter. Well, it's the Mercantile Hotel, but everyone just calls it "The Irish Pub." Signs in the place proclaim it to be Australia's oldest such establishment. "Are you native Australian," I asked. "Oh, no" came the answer. "I was born in Dublin; been here 40 years, but I go home every year." At the Walsh Bay end of the Mercantile Hotel, on George St., Jeanne and I settled in a couple of chairs around a heavy metal table, under a large leafy tree. Across from our beachhead was a Rocks Market fresh water pearl vender; next to it, a booth selling bright-colored-to-excess kitchen aprons. Saturday shoppers strolled to and fro.
As I sipped my beer, I was in the mood of a hawk, drifting in the thermal currents, looking for prey to dive upon. I wanted an Australian to speak with me. Finally, a young man, in his 20s, idled by us. "Young man, are you an Australian?" He was moderately startled. "Yes, I am," he said in a manner that I discerned he hadn't been put off by my forwardness. "My wife and I are from the United States, here for a few hours, and we haven't as yet spoken with an Australian." His name is Angus. "Wow," said I. That is sure a name that has gone into disuse in the states. He laughed and said: "McDonald's has made my name famous, what with the beef sandwiches." I told him that he didn't sound as distinctly Australian as I had expected. He laughed. "You go out into the back country and you'll get all of the Crocodile Dundee you can handle." Fine young man, Angus.
The Sydney Harbour Bridge was completed in 1932, and it is claimed to be the widest bridge in the world and one of the longest single-span bridges. When we were strolling, after our beverages at "The Irish Pub" we found ourselves standing under the bridge, chatting with a supervisor of security for the Saturday/Sunday market. "Are you going to walk the bridge," he wanted to know. I demurred on the basis of age. "Well, you can walk the steps up two it, it's only three stories." He was correct and we did climb the three stories of steps and walk some of the bridge. The direction we went was toward the opposite side of the horseshoe from the Oosterdam, which contains the Opera House on its furthest point.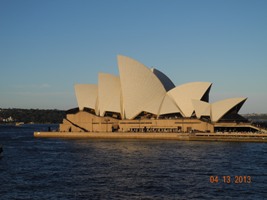 We walked until we could take an elevator to a sea-level plaza on the Opera House side of the horseshoe. We immediately headed toward the dramatic structure. While we didn't take a formal tour, we meandered around the building, ending our sojourn in gift shop. We made two over-priced memories-of-the-Sydney-Opera-House purchases: An elegant, hip T shirt for Jeanne and an elaborate tea towel; those items cleaned out our Australian paper dollars. When I paid, I reached into my pocket and put two or three dollars of coins on the counter, and said to the pleasant young people at the cash register: "I don't need these, buy yourselves a Coke." They were actually pleased.
As we left the Opera House, I noticed that the sturdy gift shop bag containing our purchases had writing on one side: "Did you know? That the 1,056,000 off-white and buff ceramic tiles covering the Sydney Opera House shells were made in Sweden." Nope, I surely didn't
We re-walked the dock horseshoe, and as we approached the Oosterdam I came upon two men in uniform; they were dock authority "Rangers." "I asked what they did as rangers. "We try to keep things running smoothly, Mate." I practically grabbed the man: "I have been in Sydney for a few hours and you are the first person to call me 'Mate.' You, sir, have made my day." We both were pleased at that concept.
Jeanne and I agree that we could spend considerable time in Sydney, Australia. We know, however, that our glass is more than half full.
---
18 April 2013 - Aboard the Oosterdam, En Route Noumea, New Caledonia to Suva, Fiji
The native war-dance had ended. The corpulent women and muscular men had moved back from the improvised dock dance floor to the spot where the drums, hollow log and metal can had been ferociously beaten, to claim their flip-flops and prepare to leave the Noumea dock yard. The performance, probably offered in thanks to the many Yankee and Australian Dollars and credit card chits the ship passengers and crew left behind on the cigar-shaped, French island in the Melanesian area of the vast South Pacific, had been enthusiastically received by passengers looking down from the port side of the tethered ship. Jeanne and I watched from the promenade deck, deck three. We lingered. Jeanne particularly enjoys watching the castaway procedures when a ship removes itself from the binds clutching it to land and, usually with the help of a local tug or two, pushes away from port and slowly begins the journey to the next port of call.
Departure was delayed, while a dark-uniformed female ship officer (perhaps medical) escorted a young, white-shirted crewman, bearing a backpack, from the bowels of the Oosterdam, dockside to where two local men were doing some sort of paper work on the hood of a white automobile. The young crewman stood erect and motionless, conveying to me that he knew that he could not affect the outcome of what was transpiring, he simply was the subject of it; he was being handled. As I watched the tableau unfold, I knew instinctively that the young man was being removed from the ship.
Finally, with emergency lights flashing, an ambulance arrived on the scene. At this point, the white automobile left the dock. After more discussion, which did not involve the young man, an ambulance attendant opened the rear of the ambulance and the young man climbed in. Slowly, the ambulance moved away. It was followed by a tall, thin, young man, driving an old, brown Toyota; he had been involved in the paper work being completed on the white car hood. I assume that he was an employee of the Noumea port agent for Holland America. The Oosterdam then pushed away from the capital city of Noumea, the island of Grande Terre and New Caledonia, a small French collection-of-islands-outpost in the far South Pacific.
"Oh my God," Jeanne said, "That poor kid." I answered: "Yeah, everything is gone for him, his home, his friends, his total support system. Alone on this island." I could feel the deep pit of empathy well inside me. I assume that I am not the first to have experienced the pathological fear of standing on a strange shore as "your" ship slowly leaves you behind. What is the young man's prognosis? Will he someday fly to catch up with the ship? Will he, after whatever emergency condition is cured or stabilized, fly home to Indonesia? Those questions, likely, will never be answered. I made inquiry aboard ship and the answer came back essentially that this is a private medical matter and will not be discussed.
I blame my head-cold. Every evening we receive a pamphlet of the next day's activities; for shore days, we receive an additional piece with a map and extended orientation to the next stop. It must have been as a result of my stuffed-up head and yellow muck in my nose, that I didn't read it the evening before Noumea; therefore, we didn't go to the Tjibaou Cultural Center; missing Tjibaou, we learned nothing—zip-zero-nada—about the Kanak People, the native folks of Nouvelle Caledonie. My computer's CD'd-up Britannica knows nothing about the Kanak People. Last evening, I visited the voyage travel lecturer, Susan. She knew nothing about the Kanak People; she promised to do research and write me a paragraph on the Kanak People; it has not arrived. I am at my wits end regarding The Kanak People. I have been a guest of the Kanak People, in a tiny corner of the French Empire. I have photographed Kanak women, dressed in brightly colored moo-moos, all the time believing I was recording the images of illegal Fijian, Futunian or Tahitian immigrants, or such.
I have left Noumea ignorant of the history and customs of the Kanak People; but, no matter how I might pine for knowledge of the Kanak People, no matter how my teeth (the real bottom ones, at least) might gnash or my knuckles crack pursuant to anxiety over my naked paucity of knowledge of the Kanak People, I must pull up my boot straps, lace 'em up and face reality: the Oosterdam has just docked in Suva, and it is clear that I will live out my remaining days on this globe (I told Jeanne at lunch yesterday, as I looked out at an endless, flat sea to the horizon, "It sure must have been tough to convince folks the world is round.") without knowing one damn thing about the Kanak People.
I will share with you, dear reader what little we did accomplish during our short sojourn in Noumea. We purchased three adornments for Jeanne at the in-town Welcome Center: a hip T shirt, 'cause it is all written in French; a small dinner bag make out of a zipper; an antique-looking metal pendent, the work of Dominique Subilean, who was glad to sell it to us.
Then it was on to a mid-town park, which, on one corner, contained a French cafe with outdoor table and chairs. (When I admired one French waitress' English, I got back "I've lived in New Zealand, Australia and Canada." "Oh," I cleverly retorted.) At the cafe, we sat and watched more than a modest amount of French-cheek kissing and handbag-carrying men. At the table next to us was a diminutive and "cute" Japanese honeymoon couple "We live near Mount Fuji," was most of what I took away from our short conversation. I took their photo; he took our photo. It was from our table at the French cafe that I wandered out to photograph the moo-mooed Kanak women. After tiring of our cafe routine, we paid our beer and coke check, walked a couple of blocks and boarded the Oosterdam shuttle bus.
---
20 April 2013 - Aboard the Oosterdam, En Route Dravuni Island, Fiji to Apia, Samoa
It is 8:30 pm, Friday, April 19, in Watertown Mass. The nineteen year old Chechnya-American kid who presumably is a Muslim terrorist at least partially responsible for the murder and maiming of tens-upon-tens of innocents in the Boston Marathon pressure-cooker bombing has just been captured. On the Oosterdam, it is 1:50 pm, Saturday, somewhere in the deep South Pacific Ocean. The ship, with its complement of 1818 passengers and 803 crew members, is plunging ahead at a near top-speed of 19.4 knots.
Now that I can take my eyes and ears away from CNN International, I am free to return to my chore of churning up thin verbal gruel, depicting Frink adventure-like episodes aboard and ashore. For my trailing readers: The young crewman removed from the ship in Noumea, New Caledonia, is now safely at home with his parents in the Philippines.
Suva, Fiji provides exotica in multiple layers: a history of cannibalism through the early 20th Century—"A cannibal fork is the one thing I'll buy here," Jeanne announced; military coups; beggars and shoe shine boys in the streets; ethnic Melanesian/Polynesian men (including police and military) wearing Sulus (wrap-around, skirt-like garments bound at the waist) [East Indian men, roughly half of the population, wear trousers]); very colorful, attractive postal stamps and currency notes; and finally the clock tower, Big Ben of Fiji which, when functioning, strikes on the quarter hour (alas, it was apparently ailing and certainly soundless during our pass-through the campus of government buildings, where it resides).
The day began with a stroll along the dock, past the police department orchestra there to serenade us, near the bow of the ship. From the dock, we exchanged "BULAS"(the Fijian shout of welcome) with any and all, as we strolled to our first stop toward realizing our goal of leaving a sprinkling of Yankee Dollars in the City of Suva.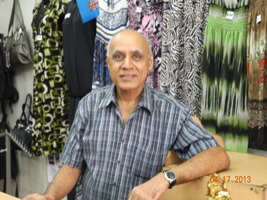 "Go into my shop, have a look around," said an East Indian merchant, as Jeanne and I entered a long shed, divided into narrow, shallow, shop units. The salesman was leaning against the outside wall facing the one aisle extending through the shed; by loitering outside his limited space, he attempted to chap-up into his space, the foreigners passing down the aisle. The "stores" contained much of what one will find in the curio shops of any of the Polynesian islands within the triangle, carved wooden bowls, spears, hatchets and turtles—in Polynesian mythology, turtles carry you in and out of life. And always there is simple jewelry made of shell and bone. Jeanne was fondling a shiny, shell turtle pennant, while keeping her eye on a hook-shaped bone fob. "I tell you, because you are a very good fellow, I will give you a good price, if you buy them both." Who could resist such an entreaty? We also priced a cannibal fork, a small one used on the defeated warrior's eyes and brains, but the moment had not yet arrived.
From the shed of shops, near the water's edge, we wandered aimlessly into the very narrow streets of central Suva in, search of a sidewalk cafe for a Coke and a beer; apparently not that kind of town, Suva Town. One man, appearing to be at least a semi-official BULA booster, suggested we might satisfy our search if we walked up the hill on the sidewalk to our left; up the hill we went. Near the top we paused at a main-drag kind of cross street; across it, I saw the second-story wooden sign: Public Bar. Uncertain, we walked into the open door of a shirt shop on the corner.
"No, I wouldn't take your wife up there," said the proprietor, a genial, well-past-middle age, East Indian gentleman. "Might be OK for you to go up there for a quick beer, but you wouldn't want to stay too long." Convinced, I tried on some tropical shirts instead. After a short conversation about the price, based on conversion rates, Yankee Dollars to Fijian (I only bore Yankee), I bought a full-bodied, maroon-ish one. "The fabric is Japanese cotton, the shirt made here. Fiji doesn't have any ability to make fabric, but we can sew." Down the hill we went.
Memory fades. However, someone in the street I asked about a beer and a Coke availability suggested the food court on the second floor of the shopping mall anchored by Proud's Department Store; excellent tip. As we got off the escalator, Restaurant 88 was a large, inviting joint to the right. Ana, our diminutive Fijian (as opposed to E. Indian) waitress placed us at a large, circular table in the window corner of the room. After three hours walking the crowded and narrow streets of urban Fiji in the tropical heat and humidity, the air conditioned, spaciousness of Restaurant 88 was a great relief.
Fiji Gold Beer is excellent, next time you are in Suva... A Coke is a Coke. With our thirst partially quenched, we ordered Crispy Squid from the menu. My first bite was a large piece of onion; it was so piquant/hot I went into a coughing jag. The onions must have been marinated for hours in a red pepper concoction. I survived.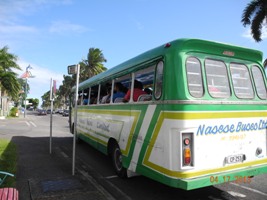 During our time at Restaurant 88, Ana hovered near us, sometimes re-assuredly touching my shoulder. When time arrived for us to take our leave of Ana et al, I inquired about how to get to Government House, the president's residence. Ana said: "I will take you to the bus." Down the escalator, through Proud's, to the store's money exchange. "Will you change as little as three dollars," I asked the young woman at the desk. The answer was affirmative and shortly we had Fijian bus money. Ana stayed with us until we boarded the correct, very old, English-made bus, that was difficult to place in gear.
There were no windows on the sides of the bus. Rolled up canvas flaps could be lowered in case of a driving rain storm. The streets were vehicle-packed, as was the bus: four persons to metal seats built for three. The bus proceeded slowly. A pretty young girl sat next to me; after a while, I asked her about the stop for Government House. "It is the next one," she said. I paid the driver for two fares as we exited (I opened my hand of coins and he took what he needed).
Jeanne and I were not at Government House, but the campus containing government buildings and Big Ben of Fiji. Not interested in bureaucrats or their buildings, we walked to our right, across (Prince) Albert Park, apparently a (closed) football (rugby/soccer) field. We continued on to Thurston Gardens, wherein the Fiji Museum is embedded. Established in 1904, the Fiji Museum is said to be the oldest national history museum in the South Pacific.
The Fiji museum is small by any standard; it does, however, contain the rudder of HMS Bounty and examples of Fijian sea-going rafts and canoes. The museum also contains Lapita pottery chards, which have allowed scientists to establish that Fiji and other area island groups were populated before the time of Christ.
It was here, at the Fiji Museum, that we were called to possess one of the pronged, hand-carved, mud-soaked, hand-polished Veti wood cannibal forks. Folks, where, I ask you, could the Frinks find a more authentic cannibal fork, ready to gouge out an eye or two, or dig into the gray matter of a fallen foe than at the quaint and campy Fiji Museum Gift Shop? Of course, our cannibal fork was inordinately expensive, but that is what the world-wide phenomenon of museum gift shops is about: to separate traveling fools from their treasure, all in the good name of preserving historical artifacts or pigment applied to canvas.
"Let's walk back," Jeanne said. It was hot and humid in the sun or shade; but the bus had been so slow and God only knew when one heading in the direction of the Oosterdam would arrive. We set forth. Our first stop was at a large McDonald's. We sought gratis wi-fi service, to roam through emails and kill the growing stack of unwanted news dispatches and forwarded nonsense from friends. The Golden Arches were willing, but the signal was weak. We wandered on toward our ship.
Jeanne and I arrived at a commercial internet establishment. One pays by the minute. "Do you take American dollars or credit cards," I asked with almost a pleading whine in my voice. "I'm sorry, we only take Fijian dollars," came the reply from the sweet young lady. To an ATM we marched. Twenty Fijian bucks was the lowest amount processable; we grabbed the $F20. For a pittance, we partook the luxury of an hour dealing with incoming junk, sending a few outgoing emails to friends and ascertaining our financial condition.
After arrival at the ship (again passing the Suva Police Department band, preparing for their evening serenade) we were of such a depleted physical condition that we made no attempt to shower, dress-up and crawl to table number 25, Vista Dining Room. We dialed room service, in a short time, a polite and attentive room service minion provided us with delicious salads of our choice, beverages and deserts. Suva, Viti Levu Island, Republic of Fiji had wrung us out.
---
21 April - A Tale of Two Samoan Sundays Aboard the Oosterdam, En Route Pago Pago to Kauai, Hawaii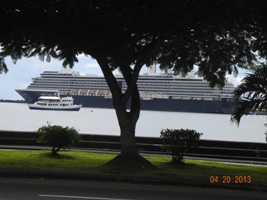 By a geographic quirk of fate, the international dateline splits the nation of Samoa from American Samoa. By the Oosterdam passing through the dateline, the passengers and crew were rewarded with two Sundays, April 21, 2013, one in Apia Samoa and one in Pago Pago, American Samoa. We shall begin with Apia, our first Sunday.
The day broke bright and hot; sea breeze or not, 90 degrees (F) is beyond warm. Jeanne and I began our late morning amble into the capital of Samoa absent a trace of urgency. We had been told that Sunday brings on Apia slowdown, falling to a grinding halt; except, of course, in the churches; there holy energy abounds .
Jeanne and I were each raised in the Congregational Church, I in Michigan, she in Iowa. Before returning ourselves to our Blue Ridge Mountains of Virginia cabin in 1990, we lived on the bank of the St. Clair River and belonged to the First Congregational Church of St. Clair Mi.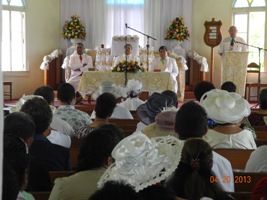 The Congregational Church of Jesus in Samoa was the first Apian church we encountered. Sunday services were in full swing. We approached the square, white building—with a widow's walk instead of a steeple at the top—gingerly. The church was stuffed with Samoan worshipers, some sitting on plastic chairs very near the open entrance. The (a) pastor was preaching in Samoan. We stood respectfully at the back. Soon, a young man in white shirt and tie, wearing the South Pacific wrap around (tagged "lava lava" in Samoa), silently offered us chairs.
The pastor concluded his remarks and the choir director raised his arms to give the downbeat. It is difficult to describe the beauty of the uplifted voices of the entire congregation. It was if every man and woman had received extensive vocal training. The power of the voices, the harmony; it was—I simply cannot resist—heavenly. Before taking our leave, Jeanne and I quietly remarked about how attractively the ladies were turned out in pure white, broad brimmed hats and white blouses, the men in white shirts; all sat erect in pews facing the alter, below seriously whirling ceiling fans.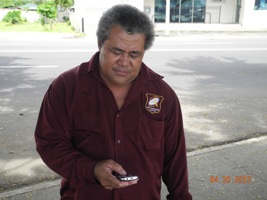 The Beach Road curves gently, creating a horseshoe extending from the dock well into the center of the town; on the first Sunday, it framed the Oosterdam sitting serenely at dock, swathed in a bright tropical sun. We walked the Beach Road sidewalk, along a small seawall. Falani was standing beside a shaded bench when we came upon him.
"I'm back from Japan after six months. I'm an entertainer: hot coal walker, guitar player," then he made a strumming motion with is right hand. "I work there, and then I come home." (It is not for me to tie walking hot coals and guitar playing together). "I have a house around the corner." Falani explained the social structure of Samoan society: "First, there is 'Aiga', the family; it is very strong. The there is the 'matai', the leader of the clan; every village has at least one 'matai'. The most important 'matai' has the largest 'fale', clan home. Families own most all real property in Samoa, though I own my house 'free-hold.'" He didn't explain how that came about.
I was curious that we were standing across the street from a New Zealand Immigration Office, attached to the New Zealand High Commission building; at the curb, a large black and white sign bellowed out: NZ POLICE CARPARK. Tow Away. "Falani, what is the deal with the New Zealanders", I asked. "We consider New Zealand our Big Island. They ran Samoa from 1914 until 1961, first for the League of Nations, then the U.N. We became independent in '61, but we are still very close to them." I didn't say anything, but having another countries' cops openly hangin' around and claiming curb space on your capital main drag is very close, indeed.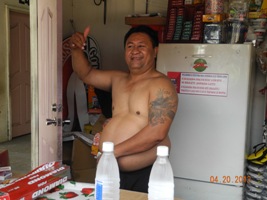 Jeanne and I continued our stroll; we were now in search of a drink. We had ignored the admonition from Cruise Director staff to take water with us, and dehydration was setting in. We asked more than one idle taxi driver: "Do you know where we can buy something to drink?" The answer was usually: "I think there is a place open further down town. Want to take a taxi?" We kept walking. We walked past the building housing the Samoa Police Band, which conducts a parade down Beach Road each business day, to give all notice that the day has begun. We passed the town fire hall; and on to the center of town, where sits a (functioning) clock tower.
"I believe I see an open cafe down the street," Jeanne said, and crossed the street toward it. She came back quickly. "I told them I wanted to buy a drink. 'We're closed,' the girl said. But I only want to buy a drink. 'We're closed.' And that was that." "Whoa," said I. I tried the door of a restaurant nearby; locked solid. "They really mean it when they say this town closes down on Sunday," I said to myself.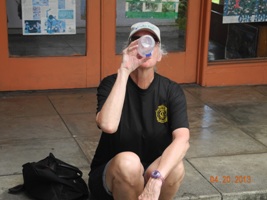 Then the gods of Dehydrated Travelers smiled down upon us. A security guard was sitting in front of a Toyota dealership. "Do you know where we might be able to buy some water," I asked. You see that old building across the street, with the white car beside it?" "Yes." On the corner of the building, where the car is, there's a little store in there."
The owner of what I would call a "cantina" was a jolly fellow and more than happy to sell me for four Yankee Dollars two .6 liter bottles of cool water. Now, where to get out of the scorching sun to drink it. We had begun retracing our steps toward the Oosterdam, and shortly came upon the Nelson Memorial Public Library. It possessed a shallow stoop at the front door; it was shaded. Jeanne and I sat. Similar to the work an illusionist who entertained us on the ship, we quickly made our 0.6 liters of cool water vanish.
One of the many idle taxi drivers we passed on our first Sunday would take us to the ship for five Yankee Dollars. I did not have the heart or stamina to bargain. Five dollars it was, and off we went to the Oosterdam and its unlimited supply of potable liquids.
---
22 April 2013 - Aboard the Oosterdam En Route Pago Pago, American Samoa-Nawiliwili Kauai, Hawaii (five days at sea)
"I'm on this island for one reason and one reason only: to walk the beach," Jeanne certainly informed me. With sandals in hand, she walked down to the wave-hardened sand and was off, stage right, on her shell and coral quest. I was left, ankle deep, in the beige sand, taking photos of this new and rare environment.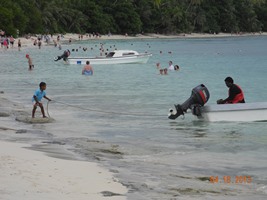 We had exited the Oosterdam tender and were on a tiny volcanic spec—that is if you consider a 0.8 square kilometer island to fit the description. Dravuni Island is a member of the Kadayu Group of Fijian islands; it is the most northern human haven within the Great Astrolabe Reef.
It was as if Holland America set out to give passengers a Fijian hot and cold, black and white, sweet and sour experience, transporting us from Suva to Dravuni Island. Fewer than 200 persons live on the diminutive volcanic islet.
Jeanne returned from her beach-comb carrying six prized shell and coral jewels, after round-tripping it to the farthest island point visible from the tender landing. We spread our beach towels, stripped to our bathing suits and plunged into the surprisingly chilly, uber-salty Pacific. We paddled about for 10 or 15 minutes. When back atop the thick, navy beach towels, I said to Jeanne: "Now, I believe it is time for us to buy something; we have to leave some Yankee Dollars here." "I haven't seen anything that grabs me," she replied.
While Jeanne combed the beach, I had explored the small community immediately behind the beach and had previewed the vendor's soft-goods wares, attached to clotheslines, floating in the trade-wind. I had noticed a purchasable item or two of interest.
As I walked in the village, I noticed the large, upright cisterns and eves waiting to accept roof rain runoff. I also noticed the communal open-sided sheds, where men and women sat on mats eating the mid-day meal. Toward the end of Jeanne's beach-comb, I sat in the shade of a weeping-willow-like tree. A three or four year old boy sat next to me. He paid no attention to me. He didn't beg, by act or eye-pleading implication; I took great notice of that fact. I came to realize that great dignity existed in this small village. Then Jeanne and I met Laniana. She was the vendor of the wrap for Jeanne that had caught my eye while Jeanne was on her search.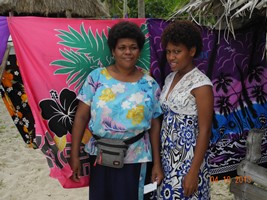 "I was born her and first went to school right here; then I had to go to the 'Big Island' to finish my schooling. My son is there now." I asked how the islanders got back and forth to Kandavu, the "Big Island." "We go in those boats," she said pointing to 10-12 foot long skiffs, powered by Yamaha outboard engines; the men in the skiffs were doing a good business during the day, taking Oosterdam passengers for $10 each on circumnavigations of the island. "How long does it take to get to the "Big Island," I asked. "Three, three and a half hours on a calm day," She replied. "We have to bring everything in on those boats, flour, rice, cooking oil, everything.! Families grow vegetables and we fish, but the rest comes by sea." In answer to my question, Laniana said: "There is no doctor or nurse on the island; only our own "nurse." The Fiji government provides the islanders with the village generator. I have no idea what other subsidies, if any, are provided by the government.
Laniana asked her daughter to step forward from behind the waving fabrics to meet us. Sala, a beautiful, poised young woman of 20 years, had returned to Dravuni after completing her education on Kandavu. "Is she married," I asked her mother. "No, we'll wait until she is 21 years," she said. I photographed mother and daughter. I asked Laniana how many cruise ships stop at the island each year. She replied: "Six, and they are very important to us."
Sensing our time together was short (only the extreme foolhardy would miss the last tender and find her/himself living on Dravuni Island,) I asked her to write her name in a small police investigator's notebook Jeanne keeps with her; she did, and then said: "What are your names and address?" I was surprised at the question. Jeanne wrote them and tore a page from her notebook and handed it to Laniana; she read our address back to us and said: "I'll write you." As we were about to leave her, Laniana looked us in our eyes and stated calmly: "God put us here and our life is good." Dignity, Simplicity and Acceptance are what I could learn from Laniana and the South Pacific islet of Dravuni.
---
26 April 2013 - Second Samoan Sunday of April 21, Aboard Oosterdam, En Route Pago Pago to Nawiliwili HI
I had one duty to perform on my second April 21, and first day ever in Pago Pago, American Samoa.
Jeanne and I live within a mortar drop of the Shenandoah National Park Headquarters, located east of the Town of Luray, Virginia. Further, Jeanne is the Commonwealth of Virginia Commissioner on the Cedar Creek And Belle Grove National Historic Park Federal Advisory Commission. The two national parks were recently combined and the National Park Service sent in a new superintendent—Hang with me! I promise you this is going to make sense.
Jim Northup is the new Super of the Shenandoah and Cedar Creek/Belle Grove parks. I accompanied Jeanne to a recent meeting of the aforementioned federal advisory commission. In the course of general bonhomie and chit-chat after the meeting, I described our South Pacific voyage to Northup. "Do you know that American Somoa has a national park," asked Northup. I didn't reply with: "How the hell would I know that?" I probably babbled something more innocuous and a little smoother, like: "Why no, Jim, but how interesting—way out there." "Well, if you should get to the Park, would you give my greetings to the superintendent?" I assured him I would do just that.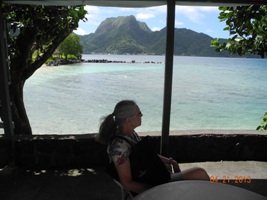 When Jeanne and I disembarked the Oosterdam and exited the dock on the morning of our Second Samoan Sunday, we first passed a gargantuan, white-shirted (with neatly-knotted tie and wearing a lava lava) Samoan sitting imperiously on a seemingly-too-small plastic chair. He was still there, in the same chair, when we returned. "What do you do here," I asked. "I'm chief of port security," he replied. No further questions.
Ten feet behind the chief of security was a National Park Service welcome table, containing brochures pumping the park and a general map of Tutuila Island, on which Pago Pago sits. Behind the table was an alert, uniformed (complete with a lava lava instead of trousers) young man. "Young man," I began. "I have come to Pago Pago on a mission." "Yes, sir. How may I help?" He carefully wrote down the information on Jim Northup, after learning of my mission, and promised to deliver it Monday to the superintendent of the National Park of American Samoa.
"Are you a full-time Park employee," I asked the young man. No, I have a couple of part time jobs. One is here, with the park." "What is the other one," I inquired. "During fire season (summer) I'm a 'hotshot' national forest firefighter." "You mean you jump out of planes?" "No, the 'jumpers' go in first, then we—it is usually a unit of 20 or so—go up the mountain toward them. We build fire-lines to try to contain the fire." "Whoa," say I, never ever-ever having dreamed of acquiring such an occupation. "How do you split your time between Samoa and California?" "Well, I leave for California tomorrow. It takes a week for drug and other testing, and then I'll be ready for work. I usually get back to Samoa in October." Another young man, who had been listening to our conversation, chimed in: "Yeah, Hawaiian Airlines. From here to Hawaii, then on to California." Before we left his park welcome table, I asked the park ranger/ fire-fighter hotshot to write his name for me on a park brochure; he did so.
At this point in today's essay, I must bust the narrative: A couple of days ago, setting up to write this piece, I sorted through printed pamphlets and brochures that escaped Pago Pago with us, when we set sail for Hawaii (of course, no sails were set; the men in the engine room simply revved-up the engines). I had two copies of the National Park Service brochure. "I don't need two of these," I said to myself. I pitched one in the trash can, ever-ready next to my right foot, as I write on a small desk in our tiny cabin. I didn't remember the importance of one of the brochures; I didn't review them. As a result, I trashed the brochure on which the young man had written his name.
Young park ranger/hotshot-forest-fire-fighter: I told you that I would write about you for my website; however my negligence has assured that you will remain therein nameless. I apologize; however, I did take a good photo of you, which will appear in http://www.cruisin-thru-100.com. That ends the narrative break.
As our two Fiji port calls experiences were in dramatic contrast to each other: urban Suva and virtual 18th Century Dravuni Island, to a limited sense were our stops in Apia and Pago Pago. In Apia, we for force-marched ourselves, dehydrated, through a closed town.
---
29 April 2013 - Aboard the Oosterdam, En Route Honolulu, HI to Vancouver, BC
We were in a line walking from the Oosterdam gangplank to the Nawiliwili (Kauai, HI) dock and I was chatting with the man in front of me. "We've been here 37 times," he said. "We live six months in Australia and six months in the states." "Wow," said I, never having imagined such an extreme summer-home strategy, "it must mean a lot of very long flights." "Oh no," said the man. "We take the ship." "We're already booked for October," his wife piped up. That evening, I mentioned the brief conversation to an assistant to the Oosterdam hotel director: "Oh, I know who you mean," she said. They live in Melbourne and Northern California. She told me their semi-annual 25 day or so voyages cost about as much as flying business class." I had no response.
This has been the second time that Holland America has delivered us to the Nawiliwili dock; each time arrival on Kauai has stirred powerful memories.
It was November 1982. Jeanne and I were on Kauai at the invitation of my close friend and former law partner, George Franklin, whose accumulated Northwest Airlines frequent-flier miles had magic-carpeted us to Kauai. We would spend three or four days in a condo on the beach near Poipu enjoying all the Garden Island has to offer; we would then fly to Honolulu, where my cousins Mark and Rita had arranged for Jeanne and me to be married. After our nuptials, we would visit Pearl Harbor and return to the Poipu condo for our honeymoon.
"There's a hurricane coming straight to this island," Jeanne told me when she awakened me early on our third morning, "they say it's the first one in 50 years." Jeanne was awake very early, in the grip of jet-lag. After an intense discussion, the Frink wedding party decided to race the hurricane, it incoming, we outgoing. Jeanne dialed Hawaiian Airlines; she was able to nail-down the last four seats on what turned out to be the last flight to Honolulu, before Hurricane (or Cyclone, if you wish) Ewa laid waste to Poipu and the entire island of Kauai. By the time we got to Honolulu, Ewa was building up to a full-fledged, frontal attack on Oahu.
Cousin Mark's wife, Rita, gathered Jeanne and me at the airport. Then, as if nothing was amiss, we casually drove about sections of Oahu, with the fuel gauge in Rita's car staying steadily on E, for empty. She stopped at a friend's home; Jeanne and I remained in the car with her infant daughter. We then drove to a service station and entered a line of vehicles waiting for fuel; when our turn came, the electric juice vanished. When we finally arrived at the family home, Rita had forgotten her keys. I broke in. Hurricane Ewa was now at full rage. We taped large windows and brought in from the yard anything movable that had not already flown away. I retired early on my wedding eve. I prefer to face certain death sound asleep.
After cold showers in the morn, we four ventured out into the eerie calm after the storm. A few houses away, the second story of a home sat across the street in front of a neighbor's garage. Concrete light and electric poles were bent over at 90 degree angles; broken glass was the order of the day. BUT! Inexplicably, the flower shop where the wedding leis had been ordered had them ready; George had ordered a limousine and chilled bubbly wine; both arrived on time.
Honolulu was closed down, but Judge Kokobun was in his chambers, ready to join the happy but stunned (to add to the chaos, I had developed a head cold and my nose was rapidly running) couple in legal matrimony. George and his wife kept their commitment to witness our joining, under all these bizarre circumstances (their hotel lost power; they had to walk darkened stairs back and forth to their 19th floor room.) Judge Kokobun pronounced us "man and wife." That was followed with a wedding luncheon at a tiny (but open) Chinese restaurant. Jeanne and I then caught the next plane for California.
Kauai remains a blur to us. I remember buying our wedding frocks at Hilo Hatties', an Hawaiian store chain that is a step above the ubiquitous sidewalk racks of shirts and skirts everywhere in Hawaii where a tourist might step.
Jeanne tells me that pre-Ewa we visited Waimea Canyon, "The Grand Canyon of the Pacific." I have no memory of it. The Kauai we did know was destroyed and has been rebuilt. I have a twisted, emotional phobia against venturing into the post-Ewa Kauai; perhaps I fear that if I discover it, it too will blow away. Regardless, whenever Jeanne and I exit a ship on the Garden Island, we remain near the dock, in the weeds of Nawiliwili.
Sunday we spent our Honolulu time ashore with Rita and Mark. They picked us up at the horseshoe drive in front of the Aloha Tower, mid-town Honolulu, where the Oosterdam docked. "It is so good to see you," Rita said as she placed fragrant flower leis around our necks.
First, it was off to a little too-bustling Chinese dim sum restaurant for a light lunch. We spent the rest of our time together back near the Aloha Tower, at the Gordon Biersch waterfront brew-pub. We talked of three generations of Snyders (my mother was a Snyder) and Frinks. We devoted much of our conversation to memories of Hurricane Ewa and the wedding that even she, with all her wrath, could not disrupt.
Late last evening, after removing the satin ribbon on her leis to assure all was bio-degradable, Jeanne made a wish and, from the 3rd deck, flipped her Hawaiian welcome gift below into the roiling Pacific.
---
30 April 2013 - Aboard the Oosterdam, En Route Honolulu, HI to Vancouver, BC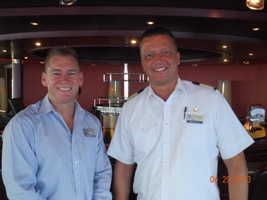 "We train the dining room stewards and cabin attendants at the Holland America facility in Jakarta, Indonesia. The cooks and beverage people are trained at a similar school in Manila," said Oosterdam Hotel Director Edwin Brunink, during an April 29, 9:30 am Crow's Nest "Celebrity Coffee Chat", monitored by Cruise Director, Drew Smith. Later in his presentation before 25 passengers, give or take a few, Brunink explained that of the 800 plus crew aboard the Oosterdam, 630 are under his supervision; these include, housekeeping, all food and beverage; musicians, singers and dancers and all forms of entertainment; finally, what Brunink identifies as corporate partners that work with Holland America to provide specific on-board passenger services: casino, retail shops, photography and spa.
The Holland America system of having folks of the same nationality working together accounts, in my view, for much of the harmony so prevalent among HAL employees—you name the ship. Instead of the tension inherent in having a Romanian trying to communicate with a Korean in English, most of the floating staff on the "Dam" ships enjoy the ease of speaking and joking with their colleagues in their native tongue. Over many years sailing on various cruise lines, my experience is that the HAL system works best.
In his office after the coffee chat, I learned more about the tall, deeply-tanned, 41 year old Dutchman from Meppel, on the northeastern side of Holland. "I went to hotel school in the Netherlands; then I got the opportunity to work for a year at a hotel in Corning, New York; at the least, it improved my English." During that job, Brunink decided that a land-anchored hotel wouldn't do much to satisfy the travel-yen he developed as a child. When he returned home, he applied to Holland America. He began his work at sea as an assistant controller; he soon got into operations and, like most of his craft, then worked his way up through the ranks of food and beverage. Sixteen years later, he is the general manager—in land-bound terms—of a hotel which, on this Sydney to Seattle voyage, has 1,900 guests.
Like many in the cruise industry, Edwin met his wife while working on a passenger ship; a Canadian, she was a card dealer in a Holland America casino. He and wife, Eleanor, have a 12 year old daughter, Kiara. Edwin prefers a schedule of four months working afloat and two months at home in Ontario, hopefully timed to when Kiara is in school, to support her studies. His family sometimes comes aboard for short periods; though, he says: "Those round trip tickets from Toronto to Sydney are not cheap."
THE OOSTERDAM MUSIC MAKERS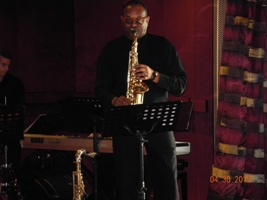 I might have met the happiest employee on the planet. When I first approached Gervay Burnett, leader of one of the two HALCats musical units aboard (quintets, each with a keyboard player, drummer, bass and guitar player and a tenor saxophone player—who also plays flute and alto sax), I said: " I understand that you have been playing on ships for 30 years." "Holland America," he said. "I have always played for Holland America— and it is 22 years, not 30." Burnett was about to go back on the band stand, but added: "It's a great gig and they really take care of you." Then he laughed and said: "On land, where do you play after New Year's Eve?"
In a subsequent interview, I learned more about the 54 year old, Philadelphia native and Temple University graduate. "When I came to work for the company in '90, it had only four ships. The bands aboard ship in those days had 10 players, almost a full big-band. I was promoted to leader after six years." I asked about the benefits of working at sea for HAL, instead of living and playing ashore. "First, the work is steady. Ashore, work dwindles every year. I went to hear Stevie Wonder a while back. He had himself, four backup singers and two computer operators. I kept hearing a trumpet line and would look around for the player; there wasn't any. And it wasn't a synthesizer; the sound was an exact digital reproduction of a trumpet."
Gervay could not be a more satisfied employee: "I would have to make three times my current salary on land to put the money in the bank I do from here. Aboard ship, I have no real expenses: food, room, uniforms, health care, prescriptions, everything is paid for." A bachelor, he doesn't maintain a permanent land residence. "I only take a month off after a contract (4-6 months), that's enough for me."
Gervay mentioned a couple of instances where Holland America went out of its way to provide him great assistance: "Both my parents died while I was aboard ship. Holland America found someone to replace me, and paid my round-trip fare to go home. One time, in Cabo San Lucas, I had to have my appendix removed. They set me up in a very good hospital, then flew me to San Diego to rejoin the ship, and paid for it all."
Each unit of the HALCats can back up the various musical and other entertainment acts that come aboard for short periods to perform; in order to do that, all players have to be expert "sight-readers" (put a piece of music in front of them and they can play it expertly). When not playing backup in the two story theater, each unit plays for dancing in one of the Oosterdam lounges.
Canadian, Andrew Hills, the sax player in the other HALCat unit, is 23 years old, and more typical of the musicians aboard ship. A graduate of Saint Francis Xavier University, in Nova Scotia, he told me: "The word about working the ships is around all the schools that have good jazz programs. You decide if you want to audition and, if they need your instrument, the company head of auditions will email you an audition kit. You open the music, play it while being videoed. Then an hour later you play it again, so the audition guy can determine if you improved. If you pass the audition, you are offered a contract and arrangements are made to get you aboard a Holland America ship that needs you." Andrew is pleased to being paid to play and, like Gervay, is enjoying his "no cost" life aboard the Oosterdam.
Tall, thin, 24 year old Denmark native (from Aarhus), Mathias Madsen left home at age 19 to study drumming in London. He perfected his sight-reading ability and honed his very impressive drum-set percussive skills for four years in the U.K; then it was on to work in Holland America quintets. He is scheduled to follow his group leader to Seabourne, a Holland America sister cruise company, when he completes his current HAL contract. When I told him how much I enjoyed watching and listening to his work on the drum set, he said simply: "I like to make noise."
---
3 May 2013 - Aboard the Oosterdam, En Route Honolulu, HI to Vancouver, BC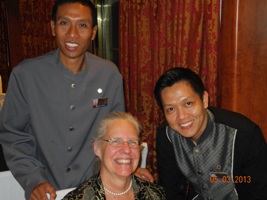 This is our last full day aboard the Oosterdam. We first found our way to cabin 4082, and the large orange life boat hanging three feet out our window, in Auckland N.Z., Saturday, March 30. Now we are in May. The end is near. Reality is slowly slipping into our consciousness.
Little mimics real middle-class life during a long voyage on a Holland America ship: Every need and material desire is provided for, great varieties of well-prepared food in varied dining locales, including 24-hour room service, and special culinary events (last evening a chocolate extravaganza began at 10 pm); during the day, lectures, games of trivia, bridge tournaments, sports contests, books, magazines to be read and puzzles to be solved in the ship library, workouts in the gym; in the evening, entertainment (sometimes energetically and melodically laid out by the lavishly-costumed, ship ensemble of 12 singers and dancers) presented on the large stage in the ship show theater, music in four lounges for listening or dancing, and importantly for Jeanne, the casino. Medical attention is always available. My late mother would have summed up our voyage,"You have been waited on hand and foot." Indeed!
Yesterday, we indulged ourselves during a formal, four-course (including dessert), white-table-cloth luncheon in the formal dining room (our habit is to eat a large late breakfast in the 9th deck buffet dining area, then a light salad at 3-4 pm, again on the 9th deck or from room service.) Dinner is at 8 pm in the dining room. During lunch I said to Jeanne: "We could live on a cruise ship." It is a truth that has been upon us for years.
He handed me his card. It reads: The Baron of Inneryne—Ascog Castle—Tighnabruaich PA21 2BY—SCOTLAND—inneryne@gmail.com. I was about to interview Ronald Reisinger, AKA, The Baron of Inneryne.
I had noticed The Baron. His countenance is difficult to avoid within the confines of the Oosterdam. By his own admission, he is "well into my seventies" and by my observation, over six feet tall and I would hunch weigh in, if there were a Toledo Scale on board, at well-over 300 pounds. If his size were not enough to make the Baron stand out in a crowd of Australian, American and Canadian bland, middle-everything looking folks, on formal evenings the Baron wears an elaborate Scottish-kilt "black tie" outfit; the principal accessory of which is a long knife stuck in his left knee-high stocking. I approached him last evening and asked if I might take a photo of him in his formal-night regalia; he readily agreed.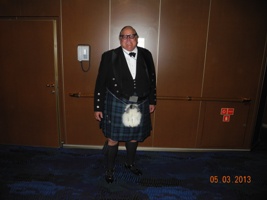 It seemed I asked the wrong question when I inquired about the gross acreage of the Baron's Scotland land-holdings. "We have land all over Scotland," he said. "It has been in the family since 990." He is the father of five—ranging in age from 45 to 15—by two wives (though he told me a delightful tale about how he "accidentally married" a 12 year old girl, in an African country I had not heard of: Biffeche. "When I divorced her, the goats and sheep I gave her made her the richest woman in the village.")
The Baron is possessed of 19 half brothers and sisters, by virtue of merrily-marrying parents (his mother married seven times, his father five.) After explaining that his mother was a Swede and his father half Scot and half German, he said "I'm what is known as Euro Trash."
The Baron asserted that he lives part of the year in the U.S., with his American wife, "in her 40s." "I have homes in Florida and Michigan." He told me of some of the difficulty he went through to divest to his children some of his titles: "I once had 40 titles." It seems the divestiture was not an easy task: "I must have employed every feudal lawyer in the kingdom," he said.
"I have a Ph. D. and a law degree," he told me. Possessed of one of the latter myself, I asked him the origin of his law degree, "Washington University, in Saint Louis." As I understand it from our conversation, the Reisinger Family is tied in with the St. Louis beer-fame Busch family. "There's a Busch-Reisinger museum at Harvard," he asserted.
The ship made its first stop in Australia at Hobart, the capital of the island state of Tasmania I had long planned to go to the Museum of Old and New Art, an idiosyncratic project of a Tasmanian math genius who made his fortune beating gambling casinos world-wide out of significant sums of cash. Alas, it was closed on Tuesday, our day in Hobart. We took a hop-on-hop-off bus. We got off at a brewery. We declined to get off to view the remains of a brutal and vile (according to the guide/driver) British Colonial woman's prison.
The new work-life of the Oosterdam and its crew is taking shape. Alaskan artifacts are beginning to appear around the public areas of the ship. The Oosterdam will be working the Seattle-Alaska run, until it turns around in October and returns the aforementioned passenger-couple, who lives in Melbourne and California, to Australia for the continent-countries' summer season.
---