AROUND THE WORLD 2016

---
9 May 2016 - Jewell Hollow, Page County, Virginia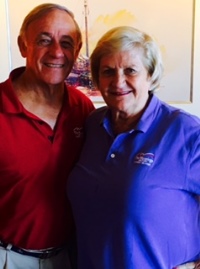 It has been more than a week since Holland America sternly insisted that we disembark the ms Amsterdam after only four months aboard—115 days to be exact. It wasn't enough. For a moment, Jeanne and I seriously considered signing on for the relocation voyage through the Panama Canal to Seattle, then an Alaskan round trip. It wasn't to be.
Jewell Hollow reality is setting in: When we drove into our drive a large doe flashed by as she raced to join two of her offspring on the pond bank. Two days later, Jeanne saw a male hummingbird fly by the hook which holds our feeder, when it is filled with bright red sugar water. Jeanne answered the tiny bird's request: she boiled water, sugar and red food coloring, let the concoction cool, filled the feeder and hooked it up. Now, male and female hummingbirds—a mating-pair we assume—regularly slurp the ambrosia, while perched on the feeder railing.
I have returned to sledge-hammering a battered steel wedge into sweet-smelling rounds of black oak, creating stacks of delta-shaped chunks, ready to be stuffed into the wood stove, when deep chills return to the hollow. This morning, Jeanne spotted a large, red-headed pileated woodpecker seeking a wormy-breakfast on a hardwood stack; it flew before I could photograph it.
The return to reality culture-shock is—well—shocking. Ode, our affable and efficient cabin steward, is nowhere to be found. Dining room steward Irwin is not around in the evening to lay four courses of delectables before us and keep my water glass filled. The lack of shipboard evening entertainment in Jewell Hollow is perhaps the greatest deprivation of all.
After dinner, passengers so inclined stroll the length of the Amsterdam from the stern dining room to the bow Queen's Lounge show theater. Shows begin at 10 pm sharp for La Fontaine second seating diners; the entertainment for the early diners takes off at 8:15. It is as if The Grand World Voyage attempts to revive the act-filled U.S. vaudeville circuit of the late 19th and early 20th Century. During the 115 days of this year's "world", passengers enjoyed 108 different shows, including performances by the resident cast of singers and dancers. Performers represent a kaleidoscope of showbiz talent: comedians—working clean, no F bombs or kinky concepts; singers, crooners to opera; jugglers and ventriloquists; instrumentalists, from classical harp and piano to jazz clarinet; dancers, ballroom to Bojangles-tap to flamenco; magicians, card tricks to "mind reading" to illusionists. This year, a group of English Shakespearean actors performed and taught. The Amsterdam singers and dancers live on the ship for extended periods, while the other acts rotate on and off: they board, do a show or two and leave the ship at the next port with a commercial airport. They often fly to board another cruise ship, as cruise ships are the world's largest source of gigs for live acts, in our television to computer-screened-wired-world.
"Because I didn't want to lose him," is how Jan Yetke answered my question: "Why did you get married at 19?" Her answer is pure Jan: direct and to the point. After 51 years of marriage, two daughters and four grandchildren, she hasn't lost Dick.
The Jan and Dick Yetke story has interested me since we met them on the 2010 Grand World Voyage, when Jeanne and I boarded the Amsterdam in Singapore for the last leg of that "world", ending for us in Seattle. Dick and I met near the stern swimming pool when I noticed he was reading "Game Change," a thorough analysis of the 2008 Obama election. I opened a conversation; before it ended, he invited Jeanne and me to be a guest at the Yetke 2nd seating dining room "salon", as I called it. He and Jan keep two seats open at their table, so they can invite selected entertainers, Amsterdam officers and passengers to join them at dinner. That introduction expanded to the point where over the last 16 months, the Frinks have spent the largest chunk of eight months dining with Jan and Dick, other permanent "salon" seat-holders and assorted guests, during the Amsterdam's last two world circumnavigations. This year the Yetke table expanded to two, with nine permanent members of the discussion and dining group. The added table meant that Dick had to do his after dinner card tricks twice. Jan's supportive, full-volume "Good job, Dick," rang out for only half of her husband's successful stabs at sleight of hand.
At the end of April, Dick and Jan completed their 9th straight Holland America world voyage; they have signed on for 2017-18. Holland America allows only two years advance reservations for the "world." What is the Yetke attachment to the Grand World Voyage? "People who take a two week cruise are on a vacation. This is our lifestyle. Instead of owning a winter home in Florida or somewhere else, our winter home is on the Amsterdam," she explains They send to the ship an enormous batch of "stuff." They bring two bicycles, two computers and a printer—each evening at dinner Dick passes around a chart he has compiled pinpointing the ship's exact position. One duffel bag is stuffed with enough material for four months of Jan's needle work.
Dick was a cadet at the U.S. Coast Guard Academy, Jan a freshman at Connecticut College for Women. A lady at the church they attended played matchmaker. After a 1964 marriage ceremony in the Academy chapel, Dick went to sea; Jan went back to college.
After the Coast Guard, in 1969 Dick earned a MBA at Harvard. Jan completed her bachelor's degree a year later. A series of positions—most involving retail mall development—followed for Dick. He retired in 2002.
In 1983, during a planned job hiatus, Dick announced to Jan that they were going to take their girls (ages 9 and 11) out of school and spend four months cruising a sailboat in the Caribbean. "It was a take it or leave it proposal, and I took it," Jan explained. The sailing caper turned into a grand adventure, including having to turn back to a Bahamas marina, as a hurricane developed, while the Yetkes were beginning the sail back to the states, so Dick could begin a new job. Jan and the girls stayed with the boat, while Dick flew home to begin work; he returned a week later to captain his family crew safely back to the U.S. While Dick and Jan sold their last sailboat years ago, they continue nautical adventures in the lap of luxury aboard the Amsterdam. They have notched over 1500 nights aboard Holland America ships and have plans for many more.
---
26 April 2016 - The Amsterdam is approximately half way from Funchal, Madeira, Portugal to the end of our four-month voyage in Ft. Lauderdale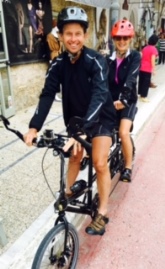 Dutchman Henk Mensink is the Amsterdam's Grand World Voyage annual hotel director; as such, he is responsible for the lodging, food and entertainment of the "guests"—I prefer the nautical term "passengers." Of the approximate 700 crew members aboard, 500 cabin stewards, cooks, dining room servers, bartenders, wine stewards, stage hands, retail clerks, casino and spa employees work for Henk, including his wife, Christel, Guest Relations Manager, plus her assistants. I refer to the very popular and accessible pair as the Amsterdam power couple.
"I believe we can chalk this one up as a good cruise," Henk summed up during a chat in his office. I was interested in his comparison of the world voyages of '15 and this year. "I guess any comparison of the two must begin with the virulent stomach virus which spread around the ship last year," I said. "I remember the captain one time stating he was at his wits end and hinting he was near aborting the voyage, it was so bad. Was it the power of positive thinking that protected us this year?" "We slightly altered some policies for this year, but I believe we were largely lucky," Henk concluded.
I told him Jeanne and I had discussed our four-month experience aboard the Amsterdam this year and we didn't have a complaint. "It was flawless for us this year," I said. "We have sensed there was less guest stress this year," he replied. In support of his thesis, Henk cited the dine-anytime dining room policy. "People didn't like being locked into a rigid 5:30 or 8:00 pm seating rule; also, the dress code is less strict. We tried to provide our guests with more authentic food: We bought more locally. That allowed us to offer more dishes cooked in the local manner, using local spices."
Henk began with Holland America 22 years ago; he became hotel manager within the HAL fleet in 2000. I told him on first-blush it was hard for me to believe that he was only 51 years old, about to flip the page over to 52. I turned the discussion to his future: "Christel and I have discussed it. We think that after we reach our mid-50s, we might be ready to do something else. Running guest relations, she gets all the complaints. I'm down here sort of hidden away, though my door is always open," and he gestured toward it. I told him that when I interviewed Christel, during the Singapore-Seattle segment of the "world" Jeanne and I took in 2010, I was struck by the fact that she spends a third of her time attempting to help bereaved passengers, who have lost a spouse, or other loved one, on the ship (two passengers died this year) or at home.
"At the end of the 'world' I question myself: 'What could we have done better for our guests. What can I do better?' This year, I tried to spend more time on the gangway in port, where guests can see me and ask questions if they like."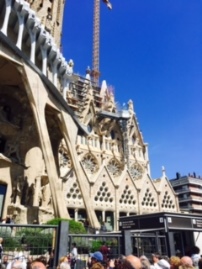 "This time we are going out to see the Sagrada Familia," I told Jeanne when we knew we would be returning to Barcelona. Antonio Gaudi is perhaps the most famous Catalan (Barcelona is the capital of Catalonia, a Spanish region) whoever lived. Pablo Casals,a Catalan and the greatest cellist of the mid-20th Century enjoyed deserved fame, but when he died, his cello fell silent and his fame slid away. Gaudi died in 1926 and his fame continues to grow. Unlike Casals, Gaudi's work is organic, still very much in progress.
Antonio Gaudi was an architect. He designed buildings still unique today. Gaudi buildings, in various parts of Barcelona, stand out because of their undulating, wavy surfaces and madcap decorations. Sagrada Familia church is Gaudi'a piece de resistance, his monument to God. Now, 90 years after Gaudi's death it is still being constructed. Sagrada Familia is a combination of Gothic vaults, spires climbing to the heavens and human figures in relief at the base.
Monday, April 18 the Amsterdam docked near center-city Barcelona. Mid-morning Jeanne and I took a shuttle-bus to the edge of the Ramblas, Barcelona's high-roller shopping and restaurant zone. We boarded a green line hop-on/hop-off bus; to transfer to the red line—it could be called the Sagrada Familia line because of the hordes of people on their way to and fro to Gaudi's incomplete church—the green line double-decker deposited us in midtown Barcelona. As we passed a Golden Arches, I said to Jeanne: "you know what McDonald's have, don't you." She said: "Free wifi." "No, toilets," I replied.
On the Red Line, after a long drive up and down hills, through and around Olympic venues, built in 1992 for when Barcelona hosted the summer games, the bus slowly entered the street fronting Gaudi's masterpiece; it was jammed with tour buses. Hundreds of people milled about in front of the building, most taking selfies and normal photos. Jeanne and I didn't have time to—pay the dear fee and—enter the building. We had no idea when a hop-on/hop-off Red line bus would return for us, nor how long the return to the Amsterdam might take. On the return, our bus drove past seven city beaches, which looked inviting. Once aboard a shuttle bus, I told Jeanne: "We've checked the Sagrada Familia off our bucket list."
---
23 April 2016 - En Route to Fort Lauderdale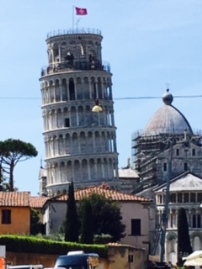 During our first cafe break, as our friend Hans Isler guided us about Old Rome, learning that the Amsterdam was to dock in Livorno he said: "Have you been to Pisa?" Jeanne and I admitted to that void in our Italian travels. "Oh, you must go. You must see the tower and the cathedral. There is a train from Livorno. It will be easy." So it came to be.
For five Euros apiece, a shuttle bus dropped us in the center of Livorno, in front of the Banco di Italia. The 1R municipal bus delivered us to the central train station; after a few minor mishaps—like sitting for a while in an out-of-service train—a functioning train took us to Pisa in a half-hour, mas or menos. "How long has it been since we have been on a European train," I asked Jeanne.
We walked a long distance straight ahead from the station —much of it on a wide pedestrian mall—to a bridge over the Arno River. On the far side of the river, we enjoyed a prosciutto, mozzarella and marscarpone pizza in a 11th Century building, once the home of the Grand Hotel Pisa.
Our first sight of the cathedral and its leaning bell tower was as we walked through a single-family neighborhood. Construction of the bell tower was begun in 1173; it was completed in the 14th Century. The latest project to reduce the lean and keep the tower from collapsing, was finished in 2001. The enormity of the cathedral became clear once we were on its mammoth square. After sating our desire to roam about Cathedral Square, staring at its iconic structures, we needed to find our way back to the rail station, and hence to the Amsterdam, which was to sail out of Livorno harbor for Monte Carlo in a couple of hours.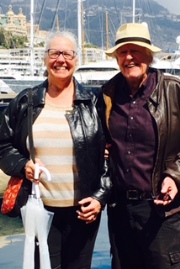 As we wandered in what I perceived to be the general direction of the rail station, I realized I was walking behind a group of Amsterdam employees; one wore a black 2016 Grand World Voyage T shirt. When I got close enough to the group, I shouted: "Hey, where are you guys going?" Assuming us to be passengers, one of the young men answered: "To the Amsterdam. We've got a taxi." Their taxi was a nine passenger van. There was room for Jeanne and me in front with the driver. "I'm not supposed to have this many passengers, but..." The but was the 30 Euros I paid him. When we were underway, I said to Jeanne: Is this slick or what? No taxis, trains and buses. No time worries. This guy is going to deliver us home." In a half hour, it came to pass.
Monaco, at .75 square miles—not a misprint—3/4 of a square mile in territory, is but a global grain of sand. It essentially is a small chunk of the French Mediterranean coast, the Côte d'Azur. Monte Carlo, Monaco's main town, is famous for the Grimaldi family—the late Prince Rainier and Princess Grace and their kids—which has run the place almost non-stop since 1297, the much movie-ized old casino and the storied May Monaco Grand Prix auto race, run through its narrow, twisting streets.
Sunday, April 17, the Amsterdam spent seven hours docked in Monte Carlo. On an on and off rain day, Jeanne and I walked along the waterfront portion of the Grand Prix course, where bleacher seats had been erected. We enjoyed drinks at Son of a Bun (badass burgers); we listened to ordinary folks gunning the engines of their (some very loud and expensive) cars, as they slowly drove the Grand Prix course, dreaming of Formula 1 racing greatness.
---
21 April 2016 - En Route Funchal, Madeira, Portugal from Cadiz, Spain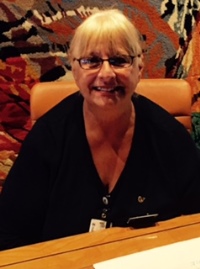 Jeanne just walked into the cabin and said: "Barbara said that Funchal is one of her top three most favorite places in the world." "Whoa," I said. Barbara is Location Guide, Barbara Haenni, a double-digit Amsterdam round-the-worlder, who has seemingly been everywhere a Holland America ship has ever ported and has an encyclopedic memory of it all; she gives a 45-minute, full-house lecture in the two-story show lounge on each and every place where the Amsterdam drops her anchor or docks during the annual four- month voyage. "We really have something special to look forward to tomorrow," I said.
Canadian, "I own part of a place north of Toronto" Tom Grindlay's title aboard the Amsterdam is Dining Room Manager. "I'm really the maître d 'hôtel, because I oversee all the restaurants," he explained. When I probed about his family life, he said: " I've been married numerous times. You can quote me on that."
Grindlay has spent 30 years working in hospitality, ashore and afloat; that explains how he has earned a living for most of his 64 years, but it ignores the essence of the man. Tom Grindlay is a raconteur, a teller of tales, a spinner of stories. When I interviewed him in his tiny office, I believed I would have been with him for hours, but for a telephone call he received from the captain's wife.
I inquired about his decade managing a Toronto jazz club, improbably named "George's Spaghetti House." "It was a wonderful time. I got to get to know some of the jazz greats." Pianist Bill Evans, the Adderley brothers and Saxaphonist Stan Getz were among his favorites. "The legal bars closed at 1am in Toronto, but there was a late-night Chinese restaurant that served rye whiskey out of tea cups. Sometimes musicians—and a few cops—and I could be found there into early morning. One time, Getz and his band played the club. We put their equipment in my van and headed to the Chinese restaurant. After a while, Stan and his guys wandered off. When I woke up in my flat, I realized that I still had the band's equipment and that Stan was playing in Baltimore that night. I found a way to express ship the stuff to the Baltimore club. Later, Stan called me and said: "That's the first time my equipment ever got to a gig before I did."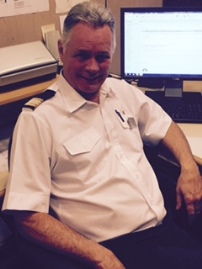 Before signing on with Holland American at age 50, "and going around the world nine times," Grindlay did stints with Canadian Pacific Railroad hotels and the Algonquin Hotel in St. Andrews, New Brunswick. "We'd close it down in the winter, and I'd teach hospitality to the kids in the community college. Some of my students are still in the business."
"My Scottish grandfather became a widower with three young children; he parceled them out to relatives and headed for Canada. He married again and had three more children; my dad the only son." After college, Tom was wandering around Europe and got in touch with his father's step-brother. They hit it off, and the uncle put Tom to work on one of his fishing boats. "Knowing how I got the job, the guys roughed me up pretty good." Then, late one night, out drinking and carousing, Tom's boat crew got into a brawl with another crew. According to Tom, he held up his end in the mêlée. "The cops asked if I was related to my prominent uncle and released me. After the brawl, my life aboard the fishing boat was a lot easier."
Looking toward retirement, he said: "At 50, I told my friends and family that I was going to retire at 65 with enough to live on. They asked me how. I told them I didn't know, but promised it would happen; it has worked out pretty well." He has one more ms Amsterdam round-the-world to go. In retirement? "I'll publish my pizza book." Years ago, beginning in Naples, Tom set out to find the best pizza a city has to offer. Now, with 65 pizza joint recommendations in 60 countries, he believes publication time nigh. He also plans to drive the North American highways and byways, visiting friends along the way.
Friday, April 22. The Amsterdam has pulled its lines from the Funchal dock; it has already clocked 30,030 nautical miles during our luxurious fourth month voyage. We face another 3,000 miles—and change—in the Atlantic before lines are again secured in Fort Lauderdale and this baby is history.
---
17 April 2016 - At Dock, Edge of the Yacht Basin, Monte Carlo, Monaco for a 7am to 3:30pm Pause on the Amsterdam's Voyage Livorno to Barcelona.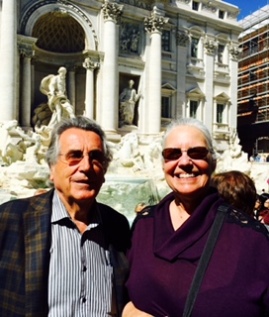 "It was a magical day," is how Jeanne described our six hours roaming Old Rome under the tutelage of our friend, Swiss-born, Roman resident, pan-European, Hans Isler.
Our friendship with Hans is viscerally timeless; in fact, it began exactly a decade ago. In 2006, it was Hans who is responsible for the birth of my travel website you, dear reader, are consuming at this moment. He arranged for me to experience probably the most profound travel adventure of my life. He made it possible for me to live for 44 days as the only passenger aboard the Italian Grimaldi-owned cargo ship Republica di Genova. as it delivered what appeared to be junk cars and worn-out construction equipment to Dakar, Senegal and returned with precious mahogany lumber loaded in Douala, Cameroon on a round trip Northern Europe to Angola, West Africa.
The Italian captain quickly made it unmistakeably clear that he didn't want to endure the nuisance of a linguistically-challenged American passenger in his 7th decade aboard his cargo ship. Realizing that my life was in the hands of this man, I almost jumped ship while the di Genova was docked in Lisbon, before beginning its long run down the west coast of Africa. With Jeanne's email encouragement, I stuck it out. Eventually the captain and I became companionable acquaintances, to the point that he would often take me along on his shore explorations. In my owners-cabin solitude, I sometimes wrote two essays a day (The 47-Day Cargo Ship Adventure), a flood of words in an attempt to record the highs and lows of it all.
Jeanne and I met Hans in person for the first time in 2007 during a slashing rainstorm in Naples, when he gathered us up at the airport to plunk us down at the Holiday Inn; this prior to our boarding another Grimaldi cargo ship, the Gran Ellade. We were two weeks aboard, as it executed its regular Naples round-trip Mediterranean run to Ashdod, Israel; Izmir,Turkey; Limasol, Cyprus and Alexandria, Egypt. Last year, Hans, and wife Lina, gave us a wonderful day of discovery in Tarquinia, Italy as the Amsterdam was docked in Civitavecchia.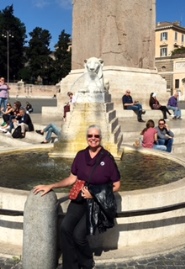 This year, Hans—who over the last six years has purposely ridden his bicycle around the ancient city photographing 2600 fountains (another 300 or so are kept anally private, including Vatican fountains)—agreed to be our guide for our first venture into Rome in 38 years. We emailed him that the Amsterdam-chartered bus would drop us off at Viale Washington in Old Rome. Preparation for our Hans-guided tour began by return email.
"Curiosities: Viale Washington is within the Viale Borghese. The gate at the lower end was the main entrance to this estate, that until 1901 belonged to the family Borghese (1 pope and a handful of cardinals.) Now it is a public park, the second largest in Rome. One of the Borghese, Camillo, was married to Napoleon's sister Pauline. Another, Scipione, won in 1907 the famous car (for you automobile) race Peking-Paris with a 40 HP Itala. On the upper end of Viale Washington starts Viale Fiorello LaGuardia (to make you feel a little bit at home!) See you in Rome."
On Friday, 4-15, as the bus made its way through the morning traffic of outer-Rome, I noticed that store fronts and ground floors of buildings were overwhelmed with spray-paint graffiti. Hans was waiting at the Borghese arch.
The church just beyond the arch in the Piazza del Popolo was closed. As we stood on the church steps, Hans pointed across the plaza and said: "That was once a monastery. Martin Luther lived there for a year (in the early 1500s) when he was studying in Rome." We ambled slowly about the Piazza del Popolo taking in the sights. Jeanne was particularly drawn to the lion fountain next to a very large and tall obelisk "Why the obelisk," I asked Hans. He replied that there were a lot of obelisks from Roman times.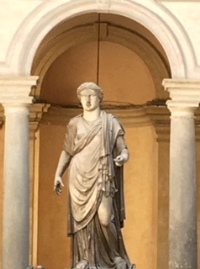 We headed toward the Tiber River and to the Altar of Peace, that Caesar Augustus (63 BC-AD 14) had built to celebrate the Pax Romana he and his armies created as they swept through much of Europe. School children on field trips swarmed the building that protects the Peace Altar.
While we were wandering the Piazza del Popolo, Hans had explained how the Romans had built a series of aqueducts, beginning in 350BC, extending as far out of Rome as 50 miles. When the Barbarians sacked Rome, they stuffed up most of the amazing Roman engineering feats. One, the Virgin Aqueduct, remains; Hans showed us an exposed chunk of it as we strolled.
We took our first break at a cafe on a side street that, to my eye, featured tourists being hauled around in horse drawn carriages; that business is under siege. I asked why. "Animal Rights people." He added: "It does get hot on these streets in the summer." After leaving the cafe, Jeanne said: "that was the best Cappuccino of my life."
The Pantheon is a very large rotunda of a building with a front porch of Corinthian columns. The ancient Romans built it—beginning in 27 BC—to honor all of their gods; Hadrian had it rebuilt in AD 118-28. The hole in the top of the building allowed the before-Christ-Romans to be closer to their deities, legend has it. Among the kings buried in the Pantheon is Victor Emanuel II; he began his kingly work in Sardinia and died in Rome in 1878, the first king of a united Italy; he—with the help of Italian patriot Garibaldi—fought and connived various fiefdoms up and down the Italian peninsula into what today is the Italian nation.
Lunch took place around the corner from the Pantheon at an outdoor cafe in the relatively quiet Piazza della Rotonda. Jeanne and I shared our first-ever Roman Pizza. Hans had a more normal Roman midday meal of shellfish and spaghetti.
The beginning of our afternoon Old Rome stroll took us to the newly renovated and scrubbed-up—and very crowded—Trevi Fountain; its white marble was radiant in the bright, warm sun. The Spanish Steps were closed for repairs; regardless, we stood and stared for a few moments at the famous Old Rome landmark.
Our Roman time was growing nigh. The church was open when we got back to the Piazza del Popolo; there was time to linger for a spell in the old church. When we walked down the church front steps near the entrance arch, a young man was holding high a standard marked with a large 7. Within a few minutes, all the Amsterdamites were accounted for. Jeanne and I profusely thanked Hans for making our return to The Ancient City after our 38-year hiatus, a true once-in-a-lifetime thrill.
For readers who would want to enjoy Hans' Rome fountain photos, click here for his site. If Flickr is more to your liking, his album may be found here.
---
14 April 2016 - En Route Katakolon, Greece to Civitavecchia (Rome) Italy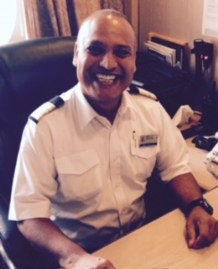 Our cabin service aboard the Amsterdam during the '16 Grande World Voyage is suburb. Ode, our cabin steward, is bright, pleasant and damned efficient. When we go up to the Lido or formal dining room for breakfast, I put a request for service in the key slot of our door. When we return, Ode has made our bed, scrubbed-down the bathroom and any hard surfaces in the rest of the cabin, vacuumed and filled ice to the top of our champagne bucket. In the evening, when we return from dinner, he has repeated much of the morning process. Jeanne and I devour ice; not to chew and swallow it, but in drinks. Which brings me to the cocktail hour and my shaken-martini and Jeanne's cranberry juice and club soda:
In January, while still docked in Fort Lauderdale, I gave Ode an order that our cabin must receive fresh ice by 5pm. Today is the 100th day of our '16 world voyage. In those 100 days, various cabin stewards have once missed delivering late afternoon fresh ice. That is 99% of perfect. I reflected: Who are the people who direct the people who smooth-out our shipboard lives, who care for us, feed us and clean up after us? I called Deputy Guest Relations Manager, Jennifer Carver, and asked her to set up some interviews for me; as usual with her, it was done.
"I love to clean," said New Delhi native, Executive Housekeeper Shiv Charan, in explanation of his career-path. The 47 year-old began that career as a room steward at the Hyatt Regency Delhi in 1985, while studying hotel management nights; he was awarded his degree in '89. For the next six and a half years Shiv served as assistant executive housekeeper at the Sheraton Jedda, in Saudi Arabia, with 12 butlers under his supervision. On the Amsterdam 2016 world voyage he is responsible for the labors of 103; most are Indonesian cabin stewards. "We also have three tailors in my department; they make uniforms. An officer's shirt that costs $47 outside, our tailors make for a fraction of that."
I asked Shiv why he left the hotel business on land for one afloat. He was frank: "The money. I had heard that salaries were higher in the cruise business. In 1996, while on vacation at home in Delhi, I interviewed with Carnival and they hired me." Believing he would enjoy a more sedate environment, he switched to Holland America, a Carnival Inc. sister company, in 2009; he is winding-down his 7th HAL Grand World Voyage.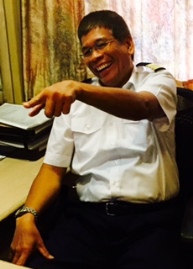 Shiv is very pleased that he took his hotel management education and experience to sea. "I have been able to acquire a home, car and been able to put my son and daughter through university," In addition, his parents live in his home and he has also been able to assist his siblings acquire their homes. "You lent them money," I asked. "Oh, I don't expect to be paid back," he answered.
The toughest part of his job? "Handling employees of different nationalities and cultures," he replied. Shiv looks up to his boss, Hotel Manager Henk Mensink; calls him "fine-tuned" to those who report to him. Shiv Charan, a "I like to clean" success story.
Fifty nine year old Amsterdam Beverage Manager Wilfredo (Willy) Tubog fit the bill when, in 1985, Holland America was looking for Filipino bartenders with five star hotel experience. Now, 31 years later, Willy has worked his way up to be the man overseeing all wine, beer, liquor and soft drink sales aboard the Amsterdam, and the 42 bartenders and wine stewards that serve them up. As I have watched Willy during two world cruises, it has become clear to me that he manages by being regularly on the move between the various Amsterdam bars and restaurants. In business school parlance, I believe such a management style is called: management by walking around.
On his 7th world cruise, Willy is taking a peek around the corner, to the day he retires. "I've got a little farm in southern Luzon (largest Philippine island). My 87 year-old father takes care of it now. I'll have plenty to do, when the time comes." He expects to make two more Amsterdam world voyages before he turns in his officer's uniform for farmer overalls.
Willy has a wife, son, who is a web developer, a daughter in university and a son in the 8th grade. During our chat, Willy became very animated when asked: "After all these years afloat with Holland America, what is your favorite place you have visited?" "Oh, the Holy Land," he said "The Holy Land."
---
11 April 2016 - En Route Piraeus, Greece from Ashdod Israel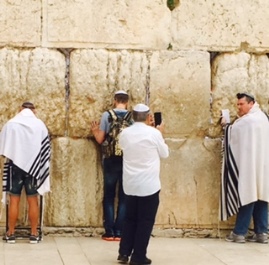 Yesterday, Jeanne and I had a reunion with Old Jerusalem; not a reunion IN the fount of three of the world's religions, but a reunion WITH the old city itself.
The MS Amsterdam was docked in Ashdod, Israel. As we came down the gangway in the morning, we faced a sign: Taxi Stand. Five men milled around the sign. "OK, it's time. What are we going to do," I asked Jeanne. We had discussed going to nearby Jaffa, a restored ancient city, within greater Tel Aviv. "I have never been there," Jeanne reminded me. True, but here staring at us, practically pleading with us to accept it, was the opportunity to revisit Jerusalem, one of our most profound travel adventures ever.
Our prospective driver, a native-born Jew whose parents migrated from Morocco, bragged about the Mercedes sedan he drove (someone else owned) and whined: "The dollar goes down everyday." When we settled on a price for the four hour round trip, Jeanne said: "I'll go back to the cabin and get some more money."
Abram drove swiftly, through the agricultural plain and up into the highlands of New Jerusalem, pointing out a sun-bathed sandstone government building, as the Mercedes approached the old city. "I want to go in the Jaffa Gate," I had told him.
There are eight gates into Old Jerusalem. Jaffa Gate is the entrance to the Christian and Jewish sections of the old city, and therefore is popular with those folks.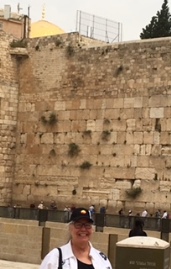 In the early 1990s a heavily discounted TWA ticket facilitated my first week-plus Israel sojourn; after two days lazing around the beaches of Tel Aviv, I took a slow-moving train to Jerusalem; my rail car companions were two Arab men and a young Israeli guard cradling an Uzi sub-machine gun.
I spent a night in the legendary King David Hotel; I could see the Jaffa gate from my room. Next I moved to a King David sister-hotel across the road from the Jaffa gate. I next moved inside the gate to the Christ Church guest house, where I spent a few days in a clean, Spartan room. In October of 2007, Jeanne and I were passengers aboard the Grande Ellade, a Grimaldi cargo ship when she docked in Israel. We arranged a private tour to Jerusalem, and were able to retrace some of my long-ago steps in the Jaffa Gate area, as well as in Bethlehem, where I had visited the Church of the Nativity before flying home.
As the Mercedes entered New Jerusalem, Abram reached back to hand us each a piece of blank paper, and said: "In case you want to write something and stick it in the (Western) wall."
"How much time do you need," Abram asked, as the walled city came into view. Jeanne and I conferred. "Two hours should do it," I said. "OK, it's five minutes to 12. Meet me here, in the parking area below the tower of King David at two o'clock," While you look around, I'm going to get some lunch," Abram said. He swung the car to the left, up the hill and turned into Jaffa Gate. He turned right at the Tower of King David, onto Armenian Patriarchate Road and into the Christian section. We drove past the Armenian Church and followed the narrow street left along the wall. The street continued down, into the Jewish quarter, until we neared one of the entrances to the Western Wall. The car stopped and Jeanne and I got out—causing a minor traffic jam. We approached the ancient (50 BC) Jewish holy site. I took a photo of Jeanne in front of the woman's section of the wall, with the golden Dome of the Rock—an Islamic holy place—in view.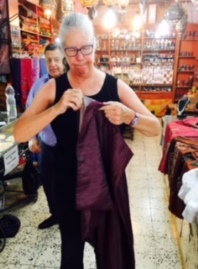 I slowly walked to the male side of the wall. To my surprise, it wasn't crowded as I had seen it in the past. Among thousands of white paper bits , I wedged my squared-up piece into a wall crevice; it read: "God Bless Israel." Jeanne told me her paper read: "May God bless us, our family and friends." I turned to leave. I was unaware that Jeff Farschman, Amsterdam passenger and photographer was at my side; he had taken my photo.
Jeanne and I began to wind our way out of the depths of the Western Wall. After wandering, we came upon the long set of stone steps of the Arab Market, which end a few yards from the Jaffa Gate. "Please come into my shop," importuned a merchant. We looked around his emporium and left. I fell back a few steps to buy a small bag of almonds from a spice merchant; Jeanne moved up ahead. She saw a purple dress she fancied hanging in front of a shop. She asked about it. A young man took it down and carried it down to the original shop we had entered. When I walked by, Jeanne was trying on the dress. The shop owner told her the price was $280. Jeanne said flatly: "I don't want it," and began to walk out of the store. The merchant followed. "$200," he said, following her out of place. Jeanne began to walk up the stairs. "$80," from the man. Jeanne shook her head and kept walking. "$50," said the merchant. We kept up our climb. When the shopkeeper shouted "$40," we both stopped. The man was carrying the dress in a plastic bag. Jeanne reached into her purse for two $20 bills, the two exchanged and we continued walking. "I really wanted that dress," she said.
A cafe sits on a corner at the top of the Arab Market steps. After our ritual beer and Diet Coke—with fresh almonds as an added treat—I asked the young man in charge of the place: "Wasn't there another cafe in the middle of the block?" "Yes, the Lido," he answered. "It's been gone a long time now."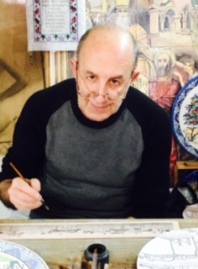 Ah memories. From the moment I walked into the Lido—over 20 years ago—sat down and Mr. Nasser came over to my table and said: "I just got back from Bakersfield California. My son, Sami, has two tobacco shops there"— until I left for the airport, I was under Mr. Nasser's wing. "I'm a Coptic Christian, from Egypt, but my family has been in Jerusaleum for a hundred years. You must see our apartment. It overlooks the Church of the Holy Sepulcher," and it came to pass. He also took me down to see the cistern below the church that provided the water for its construction. On my last day I met him in the Lido. "Have you been to Bethlehem yet?" "No." "Well, you must go. Come with me." I followed orders. He flagged-down an old, yellow Mercedes jitney. I got in. Mr. Nasser said something in Arabic to the driver and I was off to the Church of the Nativity. Once inside, I walked into a Greek Orthodox office and asked a priest: "Why do I see only Orthodox priests at the churches?" "Because in 1055 Rome split from us and we remain." Jeanne and I returned to Bethlehem, and the Church of the Nativity, in 2007.
From the cafe, we walked up Armenian Patriarchate Road in search of the Armenian Art Studio at #77. Jeanne and I stepped down the three steps into Vic Lepejian's ceramic art studio; he sat exactly where he sat circa 1993 and 2007. "Vic," I said, "You're still here. I thought you might not be." "Well," he said, "I've been here in the same place for 41 years." It turns out the master painter is only 64 years old. "I came down these steps many years ago and you answered a question for me. Why do the Armenians have their own section in Jerusaleum? You told me: 'Because Armenia was the first nation to convert to Christianity.'" "Yes," he said and smiled. We bought some of Vic's art and took our leave.
Two doors down the street, we paused briefly at the Christ Church Guest House, where I spent several pleasant days on my first Jerusaleum adventure. I spoke briefly to two pleasant men at the reception desk. I picked up a slick, four color brochure. "I believe I still have the plain, black-ink-on-blue-paper brochure I took away with me," I said. "Boy, I'd sure like to have that," the younger of the two said. "I'm sorry I don't have my briefcase with me," I retorted.
We walked through the Jaffa Gate and down the road to where a white Mercedes with the driver's side door open., was waiting. Abram closed the door and put the car into motion to where we stood at the curb. Jeanne and I got in, ending our 2016 Jerusalem adventure.
---
7 April 2016 - En Route Southern Entrance of the Suez Canal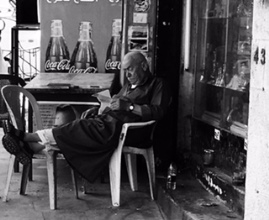 "No, we're not going to Petra again," Jeanne said a while ago. "Last year you came up lame and couldn't walk right for a week." End of re-Petra consideration.
Yesterday we hung out in the port city of Aqaba, where Jeanne purchased the stuffed camel she has been lusting for since our Arabian Desert adventure out of Salalah, Oman. We enjoyed $24. worth of beers (two) and a Diet Coke, with a few mixed nuts thrown-in—plus a couple of hours of free, gloriously rapid and efficient wifi—at the Double Tree hotel. While roaming the streets, I was fortunate to snap a candid photo of a merchant sitting in front of his shop reading a letter; it has been entered in the Amsterdam passenger photo contest.
During breakfast this morning, Jeff Farschman—seven month a year Amsterdam resident, and noted photographer, who I profiled early in the voyage—stopped by our table. "Take a look at these," Jeff said as he thumbed through a series of photos on an Apple device. There were shots of the Petra Treasury building from a great height; people on the ground in front of it were specs. To put it in context: Every Petra visitor with a camera has captured a gleaming photo of the Treasury. as the photographer completes the long down-hill walk through the dark and narrow rock slit (the Sig) and emerges face-to-face with the gargantuan, sun-bathed, rose-colored, carved-sandstone building. I took such a photo in 2015, which appears in my website account of our short Petra sojourn. Later, I sat down with Jeff to get the story behind his remarkable, if not unique, Treasury photo.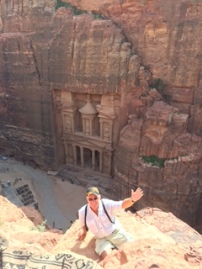 "How did you get to Petra," I asked Jeff, knowing he invariably sets up his own shore tours. "On another long voyage last year, I met this Russian guy, and we became friends. Vlad lives in Amman; he drove down four and a half hours, stayed overnight in Aqaba and picked me up at the dock. We were at Petra by 10am."
Jeff explained that he and Vlad hiked the Al-Khubtha Trail, up over a mountain to an out-hanging cliff facing the Treasury. "I jumped down onto the cliff," he explained, "which was stupid, 'cause I could have fallen. That's how I got the shot of the Treasury." He told me during breakfast that he had walked over 19 miles in Petra. I must have shot him a doubting glance, because as we concluded the interview, Jeff said: "I told you we hiked over 19 miles." He activated an app on his Apple device, and showed me; it stated 19.7 miles, it even had the number of steps taken. While Jeanne and I had drinks in the Double Tree Hotel and ambled aimlessly around Aqaba, Jeff Farschman had an extraordinary adventure into guts of the stone city of Petra, capital of the Nabataean Kingdom, circa 312 BC to AD 106.
Dear readers: For those of you interested in seeing hundreds of professional-standard photos of our 2016 Grand World Voyage, you'll be rewarded if you dial-up Jeff's photo blog: http://amazingvoyages2.blogspot.com .
Captain Jonathan has just announced that the Amsterdam has dropped anchor, to be in place to lead the convoy of ships which will move north through the Suez Canal tomorrow.
---
3 April 2016 - En Route Alabama, Jordan from Salalah, Oman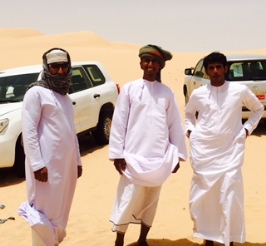 "Just think: You're pouring Arabian desert sand out of your shoes," I said to Jeanne.
It was early evening, April 1, and we were collapsed in our Amsterdam cabin, dehydrated and fatigued after a 220 mile, eight hour-plus, northwest dash from Salalah, Oman (and return) in a Toyota Land Cruiser, through the gravel desert to the Khalif sand dunes; they are at the edge of the Rub Al Khali Desert. The Land Cruiser was driven by an Omani who spoke not a single, intelligible syllable of the king's—or anyone else's—English; this, despite written assurance in the Amsterdam Excursions booklet: "This excursion does not feature a guide—your driver will NARRATE (emphasis added) as needed." Jeanne and I, and two other passengers, traveled for hours through an exotic moonscape, not bothering to voice the many questions that erupted in our heads. Of the 10 4x4 vehicles in the parade to the Khadaf Dunes, two had English-speaking drivers. I suspect the Oman tour company executed the classic Bait-And-Switch.
The Rub Al Khali (Arabian Peninsula) Desert statistics are staggering; it covers 250,000 square miles of the earth's surface. A little context here: Texas gobbles up 266,873 square miles of the globe. The Rub Al Khali is the largest area of continuous sand in the world; it is virtually uninhabited and largely unexplored. It takes up a quarter of Saudi Arabia and smaller chunks of Oman, civil-war-torn Yemen, and other Arab jurisdictions. The largest oil field in the world was discovered in the Rub Al Khali in 1948, to the everlasting delight of the of the Royal House of Saud.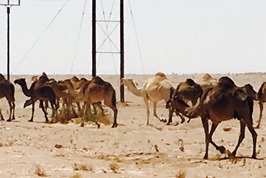 "Please sit on cushioned seats, and wait for your excursion to be called," repeated the young man from the Amsterdam Excursion Office, as passengers gathered at 8am, and later, in the ship two story show theater. Our, The Lost City of Ubar & the Sands of Arabia, adventure was one of the first to move out. Jeanne and I had a "7" sticker placed on our shoulders in exchange for our tickets, and went down the gangway to seek vehicle 7. We were soon four passengers and the mute driver on the move behind six almost identical 4x4 SUVs.
Oman public works has chiseled a good superhighway from Salalah to Thumrait, and beyond, out of the limestone foothills of the Alqara Mountains, which run parallel to the coast. Before the caravan's first toilet stop, at the Shell station off the superhighway on the outskirts of Thumrait, the passengers of #7 had noticed occasional small herds of camels ranging freely over the barren, gravel desert.
At the Shell station, I sidled up to the one caravan guide, driver of vehicle # 1. "Tell me about the camels we have seen along the road," said I. "They are domesticated, there are no more wild ones. They are kept for meat, milk and racing," he answered. "They aren't fenced in," I said. "They are milked at 7 in the morning and roam all day and come back in the early evening to be fed." For the remainder of the adventure, I addressed the guide as "1." "1" is a tall, thin young man, bright and with an amazing fluency in English for someone—he claimed—had never been out of Oman. For the remainder of the excursion, whenever I had a question, I would lay it to "1." During the Shell station stop, an older driver took a liking to me, calling me "son." "I have 10 children", he proudly proclaimed with gusto. I also approached the manager of the ship excursions office: "Our driver doesn't speak English," I said. "That is to be expected," he retorted. Not exactly, if one read the pitch brochure. At the same time a woman approached us. "Our driver doesn't speak English," she said. "That is to be expected," the functionary told her.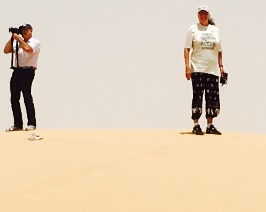 Our next pause in the high-speed run to the Khadaf Dunes was unscheduled: A herd—I don't know if my usage of the word would meet with Arab approval, but I assume it is closer than "flock"—of camels was ambling slowly along a paved secondary road. "1" stopped the caravan so the Amsterdam adventurers could photograph the animals; finally the line of camels began crossing the road behind us, stopping the progress of at least one car. Once freed of road-crossing camels, the driver loudly honked his horn as he sped by, as if Captain Jonathan's charges had incited the beasts to block his way.
Further up the road, pavement ended and, without notice or ado, the surface became a jarring, unstable, rutted-hard-surface mixture of gravel and sand. It was here that the Amsterdam prohibition against pregnant women participating in our adventure came to memory. After an unfathomable distance lurching along, our caravan pulled to a halt near small derelict buildings, which long ago might have been some sort of outpost. The drivers set about reducing tire pressures. It was at this point that road gravel began to turn to sand.
Our caravan was at the edge of the Khadaf Dunes, and pushing ahead to get into the belly of the beast. Passengers in #7 obviously didn't know what was happening, but after turning a corner in the sand path, vehicles behind us began zooming by on the left or right. Then it became clear: the drivers of those vehicles were getting as fast a run up to the dune as possible; our driver (forever unnamed) failed the Khadaf Dune Driving Test, and had to backup to get a better running start at the massive sand stack. By the time we joined the others, Amsterdamites were attempting to scale the dune peaks. Jeanne made it to the top of the second-highest peak; I didn't make it that far.
When it was time to remount the SUVs to begin the long trek to the Amsterdam, with four wheels spinning, one vehicle dug itself into a hole and was stuck. Other drivers pushed, as the pilot of the beached Land Cruiser tried to spin his way out. NO. Then a tow line was produced, attached to another vehicle, which attempted to pull out the first. NO. Finally, someone placed a floor mat under a front wheel of the immobile 4X4, and it lurched out of the hole it had dug.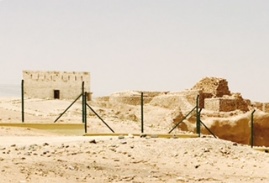 "1" claimed that the lost City of Ubar had been found by a satellite in 1995. Regardless, minor archaeological digs have been made to this time. Because of an ample water well, it is told that 10,000 years ago Ubar was a major stop on the Silk Road, a major trade lane between China and Europe. Lawrence of Arabia labeled the lost city "The Atlantis of the Sands." Whatever, the site is modest now, and will take many years of dedicated digging to bring it back. Down a hill from the site, under an expansive tree, fiber mats had been laid out by the drivers, as a spot where we Amsterdamites could share our ship-provided box lunches with an endless number of aggressive black flies. Before most passengers gathered, Jeanne and I watched some drivers use bottled water to cleanse their sandaled-feet, bow their heads touching the mat, face Mecca and pray aloud. I respected their privacy and didn't raise my i-phone camera.
Our last stop during the eight hours of travel was a frankincense preserve, which had functioning public toilets. There, "1" taught us that the process to extract the liquid to become crystals to be burned for the strong aroma is much like gathering of maple syrup or rubber tree milk. "A tree can be cut up to three times a year and can live up to 400 years," he said.
At 5pm passengers and staff were disgorged from the SUVs at the Amsterdam Salalah dock. A unique Arabian adventure was over.
Yesterday I walked down to the Excursions Office. I asked the manager if there would be a price adjustment for the Sands of Arabia trip, based on the fact that the pitch piece promised a driver to narrate through eight hours on the road in a largely unknown and exotic country. "That shouldn't have been in there," the manager said, meaning the 'narrating driver" promise. "It is in there. I'm a lawyer, and I can read. "I wouldn't be a lawyer for anything," was his retort. Touche! He said there would be no adjustment. I asked about the appeal process. "What appeal?" "Who is above you?" I asked.
---
28 March 2016 - At Dock, Dubai, UAE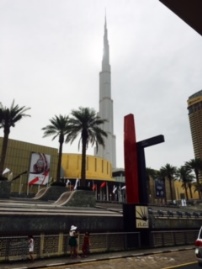 Easter eve Jeanne and I returned to our cabin to find identical cards—Easter cards—on our bed. Jeanne read one to me. "That really impresses me," I said to her. In these days of suffocating Political Correctness, with Christianity under genocidal attack in parts of the world and being strongly challenged in much of the rest, Holland America went out of its way to overtly pay homage to Easter; this, while docked in a Muslim port. "Happy Easter. May God bless you at Easter, and keep you all year through." The card went on in a similar vein to end with: "May His light shine down upon you now, to bless your Easter Day" A tip of the Frink Fedora to Holland America and Carnival Corp. for that positive move.
How many times do you need to be propelled to the apex of the Empire State Building? How many times does one need—or desire—to witness the freak of modern Dubai, with its world's tallest—and don't forget 2nd tallest—building? As a visitor, how often do you want to walk through the Dubai Mall—again, the largest on the globe—to gawk at displays of baubles for Saudi princes and businessmen and their families and stand before the mall's gargantuan aquarium? Do we want to gaze again at the sail-shaped hotel with a helipad attached to the penthouse, which goes for 23 grand a night? A late ruler of this tiny spit of sand, with declining crude production, made the brilliant decision to turn Dubai into a happening, a place where people from around the globe would come and spend just for the bragging rights of having seen the freak scene in the sand.
On Amsterdam's first morning docked in Dubai, I asked Charise, who makes my crepe or french toast each morning in the Lido informal restaurant, if she was getting off the ship that day. "No, my sister works in Dubai, and she is coming aboard at noon." Which brings us to another point of Dubain interest: citizens do little or no honest labor. Work, be it construction—towering building cranes are in view in all directions—hospitality, retail, transportation—taxi drivers are mostly Indian—health care (Filipino Charise's sister is a nurse) is done by expatriates, largely from developing nations with a high level of English fluency. Arabic is not widely spoken beyond the sands of Arabia and nearby lands. English is the Lingua Franca of the modern world; therefore, foreign employees need fluency in it to communicate with locals and visitors.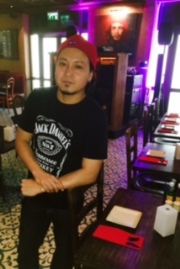 Mid-day Easter, after sitting in the vast marble mausoleum which serves as the Dubai Cruise Terminal and trying to coax workable wifi out of its system, Jeanne and I took the gratis shuttle bus to Dubai Mall; we strolled through it, past the astonishing aquarium, out the back door and into the building behind, as we had a year ago. We were in search of a restaurant out of the Mall's maddening frenzy and away from its alcohol prohibition.
Habana Cafe, a faux Cuban joint, where we were greeted by Sonny Amor, a peppy young Filipino—with his baseball cap turned backwards—would serve our food and drink appetites. The large draft Tiger beer and Diet Coke arrived before our huevos rancheros (a Mexican, not Cuban, specialty). We enjoyed a leisurely lunch and, as the joint's only customers, had the opportunity to chat with Sonny. "I'm 35 and from Manila," he said in answer to my questions. "I've been in Dubai for four years and worked here for three," he said. "Do you have another job," I asked. "No, Foreigners are tied to their employers, so you can only have one (I suppose legal) job." "How long to you plan to stay in Dubai?" "Another five years or so." "Then what," I asked. "Given that I'm a waiter and bartender, I hope to open a sports bar in Manila." What Sonny didn't mention was that when a foreign worker loses his/her job, that person has 30 days to get out of Dubai. Allegedly, the only way a foreigner can become a Dubai citizen is to marry one; if both children and divorce result, children stay with the native-born Dubian, and the foreign-ex is banished. As were about to pass through the revolving front door of Dubai Mall, and seek a shuttle bus for the return to the Amsterdam, I told Jeanne to pose in front of the Hermes shop. "Seeing I'm not going to buy you a Hermes scarf for your birthday, a photo in front of the shop will have to do."
Late afternoon, back in our Amsterdam cabin, after I awoke from my nap, Jeanne said excitedly: "I believe I've found the perfect excursion." Earlier, when we were considering what to do during two stops in The Sultanate of Oman, at the tip of the Arabian Peninsula, I had said: "Wouldn't it be great if we could get out into the desert?" With each of us growing up and being educated in the Midwest, we have deminimus desert experience; though some would argue that our years in Washington D.C. qualify.
Jeanne read to me from the Amsterdam excursions propaganda pamphlet:
"THE LOST CITY OF UBAR & THE SANDS OF ARABIA -8 hours (four wheel dr. vehicle) You'll stop briefly at Thumrait. Continue to the Khadaf dunes located at the edge of the Rub Al Khali Desert and drive amid the red sand dunes for a thrilling experience in the desert of Arabia. From Thumrait, continue to the Ubar excavation site. Ubar is located by the small village of Shishr and is believed to have been a formerly flourishing trading center for frankincense. Today it is a UNESCO World Heritage Site. You'll explore the ruins...as in the works of T. E. Lawrence as the Atlantis of the Sands...an area this is believed to consist of four cities—remnants of the lost civilization immortalized in A Thousand & One Nights." More blah, blah, blah, then a dark warning: "Ride will be bumpy. Pregnant women or guests with back or neck problems are not allowed to Participate." WHOA! If half of this verbiage is the real skinny, the Frinks could be in for a real adventure. "And it is the day after my birthday," Jeanne said. "What time does the excursions office close," asked I. "In four minutes." "Go," said I. Ten minutes later, and $360 lighter, Jeanne returned, tickets in hand. A Hermes scarf would have been cheaper, but Adventure, you can't beat Adventure. Into the Arabian Desert we shall plunge.
---
23 March 2016 - Aboard the MS Amsterdam, En Route Dubai from Colombo, Sri Lanka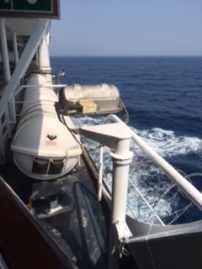 The Amsterdam has just completed its first anti-piracy drill. Crew members scurried about to their assigned duty stations, fire hoses at each end of deck three, for example. Passengers were told to take their leave of outside cabins and sit in the corridors, as the ship would be speeding up to 25 knots and ziggin' and zaggin', if Somalis were nearby and dedicated to joining the 2016 Grand World Voyage.
Yesterday, razor wire was strung around deck three—the first deck that is open, and thus, the lowest deck that pirates could attempt a boarding. In a "Dear Guest" (sometimes we are passengers, sometimes guests) letter yesterday, Capt. Mercer set forth all the Amsterdam's anti-piracy preparations, including having extra security guys aboard. Are these fellows armed with anything more serious than a fire hose? Likely, we'll get through the Straits of Hormuz without so much as a dirty word from Somali pirates or the Iranian Navy, and passengers will never know.
The Amsterdam was docked overnight in Colombo, Sri Lanka.
On the first morning, before walking the gangplank, Jeanne and I spoke with Shenduka Wijesekera on deck four; he and other wage slaves of the Sri Lanka Tourist Bureau were advising passengers on the wonders of Colombo. "It is an easy walk from the ship to the Kingsbury Hotel," he averred. Not exactly, as the Hertz ad goes. Our goal was to place ourselves in a nearby hotel lobby bar to consume efficient wifi and beverages; after, take a taxi or hire a hotel car and driver to convey us to the Gangaramaya Buddha Temple, which also has a museum of worldwide Buddhist artifacts. After a hearty walk—the amble to the port gate alone is more than a short walk—we arrived at the Kingsbury wringing wet. After Diet Cokes and two half-liter mugs of beer and approaching two hours later, we were on our way in a car called in for the occasion by hotel staff.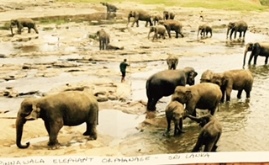 Our dinner companions Dee and Wells had chosen to take a nine hour plus tour aboard the "Viceroy Heritage" train to the Pinnawela Elephant Orphanage. While still ensconced at the Kingsbury, we read Dee's Facebook posting about her delight in the wifi-positive, air-conditioned, antique railroad car. That evening at dinner, Well's proclaimed the experience: "elegant. It even had a bar car, though it wasn't air-conditioned." As we rode around Colombo, the driver dodging tuk-tuks, I said to Jeanne: "We should have taken the train to the elephant orphanage." "Sure," my bride said, "You were going to spend $600 to go see a bunch of elephants. Not!" "But the old train," I said. She looked at me, silently.
By hand motions, I asked the white-clad sweeper at the Gangaramaya Temple if I might take his photo; he agreed. He then stood up and proudly said: "I 88. (pause) Born '28." "You look good," I said. After a few moments, he picked up his broom and slowly shoved-away three brown leaves which had fallen during our brief encounter. Sri Lanka has a caste system defined, as my Britannica states, "by occupation." By my analysis, that means that the sweeper I met is likely illiterate and most probably a son of an uneducated sweeper and the father of the same. The status of the man struck me beyond unfair—as evil. This man was trapped at birth, and I have been upwardly mobile from the time of my graduation from high school. During the return drive to the ship, through the gargantuan Pettah Market—Jeanne declined an opportunity to swim in that ocean of humanity—and again past the red and white mosque, which long ago served seamen as a lighthouse—I lowered a backseat window and photographed a street cleaner, resting prone on a curb. I said to myself: "now-that's-a-tough-life!" Perhaps I was playing God in my head. The street cleaner could be the happiest man in Sri Lanka; still, I find it difficult to conclude other than his is a damned rough row to hoe.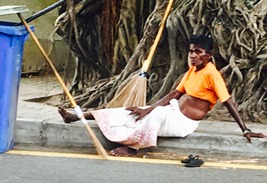 On the Amsterdam's last day in Colombo, Jeanne and I planned to remain on-board. Perhaps because we were facing four days at sea, I became antsy. After lunch, we left the ship and set-off seeking a particular hotel and its wi-fi (the ship internet system completely down). We became lost in short order. Wandering, and dismissing one tuk-tuk driver after another, Jeanne saw a highrise building with a Hilton Hotel sign atop; we zig-zagged toward it and finally came upon an under-construction-entrance. In the lobby bar, the young man said: "I can't serve you alcohol today." It was a Buddhist holiday. "Make it two Diet Cokes," said I. When we decided we had consumed enough wi-fi and Diet Coke, Jeanne said: "Let's not walk back."
Before our tuk-tuk reached Colombo docks, Gate 1, I told Jeanne: "We couldn't spend two days in Colombo without at least one tuk-tuk ride." We walked 100 yards from the gate to the ship, exchanged our remaining Rupees into dollars (6), and returned to our cabin. The Frink's tame Sri Lankan adventures wimped to a close.
---
19 March 2016 - Aboard the MS Amsterdam, En Route Hambantota, Sri Lanka from Phuket, Thailand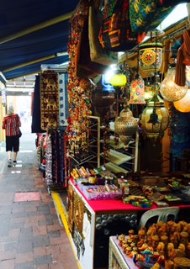 We were on our way to the Singapore Flyer "One of the World's Largest Giant Observation Wheel" (from the flyer pamphlet). Deep in the MRT subway system, Jeanne said: "We're going to have to change lines at the Little India stop." "Great, we can explore Little India. We hit Chinatown last year and now Little India. I like it." And so it was to be.
For as small an island as is Singapore, Little India takes up a large chunk of real estate. "Why Asian Indians in Singapore," a reader might ask. I can only guess: Perhaps the colonial British shifted some Indians from their homeland to Malaysia—of which little Singapore was then a spec—to work the rubber or other plantations.
Jeanne and I began our wanderings in, and around, the Little India Arcade. We first honed-in on a corner restaurant with sidewalk seating; there, I enjoyed a large Tiger beer and Jeanne a Diet Coke. It was lunch time. Many tables and seats were soon filled with people I perceived to be old friends, conducting a daily ritual. I would have liked to have photographed some of the people, but thought better of it.
The purpose of Little India is to sell dry goods and other goodies to Singaporeans and visitors from around the world. Indians seem to have a knack for retail business, as any visitor to the Caribbean can attest. Jeanne seemed serious about finding—and buying—another blouse. The mission took time, but I enjoyed watching the merchants and their clients as we meandered.
The Singapore Flyer observation wheel is a much more sophisticated operation than its Hong Kong counterpart. At the base of the contraption are three stories filled with gift shops and restaurants. For a fee, one can can contract for a cocktail party or full dinner party in one of the very slowly moving—so slowly that customers pop in and out on the fly—enclosed capsules. Jeanne and I enjoyed our 30 minutes of slow rotation, as we viewed the city-state's skyscrapers, ships in Marina Bay, and the Marina Bay Sands Hotel, with a replica of a cruise ship perched on top. A Singapore Flyer pamphlet claims that Malaysia and Indonesia can also be seen, but that might be stretching my 20/20 vision a bit far.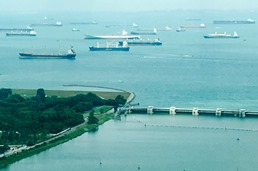 It was a hot, muggy walk from the "Ferris wheel" to the Promenade MRT subway stop; on the way, we stopped at a MRT bus substation: "Is there a direct bus to Harbourfront," I asked the man seemingly in charge. He ducked back into his small office and returned in a few moments to courteously report: "I'm very sorry sir, but there is no bus that goes directly to Harbourfront; you'd have to change buses." My idea was to remain above ground taking in the sights from a bus, rather than as a mole passing through a burrow. At Promenade Station, we decided to take the Circle Line, which for us was a long semi-circle to the end of the line at Harbourfront, rather than a more direct route, that included a change of trains. It was a good choice: We sat in the same seats for 45 minutes, through many stops, as folks flowed in and out of our subway car. I noticed that teenagers most often took seats reserved for old folks and the infirm.
Back at Harbourfront, we exchanged our MRT passes for the promised 20S dollar deposit, absorbed another hour of excellent wi-fi at the Amsterdam gangway, walked the length of the ship to our cabin—the gangway is invariably in the bow, our accommodations in the stern—and our 2016 Singapore adventure was over.
---
18 March 2016 - Aboard the MS Amsterdam, En Route Phuket Island, Thailand to Hambantota, Sri Lanka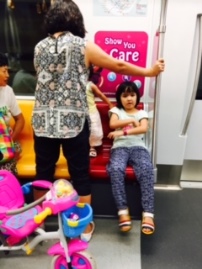 Singapore is the crown jewel of Southeast Asia. To make an easy comparison: It is the Hong Kong of Southeast Asia: It is the money center of the region, and is the most prosperous. The tiny city-state—264 square miles—is famous for its order (to forestall sticky Singapore sidewalks, passengers were forbidden to take chewing gum ashore) and security. Barbara, the Amsterdam's shore-issues authority, assured passengers we needn't worry about having our pockets and purses picked; that taxis were efficient and honestly metered; that streets could be traipsed, day or night.
Sunday evening, we docked at 6 pm. Many passengers and crew soon fled the ship for Singapore evening offerings. Six of the 11 members of Jan's 8pm dining club ran up an impressive tab of over $500 at a nearby restaurant. Jeanne and I took the informal dining route at the Lido, and then spent much of the evening enjoying the excellent and free wi-fi at the end of the Amsterdam gangway.
Like Hong Kong, the Amsterdam seemingly docked in a shopping mall, though the offerings are a notch down from $20,000 Swiss watches. The next morning, the first Singapore deal Jeanne and I cut was with the MRT, the public transport system. Harborfront subway station is in the basement of the mall of the same name; there, we bought two 2-day subway-bus passes, 26 Singapore dollars each; Tuesday afternoon, before the Amsterdam pulled its lines, we returned the passes to the MRT office and a young man behind a plexiglass window slid us two 10 dollar bills.
Before we arrived in Singapore, Jeanne learned that the tiny city-state has a zoo."Maybe we can go to the zoo," she suggested. Knowing her penchant for living-animal museums, I agreed we should spend our first full Singapore day seeking out and trekking the Singapore Zoo.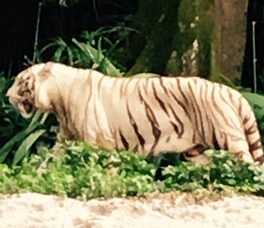 Jeanne and I boarded the MRT Orange Line at Harbourfront, heading northwest by mid-morning; with a change to the Red Line at Bishon, and a transfer to the 138 bus in Ang Mo Kio—a bedroom community with row after row of neatly painted and numbered 10 story public housing units—we finally arrived at the end of the line and the zoo. Zoos, like international airports, gobble up scads of real estate, and are invariably hell-and-gone from city centers. The Singapore Zoo fits the bill. We were an hour and a half in transit, most of that time in speeding subway cars.
The Singapore zoo has an open, rubber-tired tram that carries patrons to various sections of the zoo campus; it helped reduce fatique. The Encyclopedia Britannica embedded in my computer states that Singapore has "a hot and humid climate." "85, 85," I said to Jeanne. "What do you mean?" "85° and 85% humidity." We were drenched before the afternoon showers added rain water to our perspiration.
We had never seen a white tiger before; Singapore Zoo has two. We watched zebras, giraffes (including a baby,) white rhinoceros and hundreds of parent-pushed strollers. The polar bear was in his own climate-controlled enclosure. It was fun watching him swim underwater to where excited children stood on the other side of the bluish glass.
In mid-afternoon we began to backtrack our public transport zoo route; by 5:30 pm we were happily ensconced aboard the mother-ship, in our cool, clean, cozy cabin.
As soon as I learned that Singapore is blessed with an observation wheel taller than the one on Hong Kong Island, I had a glimpse of what Jeanne and I would do for a portion of our second day in the marvelous, little city-state.
---
16 March 2016 - Aboard the MS Amsterdam, En Route Singapore to Phuket, Thailand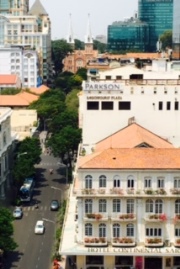 "My whole body aches," were Jeanne's first words uttered upon awaking this morning. "I woke up twice during the night with leg cramps," her lament continued. We were seemingly walking constantly in the daylight hours during the Amsterdam's 48 hour Singapore dockage, but WHOA: I've leapfrogged far ahead in our 2016 World Voyage narrative.
Ho Chi Minh City—hereafter labeled Saigon. "This is our second time in Vietnam," I told Jeanne, "and this time we gotta go to Saigon." Implied in my command was the North-South—and American—Vietnam War history engulfing the-then capital of South Vietnam, up to, and including, the U.S. defeat and withdrawal, as in 1975 when the final helicopter rose from the roof of the American Embassy, as North Vietnam troops overran Saigon. "I really want to visit the Caravelle Hotel, where our war correspondents stayed during the war," I made clear to Jeanne.
The Amsterdam excursions staff arranged large tourist buses (50+ bucks a pop) for passengers wanting to round-trip-it to Saigon and be on their own during the five hours between drop-off and pickup, at the Bitexco Center, a conveniently located skyscraper—with very clean restrooms, I'll add. During the ride to the city, Jeanne and I were amazed at the crush of motor scooters on the road. Lee, guide on bus 14, explained: "in (greater) Saigon there are 10 million people and 6 million motor scooters."
When our feet hit Saigon pavement, after a pleasant two hour ride—with operational wifi—we immediately set off in search of the Caravelle. We passed an ornate yellow and white French colonial building, which I guessed had been a bank; I posed Jeanne on the steps for a photo. In the distance to our right we could see the Caravelle rooftop bar, made famous during the war by the American correspondents living there. ABC, CBS and NBC networks, as well as many print journalists, were headquartered at the Caravelle. When we reached the hotel, a side door security guard told us Saigon Saigon, the rooftop bar, didn't open for 15 minutes. We crossed the street to the Saigon Opera House, where sat a well-used army Jeep, olive drab painted over to be a Pepsi promotion piece.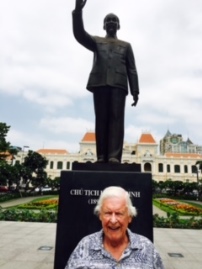 We walked to the left for a block and into a large plaza in front of the Reunification Palace (north and south, you have guessed); the only object on the plaza is a modest, black statue of Ho Chi Minh; he led the war of independence against the French and against the south (supported by the U.S.) After photos, we returned to the Caravelle and the rooftop bar, overlooking the Opera House below, and down Dong Khoi St. all the way to the distant, twin-spired Notre Dame Cathedral.
"I have worked here since graduating from university, 15 years ago," said Saigon Saigon hostess Loan Nguyen, in answer to my question. We took our leisurely time over a Saigon Beer and Diet Pepsi. The Saigon Saigon menu is an elaborate tabloid newspaper-sized pamphlet, with one full page set aside for "Memoirs of Caravelle." A quote:
"From their tenth-floor perch, cold beers in hand, journalists could, by the war's closing days, see the front line from their bar stools. If things got lively enough, they would...take one of the hotel's swanky American limousines out into the field and be back in time for cocktails and note comparing. By the end of the war journalists claimed that they could cover the action without even leaving their bar stools."
What the rooftop menu did not have was an offering of Vietnamese food. "Loan, can you recommend a Vietnam restaurant?" She made a phone call, and soon a slender young woman appeared; she handed me a piece of Caravelle note paper with a handwritten list, with addresses, of three restaurants.
Lunch at the Lemon Grass—in a narrow, French-era townhouse (also recommended by bus guide Lee) was delightful. I asked the manager if he had any relatives in the US. "Yes, an uncle," he replied. "In California?" "No, Texas." "Ever visit him?" "No, too expensive to go to the United States."
From the Lemon Grass, we began a very long walk to the Ben Thanh Market (Guide Lee had warned that Saigon taxi drivers are extortionists). In the neat, well organized market ("all prices are fixed" signs abounded) Jeanne purchased an attractive black blouse. We trudged back to the Bitexco Center; there peddlers swarmed the Amsterdam passengers waiting for a bus ride home. One woman was attempting to sell me four Ralph Lauren knockoff shirts. I countered that I would buy one for $4; I held it in my hand, when all of the peddlers took off running at sprinter speed, my vender among them. Bus 14 arrived. "I won't cheat that woman out of her $4 if I can help it. You get aboard. I'll wait as long as I can." Soon, my peddler lady returned without any shirts, but with the four fingers of her right hand held up, as she said "four dollar." I smiled and gave her four crisp U.S. banknotes. Thus ended our 2016 Saigon adventures.
---
10 March 2016 - Aboard the MS Amsterdam, En Route Sihanoukville, Cambodia from Phu My, Vietnam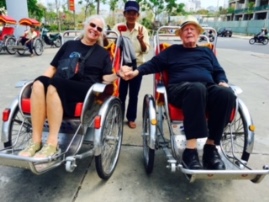 It was a tenet of the late 19th, early 20th Century vaudeville theater circuit that animal and children performers made it tough for the following act to shine; and so it is with Hong Kong.
The port city of Da Nang, Vietnam was next on the Amsterdam's ports-of-call list. The local authorities provided shuttle-buses for Amsterdam passengers from the cargo ship docks, where the ship tied up, to an open plaza, where Vietnamese young ladies operated a makeshift tourist information booth.
Jeanne and I had no plans for a Da Nang expedition when we stepped-off the bus into the plaza. We chatted with two of the tourist-helpers who, it seemed to us, were more interested in sending us on to another town to spend our Yankee Dollars than guide us through the Da Nang wonders—real or imagined.
Along the back of the plaza was a line up of bicycle-powered, single-seat tourist-mobiles. Two operators of the conveyances had moved in behind us as we talked to the tourist-helpers. "You want tour?" We didn't have other plans. "What do you think," I asked Jeanne. "Sure, why not." The drivers and I settled on five dollars an hour for each "bike-shaw." Off we went into the streets of Da Nang, through waves of motor scooters.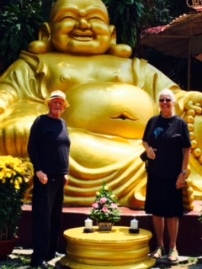 It was fun slowly cruising along the streets, watching the sidewalk action on a slow Sunday. After our return to the Amsterdam, we learned that some of our friends had been in Da Nang fruitlessly searching for the Golden Buddha. In our ignorance, we were surprised when our bicyclists delivered us to a large temple campus, home to the Golden Buddha. We dismounted. Jeanne and I were the only tourists in the place, so the normal tranquility of a Buddhist temple was magnified. In a word, we had the run of the place, at our pace. It was a delight. Then it was on to the temple of the One-Eyed Buddah, and again, we were the only visitors in the place.
"Next we go to cathedral," our driver said, as we all remounted. After more street-cruising, I noticed that the end of our hour was nigh. "I think it's time for us to go back," I told my driver. Though we were peddled back to the plaza within the hour, "You owe me $10." "No I don't," was my non-negotiable answer. "We have children in school, and..." which all could have been true, but the plea fell on deaf ears. I gave each bicyclist $6, and our thanks for a delightful time in his care.
Jeanne and I began to meander toward the river. After a few blocks, we came upon a tiny, corner, open-sided cafe. It was time for our ritual drink. We received our beverages—a 12 oz. can of Saigon Beer, 16 oz. Diet Pepsi, $1 each—and sat in available seating, plastic children chairs; don't ask, I don't know the answer. City of Da Nang free wifi was fast and strong. We were happy, and stayed a while. When I finally stood up, it took a moment for my legs to fully function. We began our return to the plaza sidewalk-strolling through a series of open-front retail shops; in one, we bought a ½ kilo of cashews. That purchase ended our Da Nang adventure. On we went to the plaza, the bus and the Amsterdam.
---
8 March 2016 - Aboard the MS Amsterdam, En Route Da Nang to Phu My, Vietnam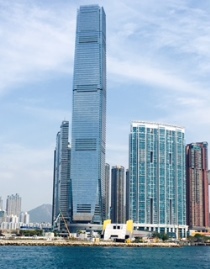 " I love Ferris Wheels," Jeanne said when we first spotted the 60 meter (approx. 180 ft.) high Hong Kong Observation Wheel behind the Star Ferry Central Pier on Hong Kong Island. "I didn't know that, so put the ferris wheel on our Hong Kong to-do list."
Our second Hong Kong day began, as all Amsterdam days begin, with a leisurely breakfast in the Lido. The first tourist target for the day was a Star Ferry tour of Victoria Harbour, one of the world's largest and and busiest commercial seaports. The hour afloat in the open stern of the tour boat gave sea level-views of many of Hong Kong Island and Kowloon's thousands of skyscrapers—8,000, the recorded tour voice of the Big Bus told us—including China-born, U.S. Architect I.M. Pei's iconic Bank of China building. A touch of irony: Pei's father was a functionary in the Bank of China, pre-Mao and Communism, and his American son was selected. We also got a good view on the Kowloon side of the International Commerce Center, 100 stories high and HK's tallest building. The tour boat deposited us back on Kowloon where the Amsterdam was docked. We walked the long marble corridor through Harbour City, pausing quickly to snap a photo of the Amsterdam power-couple, Dutchman Hotel Manager, Henk Mensink and Guest Relations Manager Christel, his wife. After a late lunch aboard ship, Jeanne and I were again on the streets, heading to the rear of the Peninsula Hotel, the starting point for the Big Bus Kowloon tour.
Jeanne and I were seated in the open second deck of the Big Bus Blue Line, as it began its long drive up Nathan Road, the main drag of Kowloon, as the modulated voice in my ear-buds gave us the dope on the Night Ladies and Jade Markets, strung along the Golden Mile—so named because of the ceaseless neon signs—of the legendary retail avenue. The faceless voice in our ears snapped us to attention with the following tidbit: In one section of Kowloon, 3.5 million folks live on 37 square miles, making it the most densely populated chunk of land on earth. As Big Bus turned left into a side street where non-millionaires actually live in the upper stories of unpainted concrete buildings and workmen make furniture, clothing and other useful goods on the ground floor, Jeanne remarked: "THIS looks like China to me." In late afternoon, at tour's end, Big Bus deposited us back at the Star Ferry terminal/Harbour City.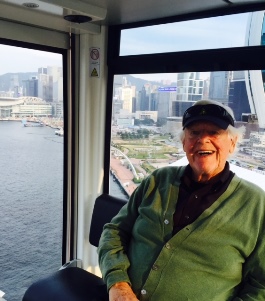 At her first sighting of the 60 meter high (app. 180 ft.) Hong Kong Observation Wheel, on HK Island, Jeanne said: "I love Ferris wheels." Over the almost five decades of our love affair, I don't know how I never knew or had forgotten such a core, id-buried fact about the object of my affections. Startled, as I was, about this glaring void in my Jeanne knowledge-bank, I mumbled: "Well then, we've got to take that one." It was placed on our third-day action list. "We've got the time, and we are at the ferry terminal, let's hop on the ferry and do the ferris wheel now, and make sure it gets done," I persuaded my spouse to drop our immediate plan of trudging the long walk through the Harbour City marble corridors to the Amsterdam gangway, our cabin and a nap. The HK Observation Wheel—aka the Ferris wheel—sits in front of the entrance to the Star Ferry Central Pier; we walked to the ticket kiosk after a short ferry ride from Kowloon. The Ferris wheel rotations were great fun. Our enclosed cabin contained two padded benches, so we switched seats to change views. We took a selfie, and photos of Hong Kong scenes below, as we slowly rotated for a large chunk of an hour. Jeanne has checked-off the Hong Kong Ferris wheel from her bucket list. Back aboard the Amsterdam, we enjoyed another full, glorious dose of the Hong Kong Island light show, after an informal dinner in the Lido Restaurant.
Friday, March 4, was the Amsterdam's 3rd and final 2016 Hong Kong day. Our goal was another Hong Kong Island Big Bus ride to the base of the 120 year-old Victoria Peak Tram, and a trip up the mountain in an old-timey streetcar-like tram; it carries tourists, particularly Chinese and Japanese tourists, at a steep angle 1500 feet up a mountain to a tourist-trap environment at Victoria Peak; despite that, it is a Hong Kong must-do for, on a clear day—even a smoggy day, in our case—the view to Kowloon—plus the Hong Kong Island skyscrapers below—is impressive. Jeanne and I succumbed to the Victoria Peak environment: We bought two very expensive drinks at a Bubba Gump Shrimp Co. franchise and a couple of relatively modestly priced HK T shirts—it was, after all, our final Hong Kong day. The Victoria Peak experience is for those willing to be in the midst of a crush of humanity.
The Amsterdam all-aboard was 7pm Friday, and by 9pm it was off to Da Nang. We enjoyed every Hong Kong moment: the Sampan ride in and around the typhoon ship shelter; the Jumbo floating restaurant; the light shows; the many Star Ferry rides; Big Bus rides and Victoria Harbour tour; Hong Kong Observation Wheel; Victoria Peak; our time in Stanley (and its market); even the very long walk in Harbour City to find City Super, where we bought soft drinks to take back to the Amsterdam. We loved it all.
---
5 March 2016 - Aboard the MS Amsterdam, En Route Hong Kong to Danang, Vietnam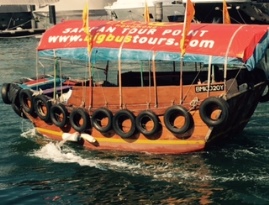 "I'm about Hong-Konged-out", Jeanne said in the Star Ferry Central Station, on our 3rd day in HK, as we finished our 6th ferry ride; it returned us from Hong Kong Island to Kowloon and Harbour City, the largest shopping mall in Hong Kong—450 shops with every ultra-luxury brand on earth that you've heard of and many that will never reach your consciousness—where the Amsterdam was docked.
Wednesday morning, March 2, Red-jacketed Big Bus (hop-on-hop-off) hirelings were awaiting Amsterdam passengers at the end of the Hong Kong gangway—and they were on post to assist us at each transport point, during our three day spinning-top Hong Kong adventure. Jeanne bought us a two-day pass (which extended to three because we were so busy in Hong Kong we again scrubbed Macao). Included in our packages were unlimited hop-on-hop-offing over three routes, spanning Kowloon and Hong Kong Island; Star Ferry tickets, to connect the two; a sampan ride in Aberdeen; Victoria Harbour boat tour; a ticket for the must-do Hong Kong Victoria Peak tram ride—it's vast panoramic view 1500, or so, feet above the harbour, was marred by smog—and a ticket to the HK Maritime Museum, which went unused for Frink Fatigue.
Ticketing secured, we took our first Star Ferry crossing to Hong Kong Island and mounted the open top deck of a waiting Green Line Big Bus, and headed over the mountain, to Stanley; it's a town notorious among Amsterdam distaff passengers for a large soft goods market. On our first hop-off, we aimlessly walked 10 yards, down three concrete steps onto a narrow beach, which Jeanne immediately slowly ambled in search of treasures. A Filipino woman was exercising her Chinese employer's large, shaggy dog, on the same stretch of beach. In answer to my question, she said: "Go up those stairs (pointing), walk down to the street, turn right and walk past the Stanley Post Office. Then, to the left you'll see the market."
As we stood on the Stanley Post Office corner, a spanking-new, royal blue Rolls Royce sedan pulled to the curb; a smartly dressed Caucasian woman exited the rear seat and immediately disappeared down the side street into the market. Apparently even extravagantly wealthy Hong-Kongers mix-it-up with the hoi polloi now and then in search of a bargain-or whatever. Our search, through a segment of the Stanley Market, came up empty—though I came close to convincing Jeanne to pop for a pair of harem pants.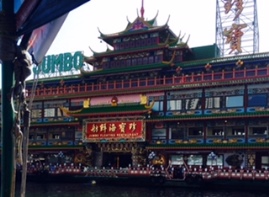 We took a break at a nearby Pacific Coffee shop for a small quiche, iced tea, water and free wifi. A shop clerk gave me accurate directions ("turn right at the light down the hill") and we were soon back atop a Big Bus headed to Aberdeen; there, it pulled up beside a dock ,where three Big Bus sampans waited—Big Bus here, Big Bus there, everywhere a Big Bus. The unvarnished truth is that Big Bus is damned well organized. We found helpful folks in red jackets every step of our three-day Hong Kong tourist odyssey.
Our sampan, actually driven by a silent Chinese woman, wearing a faux fur hat, putt-putt-putted (the sound, I believe, of a two-cycle engine) about in a small bay; it serves as the Aberdeen Typhoon Shelter. The shelter is jammed with inert, anchored vessels, some small and barely seaworthy to grand yachts; all apparently waiting safely for a very big blow out of the South China Sea. Our sampan approached, but didn't disembark a passenger, at the Jumbo Kingdom floating restaurant; this confused Jeanne and me, for we had planned to have a late lunch and assumed the Big Bus sampan ride was how we got there.
When our boat returned to its dock, I asked the man handling the sampan ride operation how we were to get to the restaurant; he said nothing, but waved to the little boat we had just disembarked. We walked aboard again, and the silent Chinese lady soon touched the bow of her sampan to the dock of the Jumbo Kingdom and Jeanne and I stepped aboard a huge, four story dining emporium. A first deck receptionist directed us to an elevator, and we were soon seated on deck three facing the water. Our plan was to order from the dim sum menu—sticky-rice, shrimp and pork dumplings, barbeque pork buns and such.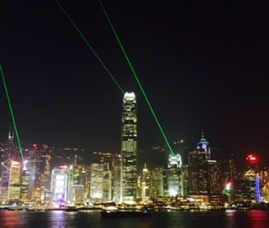 "You can't order dim sum after four," our waitress cautioned us. Our meal was as delicious as anticipated and we were again on the Jumbo Kingdom dock by 4:30 wondering how we were to return to land. A sampan approached and the driver waved her hand in in circle, indicating to us that she wanted to take us on another tour of the Typhoon Shelter; we waved her off. A red-canopied Big Bus sampan came within view; she—yes, women seem to control the sampan driving business in the boat shelter—saw us standing, forsaken, on the Jumbo Kingdom dock, and correctly calculated that we needed a lift. She touched her bow to the Jumbo dock and Jeanne and I walked on.
It wasn't a long wait ashore for a bus back to Hong Kong Island Star Ferry Central Terminal. By the time we rode the Star Ferry back to Kowloon, walked out of that terminal, up the escalator into Harbour City, and down the long luxury-goods marble-floored corridor, onto the Amsterdam gangway, and took the long walk from the ship bow to our stern cabin on deck three, it was 7pm. We were bushed, beat-up, fatigued. We gave our daily appointment at Jan's table for an 8pm dinner barely a thought, and passed.
Jeanne and I were to be early to bed, in hopes of revitalizing ourselves enough to endure another long, vigorous day on the morrow. At 8pm, we did muster the strength, however, to get ourselves to the 9th deck on the stern of the ship to watch in wonder, as the Hong Kong Island waterfront business towers lit up for a 15 minute, multicolored, computer-coordinated light show, featuring four pulsating, darkness-piercing green lasers. It was an indescribable spectacle, and the price was certainly right.
---
27 February 2016 - Aboard the MS Amsterdam, En Route Tanjung Indonesia to Hong Kong
Whoopee! During his midday report, Capt. Jonathan warned his listeners of high winds and rough seas beginning tomorrow morning.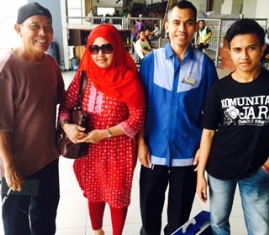 "Family Day" during each of the ship's three Indonesian port stops were apparently great successes. Ode, our very able and obliging, cabin steward had family visiting the Amsterdam at each port, beginning with his wife and daughter in Bali. I snapped a photo on the Semarang dock of Ode, his sister, brother-in-law and nephew.
The Amsterdam has begun a four day sail north to Hong Kong, where passengers and crew will have three nights and most of four days to roam around one of the globe's most fascinating cities. Jeanne has planned out our Hong Kong days: Wednesday the ship docks at 10am, hopefully giving us plenty of time to hang out on the hop-on-hop-off buses; for certain we'll hop off at the settlement of Stanley, with its well known market. Perhaps we'll be able to squeeze in time for a short sampan boat ride. Thursday we have blocked out for a round trip ferry ride to Macao. It would be our first time in the former Portuguese colony, now as then, famous for its gambling dens. We planned to get to Macao in 2010, when Jeanne and I were on the last leg of the Grand World Voyage, but a tout for H.K. Broadway Custom Tailor, Mirador Arcade, on Nathan Rd. in Kowloon, convinced me that I needed a mohair and silk navy blazer more than a short sojourn in Macao.. Friday, before "all aboard" at 8pm, we'll try to do a Hong Kong mop-up of what we missed the first day.
In case we should forget that, among the wonders of Hong Kong is the fact that Avian Flu caused deaths and quite a world-wide scare when it began there, an official Avian Flu Fact Sheet, from the Department of Health, Hong Kong Special Administrative Region Government, PRC was slipped under our cabin door.
Under the headline PREVENTION, all fact sheet readers are warned: "Infected birds and poultry (live or dead) or their droppings may carry avian influenza virus. Therefore, members of the public should: Avoid touching birds or poultry (live or dead) or their droppings." I pledge before God and all aboard the Amsterdam to fall over backwards to avoid touching a Hong Kong bird, edible or not. But, if after the cocktail hour, I should run around the ship or Hong Kong at large chasing birds and/or droppings, get lucky and violate my pledge, I will comply with further fact sheet instructions and "wash hands with liquid soap immediately and thoroughly."
Now, as if my head wasn't filled with enough medical stuff , with the dos and don'ts surrounding birds and Avian Flu, now comes a letter from Holland America Chief Medical Officer Grant Tarling (with his MD plus Master of Public Health degree) warning those aboard the Amsterdam about the dangers of Zika Virus-bearing mosquitoes. "There is no vaccine to prevent Zika. However, you can reduce your risk of contracting Zika and other mosquito-borne illnesses such as Dengue and Chikungunya..." The good Doc goes on to suggest using insect repellent with DEET—helpfully reminding passengers such can be purchased aboard—and wearing long pants and long-sleeved shirts. Dear readers: The above brings you up to the minute on medical bulletins directed at Amsterdam passengers and crew from the Health Department, Hong Kong, Peoples Republic of China and Holland America management.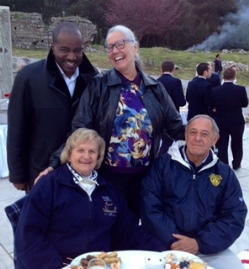 Now that I have mentioned HAL management, I will remind readers that the CEO of Carnival Corp (owner of Holland America and a slew of other cruise-lines), president of Holland America Group and president of Holland America boarded the Amsterdam in Sydney; the wives of two of the three are on for the Fort Lauderdale round-trip. The routine is that corporate officers come aboard to hang out with and honor the regular, high-revenue, round-the-worlders.
Last year when executives came aboard, regular followers of Cruisin-Thru-100 will remember that Holland America created an elegant off-ship passenger dinner party and concert fantasia at Ephesus, in Turkey, a partially restored ancient site so old, St. Paul briefly lived and preached there. The event was so extravagant I wrote of it as a dream scene, as if the evening could not possibly have been real. This year passengers were feted with a "beach party" on the Lido deck—real sand smothered an end of the deck, a good Australian band was hired and free booze were featured. On Valentines Day evening a ball was held in the lavishly-decorated Queen's Lounge, the entertainment theater.
"I love Orlando for what he did with his family tonight," Jeanne said after we returned to our cabin from the Valentine's Day Ball. Let me explain: Orlando is the president of Holland America, whom we met in 2015. Last year when the execs were on board he was recently hired, and his wife was at home with their sons, who were finishing school, prior to the move to Seattle; this year, Orlando's wife and two boys were aboard with him. Half way through the ball, Orlando Ashford strode to center stage, picked up a wireless mic and said: "She doesn't know I'm going to do this." He then told the hundreds gathered, that about the time he took his new job, his wife was diagnosed with breast cancer "and went through surgery, chemo and all of that." He went on to announce that recently Mrs. Ashford had been declared "cancer free." The applause was thunderous. "Now I want to dance with my wife." He came down from the stage, she appeared out of the crowd, the band played, the floor cleared out and the passengers watched the Ashfords slowly dance. After a few minutes their oldest son (tall for 15 years) cut in; finally, the 10 year old cut in to dance with his mother. The Queen's Lounge was aglow with human warmth. That is why Jeanne said "I love Orlando"...
---
24 February 2016 - Aboard the MS Amsterdam, En Route Bali to Semarang, Indonesia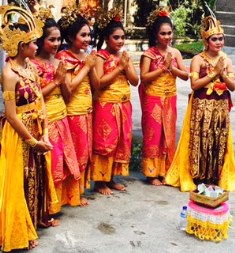 It was the day before we were to dock in Benoa, Bali, Indonesia.
Because of relationships developed during Dutch colonialism, Holland America almost exclusively hires Indonesians as cabin stewards and for food service jobs; this system cuts tension among employees interacting with passengers, because they communicate easily with each other in their native Indonesian. Also, Holland America has a humane policy of allowing family and friends of employees to come aboard during the day while ships are docked in Indonesian ports. During breakfast, we chatted with a dining room stewards supervisor, a Balinese, about her plans for "family day."
"Who is coming to see you," I asked. "My mother, father and brother," she answered. Not knowing if she had one, I replied: "And your boy friend?" "He works aboard," she said. "Nice deal," I joked. "You are here making money and have your boy friend too. Have your parents met him?" "Not yet," and there was a pregnant pause, 'we have different religions." "Oh," I said. "You are Hindu and he's Muslim." "Yes, and we are trying to work out whether we will stay together. It is not easy. We'll see what happens." "You have such spirit," I said, "it's hard to see you as a Muslim wife." There in a nutshell is part of what makes the island of Bali so radically different from the rest of Indonesia, with the largest Muslim population in the world.
Bali is an island of thousands of temples, each village has at least one. Religious celebrations fill the calendar. The Balinese temperament is unnervingly gentle. Yesterday, during our torrential-rain-shortened tour with Wayan, our re-do 2015 driver, he reminded me that despite the maddening traffic, with motor-scooters darting among cars and trucks on traffic-choked roads: "No one honks." At another moment he reflected: "We try to live quietly, with love, in peace." Compare that with 21st Century Islam, and it is difficult to project a long term vision wherein Hindu Bali and the rest of Indonesia remain entangled in one nation.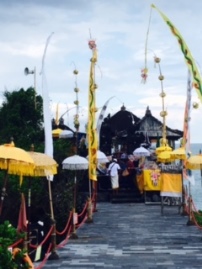 Last year, Wayan drove Dick and Jan Yetke and the Frinks up through the middle of the isle of Bali to Mt. Batur, where we enjoyed a luncheon overlooking an occasionally- active volcano and lake. On our return drive to the docked Amsterdam, we stopped in the artsy-crafty tourist town of Ubud and its monkey forest.
This year, we crafted plans to visit a couple of well known temples, cantilevered on rocks overhanging the Indian Ocean. Then, it was to be up a mountain to UNESCO-recognized, tiered rice paddies. Our final stop was to be Klungkung Kertagosa, a building designed and constructed by artisans of the time, circa 1710; within the compound is a floating pavilion. We did wander the grounds of the over-the-sea temples, accompanied by a horde of young Japanese waving iphones on selfie-sticks, where serious sprinkles began to hint of what was preparing to bear down upon us. When we were approximately half way up a mountain road to the UNESCO rice paddies, the rain became monsoon-strength and the drainage-ditch-less, traffic-clogged, narrow roads became surging rivers. "Wayan, maybe we should give up the UNESCO rice paddies and head back," said Jan, our leader, facing forthrightly the dismal to dangerous driving conditions that were upon us. We all eagerly agreed; Wayan reversed course and had us back at the Amsterdam in time for a late Lido luncheon.
Diane, of "The first thing I do in Auckland, is get my nails done," earlier quote, paused at our breakfast table this morning. Jeanne and I had noticed the absence of Diane and her husband for more than a few days. "Bali is one of my favorite places in the whole world," she began. She then explained that she and David had left the Amsterdam in Sydney: "We flew to Bali and spent almost two weeks in our favorite hotel in Ubud." They have plans to again disembark the ship, this time in Dubai. Friends aboard the Amsterdam have a home in Turkey; the four of them have plans to use the home as a base and explore Turkey for two weeks. "I think of the Amsterdam as a hotel and a hop-on-hop-off bus," Diane said, explaining her penchant for slipping ashore for prolonged extra-curricular adventures.
---
21 February 2016 - Aboard the MS Amsterdam, En Route Darwin, Australia to Bali, Indonesia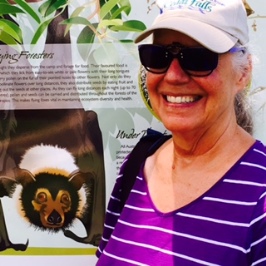 The greatest attraction in Cairns Australia was a large tree next to city hall that provides hundreds of hanging flying Foxes, a sub-species of Fruit Bats—the size of small chickens with a wingspan of up to five feet—a daytime dormitory. It is such a big deal that the city has erected a large sign glorifying its web-winged residents.
Our few hours in Cairns began with a quick-step 900 yard walk away from the Amsterdam's stern, down a boardwalk. The temperature was 90° and the humidity as high. The town casino, for reasons unknown, has a zoo-ette in the dome of the structure. Having taken advantage of the opportunity to commune with koalas and kangaroos in the Sydney Zoo, during the second day of an Amsterdam sleepover there, we declined to pay again for the privilege in a gambling joint.
As we exited Cairns' Woolworth store, I noticed what I took to be a full-blooded Australian Aboriginal woman sitting on a bench with her groceries, apparently waiting for a ride. She was large, black as coal, and passive—phlegmatic—really. She intrigued me, this descendent of Australia's first residents, who scholars estimate arrived 40,000 to 60,000 years ago. I intensely wished to approach her, photograph her, to talk to her, question her about her life, as I would with a white Australian. True or false, I instinctively was aware my approach to the woman could be a cataclysmic faux pas. Jeanne and I went on our way.
Back in our cabin I took off my soaked shirt and hung it on a line over the bathtub. We went up five decks to the Lido for glasses of cold tea and a late lunch; after, a nap helped our bods restore some of our heat-humidity-sapped strength.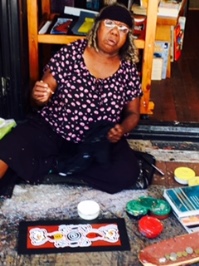 From Cairns the Amsterdam chugged on north, ever closer to the Equator, to Darwin, plopped as it is on the northern top of the vast Australian continent. Darwin is a modern city, because in 1974 a cyclone destroyed it; ergo, every structure we saw from the Amsterdam's dock and during our walk to and fro to center-city didn't exist pre-'74. The sparkling new town is the capital of the Northern Territory, a half million square miles of parched scrub land. The Northern Territory is Australia's wild west, with vast cattle ranches, mines, rough-hewn small towns and very few humans, approximately a fifth of them Aboriginals.
Given the long line of Amsterdam passengers in the small cruise terminal awaiting a shuttle-bus to town, Jeanne and I walked along the waterfront, and on to an overpass which placed us on Darwin's Smith Street Mall, a shopping main drag above the waterfront. We paused during our amble to buy Darwin souvenirs: a cap, carry-all bag and T shirts—I predicted to Jeanne that we'll be the only Jewell Hollow folks recently, if ever, in Darwin, Northern Territory, Australia.
Retracing our steps, at 32 Smith Street Mall we came upon an Aboriginal woman painting, as she sat in front of the Readback Book exchange and Aboriginal Art gallery. "Here is my chance," I said to myself. I stepped back and shot an iphone photo. The woman became agitated, and pointed down to a small laminated notice, which stated that permission was needed before a photo and that payment was required. "I'm sorry," I said, dropped coins into the woman's wooden receptacle and snapped another photo.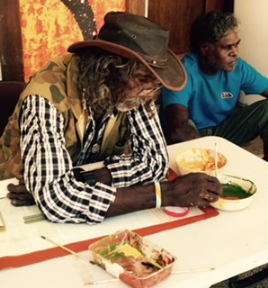 The lady's attitude reversed. She picked up a book sitting at her side, opened to a photo of a painting (I assumed hers) and said "Take picture." I did. Then, she stood up and walked into the shop, picked up a large print of one of her paintings and posed for me. I shot again. She picked up another print and posed again; I took another snapshot. "What is your name," I asked. I didn't understand her answer, but pretended to write in my notebook. The artist returned to her painting. To a Caucasian woman, at the cash register behind a counter I asked: "What is her name?" " She is Sonda Turner, but you also want a photo of David Gulpilil. He is the most famous Aboriginal actor." The woman wrote his name on a shop business card and handed it to me. Focused as I was on my business with Sonda Turner, I hadn't noticed another painter sitting on the opposite side of the bookshop door. I walked out and said to the man wearing a leather Australian outback hat. "David, the owner said I should take your photo." Gullpilil frowned at me, and pointed to his sign sitting on the pavement. I had an Aussie dollar coin in my pocket and dropped into his money tray. He immediately lost interest in me and returned to his work, and I snapped three photos.
Mark Twain was in Australia for over a month in 1895, according to Paul Theroux's book, "The Happy Isles of Oceania" and was disappointed not to have seen a single Aboriginal. Theroux quoted from "Following The Equator" Twain's book of his Down Under exploits: ..."we saw no Aboriginals—no blackfellows."
Jeanne and I have left Australia behind for the third (and perhaps final) time after a fascinating sail north up the eastern continental coast. In real Aboriginal sightings and casual interactions, we carry away more than did Samuel Clemens.
---
18 February 2016 - Aboard the MS Amsterdam, En Route Cairns Australia to Darwin Australia through the Great Barrier Reef Passage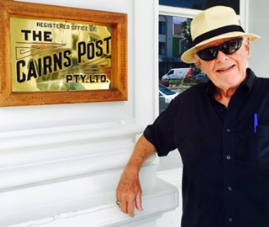 The Great Barrier Reef was never on my Bucket-List, but it should have been.
The Amsterdam is tooling moderately along (15½ knots) beside the the largest living structure in the world, the 1250 mile long, 135,000 square mile Great Barrier Reef. The GBR is made of coral, and coral is complex stuff, Jeanne and I learned at the Great Barrier Reef Aquarium, in Townsville, Queensland on the east coast of Australia, south of Cairns.
If you are a regular reader, you might remember that rowdy seas importuned the harbormaster in Mooloolaba to close his harbor and deny the Amsterdam her scheduled few hours at ease there. Captain Jonathan, and others high on the Holland America food chain, quickly made arrangements enabling passengers and crew to disembark for a few hours in Townsville. From our point of view, this was a dandy turn of events. Jeanne and I, after having been deposited in the heart of town by a complementary shuttle bus, hot-footed it to the GBR Aquarium.
The Aquarium has the world's largest collection of coral living out of the sea, its natural home. Soon, after paying the modest GBR Aquarium entrance fee, we had the fortuitous good fortune of encountering Ewan, "It's pronounced like the UN," he said. After ten weeks of training, Ewan has earned the privilege to be a GBRA volunteer assistant, or docent, if you prefer.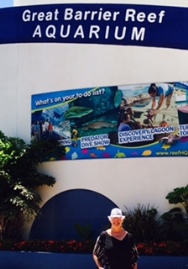 Alive, coral is a marine aquatic invertebrate; when it dies it becomes coral "rock." During the enlightening time Ewan spent with us, he led us at one point to the top of one of the aquarium exhibits. There, Ewan pointed out how a machine constantly cleans the water while a powerful lamp shines faux sun into the pool. "Living coral need a minimum two things: warm, clean water and sunshine," he explained. The need for sunshine explains why coral is found only in lagoons and other shallow sea water. Deep water means no sun, ergo, no living coral. To keep the aquarium coral alive, staff must successfully mimic the reef environment of water temperature, sound and movement.
The Great Barrier Reef has over 600 species of coral living on it and 1500 species of fish swimming around on it. The great variety of fish—many of them vibrantly colored—must account for the fact that the GBR is a magnet for snorkelers and goggled-folks sliding off small boats with tanks of air on their backs.
Like most living things, coral has a predator: "The Crown of Thorns Starfish can eat five to six square meters (yards) of coral polyps a year. The female can lay up to 65,000,000 eggs a season," Ewan told us. In 1963, the population of the Great Barrier Reef Crown of Thorns Starfish exploded, to the point that scientists feared that entire sections of the GBR would be destroyed.
As I scribble these words in our small Amsterdam cabin, I am struck by the fact that I have been so very privileged to sail to the top of the Australian continent, and surprisingly get acquainted with The Great Barrier Reef, one of our planet's unique and arcane living things. Always Forward! Travel on!
Captain Jonathan has just completed his midday PA report. He claimed it will be 93°, with high humidity, in Darwin tomorrow; if so, it will replicate the heat and moisture Amsterdam passengers slogged through in Townsville and Cairns. The ship is 10 degrees from the Equator. It Is Hot, Baby.
---
13 - 16 February 2016 - Aboard the MS Amsterdam, En Route Townsville from Sydney Australia
"I have spoken with the Harbormaster in Mooloolaba and he has closed the port," Capt. Jonathan yesterday announced over the Amsterdam PA system. Oops! Mooloolaba we'll never know ye.
Today, after telling his wards that the Amsterdam was fighting nine foot waves, spun out from a distant tropical cyclone "but our stabilizers are taking care of them," Cappy announced that a port has been found south of Cairns willing to take us in tomorrow; Townsville by name. In my mind's eye I can see the Townsville mercantile class scurrying about to make ready for the shearing of Yankee Dollars from the soft bellies of willing Amsterdamites.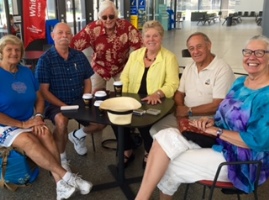 The scene is 8pm, January 5, 2015, aboard the Amsterdam. Jeanne and I walked down the dining room interior staircase to where we remembered (from our being aboard the Amsterdam for the 2010 Singapore-Seattle leg of the "World") Jan and Dick Yetke's table to be. An unfamiliar couple was already seated. "Is this Jan and Dick's table," I asked. "I don't know. This is where they told us to sit," replied the man.
Jeanne and I were in the process of meeting Aussies Cheryl and Vince Stanton who, for the next 36 days, would spice up our early evenings with Australian down-home humanity and humor, both raucous (Cheryl) and wry (Vince). "We just spent six weeks touring America," Cheryl said after the six of us were seated, "and we decided to take the ship home instead of flying." I quickly learned that I could get a hearty laugh out of Cheryl with a half-try, which added to the warmth of our Fort Lauderdale-Sydney evening time together. Jan and Dick enjoyed our Aussie table-mates as much as Jeanne and I. Each dinner ended with Dick amazing us with a card trick, an amusement continuing this year. We all became friends, closer than the usual fellow-passenger-casual-acquaintance. Hugs and tears were exchanged when we bid farewell to Cheryl and Vince as they disembarked in Sydney.
When Jeanne and I made the decision to join the '16 Grand World Voyage, emails criss-crossed between families. Cheryl and Vince offered to come to Sydney—from New Castle, two hours plus away—and host us all for our first day in the city. The Yetkes had lunch plans, but the six of us met for a short reunion in the cavernous cruise terminal.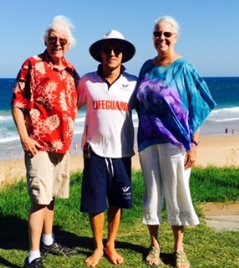 After, Jeanne and I spent the day on the road with Cheryl and Vince, in their right-hand drive Honda, as he spun us south through cramped inner-city Sydney and she explained the history of each and every neighborhood. During the drive, Cheryl said: "When I first saw you this morning, it brought back such wonderful memories."The small attached homes—some with inexplicable New Orleans-esque wrought iron balconies—gave way to spacious suburbia, with the pounding Pacific often in view. We paused at 2 pm for a beach front luncheon within the Cronulla Beaches National Surfing Reserve, where groups of school children were learning to surf. "We just closed the kitchen," said the waitress as we sat down outdoors on the sunny, windy patio of a narrow restaurant ten yards from the beach. Closed kitchen or not, we enjoyed tasty chicken sandwiches on sourdough bread, with local ales for the men.
We continued our drive south, exiting the freeway to pass though the Royal National Park (1878) on a narrow, winding road, hoping to see a kangaroo in the wild. From the park road, Vince drove us onto a beach front highway that looped to a high overlook with a great view of the wide beach extending south, for miles ahead. Back at sea level, we paused at a chunk of the beach guarded by members of the Scarborough Wombarra Surf Life Saving Club, established in 1914. Jack, a young man in his 20s was on duty. "I'm a professional, but we also have volunteer life guards," he explained. "From November until April I'm a full-time employee of the Wollongong town council." Jack explained that along the vast expanse of beach we could see and beyond, a total 60-70 lifeguards are utilized during the Australian summer. We drove down to the small city of Wollongong; Vince then drove on to the freeway for the faster return to the White Bay Cruise Terminal, where the Amsterdam awaited us after 8pm. It had been a very special day that Cheryl and Vince went out of their way to give us, and they had a 2½ hour drive to return to New Castle. Before leaving they gazed up at the Amsterdam, recalling the good times of their year ago voyage home.
---
3 February 2016 - Aboard the MS Amsterdam, En Route Melbourne, Australia from Picton, New Zealand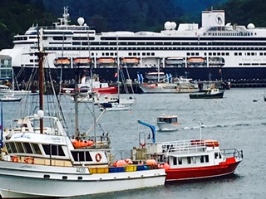 "We had a wonderful time in the country," said the spokesperson for one of the couples in our 8 pm dining group. She was excited about the time spent at Barewood Farm, a 1500 acre sheep and cattle farm in New Zealand's Marlborough province, which, in addition to large sheep spreads, is the top wine producing area in the country. "Watching the sheep dogs work was fascinating," she added. Barewood Farm supports 3,400 Corriedale sheep and 100 Angus cattle. Our friends watched a sheep-shearing and enjoyed a luncheon in the early 20th century manor house. Earlier in the tour, passengers were treated to a visit to an award winning English-style formal garden, surrounding a restored 1911 South Pacific home. Our friends were happy to part with $249.95 apiece for the elaborate 6 hour Amsterdam excursion.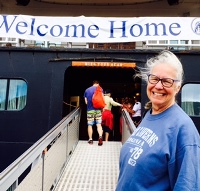 Little Picton, with a population of 3,000 and change, is the commercial and recreational seaport serving the northern tip of the New Zealand South Island. For my dear readers who might not have hung their caps on a New Zealand hall-tree recently, I'll offer a tad of a geography lesson. New Zealand, with a population of less than 4 million is an itty-bitty country, with two narrow main islands—north and south—separated by the Cook Strait (yes, the very same English Capt. James Cook, who appears to have discovered every Pacific island from the Alaskan Bering Sea south). Wellington, the capital, is on the southern tip of the North Island, and Picton is on the northern tip of the South Island. The most efficient way to move vehicles and "stuff" between the islands is to plunk them on a ferry. To my eye, the ferry traffic between Picton and Wellington is very, very brisk. Picton has a large marina, thus sport fishing is a big deal. Jill, a Picton volunteer, was passing out town promotional pamphlets as Amsterdam passengers exited the town-provided shuttle buses. "What makes the Picton economy work," I asked Jill. She hemmed and hawed, and finally came up with "tourism."
Jeanne and I walked around Picton. We visited the Edwin Fox Maritime Museum, wherein sits the last convict ship, that sailed reluctant English settlers to Australia. We entered the town aquarium, but declined to pay the tariff to tour it. Jeanne walked the short town beach (lots of small clam shells, but no keepers.) Craftsmen sold jewelry and other wares from tables in a makeshift open market, on a grassy spot near the marina. Jeanne popped for yet another T-shirt. A corner cafe caught our attention, to the extent that it was where we bought our ritual beer (ale in New Zealand) and diet Coke.
By 5 pm, Amsterdam passengers and crew were back on the nautical trail, but this time with a unique twist: "We'll be doing our annual compass adjustment as we leave Picton,", Captain Jonathan announced from the bridge. As promised, the Amsterdam executed a slow 360 degree pirouette in Shakespeare Bay, before heading out into the churning waters of the Tasman Sea, named after Able Tasman, a Dutch explorer who in 1642 was the first European to lay eyes on New Zealand.
---
3 February 2016 - Aboard the MS Amsterdam, En Route from Auckland to Picton, New Zealand
"The first thing I do is get my nails done," is how fellow passenger Diane explained her presence in the large urban mall across the street from the Amsterdam's dock in the center of commercial Auckland New Zealand. "Auckland and Singapore, the same ladies do my nails every year. When I walk into the shop they call out 'Miss Diane.' When I leave, I say: See you next year." So it can be with the rigidly-annual Grand World Voyagers; each U.S. winter finds them on their well-trod Holland America nautical travel route.
Jeanne and I were, on the other hand, in the mall with many Amsterdam passengers and crew to shop for various toiletries, occasional garments (a light sweater for Jeanne this year, a T-shirt last) a bathroom scale and peanuts. Yesterday, we also sought to replace Jeanne's newly-departed ipad, but we learned in an electronics shop that the plan, if spun-out, would have been too complicated and expensive.
"The elevators are crashing. Not a good sign," Jeanne said, as we ended our midday sun (on the Lido deck stern) and Lido light lunch break. In his daily PA afternoon confessional, Captain Jonathan explained that the swells substantially rolling the Amsterdam were caused by a storm "thousands of miles" away. So it goes in the Pacific vastness.
Now back to our exciting narrative: After schlepping our purchases back to cabin 3411, we rested. Recharged, we returned to the restored wool warehouse, with its thick, wooden-plank floors; it now serves as the Auckland cruise terminal. We were in near-frenzied search of Wi-Fi. Wi-Fi fever is a disease plaguing scores of Amsterdam crew and passengers. Perhaps because of the vast distances it travels into the Pacific, or wherever, the Amsterdam Wi-Fi is often unreliable in extrema.
During the morning, the mall "free" Wi-Fi, was a total bust. In the afternoon, Wi-Fi on the first floor of the wool warehouse was fleeting. Jeanne and I left the warehouse and port to revisit the Harbour Bar for our ritual beer and diet Coke. The Harbour Bar is an elegant, starched tablecloth, second floor joint overlooking the ferry docks. Cash, an apparent Indian and reservations manager, insisted on riding with us in the elevator to properly usher us into the establishment; he then walked us outdoors to pillowed-sofas under a huge Hawaiian Airlines umbrella. There I enjoyed another Black Dog pale ale and Jeanne a diet Coke, as we watched the busy ferry traffic below. As we paid our tab, I had the opportunity to chat briefly with Finbarr, the young bartender—"It means Barry in Gaelic. My mother is Irish and my dad is Norwegian"—a genuine New Zealander. Last year—surprise—the bartender was from Chicago, living in New Zealand with his Filipino girl friend.
All and all, our third visit to Auckland was totally void of adventure and excitement, but that is not to short change the city. In late March, 2013, waiting to board the MS Oosterdam for a South Pacific cruise, we spent two days in New Zealand's largest city. We rode an elevator to the top of the 1000 foot high Sky Tower, for a 360 degree view of the city and suburban islands. A much more substantial experience was in the Maori (native Polynesian) section of the Auckland War Memorial Museum, where we were able to marvel at an 85 foot long Maori war canoe carved from a single tree, and see well-crafted representations of how the Maori lived before being bamboozled out of their heritage and land by the English. We took a round trip ferry ride to a quaint suburban island town. We were even unexpectedly ushered to seats at the packed Good Friday service at St. Patrick's Catholic Cathedral. It was all interesting and written about at length on the site you are now reading. The point is this: We find that we often don't believe we need to redo "the tourist thing," when we revisit a place, and are often content to hang out and absorb whatever exists. That is particularly true if the ship docks at 8 am and passengers must re-board by 4:30 pm.
The day before, when the Amsterdam anchored briefly outside Paihia, a small, tourist burg near the northern tip of New Zealand's North Island, Jeanne again went shelling on the beach—and came up with four beauties. We wandered up the town's one main street, and bought excellent Wi-Fi from a little hole in the wall called Boots Off. I bought a T-shirt from a Chinese merchant. We were served my "Black Dog" pale ale and Jeanne's diet Coke by Charlotte, " I'm from Germany, Hamburg Germany" at Charlotte's Kitchen, a waterfront restaurant and saloon.
Our first two days in New Zealand have been repeaters, but tomorrow is more than a new day: IT IS PICTON NEW ZEALAND, a new place and a virgin adventure, no matter what happens.
---
27 January 2016 - Aboard the MS Amsterdam, En route from Rarotonga, Cook Islands to Waitangi, New Zealand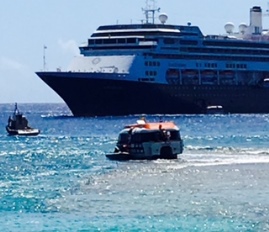 Today, Amsterdam life boat #9 hangs above three deck out of service, broken and forlorn. But, hold it, I mustn't pole-vault over the story of how, after years of failure, Captain Jonathan Mercer finally succeeded in off-loading passengers onto Rarotonga, the capital of the fifteen-segment Cook Island chain.
Last year, on the Grand World Voyage, early in the morning of the Amsterdam's scheduled stop-over in Rarotonga, Captain Jonathan spoke from the bridge and gave the sad news to his passengers: "We must bypass Rarotonga. The seas are just too rough. We have spent an hour attempting to get our tenders into the water, but to no avail," (an approximation, after all it has been a year).
Monday, the day before we were to attempt a Rarotona landing, during one of his regular passenger updates from the bridge, Captain Jonathan reported: "I have spoken with the Rarotonga harbormaster and he told me present conditions are not suitable for tendering..." It was the captain's understated English way of telling his charges, We ain't goin' to make it onto Rarotonga tomorrow.
Jeanne and I awoke expecting another sea day and to our delight—Cook Islands were not on our bucket-list, nonetheless we wanted to add them to our Traveler's Century Club checked-off list—learned that four tenders were in the water (good news). The bad news was that the sea was still so choppy crewmen couldn't attach the tender platform to the side of the Amsterdam. The captain informed passengers that he was going to guide the ship to the western side of Rarotonga, where the Pacific was calmer, but there was only a 50 foot wide cut through the coral reef for the tenders to pass to and fro to the beach.
A tender platform was finally attached to the side of the ship; however, Cruise Director Gene announced that "mobility impaired" folks would not be allowed aboard Rarotonga-bound tenders. Whoa, that was not a good sign for the rest of us. It meant that the sea was so untamed that Captain Mercer and his officers couldn't assure that crewmen would safely manhandle the not-so-dandy-walkers among us in and out of the cork-bobbing life boat/tenders.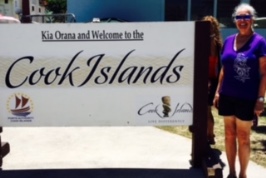 When our turn came to board a tender, Jeanne and I walked down stairs on the side of the ship and stood on the platform waiting for a three foot up-swell to bring the Amsterdam and the tender level; then, with adrenalin pumping and the standby help of two crewmen on the platform and two in the tender, we jumped on. On Rarotonga, we passed a long series of beach-front vacation rentals and the modest, two-story, Cook Islands parliament building, as a bright green shuttle bus carried us to the town of Avatiu, and dropped us off in front of Cook Islands Police Headquarters. With no special plan in place, Jeanne and I did as we usually do, wandered off aimlessly down the main drag. We passed a bank, small supermarket, numerous scooter-rental joints and curio shops. We saw nothing to distinguish Polynesian Avatiu from an endless stream of warm-weather towns in south seas or Caribbean islands—usually chamber of commerce dubbed paradises—tiny lava or coral specs in sapphire-tinted H2O vastness, where the locals survive by metaphorically picking tourist's pockets.
There are a few distinguishing factors that separate the Cooks from the myriad other global sunny islands: It was populated by (perhaps) Samoan, Maori or Tongan seamen paddling and/or sailing large wooden, double-hulled canoes around the South Pacific in search of God only knows what, during the great Polynesian migration of circa 1500 B.C. Of course, the Cook Islands scammed the name from the iconic English explorer, Capt James Cook, who sailed among them in the 1700s. The Cooks are a New Zealand protectorate, meaning that NZ handles defense and foreign affairs, much the way the U.S. does with American Samoa and Guam.
We chose Raviz, an Indian restaurant, for our beer and Coke, during our amble about Avatui; After glancing at the menu, as we sat outside at a picnic table, I told the waitress: "We'll have an order of samosas and onion rings". A damned good idea, as it turned out, as we were to be stranded on shore as lunch time tolled away aboard ship.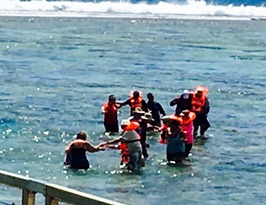 After lunch, Jeanne and I retraced our steps to the Cook Police HQ. When the green shuttle bus pulled up, a woman getting out said to us "Don't be in a hurry. A tender is stuck on a reef and passengers are just hanging around." When the green shuttle delivered us to the dock area, we could see perhaps 100 of our colleagues milling about. As we walked closer to the dock we saw a startling sight: tender #9 tilting to its right side stuck and bereft. Closer, we saw 10, or so, passengers, wearing bright orange life-jackets, wading toward us in shallow water. Whoever was in the pilot's seat of the tender would gun the engine now and then, attempting to rock the boat off the reef. A small tug-like work boat had been summoned, but it broke its tow rope during its first whack at freeing tender #9.
Passengers awaiting transport to the mother ship were well-cared for: bottled water and chilled wash cloths were passed out by crew members and some passengers used large blue Amsterdam beach towels to hide from the sun; others were crowded into an open pavilion, out of the sun. After Jeanne and I milled around for an hour, we heard applause as the tender was finally freed. We then waited in line above the dock and got back to the Amsterdam aboard the 2nd tender, after #9 took leave of the reef. Good news: There were no personal injuries during the busted tender caper and passengers got to watch and photograph a rare Grand World Voyage event: fellow guests wading away from a marooned tender boat.
The Amsterdam has passed the international dateline. This week Thursday was lost forever. Intelligent life aboard the Amsterdam jumped from Wednesday to Friday without a hitch.
---
25 January 2016 - Aboard the MS Amsterdam, En route Moorea to Cook Islands, South Pacific
This is to be a madcap recap of a five island blow through French Polynesia.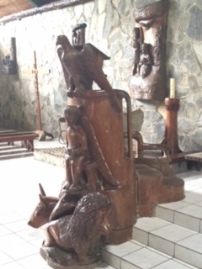 In my last dispatch I stated how much I looked forward to island action. Then our website went dark for days and days, as the Amsterdam plowed on through Nuku Hiva, Rangiroa and Papeete, Tahiti and Moorea.
On Saturday January 23, the day after my 83rd birthday, I wrote a piece describing our past adventures on Nuku Hiva (we first set foot on the Marquesan island May 3, 2007;) it segued into our 2016 march around Taiohae. Then my laptop flushed all the words down wherever Microsoft sends words it kills. Poof! Gone! Now, here I am again at the tiny cabin desk, a fresh morning—same laptop—beginning anew. Vamos a ver.
"This year, I want to revisit the Catholic Cathedral," Jeanne had forewarned me. Last year, when the Amsterdam deposited us in Taiohae, we neglected to make the long waterfront highway trek to re-inspect the church. After failing to locate the one person we know—or knew—(he might be living on Tahiti or another island) in Taiohae, we began the muggy, hot march toward the church.
After passing two food stores, which were not to open until 2 pm, searching for cold drinks, a workman directed us to a guest house further down the highway. It was our oasis, where for an hour we sat on the porch, enjoying beers, Cokes and the cherished, unexpected free, functional Wi-Fi.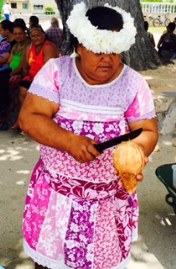 The wooden cathedral, highlighted by the massive carved-wood podium, brought back happy memories of our first visit to the church, and the day we spent traveling the island in a caravan of SUVs crammed with passengers from the Aranui, a cargo-passenger ship delivering all manner of material goodies throughout the remote Marquesan Islands.
Rangiroa is a coral atoll, shallow and flat as a pancake. The contrast is absolute against the sheer lava peaks of the Polynesian islands. Jeanne and I were there on my birthday and we had fun hanging out in and around the hamlet. "Beachcomber is all I ever wanted to be," is my wonderful wife's virtual lifelong mantra. I enjoyed tagging along and photographing her as she ambled slowly over crushed coral, scamming shell treasures near cascading white waves.
We walked the town streets absorbing sights. "Most of the homes look like fixer-uppers," Jeanne said, probably the result of smashing tropical storms. We bought our drinks at a small virtually bare shelf grocery store. The Polynesian folks we encountered were pleasant and not trying to con us; even the teenage boys were under control.
We waited for the Amsterdam-return tender under a massive tree. Music rang out, as a quartet banged out Tahitian beats. I bought a chilled coconut from a diminutive lady with a cooler at her side. She dug out the top with a small machete and rammed a straw in it so I could drink the mild water. I also wanted to taste the meat. To force the coconut shell to give up the dull-white meat, the little lady whacked it hard with the sharp edge of her machete, while holding it in her left hand. What shell resistance remained after she worked it over with the machete, she crushed by squeezing it between her hands. She dug out the meat with her fingers. The coconut water, meat and demonstration of the lady's coconut-busting skills came to $2. total.
The highlights of my birthday dinner party were a rich chocolate fudge cake Jan, our table leader, had special-ordered and a bottle of Veuve Cliquot champagne, a gift from son Chris, daughter-in-law Emily and granddaughters Helen and Camille. The bubbly was delivered cold to our table and set off the cake. It was the real stuff, a boffo gift.
---
19 January 2016 - Aboard the MS Amsterdam, One Day Sail Out of Nuku Hiva, Marquesas Islands, French Polynesia
"Welcome Home" is the universal crew refrain heard throughout the Amsterdam when passengers initially board for the Grand World Voyage. When passengers return from shore adventures, crew members incessantly repeat the mantra. While the Amsterdam docks in the various ports of call, a large sign is hung from the 3rd deck, starboard or port, whichever faces the gangway, so re-boarding passengers will see "WELCOME HOME" even before crew members have the opportunity to utter the warming words.
For multi-year Grand World Voyagers, the Amsterdam is, in fact, a four-month home (or in the case of Jeff Farschman, and a miniscule number of others, a seven-month plus sea-roaming home.) The Holland America "World" repeaters are comforted by the continuity, the sameness aboard. During the current voyage, with 1067 passengers aboard — 719 for the entire Ft. Lauderdale four-month round trip — 516 passengers are on at least their second "worlder;" for the annual repeaters, the captain, hotel manager, guest services manager, cruise director, housekeeping manager, dining room manager, spa manager, premium restaurant manager and beverage manager — plus not to be forgotten wine steward Nestor, who cheerfully delivers to me my pre-purchased 22 liters of Beefeater Gin two bottles at a time — performed the same duties last year. Comfort food is a well-known phrase. Indeed, life aboard the Amsterdam on her annual Grand World Voyage is luxurious comfort living, but I, for one, am chomping-at-the-bit. I am aggressively eager to get ashore, after almost nine days, to dig up a pulse-rattling adventure or two.
To amplify the theme of world cruise crew repeaters, I point to Jennifer Carver, Guest Relations Supervisor. During the 2015 world voyage, Guest Relations Manager, Christel Mensink, "assigned" me to four particular assistants to metaphorically hold my hand and answer any and all of the Amsterdam questions I conjured up. I most relied on Jennifer last year and look forward to a rematch.
Jennifer is the child of a German (mother) U.S. (father) marriage and, thus, is a native speaker in each language. Being fluently bi-lingual in two of the three major western languages is a leg-up for someone in the business of solving problems for hundreds of multi-national passengers.
As with many Holland America employees, Jennifer met her "better half" (her term) aboard one of the "Dam" ships. He is a Dutchman, a "staff captain" (operations manager behind the captain or "master") on Holland America ships. "He has lived in New Jersey for twelve years. When I'm on vacation, I first head home to Germany and then on to New Jersey," Jennifer explained. I instinctively knew the answer to my question: "What language do the two of you use?" "Oh, English," she said. "I don't know Dutch and he doesn't speak German (though he studied it in school.) After all the time in the states, he is very Americanized." Jennifer looks forward to a transfer to the Holland America Volendam, where she will be working and living with her man.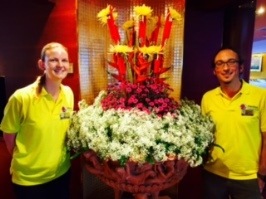 "Some cruise lines use fake flowers," said Callista den Hartog with obvious disgust. Since 2008, she and her partner Eddy de Groot, have created the lavish floral arrangements that adorn the public areas of the Amsterdam.
The two flower artists met as students at the Horticultural School of Floral Design, in Vugut, Holland. For a decade Callista and Eddy have worked their floral magic on cruise ships, principally Holland America. "Our work is so much more creative than working in a commercial flower shop. In shops you have to make similar arrangements over and over and be very concerned about cost. Here, Holland America and our employer (Dianthus International) agree on a budget; within it, we can create any floral designs that please Amsterdam passengers," Callista explained. The partners' goal is to keep a flower arrangement in place for no longer than seven days; when the Amsterdam is at sea for longer periods — as our current 8-9 day sai l— the longevity of their creations is stretched. As the Amsterdam winds its way around the world, Eddy and Callista select blooms from wholesalers in Miami, Panama, Tahiti, New Zealand, Australia, Vietnam, and the Netherlands, when the Grand World Voyage is in Europe.
When not aboard the Amsterdam, Dianthus International often dispatches Callista and Eddy to other ships to teach or fill in for designers unable to fulfill a commitment. What little time they have ashore is spent in the Netherlands, where the partners stay with Eddy's mother and younger brother.
Callista and Eddy will take their leave of the Amsterdam before we reach Ft. Lauderdale, to join the Konigsdam, Holland America's newest ship, which will begin its first voyage in April. In the meantime, passengers and crew will continue to enjoy Callista and Eddy's spectacular creations.
---
14 January 2016 - Aboard the MS Amsterdam En Route to Nuka Hiva, French Polynesia
Half-Samoan Gene Young, the Amsterdam cruise (entertainment) director, is in the process of infusing Polynesian culture into his passenger-charges. Need to learn to make flower leis? How about satisfying your life-long desire to become a proficient Hula dancer? At the moment, the Amsterdam is the ship to be aboard, the place to be. Ukelele lessons began yesterday morning in the Crow's Nest, the bow top-deck nightclub.
Those readers who last year followed the adventures of Jeanne and Gary on our "once-in-a-lifetime" global Amsterdam voyage are advised that we were regular diners at the late-seating table of Jan and Dick Yetke; we are pleased to be replicating that experience in 2016. This year, because of additional requests, Jan is reigning over two large side-by-side tables. Southern Californians Dee and Wells Wescott are also returning guests at Jan's table(s.)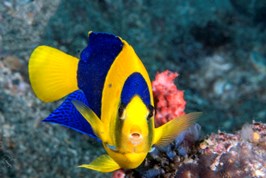 From dinner conversations last year, I knew that Dee Wescott was a scuba diver and underwater photographer. A few evenings ago I asked her: "Dee, how many dives have you made?" "2500 was her retort." "Wow!" was mine. Sensing a interesting feature piece, I scheduled an interview with Mrs. Wescott.
"In 1990 I gave my daughter a cruise as her high school graduation gift, and went with her. I had always been an ardent snorkeler, so when someone on the cruise staff asked if any passengers were interested in learning to scuba dive, I raised my hand. My daughter said: 'I'll learn with you.' That's how I began."
Over the ensuing years of dives lasting an hour to an hour and a half, Dee has achieved scuba diving certifications of Master Scuba Diver (amateur) and Dive Master (professional). She has taken 25-30 trips to dive in various underwater environments and photograph sea-life in remote locations, including the Solomon Islands, the Galapagos Islands and Indonesia. In 2015, Dee flew to the Philippines on a scuba diving expedition. I asked her to recall her most momentous diving experience. "It was the Bay of Aqaba, in Jordan," she answered. "Why?" "It was like falling into a sea of color."
Dee delights in sharing her under-sea photos. "One of my photography mentors told me: 'If you don't share them, they don't exist. She credits her husband of 35 years, Wells, with starting her in underwater photography. "He gave me my first underwater camera. When I thanked him, he said: 'Don't tell me, show me.'" To my layman's eye, Dee has met Well's challenge in spades. Before our interview, I downloaded into my laptop almost 30 of her sea-life color photos."My favorite is what I call the University of Michigan fish" I said. "Its blue and yellow colors nearly match those of my university."
Not one to lose an opportunity, during this Amsterdam Grand World Voyage, Dee Wescott has plans to scuba dive in Papeete, Tahiti and Avatoru, Rangiroa, both in French Polynesia.
January 15. Still steaming toward Nuku Hiva at over 20 knots. This is Friday. The Amsterdam pulled anchor in Panama Monday afternoon. Captain Jonathan is not scheduled to drop the anchor in the small bay fronting the town of Taiohae, Nuku Hiva until late Wednesday morning. Count 'em: nine nights and almost as many days before a "Land Ho." What to do, beyond reading, eating and sleeping? I won't count the ways, but I'll let you in on a few of the attention-getters aboard ship.
Guest lecturers expound twice a day in the large, two story show theater on this-or-that. This morning passengers in the mood learned all there is to know about "The Giant Squid and its Habitat," (from the daily minute-by-minute guide) which also announced "that a dead giant squid in excellent condition washed ashore..." in Japan in 2013. I forgot to attend the lecture.
For passengers preferring more conventional entertainment, a movie theater offers Hollywood fare from mid-afternoon until near the bewitching hour. Cooking classes are presented daily. There are fitness classes to be attended in the gym, which is attached to the spa, wherein all sorts of hair styling and beauty treatments are lavished on passengers willing to fork over the various fees. For those of us not interested in fitness or beauty the Amsterdam is blessed with a casino and various bars sprinkled about the ship.
After dinner entertainment in the show theater and about the ship is often lavish. Clean working (no "F" or other inappropriate words) comics rotate on and off the Amsterdam during our 115 days in residence. Various musicians and singers abound. Last evening Gene Young and the cruise department organized a jam session in the 5th deck Ocean Bar.
The core musicians for the event were the drummer, electric bassist and swinging Polish piano player, who normally play dance music each evening in the Ocean Bar. The star of the event was Pete Neighbour, an English jazz clarinetist of extraordinary skill. Pete is, obviously, on board for the entire passage to Nuku Hiva (probably as far as Papeete, Tahiti because tiny Taiohae's airstrip can only handle the smallest air machines.) Pete's show in the big theater hasn't come off as yet, so he was eager to make music with some of the ship musicians. He played so amazingly well, I regretted for a spell that saxophones have replaced the clarinet as the principal reed instrument in modern American music ensembles. The Amsterdam also has a evening venue featuring a Hungarian classical piano, violin duo. These two young men also play spirited jazz; they joined the Ocean Bar session for a few up-tempo numbers.
---
12 January 2016 - Beginning an 8 day, 3500 nautical mile sail from an anchorage just off Flamenco Island, Panama to Nuka Hiva, French Polynesia
Jeanne is in her "office" reading, ensconced on one of the padded, wooden, classic, passenger ship deck chairs which line the third deck, while I slave over a luke-warm laptop in cabin 3411.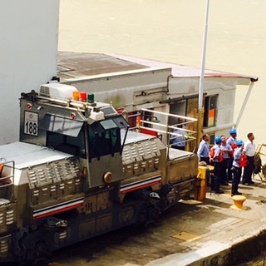 Sunday the Amsterdam made an easy (no delays) 51-mile, 10 hour Caribbean to Pacific pass-through of Gatun Lake, the narrow Culebra Cut and the three locks that make up the Panama Canal. During the transit, passengers were allowed on the bow of the ship to get a 180° view of the snail-paced progress to the Pacific. While in the locks, the Amsterdam was slowly towed by short railroad engines.
NEWS FLASH! The Panama Canal opened in 1914 and is now in the process of a $6 billion expansion; it will allow wider, 1,000 foot long cargo ships to use the engineering marvel that the U.S. created after French entrepreneurs went belly-up taking a shot at it.
President Teddy Roosevelt's administration executed treaties with Panama which were intended to maintain U. S. ownership and operation of the Canal beyond the foreseeable future. In 1977 Jimmy Carter's administration tore up the Roosevelt treaties and gave the Panama Canal and its military and civilian support infrastructure—the whole shebang—to the Panamanian government. History will spell out the wisdom of that generous gesture.
Monday Jeanne and I took a round-trip hop-on-hop-off tourist bus ride from Flamenco Island, near where the Amsterdam was anchored for 20-plus hours. Our double-decker bus headed for Panama City over a long causeway. Upon landfall, we passed the garish, Frank Gehry designed Biomuseo. From the tourist brochure: "The Biomuseum is his (Gehry's) only work in Latin America and consists of 8 galleries that explain how the emergence of Panama changed the world 3 million years ago." Too bad the Biomuseo was closed, because I sure wanted to know more about little Panama's impact on the globe millions of years ago.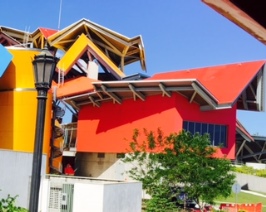 The bus passed a statue of Vasco de Balboa, the Spanish explorer who, in 1500, found and chartered the coast of Columbia (to which Panama belonged). It comes as no surprise that Balboa is a local hero. After the aboard-bus guide finished her spiel on Balboa, a wag sitting near us on the upper deck spoke up. "How come they don't have a statue of Jimmy Carter? He gave them the Canal."
The Panama City Mercado del Marisco (fish market) is another apparent tourist attraction. As we drove by our guide was waxing eloquently about Panamanian ceviche, (fish marinated in lemon juice) and urging us to enjoy it in fish market. While Jeanne and I have both enjoyed ceviche in various restaurants, in Latin America and out, the concept of ceviche in an odorous fish market didn't sit well with Jeanne. "Eating raw fish in the local fish market? I don't think so," she said.
Our bus tour stopped near Panama City Old Town, but we were fearful to exit the bus and explore. Time was short and when the Amsterdam pulled her anchor we were determined to be aboard. When the tour bus returned us to Isla Flamenco, within sight of the Amsterdam, we did have time for a Panamanian beer and Diet Coke, as we sat facing the marina at the water's edge under an umbrella. The tender ride to the ship was packed with passengers and hot, as was the day generally. Back in our cabin, we luxuriated in its cool temperatures. Before showering and dressing for dinner, Jeanne reflected on our brief time in Panama City: "If we ever get back here, I want to spend time in Old Town, exploring the churches and other old buildings."
Puerto Limon was the Amsterdam's first port of call. A rough, tough port town, it didn't offer us much of an adventure. Importantly, however, it did offer us free internet service, in a small, open air cantina to accompany our drinks.
---
8 January 2015 - En route to Puerto Limon, Costa Rica from Ft. Lauderdale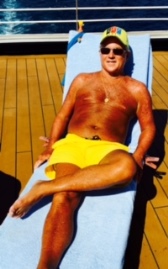 The Amsterdam slowly pulled away from dock at 11pm Tuesday into rough seas; overnight, waters quieted and have provided smooth sailing since. We are expected to dock at 7 am in Puerto Limon for a short stay ending with "all aboard" at 3:30. Captain Jonathan is scheduled to guide the ship through the Panama Canal, beginning at 5 am Sunday; that evening the Amsterdam will dock at Fuerte Amador, the port for Panama City, where the ship will park for 20 hours. Jeanne and I hope to take a tour bus from the dock to the city, which I have not visited since 1960, when I lived in Puerto Rico and roamed the Caribbean and northern South America as a representative of Prentice-Hall, the general and education publisher. When we pull away from Fuerte Amador, we'll be at sea for more than eight days before our arrival in Nuka Hiva, the principal island of the Marquesas, French Polynesia.
Jeanne and I are in the midst of an American subculture: people who repeatedly take the Holland America Grand World Voyage. Our dining table hosts Jan and Dick Yetke are enjoying their 9th straight Amsterdam round-the-worlder.
"2007 was my first once-in-a-lifetime Holland America world voyage and now I'm on my 10th," said Jeff Farschman, compactly built, 66 year old Air Force Academy graduate, with a 10-year Air Force stint, largely spent in weapons systems acquisitions; he exited the military with the rank of captain. After a 24-year career with Lockheed Martin, Jeff retired in 2004 as a vice-president.
Being on his 10th straight Grand World Voyage, and the fact that he has accumulated almost 2,000 nights aboard Holland America ships wouldn't make Jeff stand out among the many committed Holland America voyagers aboard the Amsterdam; but the fact that he lives aboard the Amsterdam 7½ months each year gives him a special distinction.
"This ship is home to me. I spend more time on it than I do in my home on land, Jeff explained. "One of the top reasons I spend so much time aboard is the crew; it is like family to me."
Seven and a half months aboard the ms Amsterdam, how does such an arrangement work? "In the middle of September, I board the ship in Seattle for the Holland America South Seas adventure, stay aboard for the Inca South American voyage; then it is time for the holiday Panama Canal cruise, and there I am in Ft. Lauderdale ready to begin the Grand World Voyage until May 1st."
Jeff has a passion for photography, and a talent for it, as evidenced in his photo blog. "I still have the passion to see the world—off the beaten path. If that stops, I hope I have the wisdom to quit and find another passion," is how Jeff Farschman sums up his hope for the future.
---
Recent Entries
---